Three months ago my Macbook Pro laptop computer was stolen by some seedy women in Panama. Join me as I attempt to recover it from over 2000 miles away!
[su_note note_color="#DCEFF5″ text_color="#333333″ radius="3″ class=""]To read how my computer was stolen, check out:
Robbed In Panama City[/su_note]
Before my computer was stolen during my year-long backpacking trip around Central America, I'd installed a special tracking program called Prey Project.
I learned about Prey after following Sean Power's amazing laptop recovery story on Twitter — downloading the free tracking software that same day.
When my own laptop was taken out of my travel backpack while drinking with friends at a bar in Panama (stupid, I know) — I quickly activated Prey from an internet cafe, hoping I could catch the thieves like Sean did.
Now I would just wait for the software to start working its magic.
But it never did. After over 3 months of no action, I assumed the thieves had disabled or replaced my computer's hard drive before turning it on. With no tracking information, my computer would be lost forever.
But that all changed last night.
READ MORE: Travel Scams You Need To Know About
Surprise! You're on Candid Camera
On Friday night Prey suddenly notified me by email that I had a new tracking report. You can imagine my surprise!
I'd assumed that recovery was a lost cause at this point, now 3 months after the theft. At the moment I'm back in the United States.
I logged into the site. The report contained photos from my Macbook Pro's integrated webcam, screenshots showing what the suspects were doing on my computer, and wifi location information displayed on a Google Map.
Jackpot!
These reports came streaming in every 10 minutes. After upgrading my account to Pro for $5, I'm now able to get reports every 2 minutes, or on demand with the click of a button.
I suddenly felt like a kid in a candy store!
Spying on the people using my stolen computer is soooooo much fun…
We're All Watching
I'm actively tracking the incoming reports on a regular basis. Saving photos and data that I'll be able to use to recover my laptop. It's incredibly entertaining to watch what these people are doing without their knowledge.
There's a lot of information coming in. The software only allows me to save 100 reports though, so I'm deleting the ones that don't contain useful information. Building up a case against them should I decide to go to the police.
I'll be updating this post with new information as I receive it.
This is going to be exciting. I hope you'll follow along with me on the hunt.
What Are They Doing?
Chonga has been most active on my computer so far. She's logged into Facebook for hours at a time – chatting with friends, bragging about her new "Apple Mac" computer, viewing ridiculous photos, and repeatedly picking her nose.
Through the screenshots I've learned her real name, names of her family members & friends, the name of the cafe where she works, and her birthday. I also know the street where she's living in Panama City. But not an exact address yet.
I've censored out all personal information for now.
I believe it's very important that I secretly record as much evidence as I can before they discover they're being tracked. I may change my mind about this in the future though, and share all their details with you. I'm still not 100% sure what my recovery plan will be.
I might need your help.
Criminal Masterminds??
Now it's quite possible that these people have purchased the stolen computer from someone else. I don't recognize Chonga as one of the 3 women involved with the theft, but I'm also not sure I'd be able to remember their faces from that night. It was dark, we were trying to ignore them, and I'd had a few drinks.
But either way, they are now in possession of stolen property. In most countries that in itself is illegal.
If they simply hand over my computer without incident, I have no problem keeping the police out of it and minimizing their humiliation. I just want my property back and be done with it. But if they decide to be difficult, well, all bets are off…
I'll hit them with everything my twisted mind can come up with.
READ MORE: How To Find Super Cheap Flights Online
UPDATE: Prey Capabilities
So after digging into the program a bit more, I've learned about some fun things I can do with it. One option is to remotely trigger an audio alarm that sounds like a police siren. Could be fun if unleashed at the right moment…
Another option is to send them a custom message through my computer. An alert window will pop up over whatever they're doing and display a message of my choice.
But the best option yet: I can deliver a custom message via audio. Apple's Text-to-Speech program will relay any message I want using a robotic sounding voice.
The possibilities are endless!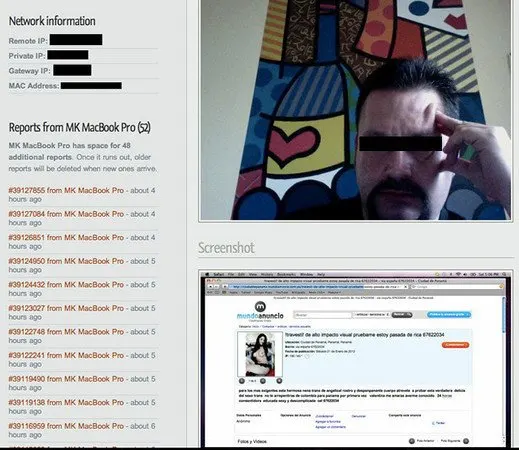 UPDATE: Transgender "Escorts"!
Handlebar has been on the computer all day. He spent hours on Skype talking with someone who seemed like a possible girlfriend. While I couldn't hear what was said (Prey needs to work on live video feeds!), they also used Skype's chat feature so I could read some of the conversations.
While talking with this girl, he's also browsing through photos of girls in lingerie on Facebook. Because he was logged in, I now have his real name.
But that's not the best part…
Eventually I catch him shopping for local hookers escorts online! And not just any call-girl…
Upon closer inspection of the profile, I see that she (he?) is advertising herself as a transgender prostitute!!!
A short translated excerpt from the profile:
"…to taste this true delicacy of tranny sex.. you will not regret it from Colombia to Panama."
There's a phone number on the profile and everything.
I couldn't make this shit up!
UPDATE: New Suspects
Wow. There are a ton of different people using my stolen computer. I've discovered 2 new people, so this makes 5 total now.
But after spying on Rico & Dark Eyes for a while, I've decided they are probably not involved.
They are from Chile, and it seems they just arrived in Panama the other day. Handlebar is also from Chile. So these two might be friends or family crashing at his place while on vacation.
I caught them uploading touristy looking photos on iPhoto. I also know they are traveling to Cuba next week.
Facebook sure gives away a lot of personal information!!!
UPDATE: Secret Internet Celebrity!
So it's only been 3 days since I first posted this story, but Handlebar has just learned that we've all been watching him.
A friend of his quickly recognized him after discovering the story on Facebook.
It sounds like he's desperate to give the computer back quickly to avoid further humiliation. Smart choice on his part. I was just getting started.
Thank you, everyone, for helping to spread the word via Social Media!
I've been contacted by email to get everything worked out.
UPDATE: Mission Accomplished!
I'm ecstatic to announce that Operation Gringo Revenge is a smashing success!
After scheduling an evening rendezvous at a well-known Parisian cafe in Panama City, my secret agents (code-names "J-Dog" and "V-Man") met with our suspect to collect the stolen goods last night.
They've moved the stolen Macbook Pro to a safe-house within the city. It's now guarded 24 hours a day by a professional team of beautiful female assassins from Colombia & Brazil.
I plan to compensate my international team (and former Couchsurfing hosts) for their heroic actions that day with sushi & bottles of cheap rum.
The Full Story
So it seems Handlebar purchased the stolen computer off the street from a woman named Maria del Carmen for $750. Maria del Carmen happens to be the name of the user account that's been active on the computer.
Why he never changed the username, I don't know. I also don't know why Prey Project never caught Maria on the computer over the past 3 months.
Maybe his story is true, maybe it's not. I really don't care. If the story is true, I'll let him take it up with Maria del Carmen.
I gave him 2 options:
A: Hand over the computer.
B: Let the police deal with it while I post personal details online.
He chose option 'A'.
As a courtesy, I agreed to censor the photos of his face and those of his acquaintances.
Thousands of people have seen him shop for transgender hookers online.
Because this computer was stolen 3 months ago, I've already had it replaced. Now that my friends have recovered it, I'll probably sell it and use the money to help fund some charity projects.
Big thank you to everyone who helped share this story! ★
[su_note note_color="#F7EFE6″ text_color="#333333″ radius="3″ class=""]
UPDATE: It turns out Chonga is actually a man!!! And a transgender call-girl. A reader shared this fact in the comments below — with proof!
NOT SAFE FOR WORK! ➜ Click Here for Proof[/su_note]
[su_box title="Important Information" style="noise" box_color="#333333″ title_color="#FFFFFF" radius="3″ class="resource-box"]
Software: Prey Project
Cost: Free! (upgrade for $5 if your computer is stolen)
Tutorial: Learn How To Set Up Prey Project
Useful Notes: Make sure to include a password-free guest account on your computer. This acts as a "honey-pot", luring criminals into using the computer immediately.
Protect Your Trip Don't forget travel insurance! I'm a big fan of World Nomads for short-term trips. Protect yourself from possible injury & theft abroad. Read more about why you should always carry travel insurance.
[/su_box]
READ MORE TRAVEL INSPIRATION & TIPS
I hope you enjoyed my stolen laptop travel story! Hopefully you found it entertaining. Here are a few more wanderlust-inducing articles that I recommend you read next:
Have you ever had anything stolen? Do you use tracking software on your computer? Join the conversation on Facebook, Instagram, or Twitter to share!
---
This is a true story. Prey Project and I have no financial relationship. Their FREE software saved my butt. So understandably, I'm excited about promoting them.