Railay Beach, Thailand
Giant pillars of karst limestone protrude into the sky around Railay Beach, home to some of the best rock climbing in the world. Even the monkeys love this place.
Climbers from around the world regularly flock to Krabi Province to test their skills on the 700+ bolted climbing routes around Railay Beach. After working behind my computer for a few weeks in Bangkok, I decided to visit for a little climbing adventure.
From the coastal town of Ao Nang, it's a short & very scenic boat ride to Tonsai Beach where I was staying. Tonsai is like the hippie version of Railay Beach. It's less developed, cheaper, and there's no electricity during the day.
Climbing Railay Beach
The climbing in Tonsai is pretty advanced, so I hiked 10 minutes through the jungle every morning to Railay for climbing lessons with Hot Rocks Climbing School. While I've got some climbing experience, I'm definitely not a pro.
I can tie in, belay other climbers, and repel solo, but I don't know how to lead climb yet. This means someone else has to go first and set up the "top rope".
John would be my instructor for the next few days, leading the climbs and holding the rope that kept me from plummeting to the ground if I slipped. I could tell right away we'd get along.
Climbing With PrAna
Climbing in Railay also gave me the chance to test out some new travel clothing from PrAna's Spring Collection. They hooked me up with a bunch of cool stuff. Their gear is fair trade certified, ensuring that the people who made it were justly compensated for their hard work.
The instructors at Hot Rocks actually complimented me on my clothing, as they're all fans of PrAna. It's a well known brand in the climbing community. Although they said it's difficult to get in Thailand.
I'm really loving PrAna's Bronson Pant — made from comfortable but tough stretch canvas that's perfect for adventure travel. They look great too!
Scaling Rocky Cliffs
Railay Beach has hundreds of climbing routes, so there's something for every skill level. John started me on some easy stuff, and by the end of the week I was scaling pitches rated 6A+. The grade describes the difficulty and danger of the climb.
When I'd get stuck somewhere, he'd yell up for encouragement:
"Matt, do it for your country!"
There were other incentives too. Like if I reached the top of a climb, I'd be rewarded with a beer later. If I didn't, I'd get a ladyboy…
Luckily I reached the top every time.
Rock Climbing In Thailand
I attached my GoPro to a GoPole Bobber and took it up with me, capturing some fun climbing photos. One morning a family of monkeys decided to climb around with us! They were much faster than me, even with babies clinging on for the ride.
If you've never tried it, rock climbing is a wonderful workout. It activates tons of small muscles that normally don't get much use, especially in your hands & forearms. But the great thing about Railay is that if you get tired, just take a break to go swimming, kayaking, sunbathing, or island hoping.
Deep Water Solo climbing is also popular here. This is when you climb without ropes over water.
Whether you're into rock climbing or not, a journey to beautiful Railay Beach is worth the trip. However while you're there you should definitely take a climbing lesson. It's one of the best places in the world to try.
Climbing is a safe, challenging, and super fun adventure activity! ★
[su_box title="Travel Planning Resources For Railay" style="noise" box_color="#333333″ title_color="#FFFFFF" radius="3″ class="resource-box"]
Location: Railay Beach, Thailand
Company: Hot Rock Climbing School
Cost: ฿1000 THB ($30 USD) Half Day
Packing Guide
Check out my travel gear guide to help you start packing for your trip. Pick up a travel backpack, camera gear, and other useful travel accessories.
Book Your Flight
Find cheap flights on Skyscanner. This is my favorite search engine to find deals on airlines. Also make sure to read how I find the cheapest flights.
Rent A Car
Discover Cars is a great site for comparing car prices to find the best deal. They search both local & international rental companies.
Book Accommodation
Booking.com is my favorite hotel search engine. Or rent apartments from locals on Airbnb. Read more about how I book cheap hotels online.
Protect Your Trip
Don't forget travel insurance! I'm a big fan of World Nomads for short-term trips. Protect yourself from possible injury & theft abroad. Read more about why you should always carry travel insurance.
[/su_box]
Enjoy This Post? Pin It!
[su_row class=""]
[su_column size="1/2″ center="no" class=""]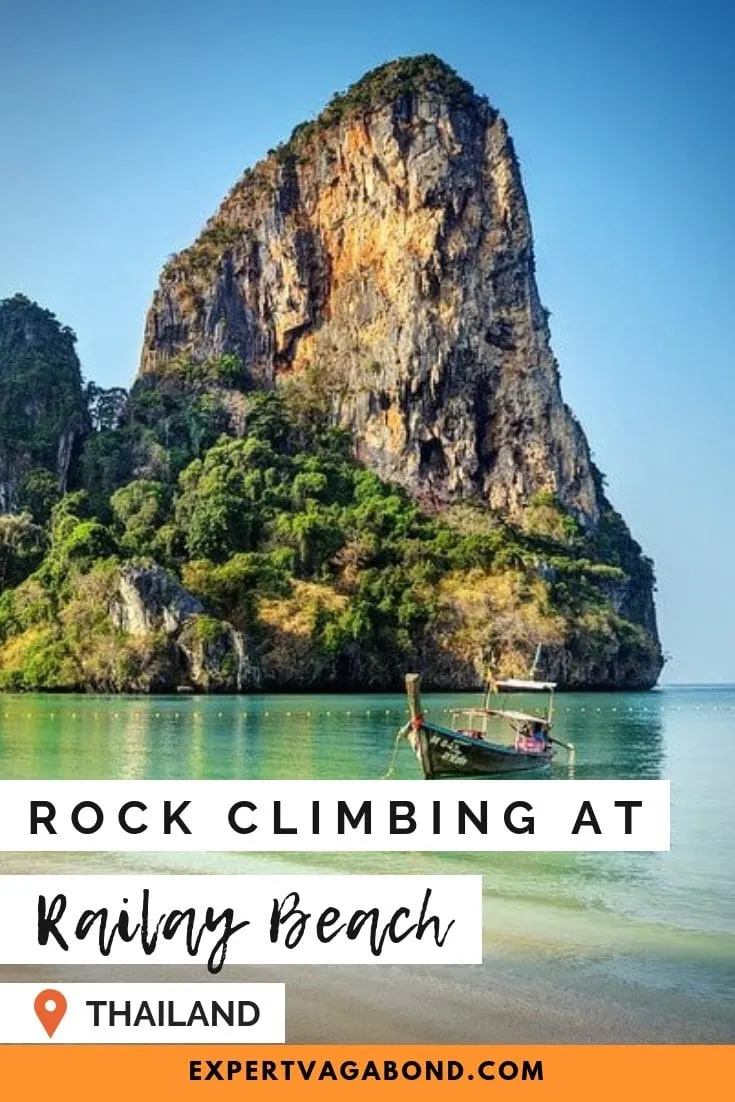 [/su_column]
[su_column size="1/2″ center="no" class=""]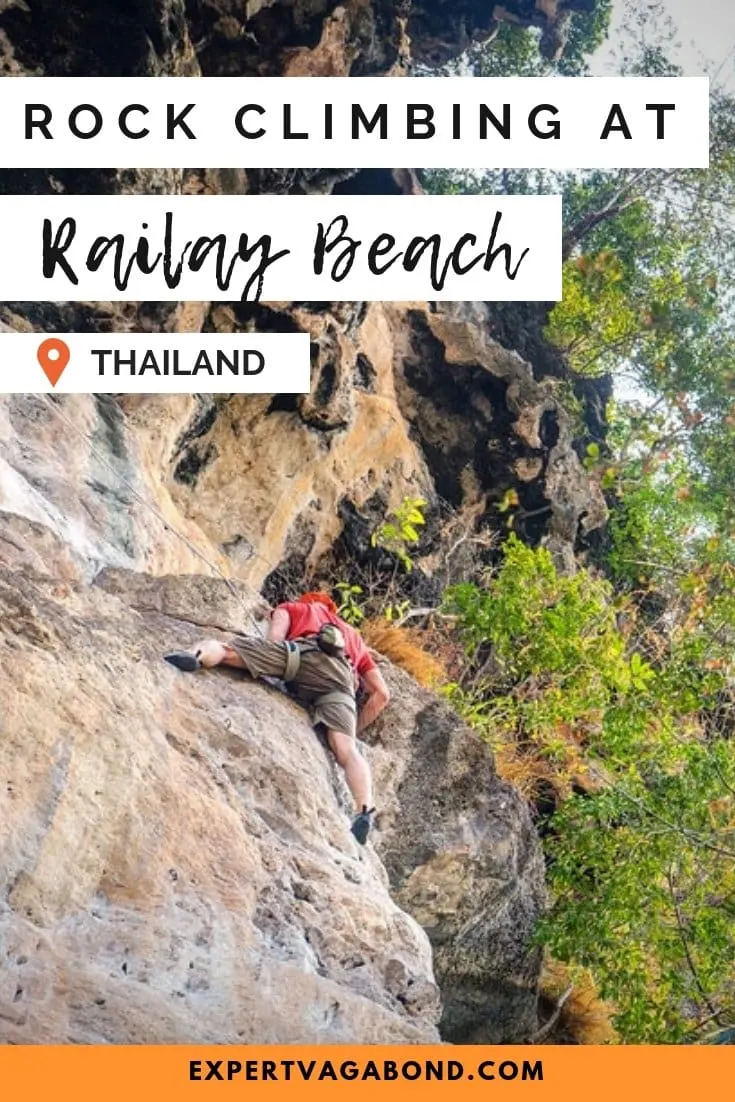 [/su_column]
[/su_row]
READ MORE TRAVEL TIPS
I hope you enjoyed my guide to climbing Railay Beach! Hopefully you found it useful. Here are a few more wanderlust-inducing articles that I recommend you read next:
Have you ever been rock climbing before?