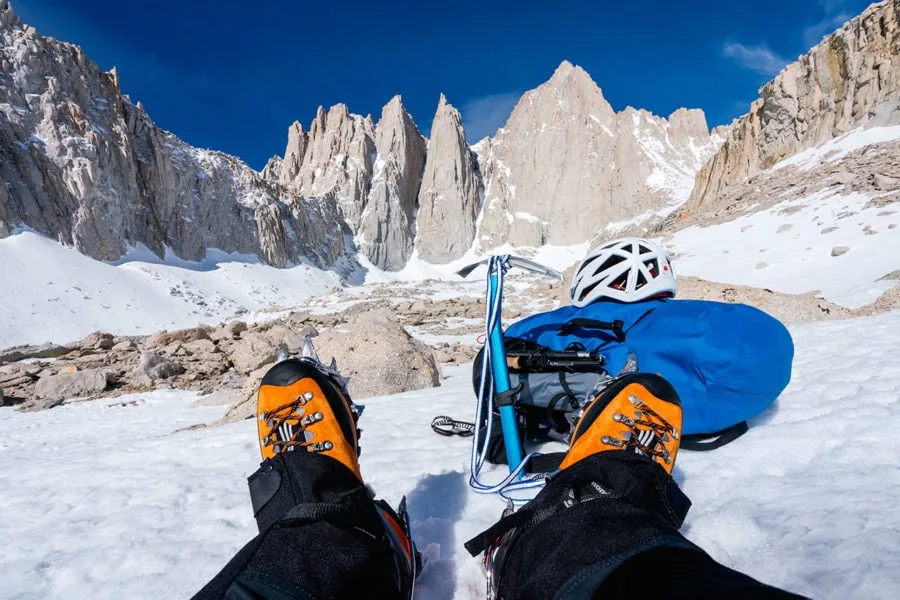 Lone Pine, California
Carefully planting one foot in front of the other, breathing heavily and climbing in snow with my ice axe, I push on to summit California's highest mountain — Mt Whitney.
Mount Whitney is the highest mountain in the lower 48 states at 14,505 feet. Yes, California is home to both the lowest point in the United States (Death Valley), as well as one of the tallest!
The mountain has also become one of the most popular hikes in the state — so popular that you need to enter a lottery in order to win a permit to hike Whitney.
Well, at least during the summer months.
Rather than deal with 100 other hikers and the very real chance I wouldn't win a permit, I decided to climb Mt. Whitney during the winter (technically early spring) month of April, when a permit isn't required.
Of course, this meant hiking through snow and camping overnight in freezing temperatures. I also choose a more difficult trail called The Mountaineer's Route.
This path requires basic mountaineering skills and isn't for beginners.
Mt Whitney Hiking Guide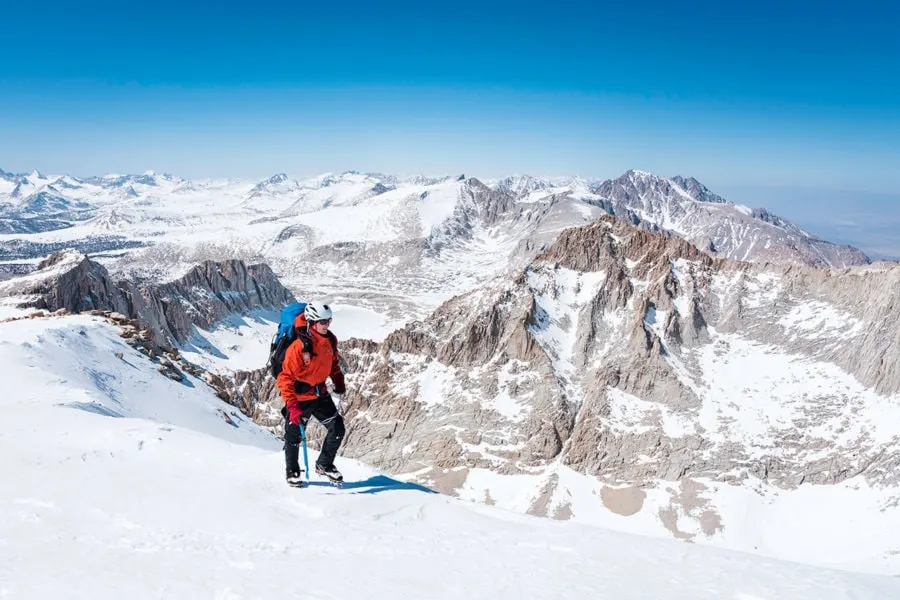 Don't Underestimate This Mountain!
Before I get into the details of my hike up Mount Whitney, I want to emphasize how difficult this hike can be for those who are unprepared.
Approximately 30,000 people attempt to hike this mountain every year, and only about 30% of them make it to the top.
It's not a particularly long hike, but it is VERY steep. You gain altitude extremely quickly. And if you don't hike or train on a regular basis, it might just kick your butt.
Hiking in the winter or early spring, like I did, adds an extra level of difficulty with the snow. Many people have been injured or killed over the years trying to climb steep snow-covered sections without proper gear (or the skills to use it).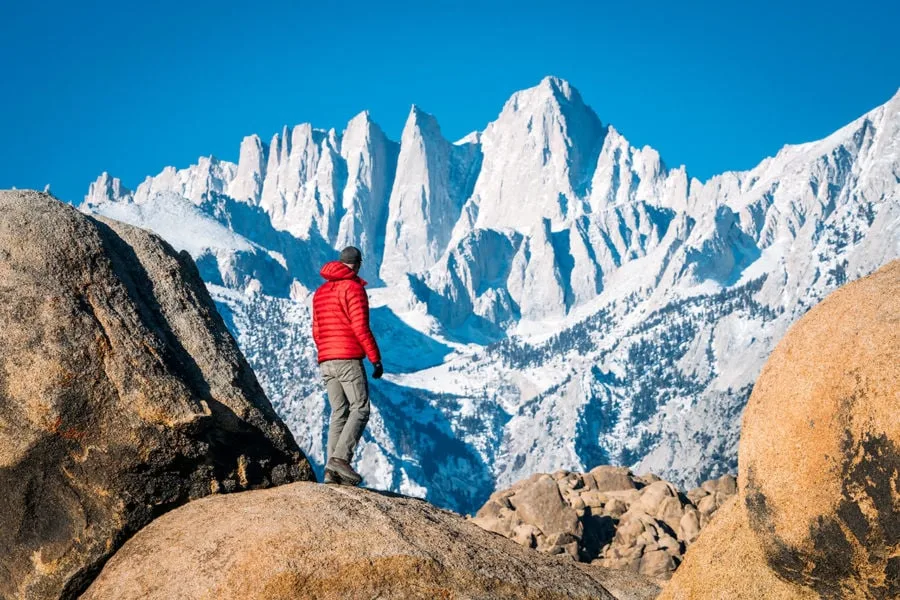 Whitney's Different Hiking Routes
1. Mount Whitney Day Hike
DISTANCE: 22 miles (Round Trip)
ELEVATION GAIN: 6500 feet
TIME: 12-18 hours
DIFFICULTY: Moderate
SUMMARY: Easy Class 1 hiking, but a lot of it and at high elevations. It's a very long day, and you need to start before sunrise to make it down before dark.
2. Mount Whitney Overnight
DISTANCE: 22 miles (Round Trip)
ELEVATION GAIN: 6500 feet
TIME: 2 days
DIFFICULTY: Moderate
SUMMARY: Spending a night on the mountain helps break up the hike, but you'll also need to pack camping gear, which means a heavier backpack.
3.
The Mountaineer's Route
DISTANCE: 5 miles (Round Trip)
ELEVATION GAIN: 6600 feet
TIME: 2-3 days
DIFFICULTY: Difficult
SUMMARY: This is a more physically demanding Class 2 & Class 3 hiking route that requires some scrambling. It's much shorter distance-wise, but with the same elevation gain. So you're hiking straight up. This is the route I describe here.
Securing A Permit For The Hike
If you plan to climb Whitney during the normal permit season, between May 1st and November 1st, it requires signing up for their lottery system.
Only about 160 hikers are allowed on the trail per day.
Permits cost $15, and they can be hard to come by, especially if you're trying to hike over a weekend. You can begin applying for a permit for the summer season on February 1st. Lottery winners are announced in March. If you're one of the lucky ones to win, you can purchase the actual permit starting April 1st.
An alternative option, which is what I did, is to self-issue yourself a free permit in the off-season. Permits are free if you hike during the winter months between November 2nd and April 30th.
However hiking in the winter requires a bit more experience & specialized gear.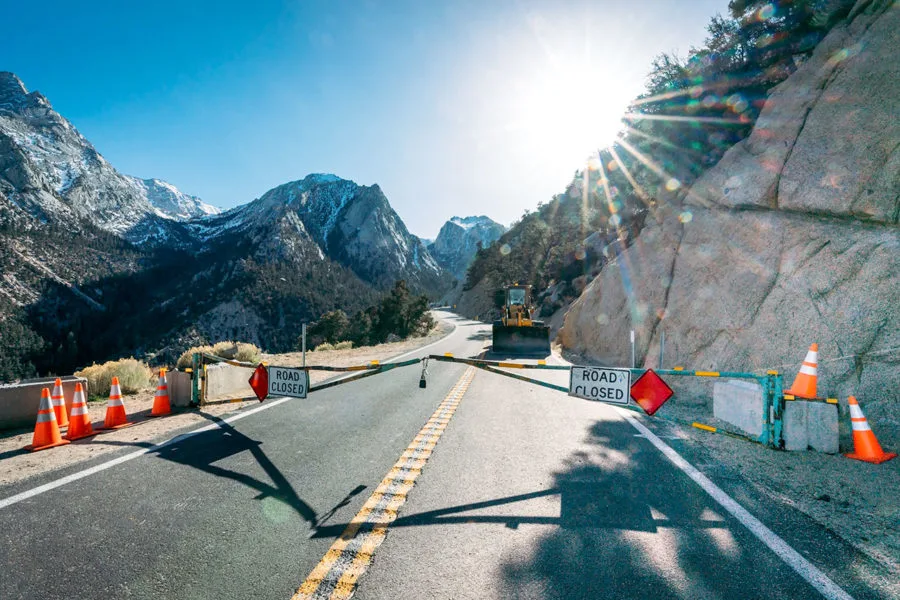 Climbing Mt Whitney (DAY 1)
My own Mount Whitney adventure began by driving to the Eastern Sierra Interagency Visitor Center in Lone Pine, CA during the 2nd week of April and self-issuing myself an overnight permit. If you don't own a bear-proof container and WAG Bag (for pooping), you'll have to pick up those too. Bear canisters can be rented here.
With my permit set, I jumped back into my jeep drove up to the closed gate on Whitney Portal Road. The upper part of the road leading to the Whitney Portal Campground and Campsites is closed this time of year.
There are two gates. The first one was open, but eventually, you'll hit the closed one. The road is closed for maintenance as they clean up the annual spring rock falls with heavy machinery.
After parking on the side of the road, I gathered my gear and began walking up the pavement under the late afternoon sun. Hiking about 2000 feet of elevation gain over 2 miles to reach the official trailhead.
The road ends at the Whitney Portal Campsite where I set up camp for one night of acclimatization (at 8,300 feet). This early in the season, the campsite is closed but they have open bathrooms and freshwater.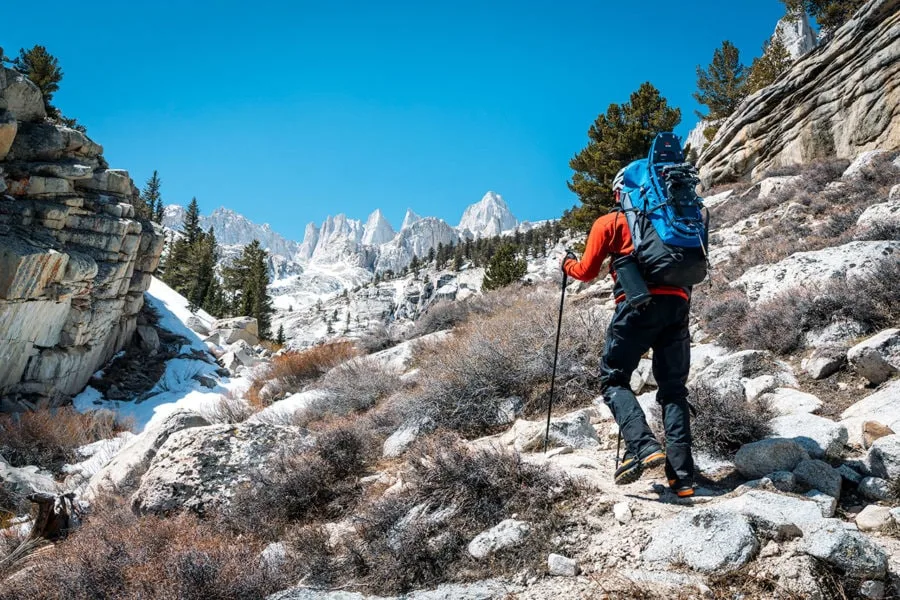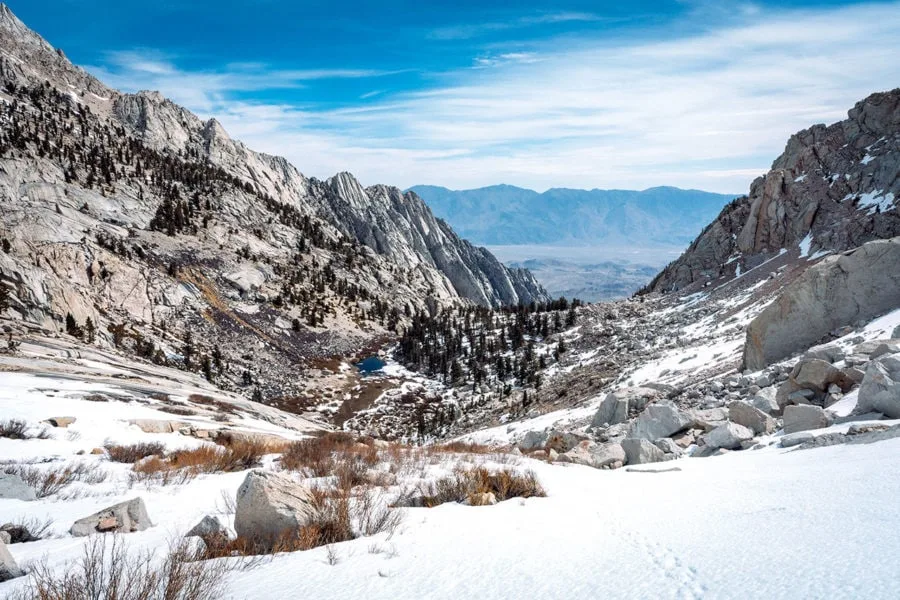 Climbing Mt Whitney (DAY 2)
The next morning I was packed up and on the trail by 7am, ready to officially start my hike up the main Mt Whitney trail. Soon veering off to the right onto the North Fork Trail and The Mountaineer's Route.
This is the same route that John Muir took on his solo summit of the peak on October 21, 1873.
My first obstacle was crossing the fresh spring runoff of the North Fork creek multiple times, through thick brush and saplings. Occasionally it was difficult to find the best route through this mess of vegetation.
Next up, the Eversbacher Ledges. This section of trail sends you zig-zagging up a steep wall (hiker's right) via a series of narrow and exposed ledges. As long as it's not icy, you'll be fine. There's one particularly sketchy section that requires a bit of a scramble up.
After you clear the ledges, you'll find yourself at Lower Boyscout Lake. You can camp here if you need to, but a better location is further on, at Upper Boyscout Lake.
The more distance you can cover now means a quicker summit attempt tomorrow.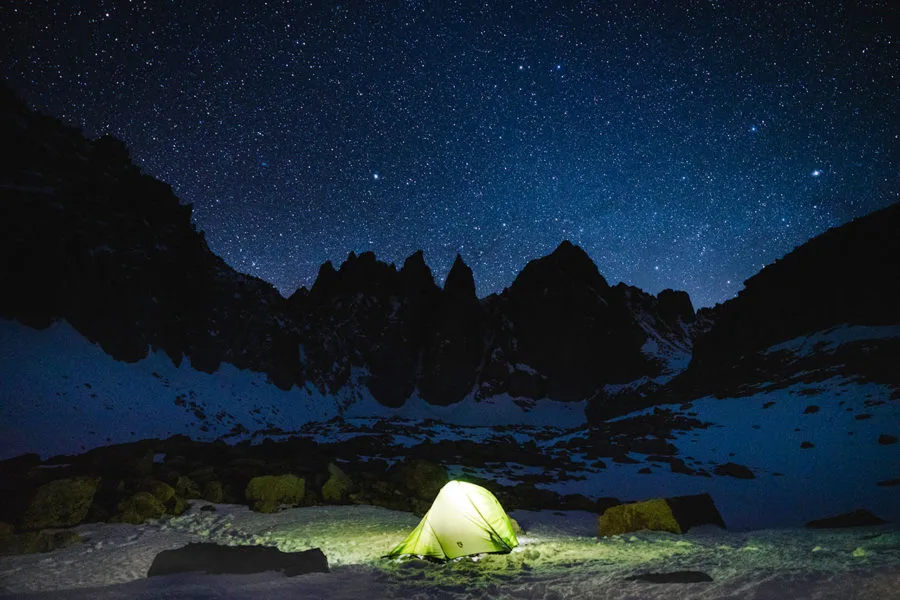 Overnight On The Mountain
I decided to push on past Upper Boyscout Lake in the afternoon and began looking for a suitable campsite in a rocky open area between it and Iceberg Lake, which sits at the bottom of the "chute".
If you were hiking this route in the summer, most people spend the night next to Upper Boyscout Lake or Iceberg Lake to take advantage of a water source.
But with all the snow around to melt for water, there was no need for me to camp beside a lake.
I'd packed an avalanche shovel to use for building a snow wall if the wind was strong, but I lucked out with a clear, calm night. Got up in the middle of the night to take a few star photos too!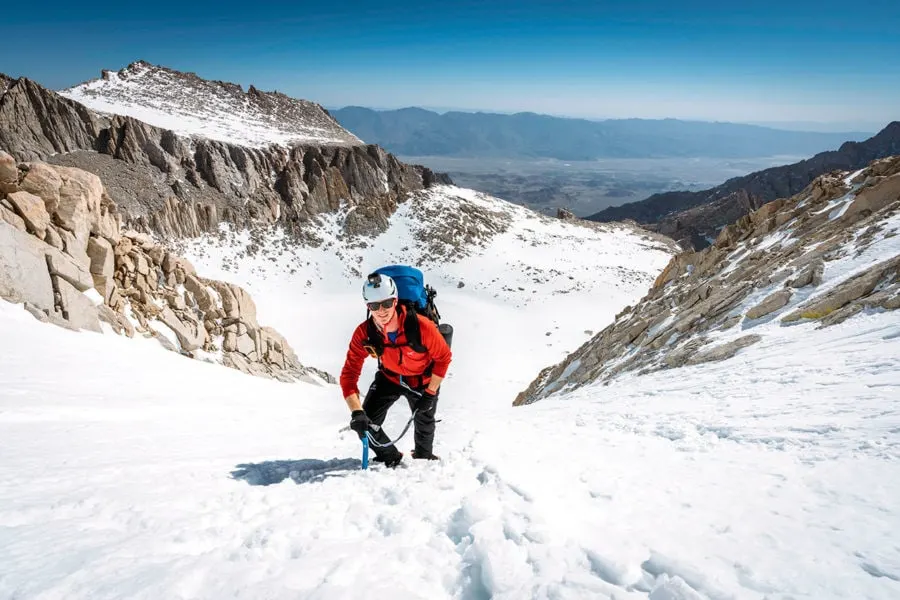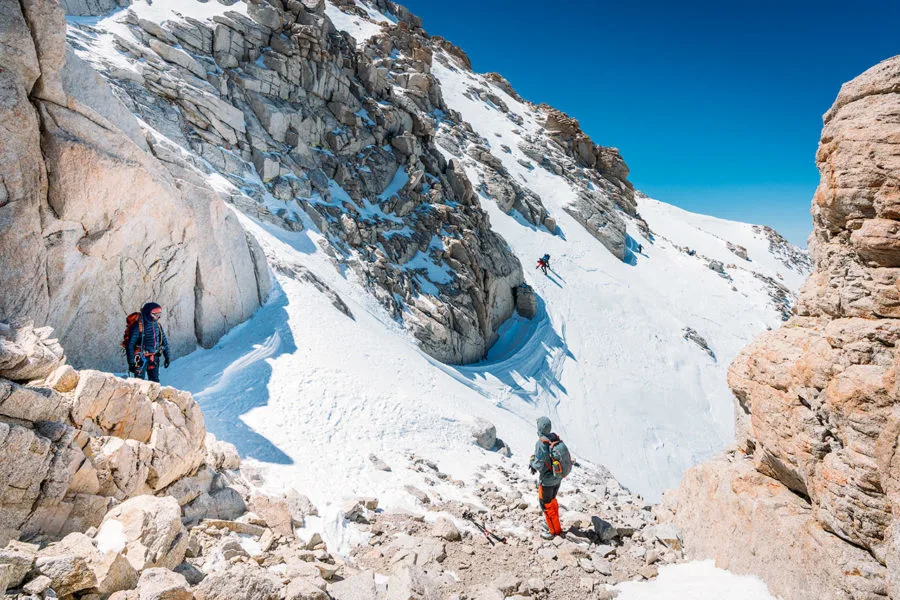 Climbing Mt Whitney (DAY 3)
Waking up at 6am, I re-packed my backpack to prepare for the summit push. Leaving behind my tent, sleeping bag, cooking kit, and additional overnight items I wouldn't need to haul all the way up to the top.
Once you reach Iceberg Lake (12,621 feet), you'll easily spot Mountaineer's Gully, the steep 35 degree snow chute that's next. In the winter, crampons and an ice axe are definitely required for this section. A slip here would send you falling over 1000 vertical feet down the chute…
A climbing helmet should be used too, as hikers above you often knock pretty large boulders loose or ice chunks that come tumbling by. Which happened a few times during my own ascent — luckily nothing came too close.
The Chute is a slow, steep slog. The high elevation doesn't help either. I was resting after every 10 steps or so to catch my breath.
At the top of the chute, the snow clears to reveal a Class 2/3 rocky scramble up to the "notch", a pillar of stone where the ground levels out a bit.
This is a good place to rest and have a snack while you plan your next move.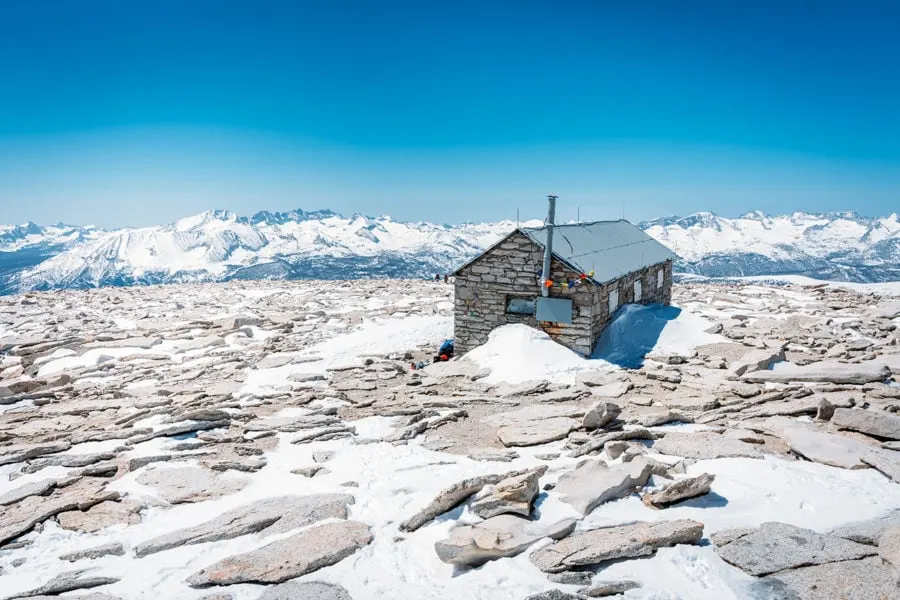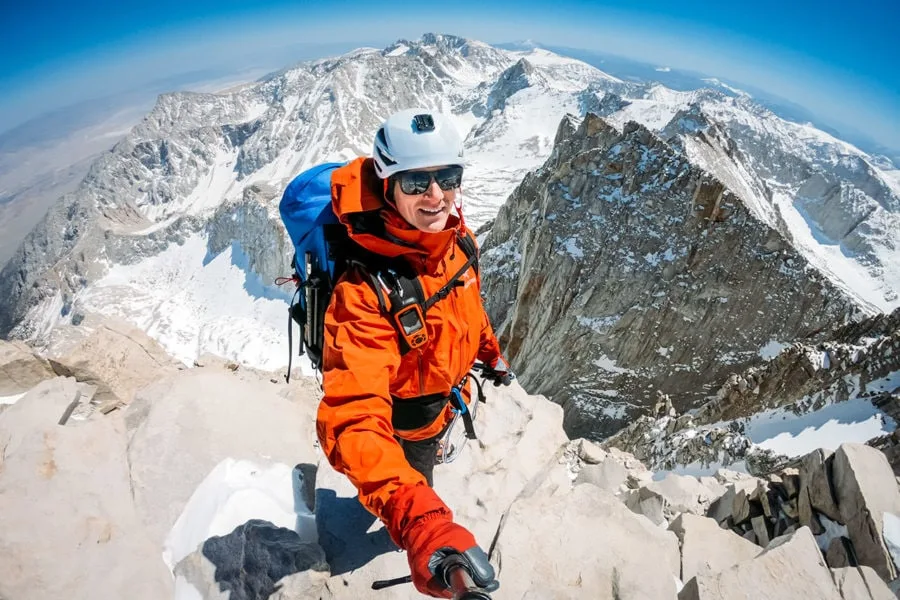 Reaching The Summit
From The Notch, there are a few different routes you can take to the summit. For the "True Mountaineer's Route", you head straight up a 400 ft Class 3 section of climbing, where ropes may or may not be used depending on your skill level.
As I was hiking solo, without ropes, and this was my first time up here, I decided to play it safe and take the alternative route — a longer alpine Class 2 traverse around the backside of the mountain and up to the summit.
Which turned out to be plenty sketchy in its own right!
Traversing the steep mountain face is pretty straightforward with crampons and your ice axe, except in a few sections where the snow was pretty thin, where you're forced to down-climb steep sections attempting to find solid footing on the rocks just beneath the snow.
My adrenaline was certainly pumping in overdrive while trying to make it across…
With the traverse over, I began hiking up the backside. Pretty soon the Mount Whitney Summit Hut came into view, aka the Smithsonian Institute Shelter.
Built in 1904, this hut was used by scientists to study high-altitude phenomena, astrophysics, and for waiting out storms.
With the sun shining and a perfect blue-bird day, I ate lunch enjoying the incredible 360 degree views from the summit. I'd made it!
Hiking Mount Whitney solo in the late winter/early spring — the top of California (and highest point in the lower 48 states) at 14,505 feet.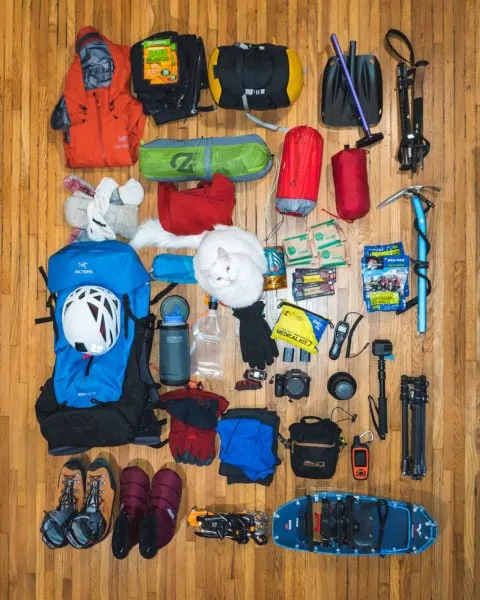 Additional Hiking & Packing Tips
My Winter Packing List
Packing for a winter hiking adventure up Mt. Whitney is different than a summer day trip. You'll need more backpacking gear than usual. My 50-liter backpack weighed 37 pounds using the free scale at the trailhead.
Mount Whitney Hiking Tips
If you plan on camping, please keep in mind that wood fires are not allowed. Not that you'll find much wood above the treeline anyway…
Store your food outside the tent in a bear canister or Kevlar bag. You're unlikely to see a bear, but marmots (large rodents) are a problem.
This is not a quick & easy day hike, and reaches high altitudes. Know your personal limits, and don't feel bad about turning around to stay safe.
You really need to pay attention on timing your summit climb, and leave the top early enough that you're not hiking down in the dark.
Hiking the Mountaineer's Route took me 2 full days (one night), plus another half day to hike up the closed Whitney Portal road and camp out at the trailhead the night before.
---
Enjoy This Article? Pin It!
---
READ MORE BACKPACKING STORIES
I hope you enjoyed my guide to hiking Mount Whitney! Hopefully you found it useful. Here are a few more wanderlust-inducing articles that I recommend you read next:
---
Have any questions about hiking Mount Whitney in California? Any other suggestions? Let me know in the comments below!