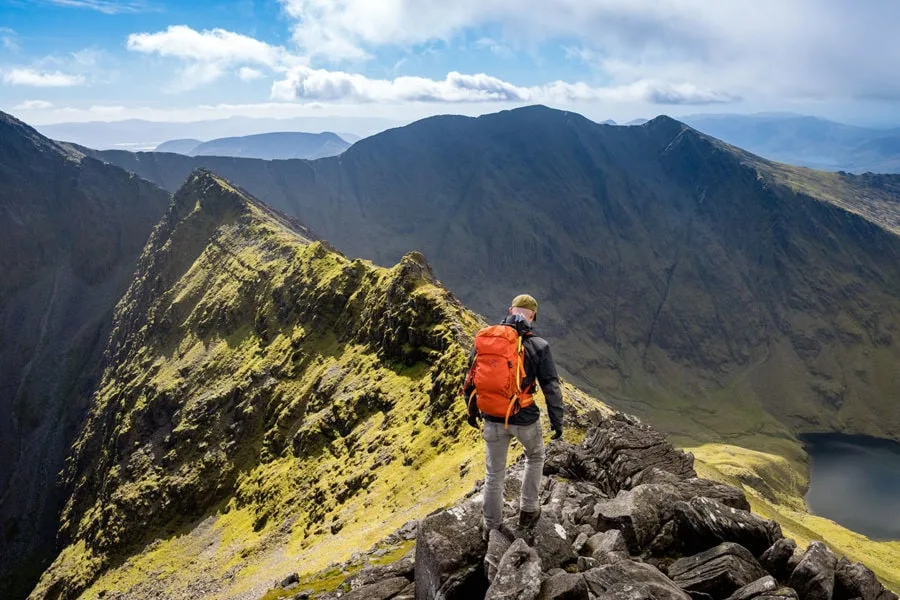 Kerry, Ireland
While traveling through County Kerry I decided to climb 4 of Ireland's biggest mountains in a single day, including Carrauntoohil, the highest one in the country. Here's how!
If you're looking for a challenging (and free) outdoor activity to do while traveling in Ireland, I highly recommend hiking to the top of Carrauntoohil, Ireland's highest mountain at 1038 meters (3,407 ft).
Carrauntoohil (Corrán Tuathail in Irish, meaning Tuathail's Sickle) is part of the Macgillycuddy's Reeks mountain range, located in County Kerry.
This is a great hike to do if you're traveling through Killarney, home of Killarney National Park.
While there are a few different ways up Carrauntoohil, I decided to hike the Coomloughra Horseshoe Loop, considered the best ridge walk in Ireland.
In this hiking guide, I'll share information about the different routes up Carrauntoohil, what the experience is like, and how to pack for this unique Irish adventure!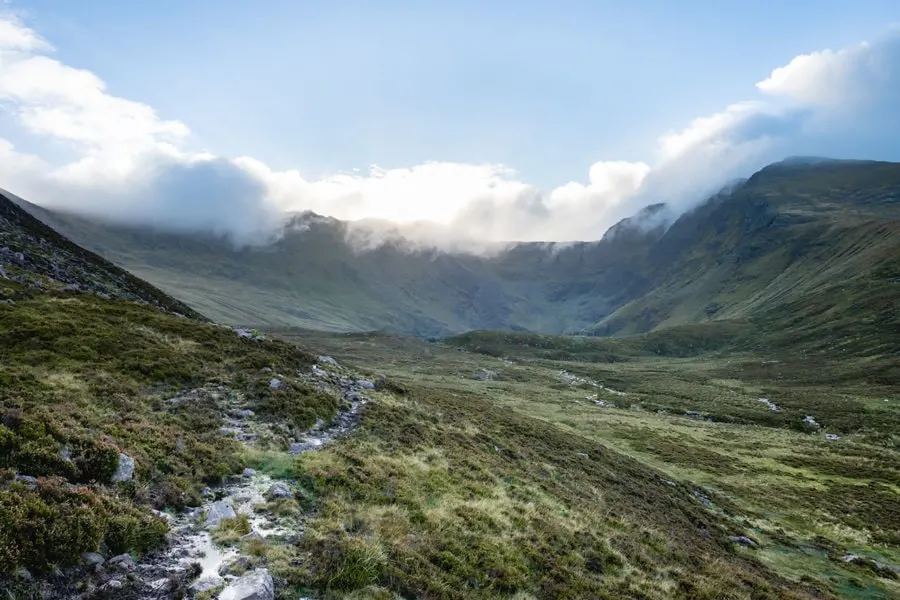 Carrauntoohil Hiking Routes
There are 3 main routes up Carrauntoohil for hikers to tackle, as well as a more difficult 4th option called the Coomloughra Horseshoe that hits all 3 of Ireland's highest peaks in one go.
Which is the best route to climb Carrauntoohil? Well, most people choose the Devil's Ladder Route because it's the most straightforward.
However, If you've been following my adventures for a while now, you'll know that I tend to enjoy a good challenge. So obviously I picked the longest & most difficult one — the Coomloughra Horseshoe Loop.
1. Brother O'Shea's Gully Trail
Distance: (6.8 miles)
Hiking Time: 4-6 Hours
Starting Location: Cronin's Yard
This is considered the easiest hike up Carrauntoohil. It starts at Cronin's Yard, as does the Devil's Ladder hike. After passing through "Hags Glen" you take a right fork that rises over Lake Gouragh. You then climb a series of gentle slopes, with a few exposed sections before reaching Carrauntoohil. Hike back the same way.
2. Devil's Ladder Trail
Distance: (7.1 miles)
Hiking Time: 4-6 Hours
Starting Location: Cronin's Yard
Also starting at Cronin's Yard, Devil's Ladder is the most popular "tourist trail" which leads straight between Lake Gouragh and Lake Callee (after fording a small river) towards the base of Carrauntoohil. Devil's Ladder itself is a steep gully filled with loose scree. Once you're thoroughly exhausted, you'll reach the summit of Carrauntoohil. Hike back the same way.
3. The Caher Trail
Hiking Time: 4-6 Hours
Starting Location: Hydro Track Parking Lot
This route takes you to Carrauntoohil via Ireland's third highest peak, Caher. Starting from a parking lot you pass a locked gate and head up a steep tractor road called the "Hydro Track". The road turns into a hiking path that brings you into a valley next to Lough Eighter (a lake shaped like an 8). Take the trail on the right of the lake up Caher Mountain, then across a ridge to the summit of Carrauntoohil. Hike back the same way.
4. Coomloughra Horseshoe Loop
Distance: 12 km (7.5 miles)
Hiking Time: 6-8 Hours
Starting Location: Hydro Track Parking Lot
Starting in the same parking lot as The Caher Trail, this longer loop trail branches off to the left of Lough Eighter instead, hitting all three of Ireland's highest peaks around a horseshoe-type shape: Beenkeragh, Carrauntoohil, and Caher. This is the route I hiked, so I'll share more details below.
[su_note note_color="#F7F7F7″ text_color="#333333″ radius="3″ class=""]
For more details on all these different hiking routes, as well as safety information, make sure to visit the Kerry Mountain Rescue Website.
[/su_note]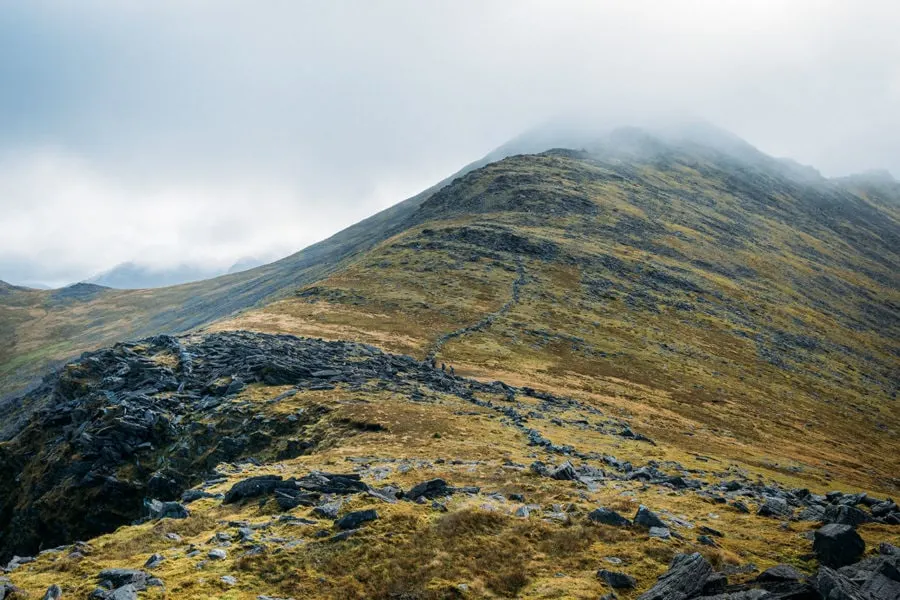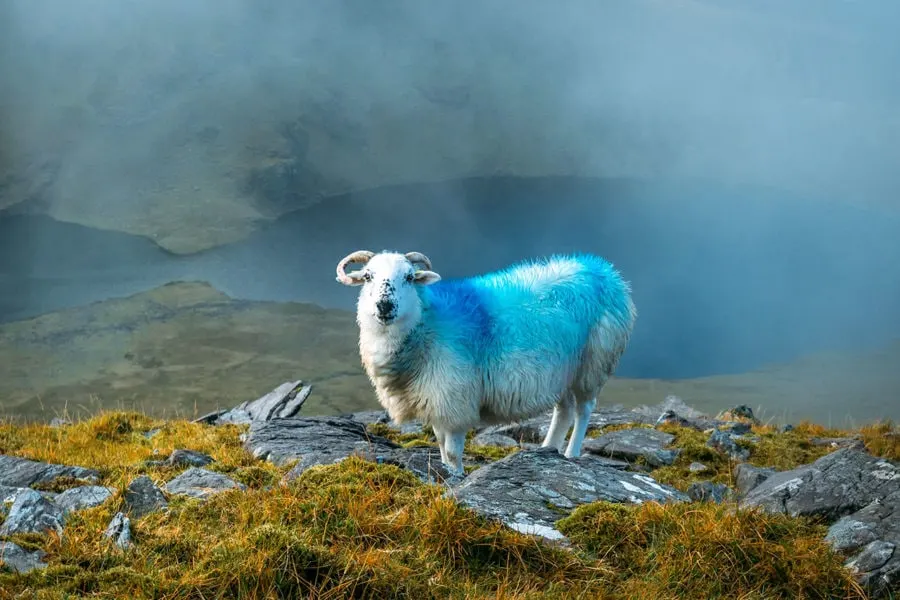 Hiking The Coomloughra Horseshoe
Leaving my rental car at the trailhead parking lot, I jump over a locked gate onto a steep and worn concrete tractor road called the "Hydro Track".
It's still dark out, and I seem to be the first one on the trail.
Eventually, I have to climb over another livestock gate and the concrete road turns into a proper walking trail. As the sun begins to rise, I see ominous clouds covering the high peaks that are my ultimate destination.
Hopefully I'll get some kind of clear view from the top!
I'm not optimistic though, as Ireland's weather can be very unpredictable. Or, should I say predictably bad most of the time…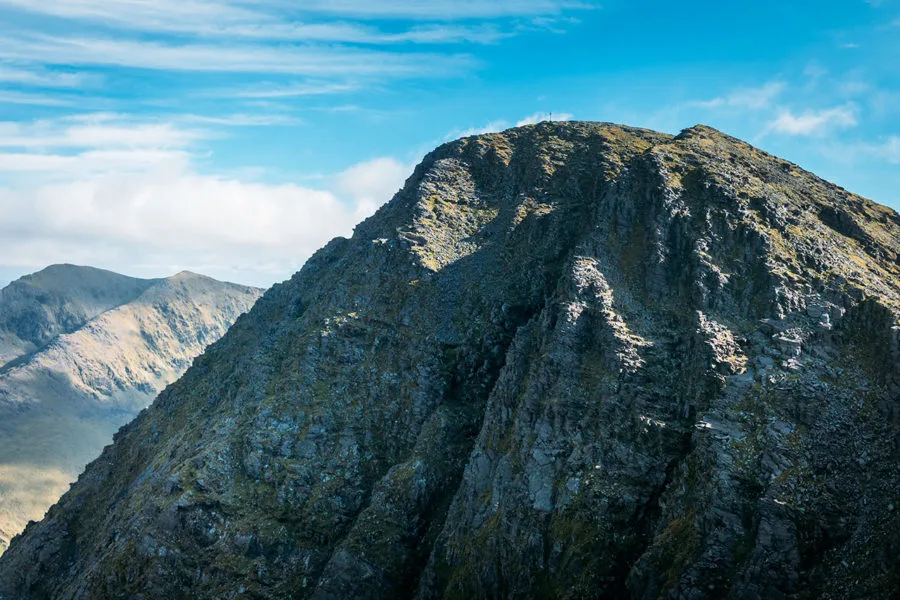 Scrambling Over Beenkeragh Ridge
Sheep are my only hiking companions at the moment. They're painted bright blue, for what I assume is to identify which ewes have been impregnated and to keep away from the ram.
At the top of Beenkeragh, Ireland's 2nd highest mountain, luckily the clouds begin to dissolve, and I catch my first glimpse of Carrauntoohil, Ireland's highest peak.
I can barely make out a giant steel cross at the top.
From here it's down onto the very narrow Beenkeragh Ridge, which is several hundred meters long. A twisting traverse featuring rock obstacles and steep drop-offs on either side.
This is not a trail you'd want to tackle in the rain, bad visibility, or other types of bad weather.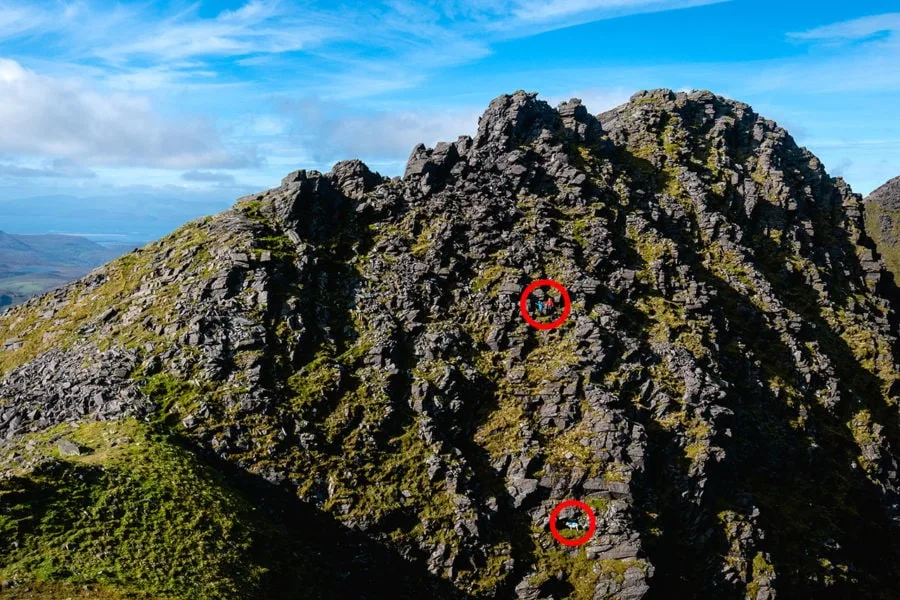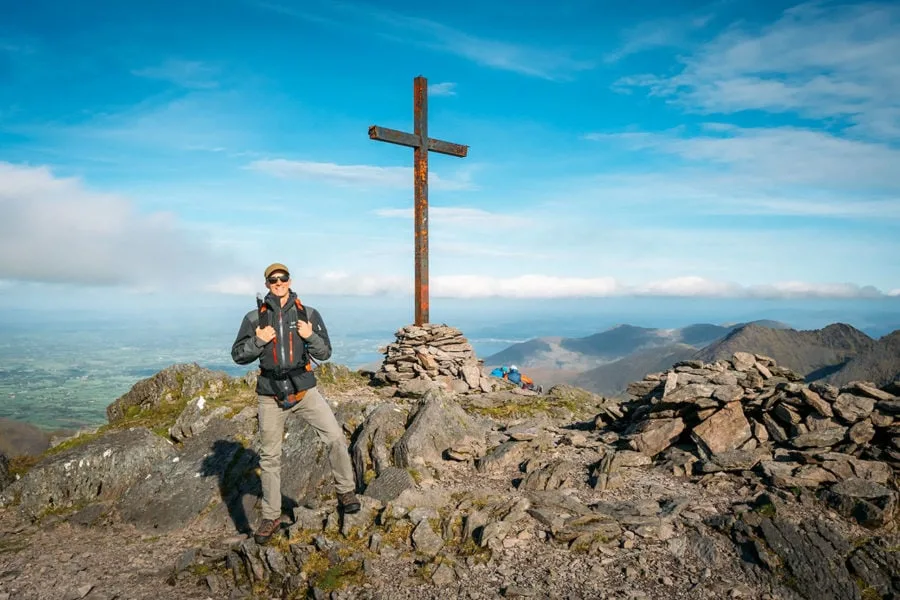 Reaching The Summit Of Carrauntoohil
I finally make it onto Carrauntoohil itself looking back the way I came to see a pair of hikers that look like ants carefully walking through a maze of boulders on the opposite peak.
Below them, a tiny rock-climbing sheep grazes away at the grasses between the rocks.
At the summit, I'm able to see the giant 12-foot steel cross up-close. Originally a wooden cross, it was replaced with this one. In 2014 it was cut down by someone protesting the Catholic Church but raised again soon after.
Plaques remember fallen climbers who died trying to reach this point. While Carrauntoohil is not a very high mountain, it can still be pretty dangerous in bad weather.
The clouds have completely disappeared now though, and I have a perfect 360-degree view of the Irish countryside.
There's also a simple rock shelter with no roof for getting out of the wind. I break out my lunch and brew a cup of mountain coffee before moving Southwest to my third and final peak of the day — Caher.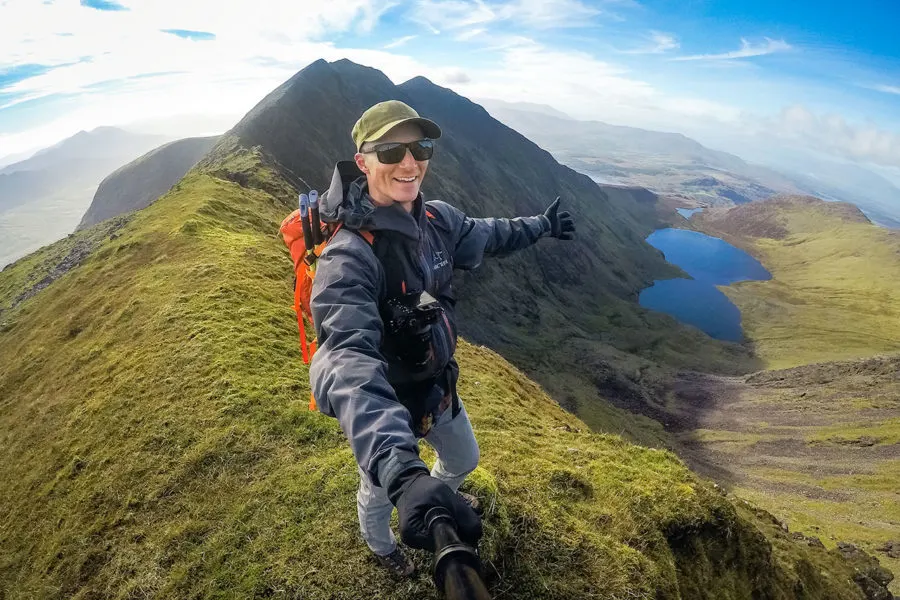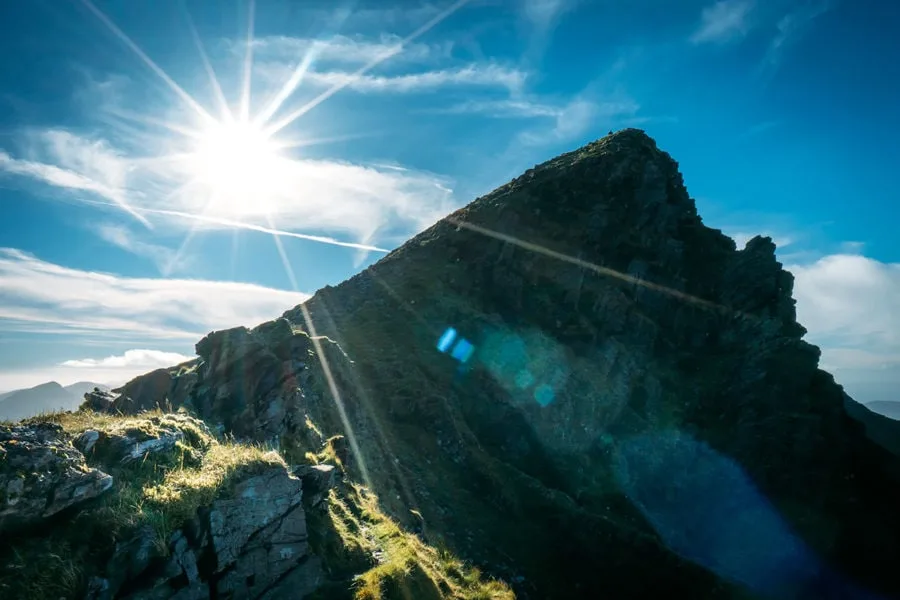 The Traverse To Caher Mountain
From the summit, the trail flattens out into a pleasant walk that follows a ridge at the head of the valley. It then begins to rise on the approach to Caher.
Lough (Lake) Eighter can be seen far below in the valley, back where the hike began.
After a short but steep climb, I reach the summit of Caher (1,000 m / 3,300 ft). It's getting windy now, so I don't stay long and start walking down the other side.
On the hike down, I pass a local man who shares the tale of five Americans who lost their lives in these mountains during World War 2 when they mistakenly flew their plane into the side of one nearby.
My Irish hiking adventure finishes up as I make it back to the path that leads me down to the concrete Hydro Track and my rental car.
This mission to hike Ireland's 3 highest peaks via the Coomloughra Horseshoe Loop in one day has been accomplished!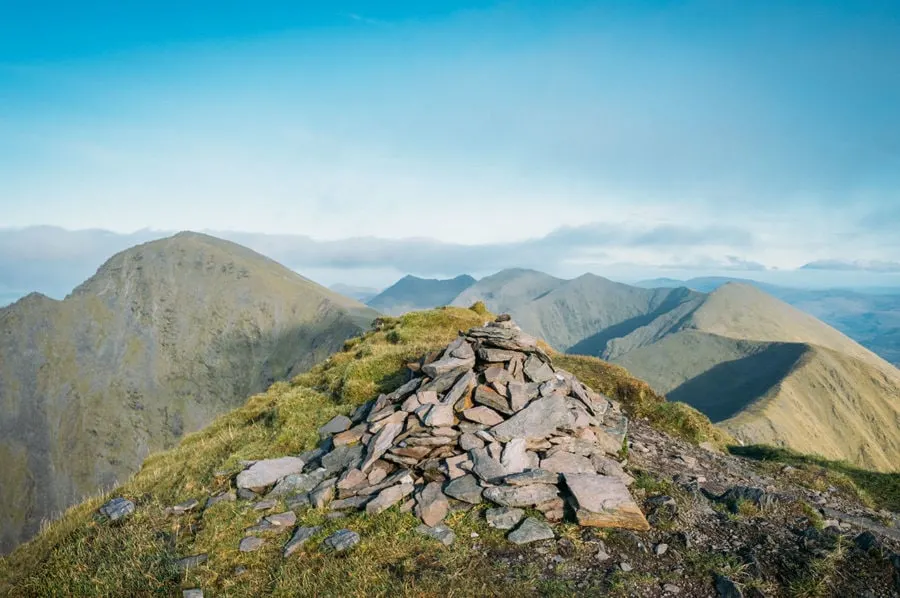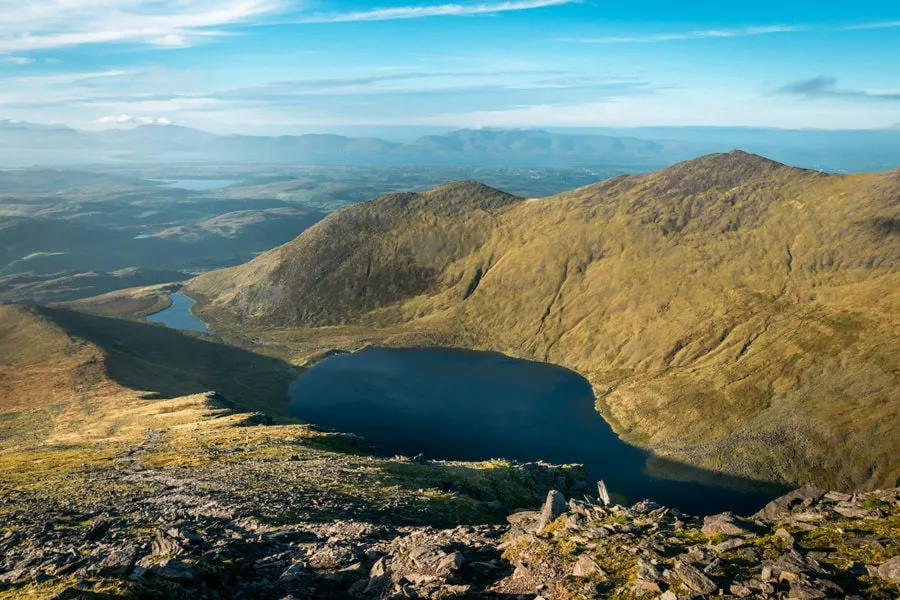 How To Get To Carrauntoohil
Carrauntoohil Mountain is located in the south of Ireland, in County Kerry. It's part of the Macgillycuddy's Reeks range. The largest town nearby is Killarney. From Killarney, the trailheads are about a 30-minute drive away.
The best site to book a rental car is Discover Cars. They search both local and international car rental companies to help you find the best possible price. This is the easiest way to rent a car in Ireland.
For tips on driving in Ireland, make sure to read my article here.
There's really no public transport to these trailheads unless you hire a private taxi. Another option is to join a professionally guided hike that includes transportation.
Packing List For Carrauntoohil
Here's a list of recommended gear to bring with you on a hiking trip up Carrauntoohil. Make sure to check out my ultimate backpacking checklist to help you plan future hiking & camping trips too!
Clothing
I recommend packing layers for hikes. You can add or remove them to stay comfortable in all sorts of conditions. I generally wear a pair of rugged hiking pants or a lightweight quick-dry version.
Along with a t-shirt or long-sleeve base layer, I pack a warm & lightweight fleece sweatshirt, and a rainproof/windproof shell jacket. A thin pair of gloves and a buff are good for when temperatures drop.
Footwear
This is not a hike to do in your flip-flops! There are some wet boggy sections on this trail, so make sure your footwear is waterproof. I usually wear a pair of trail running shoes or backpacking boots on my hiking trips.
Equipment
This is a day-hike, so you don't need a giant backpack. A decent daypack should be fine. Read my tips for choosing a good travel backpack here. Depending on the hike, sometimes I bring hiking poles too. Because my Irish skin burns easily, I always have sunscreen and a hat.
Food/Water
I usually stock up on healthy, high-calorie snacks like Pemmican Bars or homemade trail mix. Sometimes I'll bring a small backpacking stove to make mountain coffee. And of course, my trusty filtered water bottle!
Carrauntoohil Hiking Tips
Feel free to hike one trail up Carrauntoohil and another to return down on to mix it up a bit and experience some different viewpoints and trail conditions.
Even though this mountain isn't very high compared to places like the Alps, don't underestimate the weather or exposure here. Strong winds & heavy fog can quickly make hiking very dangerous.
Remember to practice basic safe hiking guidelines and tell someone else about your route, and when you expect to finish the hike.
Know your personal limits, and don't take on too much risk. If your gut tells you something feels too dangerous, listen to it!
While I hiked this trail solo, I generally recommend hiking with a partner unless you're an experienced and confident hiker with navigation skills.
---
Enjoy This Article? Pin It!
---
READ MORE IRELAND TRAVEL TIPS
I hope you enjoyed my guide on hiking Carrauntoohil! Hopefully you found it useful. Here are a few more wanderlust-inducing articles that I recommend you read next:
---
Any questions about hiking Carrauntoohil in Ireland? Are you planning trip there? Join the conversation on Facebook, Instagram, or Twitter to share!