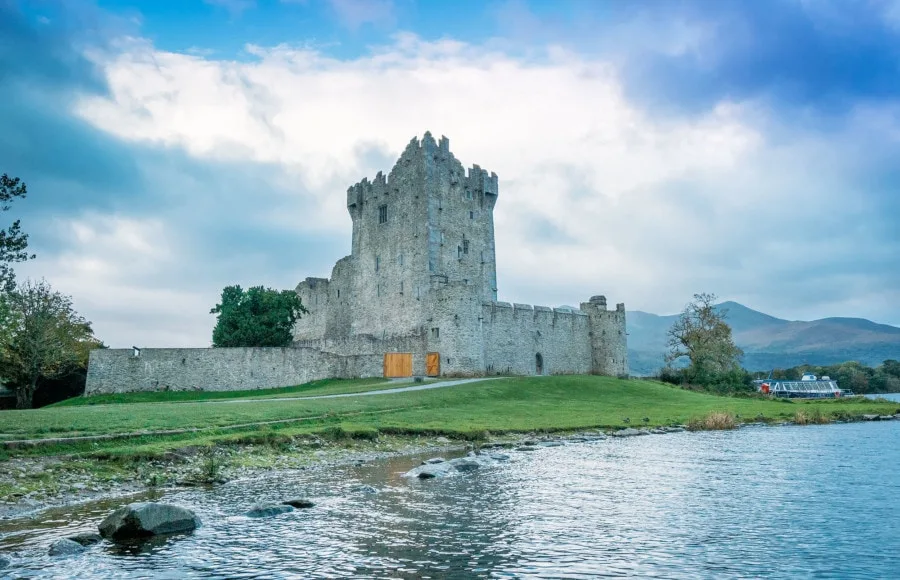 Killarney, Ireland
Killarney is a small town in Ireland with rolling hillsides, ancient castles, pristine lake3s, and its own National Park. Here are some of the best things to do in Killarney!
After traveling to Ireland a few times now, I can safety say that Killarney National Park (Páirc Náisiúnta Chill Airne in Irish) and its surroundings were one of my favorite parts of the country.
Right up there with Dublin and the Cliffs of Moher!
If you close your eyes and imagine Ireland, you probably think of rolling green fields and charming villages. Killarney certainly meets those expectations.
Killarney has some of the best natural wonders in Ireland. The town sits on the shores of Lough Leane in Ireland's southwest County Kerry, and is part of the famous "Ring Of Kerry" drive that lures many foreign tourists.
Whether you're in the mood for some Irish culture and history in Killarney Town, or prefer an outdoor adventure in Killarney National Park, the area has it all.
After having an amazing time there, I wanted to share some of my favorite things to do in Killarney, Ireland if you happen to be planning a trip.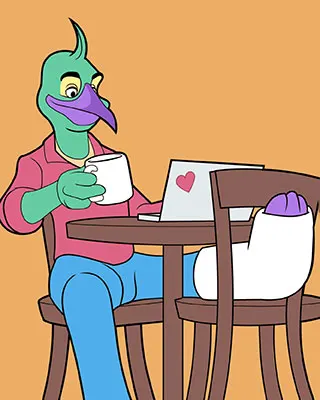 Get Travel Insurance
Protect yourself from injury, illness, or theft while on vacation. SafetyWing offers affordable travel insurance!
Best Things To Do In Killarney Guide
1. Visit Killarney National Park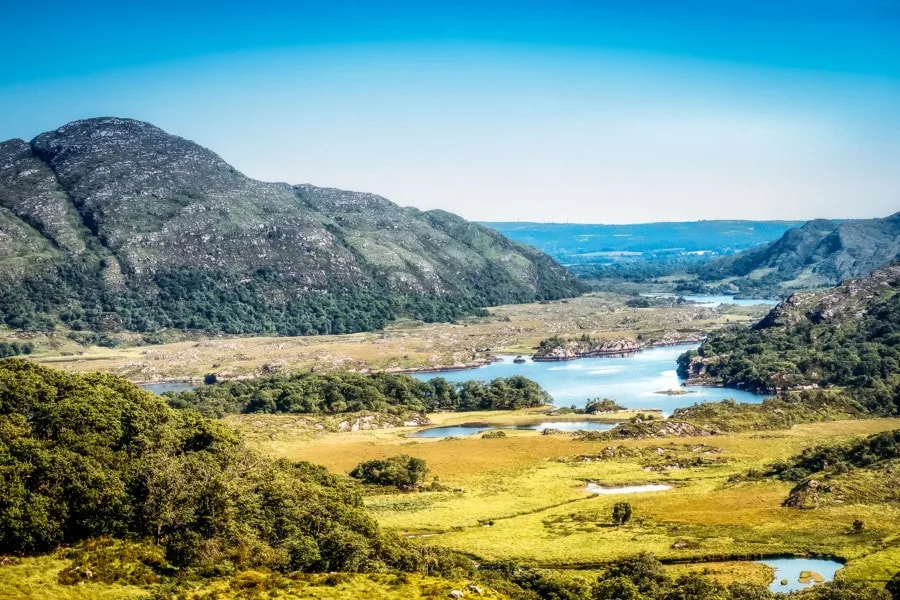 Killarney National Park is made up of mossy valleys and woodlands — famed for its beautiful mountain ranges, castles, lakes, and waterfalls.
Killarney became Ireland's first national park in 1932 when Muckross Estate was donated to the Irish Free State. Today, it covers 25,000 acres.
Outdoor lovers can explore the forests to appreciate the incredible ecological diversity, including the Lakes of Killarney, plus oak and yew woodlands.
It's free to enter the national park, but some of the attractions inside may have entry fees.
Many of the highlights I mention below are part of the National Park, with the others are right next door. There's a lot of fun things to do in the area!
2. The Muckross House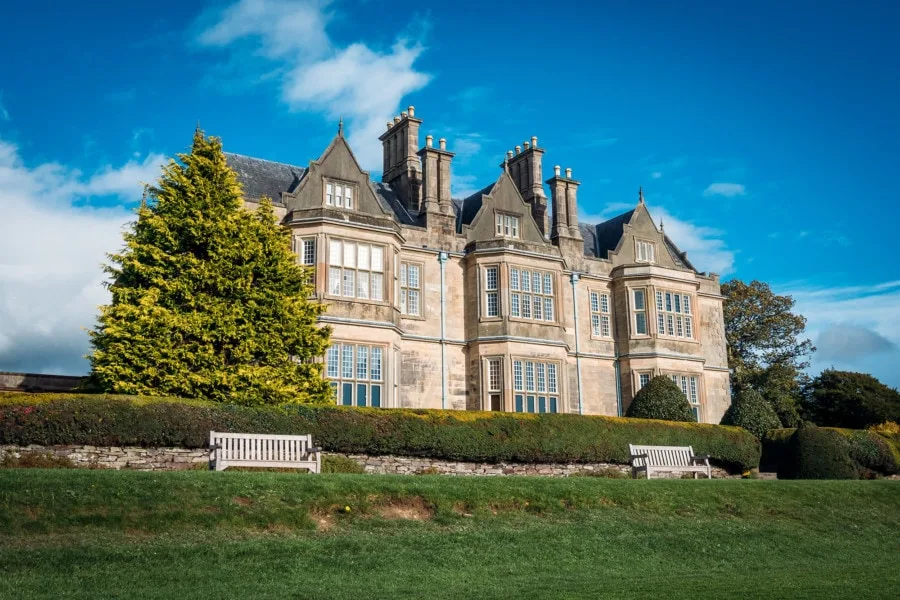 The Muckross House Gardens stand near Muckross Lake in Killarney National Park. This stunning Victorian mansion was built for Henry Arthur Herbert and his wife, water colorist Mary Balfour Herbert, in 1843.
Lord Ardilaun of the Guinness family purchased the home in 1899. Guests can tour the home, gardens, and working farms all year long. Rooms contain elegant period furniture to reflect the lifestyle of its previous inhabitants.
Thick ivy climbs its stone walls, changing color with the seasons, and extensive manicured gardens compliment the mansion.
The grounds contain three separate working farms, as well as the ruins of Muckross Abbey (with a tree growing inside!) The farmhouses contain traditional style dressers, beds, and meal bins. You can also visit the Labourer's Cottage, a Carpenter's Workshop, and a Blacksmith's Forge.
Opening Times:
9am – 6pm
Entry Fee:
House tours cost €9 EURO. Wandering the grounds is free.
3. Explore Ross Castle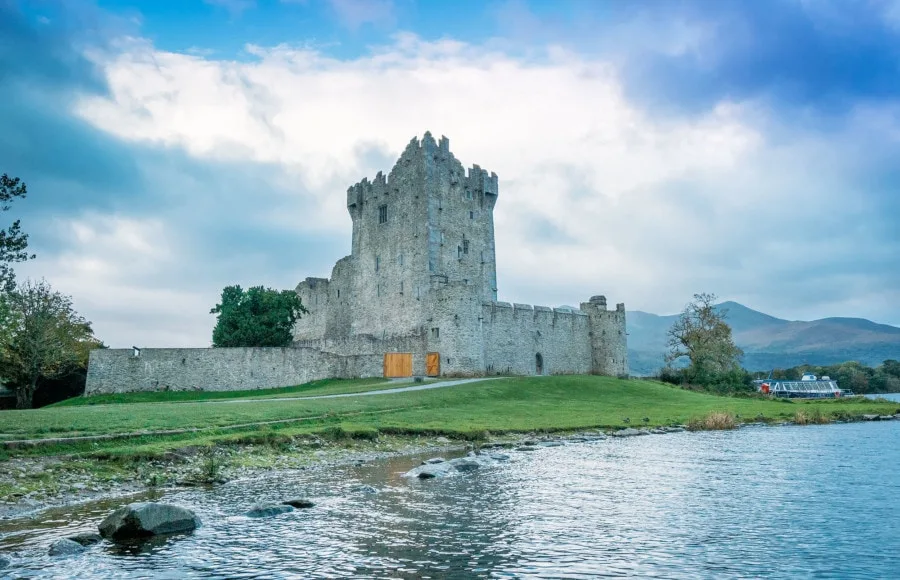 Located on the edge of Lower Lake in Killarney National Park, Ross Castle is a renovated castle just a few minutes' drive from town. The ruling clan O'Donoghues Mór built the castle in 1537. It has since been the setting of many battles over the centuries.
Visitors can go on guided tours of the castle during summer months. The castle also hosts boat trips from Ross and Reen piers to Innisfallen Island on the Lower Lake and to Lord Brandon's Cottage on the Upper Lake.
Locals say that the castle's original owner, O'Donoghue, killed himself by leaping out of a window into the lake. He supposedly continues to haunt the lake, circling it on a white horse every seven years on the first of May.
Anyone who catches a glimpse of the ghost will enjoy a lifetime of good fortune!
Opening Times:
March 7th – October 22nd: 9:30am – 5:45pm
Entry Fee:
No fee to enter, but guided tours are €5 EURO.
4. Old Weir Bridge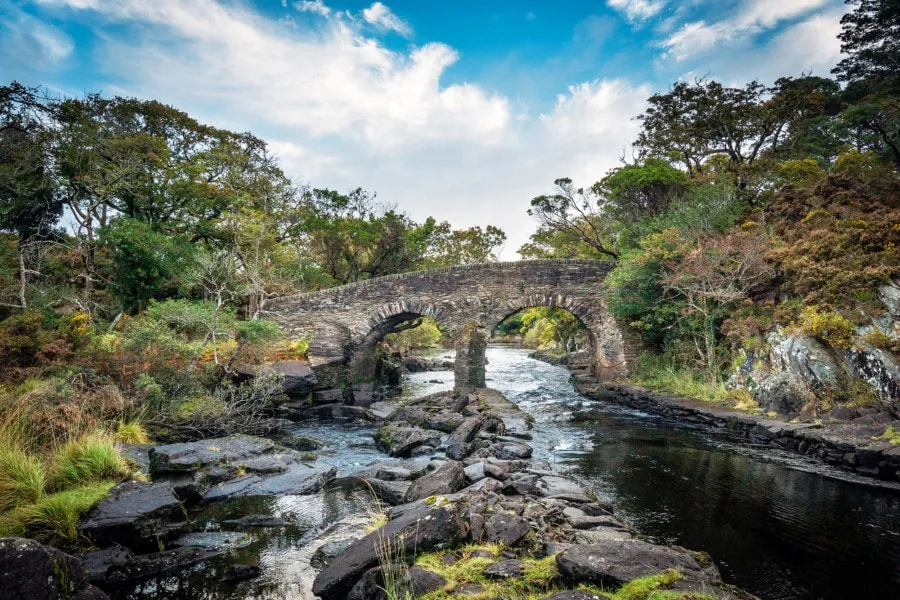 Like much of Ireland, in Killarney, you can find ample examples of centuries-old ruins scattered throughout the countryside. Old Weir Bridge is an ancient stone arch bridge where the three main lakes of Killarney meet.
Historians believe the bridge dates back to the 16th century. To get here, you can take a boat tour, bike, or walk. There is no road access, but there is a car park on the N71. From there you can walk to Dinis Cottage (and have a coffee), then follow the footpath to Old Weir Bridge.
5. Red Deer Spotting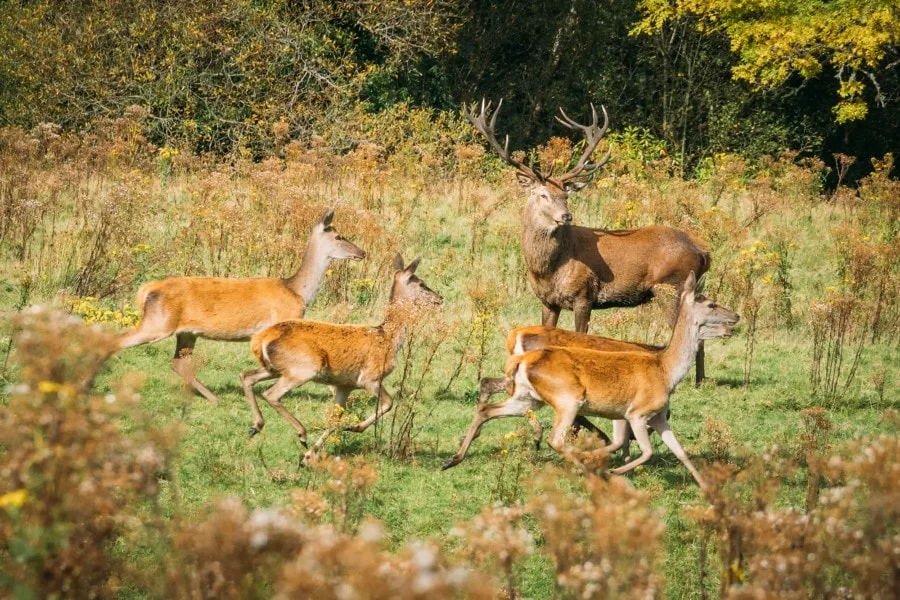 While exploring the Killarney National Park, you'll likely spot Ireland's largest mammal (and the second largest in Europe), the red deer. Red deer have a reddish-brown coat. Male stags grow up to 240 kg (530 lbs) and boast impressive antlers.
You can see them all year long, but late spring is calving season and the best time to see young fawns.
I was lucky and happened to be there in October during the annual "deer rut", when rival stags fight each other for the attention of females.
The best places to see red deer are Knochreer Estate opposite Saint Mary's Cathedral as well as the Muckross House area. Keep your ears open for their distinctive ghost-like sounds or the growls of males throughout the park.
6. Visit Killarney's Pretty Lakes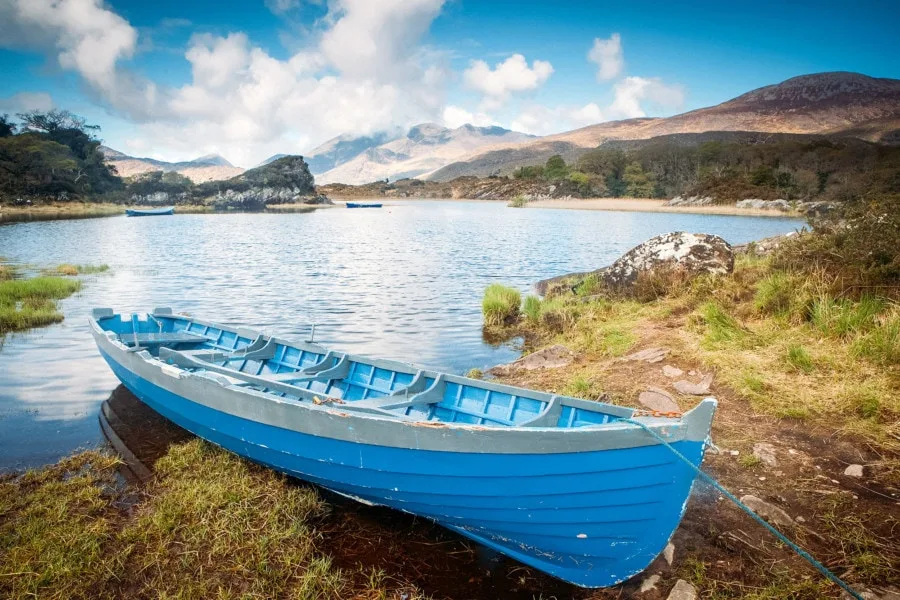 The lakes of Killarney are an ideal destination for enjoying the outdoors and seeing wildlife. Lush woodlands and towering mountains surround the region's three lakes: Lough Leane, Muckross Lake, and Upper Lake.
Lough Leane is the largest of the three, with the nickname Lower Lake. You can take a boat trip to one of the islands, Innisfallen, which contains ancient ruins of an abbey that dates back to 600 AD. Ross Castle is also here.
Muckross Lake is also known as Middle Lake, and features a footpath called the Muckross Lake Loop that takes between 3-5 hours to walk. Take a side trip to see the stunning 18 meter (60 feet) high Torc Waterfall nearby.
Upper Lake is the smallest and southernmost of the three lakes. Home to some of the best salmon and brown trout, the lake has become a popular spot for fishing enthusiasts.
You can also book a boat tour or kayak tour of the lakes, if you'd like to get out on the water for a bit.
7. Carrauntoohil & The Macgillycuddy Reeks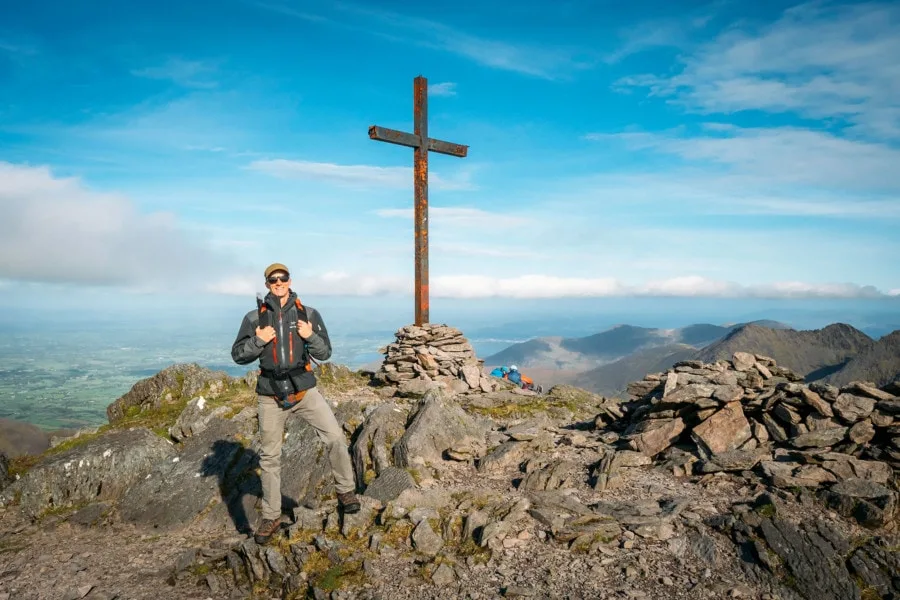 One of my favorite experiences in Ireland was hiking Carrauntoohil Mountain in the Macgillycuddy's Reeks mountain range. The tallest mountain in Ireland!
There are many fun hikes in this area, including a few different options to reach the top of Carrautoohil.
I chose the more difficult Coomloughra Horseshoe, a 6-8 hour trek over all three of Ireland's highest peaks: Beenkeragh, Carrauntoohil, and Caher.
Whichever trail you decide to tackle, caution is needed as the hiking can get dangerous in bad weather. These mountains may not be huge, but they can still pack a punch!
8. Check Out Torc Waterfall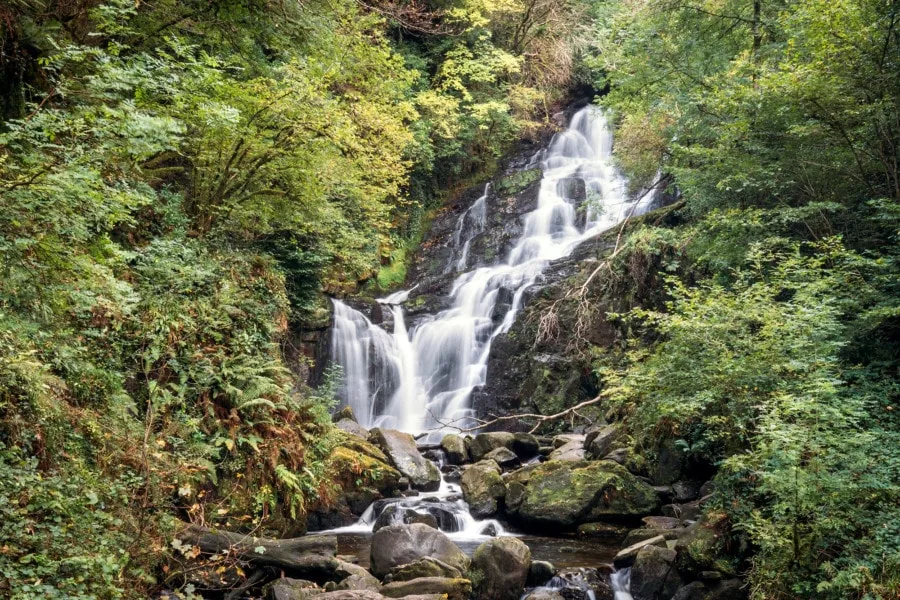 Torc Waterfall is a popular attraction in the area, and just a 5-minute walk from the road, so it's a great activity for kids. The Owengarriff River drops 80 feet into this pretty waterfall surrounded by woodlands.
For the more adventurous, there are many other trails around the waterfall, including the Torc Mountain Trail, a rocky 2-hour hike that gives you excellent views of Killarney National Park.
There's also the Huntsman's Hill trail which loops 3.5 km (2.1 miles), and the Torc Loop, a more moderate hike that takes about 40 minutes.
9. St Mary's Cathedral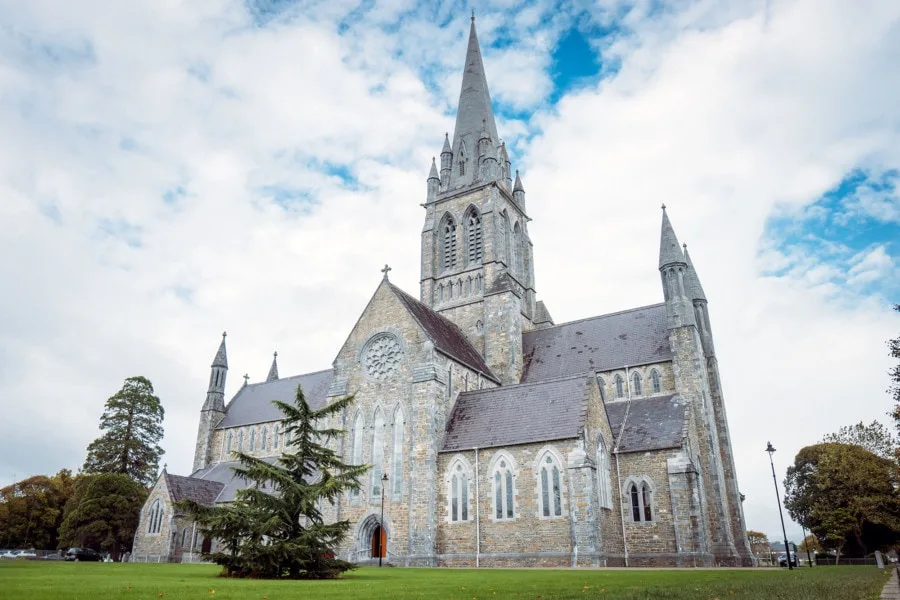 Located just a five minutes' walk from the shopping precinct in Killarney, St. Mary's Cathedral has some impressive stonework and stained glass windows making it well worth a visit.
Soaring ceilings provide ideal acoustics when the organ plays during mass. The cathedral frequently hosts weddings and other church services.
Designed by Augustus Welby Pugin, construction began in 1842 but came to a pause during the great potato famine. It was finally finished in 1907.
10. Castlelough Castle (McCarthy Mor)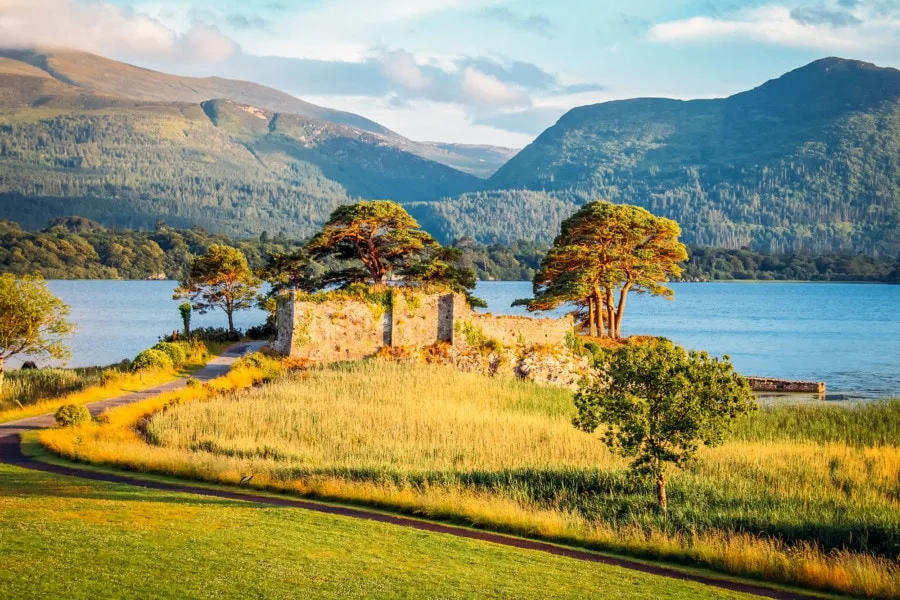 The historic Castlelough Castle overlooks Lough Leane, Killarney's Lower Lake. Historians believe the Anglo-Norman De Roches built the castle in the 12th or 13th century.
In 1262, the Gaelic MacCarthys took over the castle after a battle between the Anglo-Norman and Gaelic forces. It remained under MacCarthy control until the reign of King George II in the mid 18th century.
The Lake Hotel and Castlelough Restaurant now sits next to the ruins. The surrounding mountains and woodlands make this an ideal place to stay while visiting the Irish countryside.
11. Walk The Gap Of Dunloe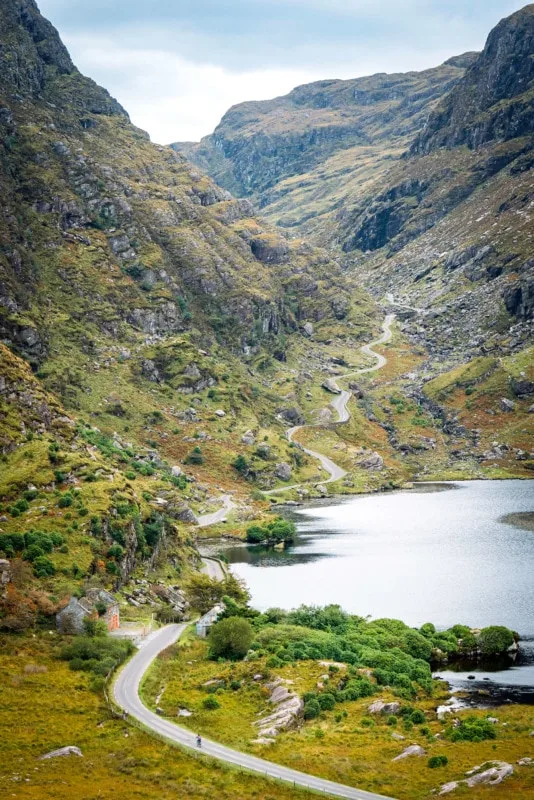 Formed over 25,000 years ago, the Gap of Dunloe was created by a glacier breach in the Black Valley. This narrow mountain pass splits the MacGillycuddy's Reeks mountain range in the west from the Purple Mountain range in the east.
Its name Dunloe comes from Irish, Dún Lóich, meaning "Lóich's stronghold". Legend says Mac Lóich was the father of the five chieftains who conquered and ruled over Ireland for 37 years from 3266 BC.
The road is single lane, with turnoffs in case you encounter oncoming traffic. But I recommend walking the road, biking it, or hire a jaunting horse cart starting from Kate Kearney's Cottage. The 5-mile round-trip journey passes small farms, lakes, and rugged mountains.
12. Driving The Ring Of Kerry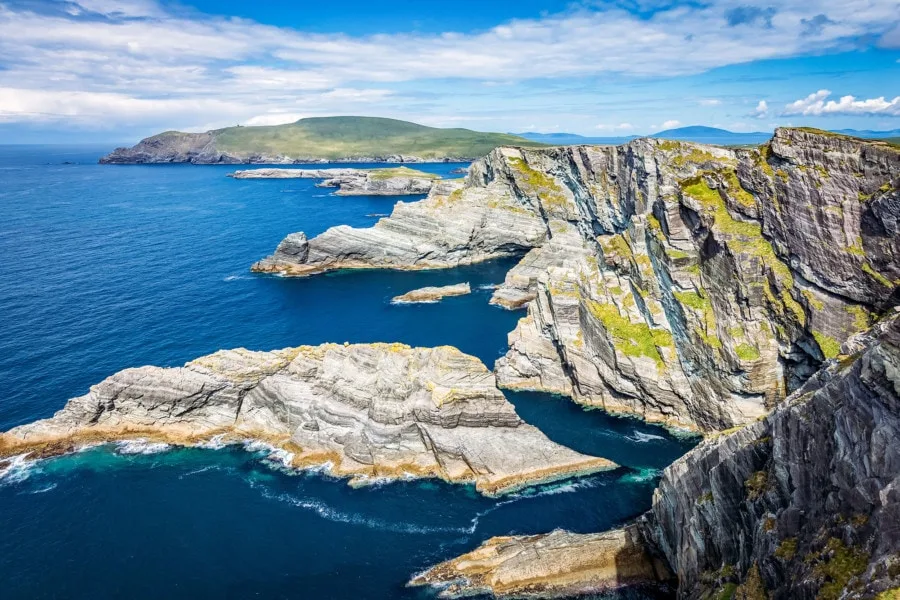 Killarney is the starting point for the Ring Of Kerry, a popular circular road trip in Ireland. Ancient stone ruins dot mossy green hillsides and craggy shorelines along this coastal road.
Meant to be driven counter-clockwise (due to some single-lane roads), the route passes many scenic and historical Irish landmarks.
Killorglin (Home of the Goat King)
Ballycarbery Castle
Leacanabuaile Stone Forts
Ladies View
Moll's Gap
Derrynane Beach
The Skellig Ring
Kerry Cliffs
Unfortunately I didn't have time to drive the Ring Of Kerry, as there was plenty for me to do just around Killarney for 3 days before moving North to explore the Dingle Peninsula.
Where To Stay In Killarney
Killarney has plenty of accommodation available, everything from budget backpacker hostels to 5-star luxury hotels. Below you'll find suggestions for good places to stay during your trip to Killarney depending on your budget.
---
BEST HOTELS IN KILLARNEY
BEST AIRBNB'S IN KILLARNEY
---
Where To Eat In Killarney
Murphy's Of Killarney
I recommend heading to Murphy's of Killarney for a pint and a chance to mingle with the locals.
Murphy's features live music plays in a cozy atmosphere, with traditional pub fare including shepherds pie, Guinness beef stew, and fish and chips.
Bricin
Bricin means "small trout" in Gaelic, and is also the name of a stone bridge in Killarney National Park. Bricin is also a popular restaurant in a restored historic building on High Street.
The antique timber and stained glass windows call guests to dine in an inviting atmosphere. Local folk crafts and artwork decorate the walls.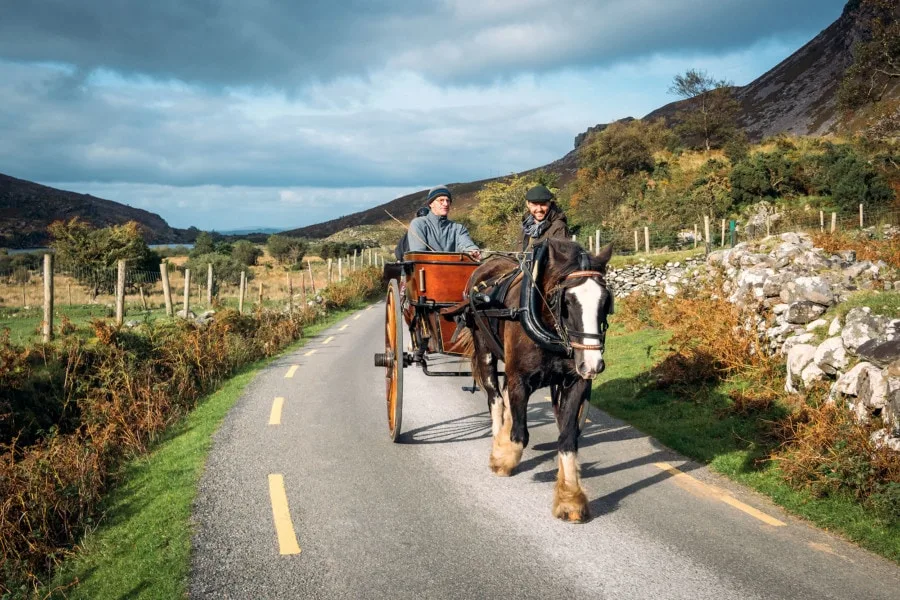 Transportation Around Killarney
Rental Car
The best site to book your car is with Discover Cars. They search both local and international car rental companies to help you find the best possible price. This is the easiest way to rent a car in Ireland.
Renting a car offers the best flexibility to explore remote parts of Ireland, and avoid the big tour groups.
Killarney Shuttle Bus
If you don't have a car, the best option is to do the hop-on-hop-off bus from Killarney Shuttle Bus. It takes you from Killarney to all the main attractions in Killarney National Park.
Taxi
There is local taxi service around Killarney, but I'd use them as a last resort.
Jaunting Carts
During your time in Killarney, you're sure to see plenty of horse-drawn carriages called "Jaunting Carts" or "pony-and-trap" throughout the National Park. This is a popular way for tourists to get around. You can go for short rides, or a full-blown National Park tour with different stops.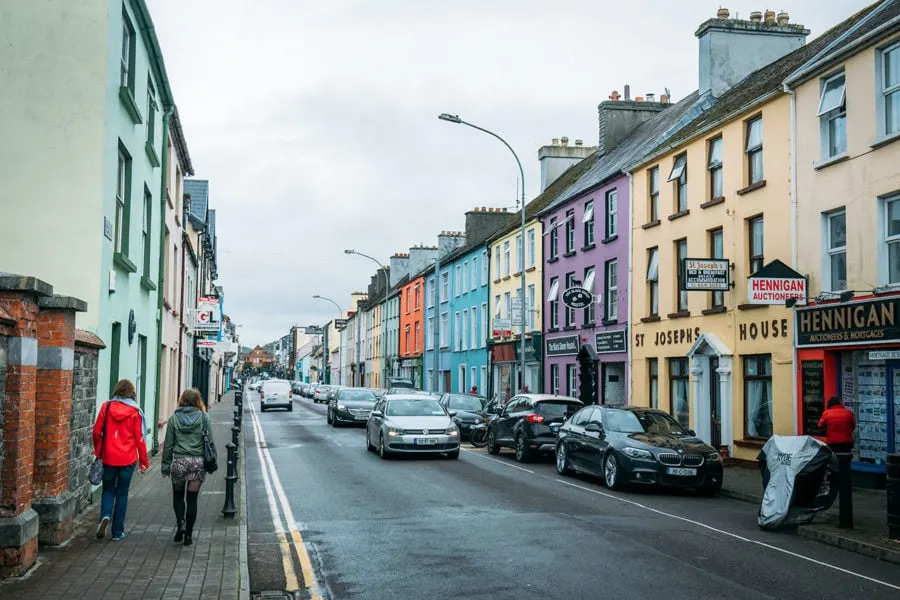 Killarney Travel Tips and Advice
Weather in Killarney depends on the season. Summer temperatures average 50F (10C) to 60F (16C). That makes summer the busiest time for tourists. It's Ireland, so rain is possible anytime.
You can easily get to Killarney from any of Ireland's main cities, like Dublin, Galway, or Cork via train or rental car. Kerry Airport is also located about 13 km (7 miles) from the city.
---
Enjoy This Article? Pin It!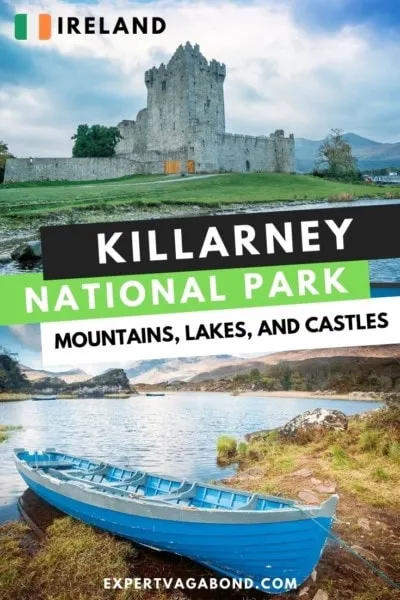 ---
READ MORE IRELAND TRAVEL TIPS
I hope you enjoyed my guide on what to do in Killarney! Hopefully you found it useful. Here are a few more wanderlust-inducing articles that I recommend you read next:
---
Any questions about things to do in Killarney? Do you have other suggestions? Join the conversation on Facebook, Instagram, or Twitter to share!