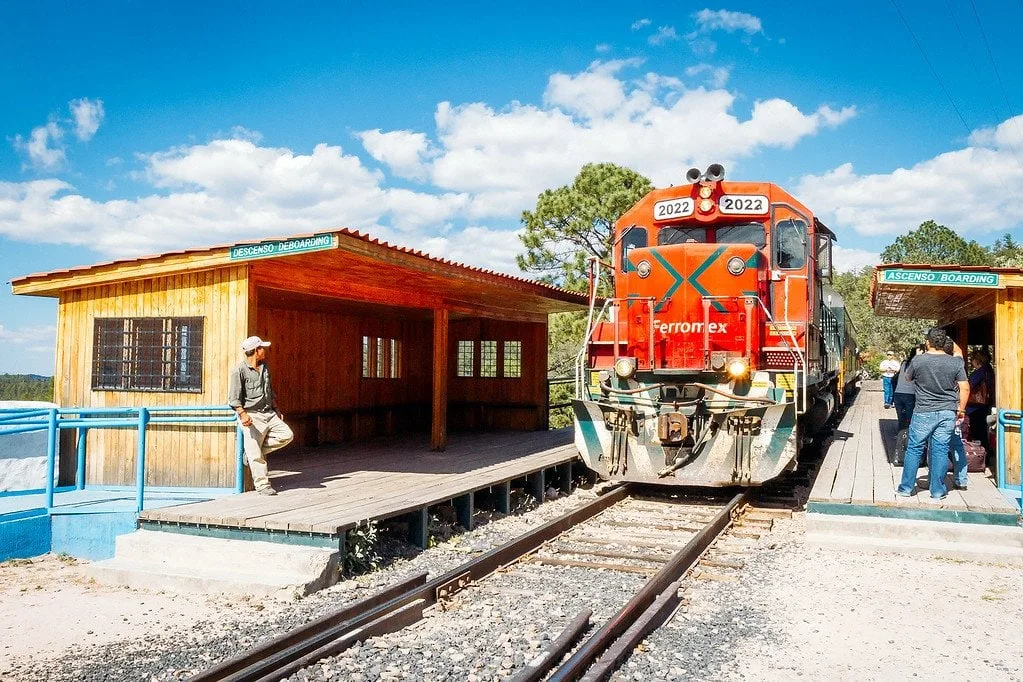 Chihuahua, Mexico
Join me for a scenic ride through Northern Mexico's most rugged & beautiful landscapes in the Copper Canyon on "El Chepe" — the Copper Canyon train.
"Woah." That was the most intelligent expression of awe from my mouth while standing on the edge of a 400-foot cliff overlooking Barranca del Cobre, also known as the Copper Canyon.
It's difficult to find better words when you're in the moment.
We'd been traveling by train through the Copper Canyon, one of Mexico's greatest natural treasures, and the scenery was spectacular. But the views here in the little town of Divisadero were my favorite by far.
Mexico's Copper Canyon dominates the southern landscape of Chihuahua, the country's largest state. You really can't appreciate how vast and remote this area is until you see it in person.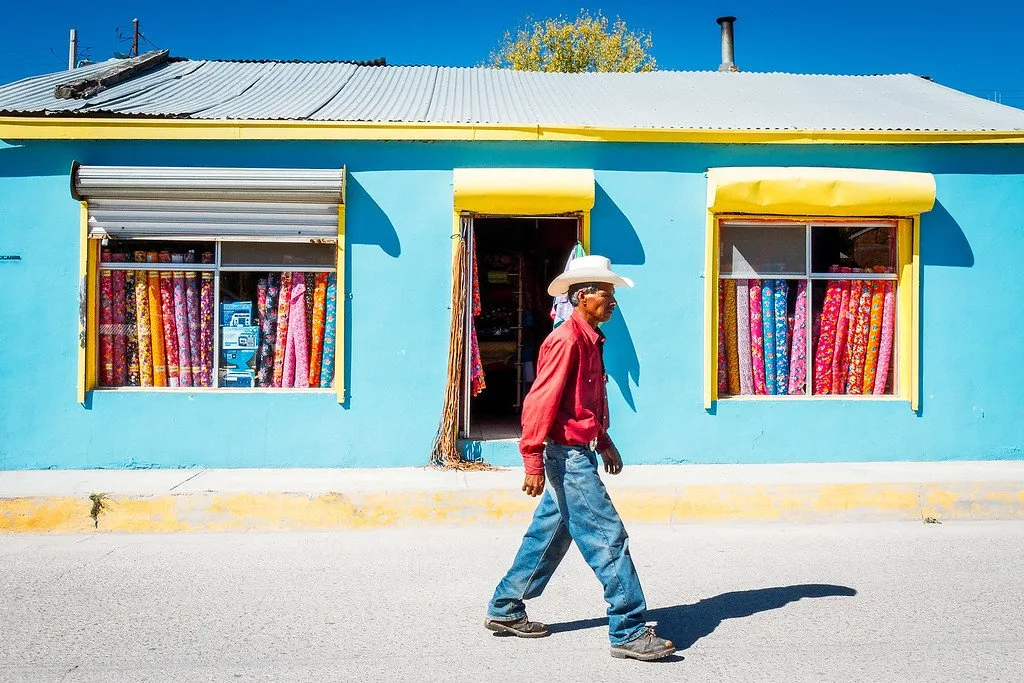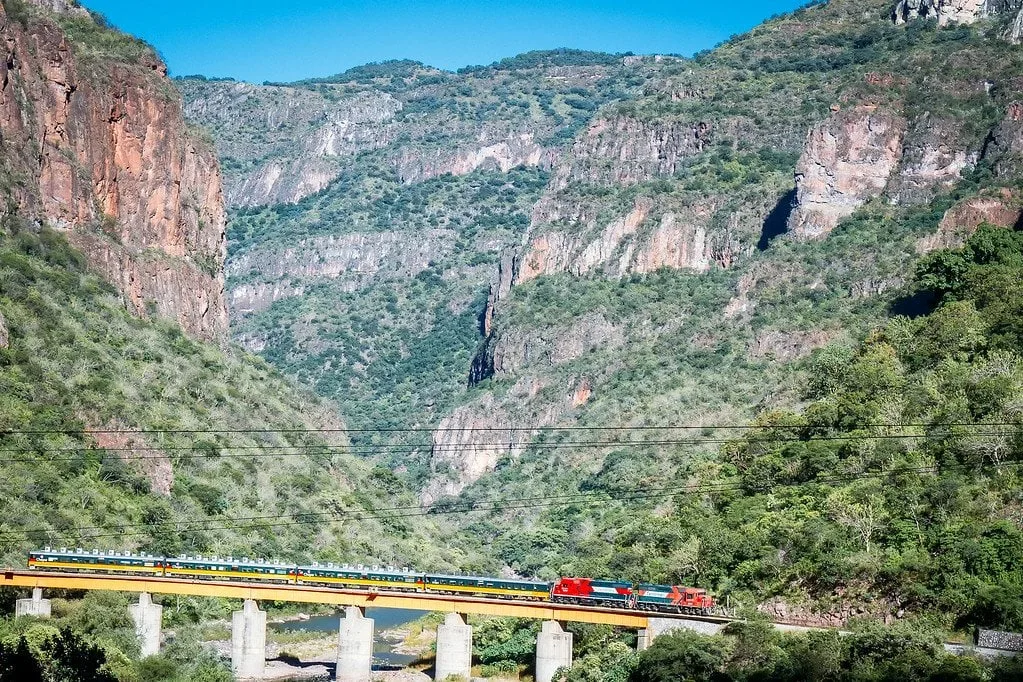 The Copper Canyon Train
In fact the famous Grand Canyon in Arizona isn't quite as "grand". Mexico's Copper Canyon is actually both bigger and deeper than its famous American cousin.
Even better, there is a first-class railroad that takes you through this rough wilderness too. Affectionately called "El Chepe", this train journey through the Copper Canyon was a highlight of my recent trip to Northern Mexico.
Starting in the city of Chihuahua, we chugged along across the desert before slowly climbing into Mexico's towering Sierra Madre mountains. El Chepe stops at many small towns over the course of its itinerary.
One such town was Creel, the big tourism hub of the region.
Tarahumara Indians
Creel has a whopping population of 5,000. It also marks the highest point of the train journey at just under 8,000 feet. Beginning its life as a logging town — these days Creel is full of colorful craft shops, small family-owned restaurants, local cowboys, and Tarahumara Indians trying to earn a meager living.
The Tarahumara people (known locally as the Rarámuri) live throughout these canyons in small wooden shacks and natural caves. They currently number about 50,000 and most still practice a traditional semi-nomadic farming lifestyle.
Tarahumara women sell beautiful handmade baskets and other crafts to help support their families.
Both the men & women are famous for their superhuman long-distance running abilities, as described in Christopher McDougall's best-selling book "Born to Run".
[su_row class=""]
[su_column size="1/2″ center="no" class=""]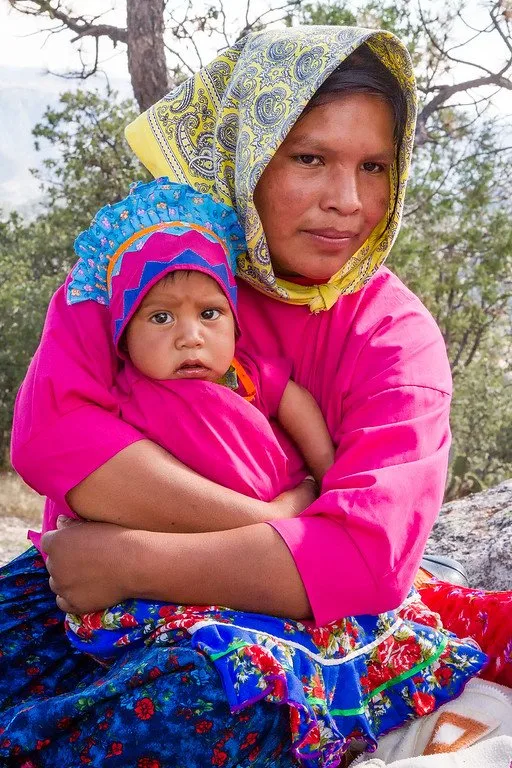 [/su_column]
[su_column size="1/2″ center="no" class=""]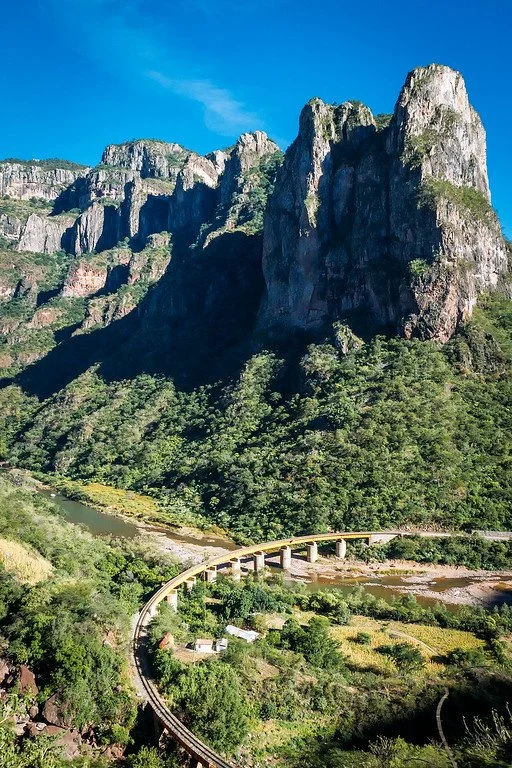 [/su_column]
[/su_row]
Diverse Natural Landscapes
After a night in Creel, we jumped back onto El Chepe for some of the most breathtaking canyon scenery yet.
From the train's vestibules between cars, you can lean out and breathe fresh mountain air. It's surprisingly chilly at the higher elevations too. They get snow here in the winter.
Because I was traveling as part of a tour with Authentic Copper Canyon, we were always notified when the best views were approaching.
The train stopped in the town of Divisadero for 20 minutes so everyone could drink-in the most incredible view of the whole trip.
Next, it was on to Bahuichivo, and then to Temoris. This leg of the journey entails even more mountain tunnels, thick forests, tall bridges, sheer drops, and a few scenic waterfalls as icing on the cake.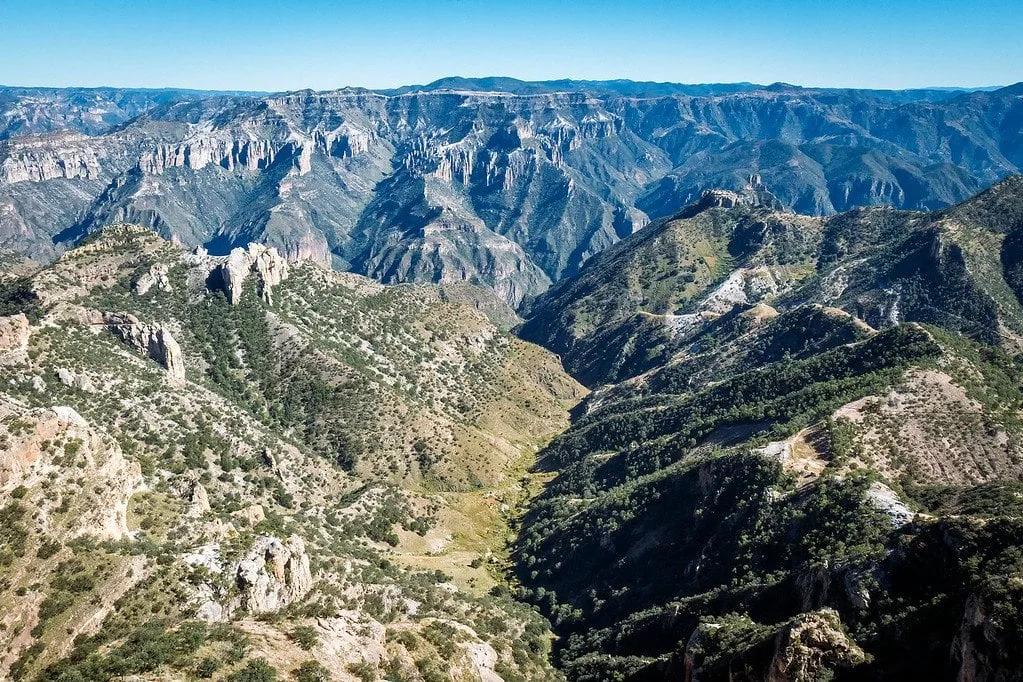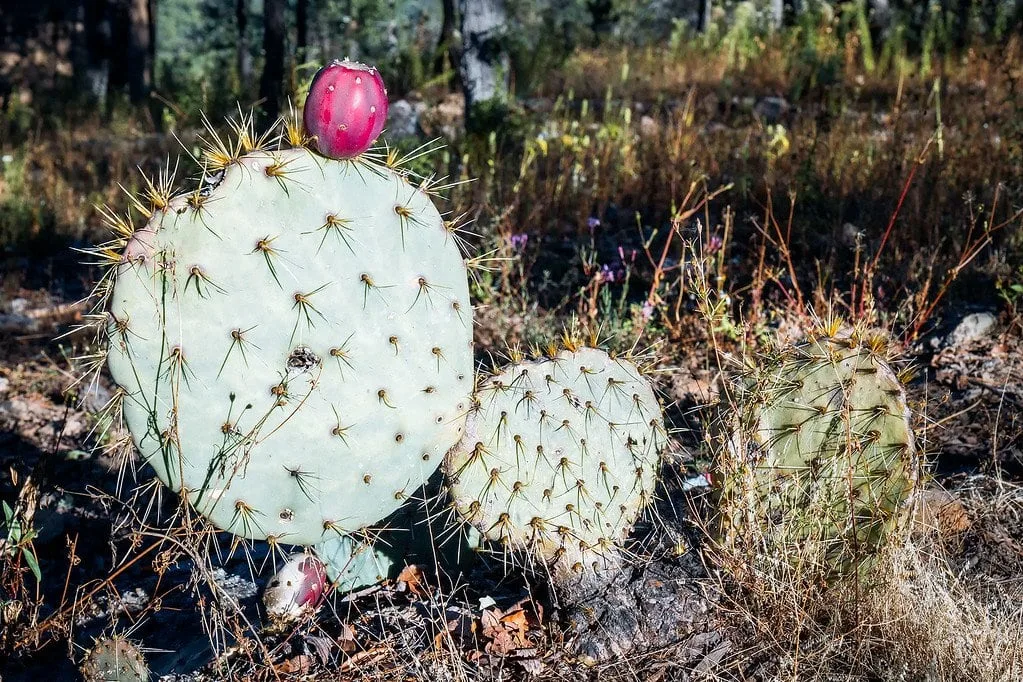 Where To Stay In The Copper Canyon
Creel is the town I spent the most time in while passing through the Copper Canyon. If you're wondering where to stay in the Copper Canyon area, here are my recommendations:
---
---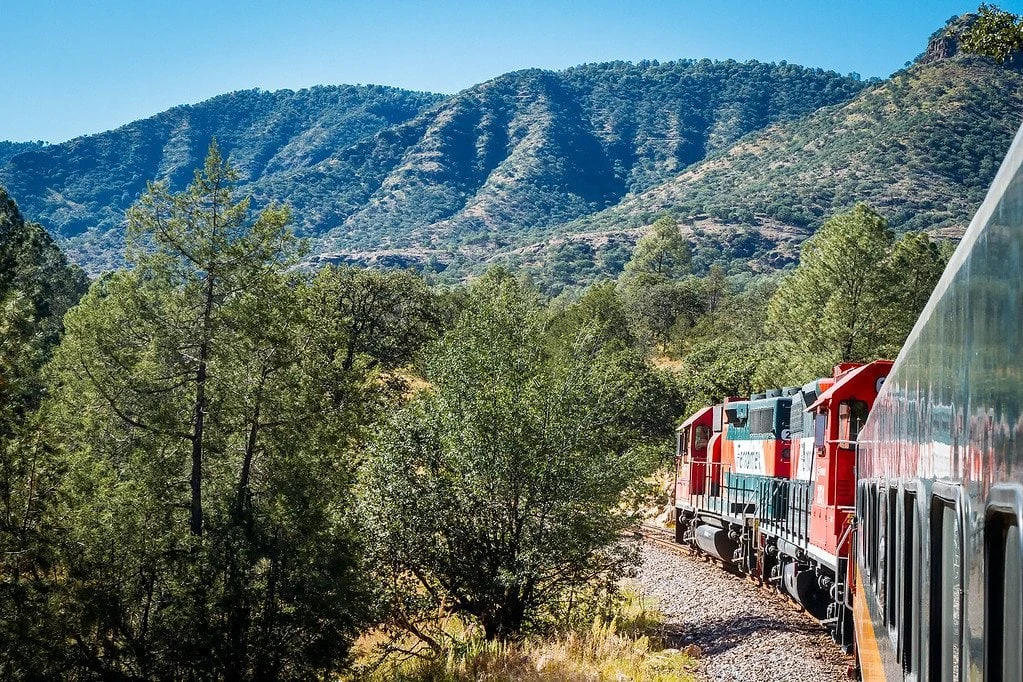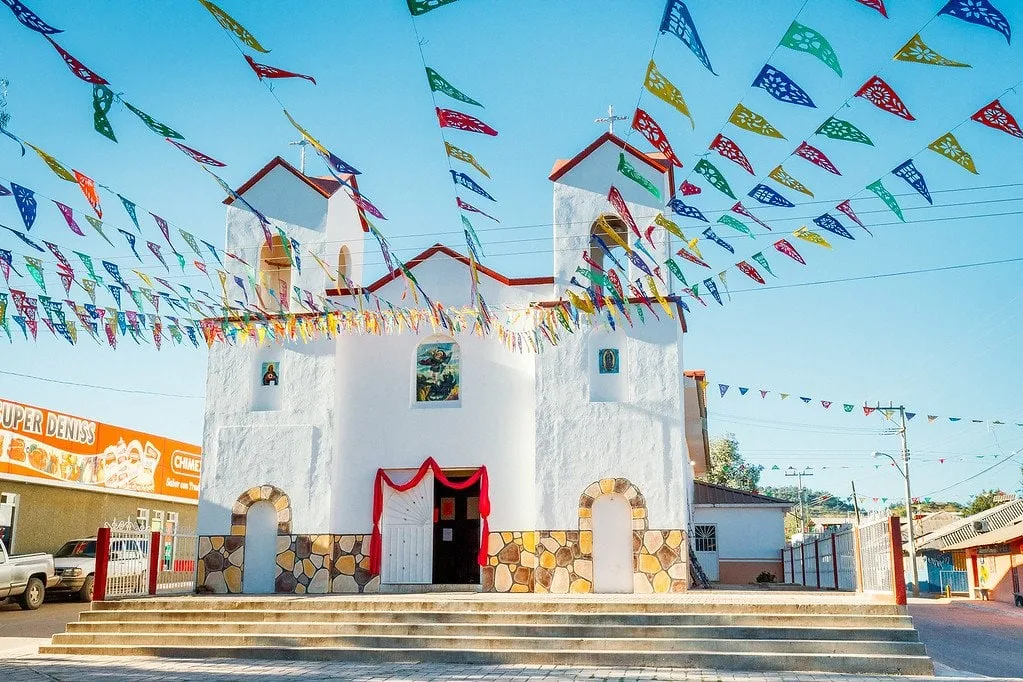 Train Travel In Northern Mexico
The people you encounter on this trip are a big part of its appeal. It's the old ranchers on horseback, indigenous Tarahumara women in colorful dresses, and groups of waving local children that really made is special.
We disembarked in the tiny village of Temoris and jumped in a truck to explore mountain roads — but the full train route continues another 130 miles to Los Mochis and the Pacific Ocean.
The complete 400 mile, 16-hour train journey from Chihuahua to Los Mochis boasts 37 bridges and 87 tunnels along a rugged landscape that makes you wonder how difficult it must have been to build a railroad track here in the first place!
A true marvel of engineering for the early 1900's.
Riding El Chepe through northern Mexico's beautiful Copper Canyon was easily one of the best train experiences I've ever had. ★
---
[su_box title="Travel Planning Resources for Chihuahua City" style="noise" box_color="#333333″ title_color="#FFFFFF" radius="3″ class="resource-box"]
Official Website: Chihuahua-Pacific Railway
Tour Company: Authentic Copper Canyon
Packing Guide
Check out my travel gear guide to help you start packing for your trip. Pick up a travel backpack, camera gear, and other useful travel accessories.
Book Your Flight
Book cheap flights on Skyscanner, my favorite airline search engine to find deals. Also read my tips for how I find the cheapest flights.
Rent A Car
Discover Cars is a great site for comparing car prices to find the best deal. They search both local & international rental companies.
Book Accommodation
Booking.com is my favorite hotel search engine. Or rent local apartments on Airbnb ($35 discount!). Read my post for tips on booking cheap hotels.
Protect Your Trip
Don't forget travel insurance! I'm a big fan of World Nomads for short-term trips. Protect yourself from possible injury & theft abroad. Read more about why you should always carry travel insurance.
Recommended Guidebook: Lonely Planet Mexico
Suggested Reading: Born To Run
[/su_box]
Enjoy This Post? Pin It!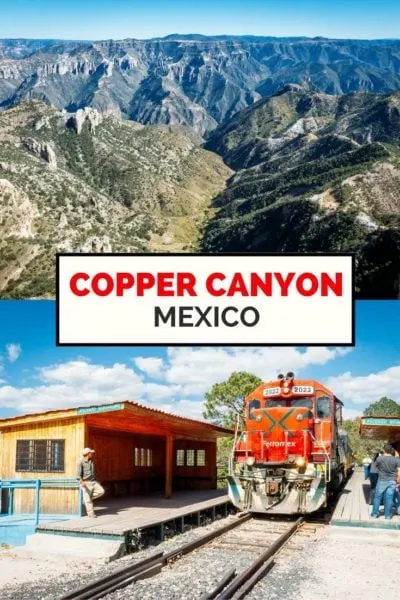 READ MORE MEXICO TRAVEL TIPS
I hope you enjoyed my guide to exploring Mexico's Copper Canyon by train! Hopefully you found it useful. Here are a few more wanderlust-inducing articles that I recommend you read next:
Have any questions about the Copper Canyon? What about other suggestions? Join the conversation on Facebook, Instagram, or Twitter to share!