Gear Review
I've been traveling around the world with Sony A7 or A7R II cameras shooting travel photography for the past 3 years. Here's my review of this outstanding equipment.
[su_note note_color="#DCEFF5″ text_color="#333333″ radius="3″ class=""]
UPDATE: Since initially writing this post on the A7 I've upgraded to the newer Sony A7R II. It's the best camera I've ever owned![/su_note]
When I first heard Sony was releasing a compact, full-frame, mirrorless camera, my initial reaction was "FINALLY!". It was exactly what I'd been waiting for. The Sony A7 line of cameras enable you to create high-end images using a small, lightweight system.
Because I live out of a backpack working as a professional travel blogger, I'm always searching for new ways to pack less.
I'd grown very fond of my Canon 7D over the past few years. However Sony finally raised the bar — this new technology was too good to ignore. In December 2013 I made the switch to a Sony A7, and after a year of hard use through 9 different countries, I couldn't be happier with my choice.
Many people have been asking me about the Sony A7 or A7R II, so I wanted to share my experience with you. In this article you'll learn what I like (and dislike) about these cameras along with sample images from my travels.
Sony A7 & A7R II Camera Review
So what's so special about the Sony A7? Well it was the first time a full-frame sensor had been squeezed into a compact mirrorless camera body. This means the sensor inside the camera is big, producing high quality images with low noise.
Yet the camera body is smaller and lighter than your typical full-frame cameras from Canon & Nikon. Professional quality in a small package — a powerful combination many travel photographers have been waiting for.
Sony currently has three A7 models available. The Sony A7 II is the entry level model. The Sony A7R II has more megapixels. The Sony A7S II is geared for video, with fewer megapixels but higher ISO sensitivity.
Sony A7R II Camera Specs
Camera Format: Full Frame
Pixels: 42 Megapixels
Max Resolution: 7952 x 5304
Lens Format: Sony E & FE
Memory Card: SD/SDHC/SDXC
Video Recording: 4K or 1080 in 60/30/24p
Viewfinder: Electronic (100% coverage)
ISO Sensitivity: 100 – 102,400
Shutter: Silent Electronic (30 – 1/8000 seconds)
Burst Rate: 5 FPS
Focus Points: Hybrid Focus with 399 points
Wireless: Wifi/NFC
Weight: 22 oz / 625 g
READ MORE: How To Choose A Good Travel Camera
Small & Lightweight
One of the biggest benefits of mirrorless full-frame technology is how small & light the Sony A7 line is compared to large DSLRs. Especially when paired with native Sony FE lenses, you'll sometimes forget you're carrying around a professional quality camera.
I can't tell you how often I've had to double check my bag to make sure it was still in there. As the old photography saying goes, "the best camera is the one you have with you".
I'm much more likely to bring my camera along with me for everyday activities if it's small, ensuring I don't miss a great photo opportunity. Over the past few years I've noticed that's just what I'll do with my Sony A7R II.
At 22 ounces, the Sony weighs less than Canon's 5D Mark III.
Image Quality
The image quality produced by the Sony A7 & A7R cameras are amazing for their size. In fact the quality is even rated higher than a Canon 5D Mark III by SnapSort.com.
Sony's sensors are actually used in many other camera brands like Nikon & Fuji, as they are arguably the leader in sensor technology. The gapless design on the Sony A7 (A7R) sensor allows it to collect more light than others.
The new BIONZ X Image Processing technology allows for more natural textures & details to be captured with lower noise. I've been very impressed with the quality of Sony A7 (A7R) images.
Below you'll find a before & after processing example photograph:
RAW Camera File (unprocessed)
Final Image (processed)
Weather Sealing
As a travel photographer I'm often outside capturing landscapes in all kinds of conditions. Over the last year I've tested my Sony A7R II in a variety of weather situations — snowstorms in Iceland, thunderstorms in Turkey, hot sandy deserts in Israel, and salty ocean spray on the coast of South Africa.
Luckily the camera is weather resistant. The only issue I've had is when I lost the tiny flash hot-shoe cover, and waterfall mist created an annoying camera error. I could still shoot photos, but the error would keep popping up in between each shot. Once dry this was no longer a problem.
There is a bit of controversy about the weather resistance though, as Sony later decided to remove any references to weather sealing. Probably because of reports to the contrary. However in my experience the Sony A7 (A7R) is pretty weather resistant.
Just don't take your Sony A7 (A7R) out for extended sessions in pouring rain or drop it in a lake. Extremely cold weather can also be an issue for the small batteries, which drain pretty fast.
LCD Screen & Viewfinder
Sony's articulating LCD screen has been a pleasant surprise, I find myself using it more than I thought I would. It tilts up and down so you can get shots from up high or down low and still see what you're shooting on the LCD.
It does not however rotate enough for selfies, which would have been nice. Especially when trying to shoot video of yourself. Both the LCD screen and electronic viewfinder have great resolution.
Sony A7 (A7R) Lenses
If you've invested a fortune in lenses from Nikon or Canon, you don't have to sell them all and purchase new ones to use the Sony A7 (A7R). There are Metabones adapters that allow you to use glass from other manufacturers on the Sony.
But if you really want to reap the benefits of a smaller camera body, I'd recommend slowly updating your kit with Sony's FE lenses specifically designed for the A7 line. No extra adapter to lug around, and smaller lenses.
I only travel with 2 lenses at the moment. The Zeiss FE 16-35mm F4 and the Sony FE 70-200mm F4.
Affordable Zoom Lenses
Available Prime Lenses
Professional GM Lenses
Menus & Ease Of Use
The Sony A7 (A7R) camera's menu system is pleasantly user-friendly. Most buttons are fully customizable to do pretty much anything you want — you can completely change their functions in the menu settings, including 3 custom function buttons.
Apart from the oddly placed video recording button on the right side of the grip, the rest of the camera's functions are quick, intuitive, and easy to change on the fly.
There are also 2 custom modes on the camera's dial — allowing you to save your most used camera settings for easy access on the fly.
Sony A7 (A7R) Video
With the ability to record high quality 1080 video at 60p (for slow motion), the Sony A7 (A7R) is very capable for general video applications. The A7R and A7S both shoot 4K video too. The cameras include external 3.5mm microphone and headphone jacks specifically for video.
The Sony A7R II has a continuous autofocus mode which is very handy. While not as fast or accurate as a dedicated video camera, it's pretty good.
With the realize of the 2nd generation A7 line of cameras, they also feature 5-axis internal stabilization for the sensor, resulting in super smooth video clips while moving or reducing camera shake.
Other video highlights include fully manual exposure control, active audio levels, and full-time live view of what you're recording on the LCD screen.
Video can be recorded in MP4 or AVCHD formats. While AVCHD (MTS files) are higher quality, they're a bit clumsy to move around or preview once downloaded off the camera. I use Acrok MTS Converter for Mac to batch-convert clips into more manageable ProRes 422 files.
Battery Life
Another issue I've had with the Sony A7 (A7R) is short battery life. For such a small camera body there simply isn't enough room for a large battery. These smaller batteries don't last very long.
I pack 3 batteries in my camera bag, and can sometimes go through all of them on a really full day of heavy shooting. Especially in cold weather. However draining through two is more common, leaving me with the 3rd as a spare.
But you'll almost always want to recharge them all overnight.
Sony In-Camera Apps
You can download camera apps to use with your Sony A7 (A7R) through Sony's website. I use the Smart Remote Control which allows you control the camera with your smartphone (great for selfies or group shots).
I've also used the Time Lapse App for shooting time lapse photography. It's not the most user-friendly app, but it works. However these days I prefer to use a wireless intervalometer described below…
Sony A7 & A7R II Accessories
These are some useful accessories for the Sony A7 that I highly recommend.
Sony A7 & A7R II Tips
Turn off WiFi when not in use to improve battery life.
Turn on "steady shot" when hand-holding the camera if your lens is compatible. Turn it off when using a tripod.
Focus peaking is excellent for quickly achieving focus in manual focus mode, with yellow lines helping to display what's in focus. Great for video.
SEE ALSO: Best Travel Cameras Review
Conclusion
Could the Sony A7 (A7R) cameras be improved? Of course they can. But their benefits far outweigh the few issues, like short battery life. At the moment I think it's probably the best camera out there for travel photography — especially if you're looking for the smallest and lightest kit possible.
While the camera is small, it still feels well-built and confident in your hands. I'm amazed they managed to cram a full-frame sensor into that tiny body. It's a powerful tool at a reasonable price that I've been very happy with.
The Sony A7R II is definitely my favorite camera for travel photography. ★
[su_note note_color="#DCEFF5″ text_color="#333333″ radius="3″ class=""]
UPDATE: Since initially writing this post on the A7 I've upgraded to the newer Sony A7R II. It's the best camera I've ever owned![/su_note]
Enjoy This Post? Pin It!
[su_row class=""]
[su_column size="1/2″ center="no" class=""]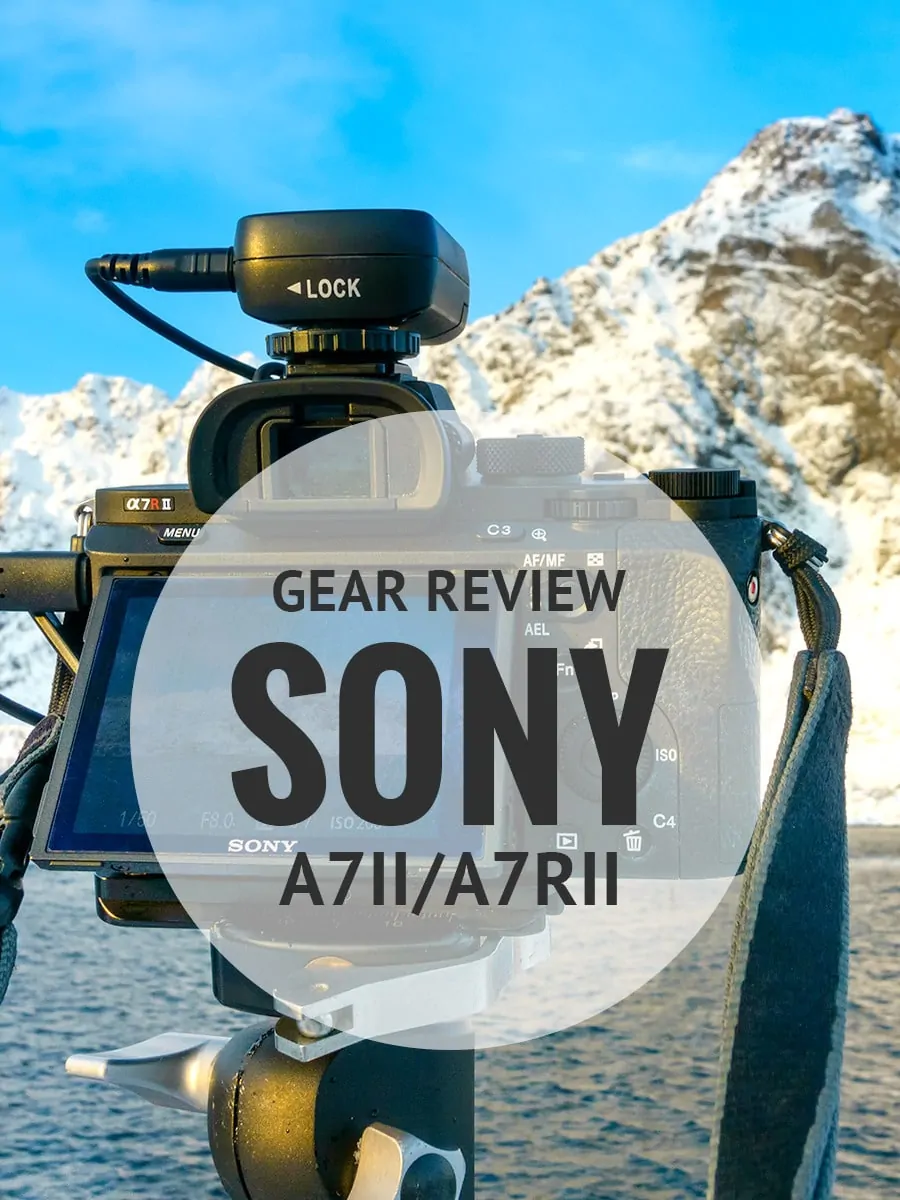 [/su_column]
[su_column size="1/2″ center="no" class=""]


[/su_column]
[/su_row]
READ MORE TRAVEL PHOTOGRAPHY TIPS
I hope you enjoyed my review of the Sony A7 (A7R II)! Hopefully you found it useful. Here are a few more wanderlust-inducing articles that I recommend you read next:
Have any questions about the Sony A7 camera? What do you use? Join the conversation on Facebook, Instagram, or Twitter to share!