Þingvellir National Park, Iceland
Snorkeling in Iceland? Tectonic plates are breaking Iceland apart at Silfra, creating a fissure flooded with crystal clear 35°F degree glacial water.
If you didn't already know, Iceland has a lot of volcanoes. About 130 of them to be exact. The reason it has so many is because the world's North American and Eurasian tectonic plates meet here.
They are actually drifting away from each other about 2cm per year.
A huge rift cuts right through the country, which means Iceland is very slowly being ripped apart. Not only can you see this in the landscape at Þingvellir Valley, you can actually go swimming between the tectonic plates themselves!
Earthquakes pull the jagged cracks apart on a regular basis, dropping boulders into the fissures and constantly morphing the landscape.
Icy Glacier Water
The water at Silfra is ice cold at around 2°C / 35°F, or just barely above freezing. Why on Earth would anyone want to go swimming in it? Well, apart from being the only place in the world where you can actually swim between continents, the water is also amazingly clear.
Ice from nearby Lángjökull Glacier melts and travels into an ancient lava field, filtering underground through 30 miles of porous volcanic rock over 50 years before it emerges again at Þingvellir Lake.
Due to this intense natural filter, underwater visibility is upwards of 100 meters, attracting snorkelers & scuba divers from around the world. It's a very unique adventure travel experience in Iceland.
Snorkeling Silfra
Diving Silfra was something I've always wanted to try in Iceland after hearing about it years ago. Kiersten from The Blonde Abroad joined me on a snorkeling adventure with Arctic Adventures.
It only takes 15 minutes for the human body to experience hypothermia in 35°F degree water, so diving here requires some specialized gear.
Unlike a wet suit designed to keep a layer of warm water next your skin, a dry suit has tight rubber seals around the neck & wrists, preventing water from entering. This allows you to wear thermal clothing underneath for further protection against the cold.
The only body parts exposed to the water are your head & hands, where we used thick neoprene hoods & gloves.
Drifting Between Continents
We nervously entered the freezing water, but quickly forgot about the cold. The underwater environment seems to glow with brilliant shades of blue & green, right down to the very bottom. It's like diving through liquid glass.
To test the waterproof and freeze-proof features of my new Lifeproof Case, I brought my iPhone along for the ride!
Incredibly it still worked underwater in these conditions…
A gentle current floats you down the long & narrow blue canyon. There are no fish, but the landscape is beautiful & serene, filled with colorful caves and crevices. We were snorkeling between tectonic plates, which is just awesome to think about. Witnessing the raw power of mother nature up close.
After 30 minutes of snorkeling Silfra's fissure in complete awe, we began to feel the cold water again — eventually climbing out into the windy Icelandic weather to warm up with hot chocolate.
The perfect way to end this bizarre & unique experience in Iceland. ★
[su_box title="Travel Planning Resources For Snorkeling in Iceland" style="noise" box_color="#333333″ title_color="#FFFFFF" radius="3″ class="resource-box"]
Location: Þingvellir National Park, Iceland
Company: Arctic Adventures
Cost: €176 Euros (snorkeling & cave tour)
Packing Guide
Check out my travel gear guide to help you start packing for your trip. Pick up a travel backpack, camera gear, and other useful travel accessories.
Book Your Flight
Find cheap flights on Skyscanner. This is my favorite search engine to find deals on airlines. Also make sure to read how I find the cheapest flights.
Rent A Car
Discover Cars is a great site for comparing car prices to find the best deal. Also read my tips for driving in Iceland.
Book Accommodation
Booking.com is my favorite hotel search engine. Or rent apartments from locals on Airbnb. Read more about how I book cheap hotels online.
Protect Your Trip
Don't forget travel insurance! I'm a big fan of World Nomads for short-term trips. Protect yourself from possible injury & theft abroad. Read more about why you should always carry travel insurance.
Recommended Travel Guide: Lonely Planet Iceland
[/su_box]
Enjoy This Post? Pin It!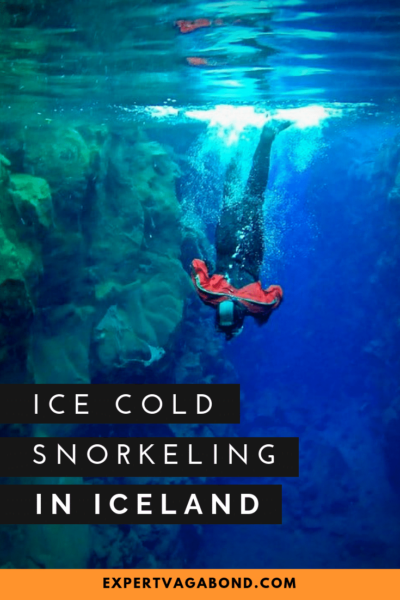 READ MORE ICELAND TIPS
I hope you enjoyed my guide on snorkeling in Iceland! Hopefully you found it useful. Here are a few more wanderlust-inducing articles that I recommend you read next:
Ever been snorkeling/diving in cold water before? Have any questions? Join the conversation on Facebook, Instagram, or Twitter to share!