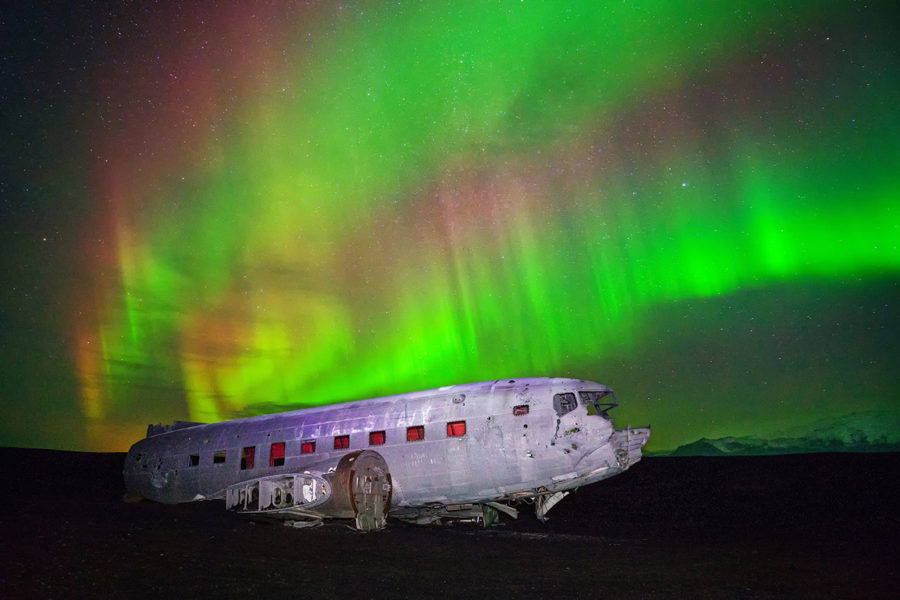 Iceland Photography
These are my favorite Iceland photography locations from one of the most beautiful countries ever. A mysterious land of icy glaciers, fiery volcanoes, and endless waterfalls.
I've traveled to Iceland a few times now, spending months exploring the country capturing epic landscape photography with my camera.
Iceland impressed me so much that I constantly want to return!
How many photography locations around the world can you experience crawling into blue glacial ice caves, flying over an erupting volcano, AND stay up all night transfixed by the Earth's magical northern lights?
My experience in Iceland was overwhelming and almost spiritual — reminding me why I started traveling in the first place. For such a small nation, Iceland is absolutely packed with beauty and diversity.
Vast, dramatic landscapes stretch out for miles, sprinkled with a handful of old farmhouses and fishing villages. There's a lot of strange stuff too!
It's seriously a travel photographer paradise.
Below you'll find some of my top Iceland photography locations, and I hope these images inspire you to visit this wonderful country on your own!
Iceland's Top Photography Locations
Hallgrímskirkja Church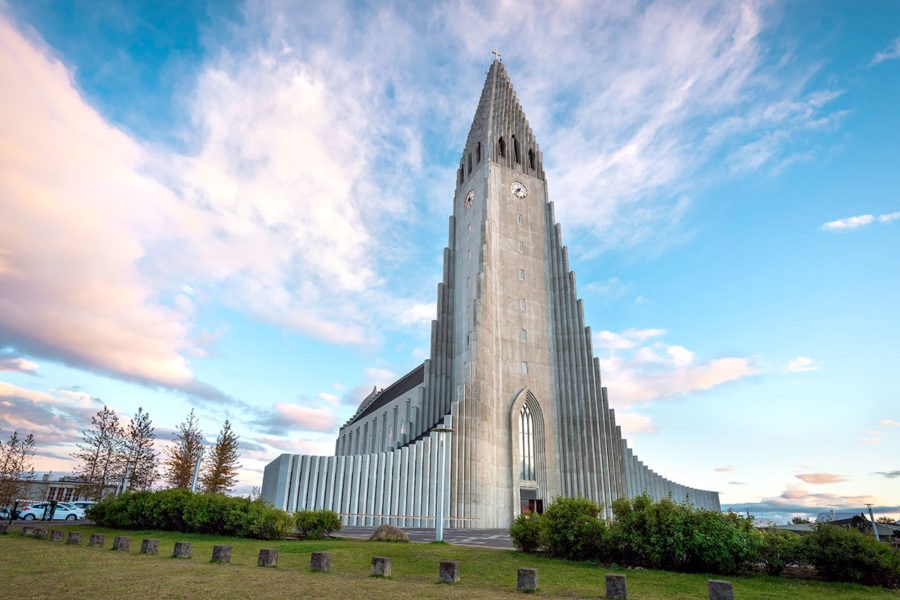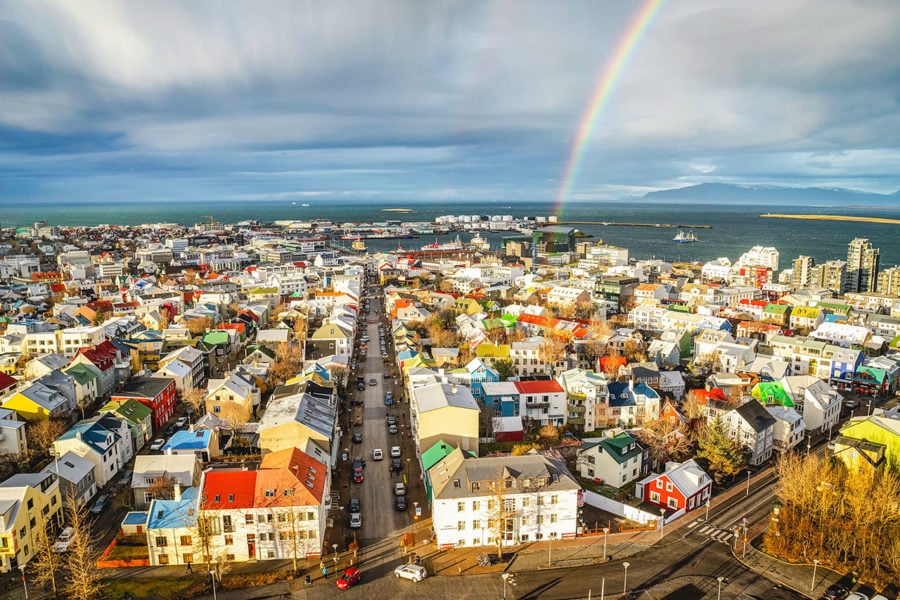 Most of Iceland's population is concentrated around the capital city of Reykjavík. The city has a vibrant art & music scene. But what stood out the most was this strange Viking-looking church called Hallgrímskirkja.
Hallgrímskirkja Church is a very cool photography location in Iceland, towering over Reykjavík as the tallest church in the country. The church was constructed with Iceland's rugged landscapes in mind. Make sure to take the elevator to the top for some very cool views over the city!
Kerlingarfjöll Geothermal Area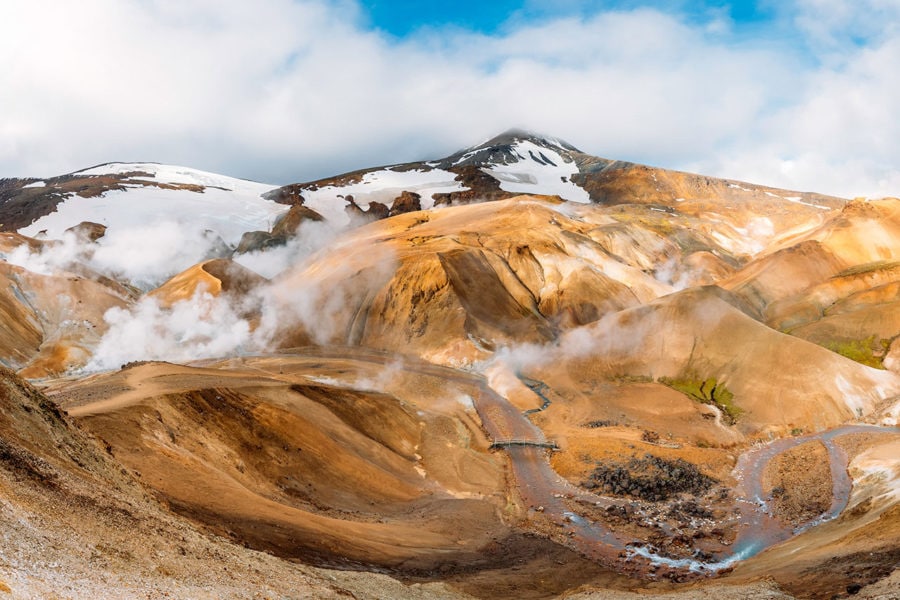 Iceland's Blue Lagoon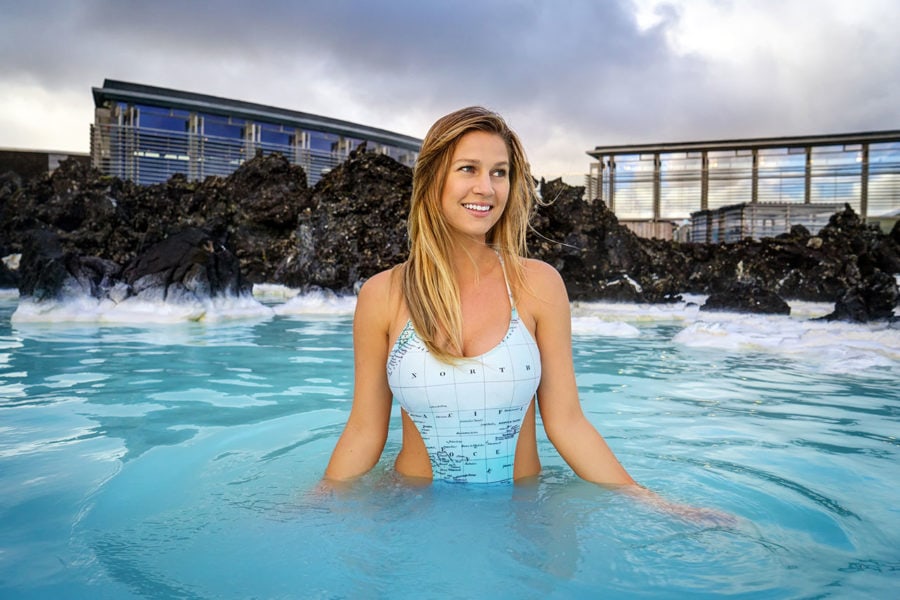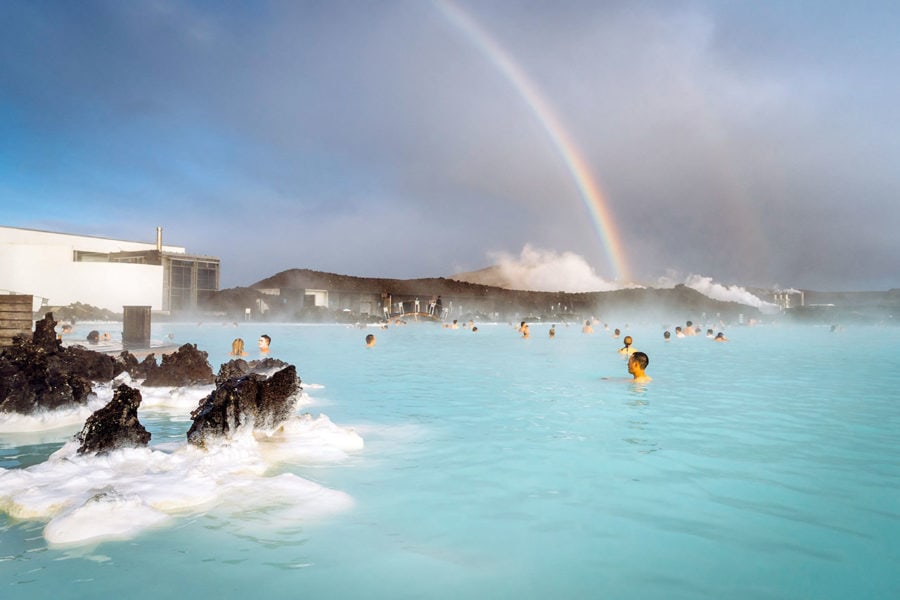 This man-made geothermal pool in South West Iceland is the country's most popular tourist attraction. I spent an afternoon with Kiersten from The Blonde Abroad soaking in the Blue Lagoon's milky blue water full of silica & minerals.
The warm water & white mud is supposed to be good for your skin. It's also a great place for photography! Get there first thing in the morning, or late in the evening to avoid the largest crowds.
The Ring Road
Iceland's Ring Road is a driving route that encircles the entire country, covering over 800 miles. While you could technically drive it in less than 24 hours, the reality takes at least a week with stops on along the way.
The photography opportunities on Route 1 are unbelievable, and you'll find yourself constantly pulling over for photos. I gave myself 7 full days to drive the Ring Road. Many of the photos here were taken during that trip!
Thorsmork "Thor's Valley"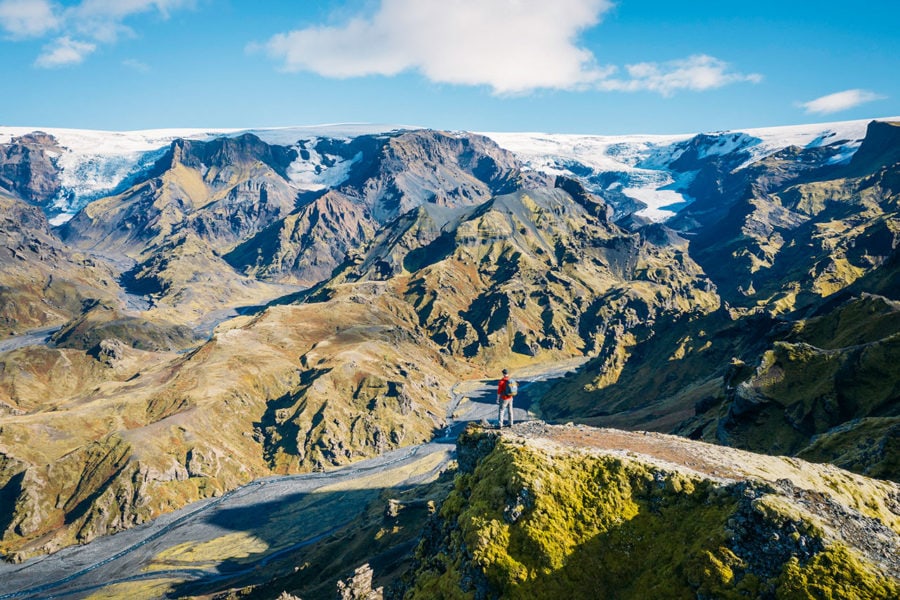 Eldraun Lava Field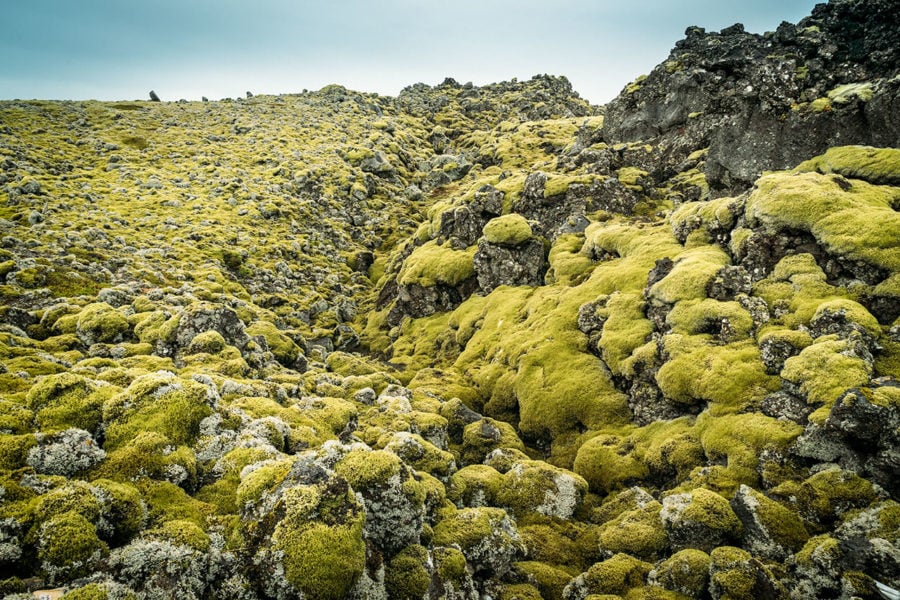 In some areas of Iceland, ancient lava fields of black rock are covered with a thick green carpet of moss. This special volcanic moss takes hundreds of years to grow, and experts can determine how old a lava flow is by how thick the moss is.
Icelandic legends say that trolls & elves live under the moss. Sounds reasonable to me! Walking through this crazy landscape feels like walking through a Dr. Seuss book. One of the best areas to see the moss is called Eldraun Lava Field, on the South Coast between Vik & Hoff.
While photographing the fields of moss is a lot of fun, DO NOT walk on the moss. Once it's destroyed by footprints, it does not grow back.
READ MORE: Inspiring Travel Quotes With Photos
Glacier Ice Caves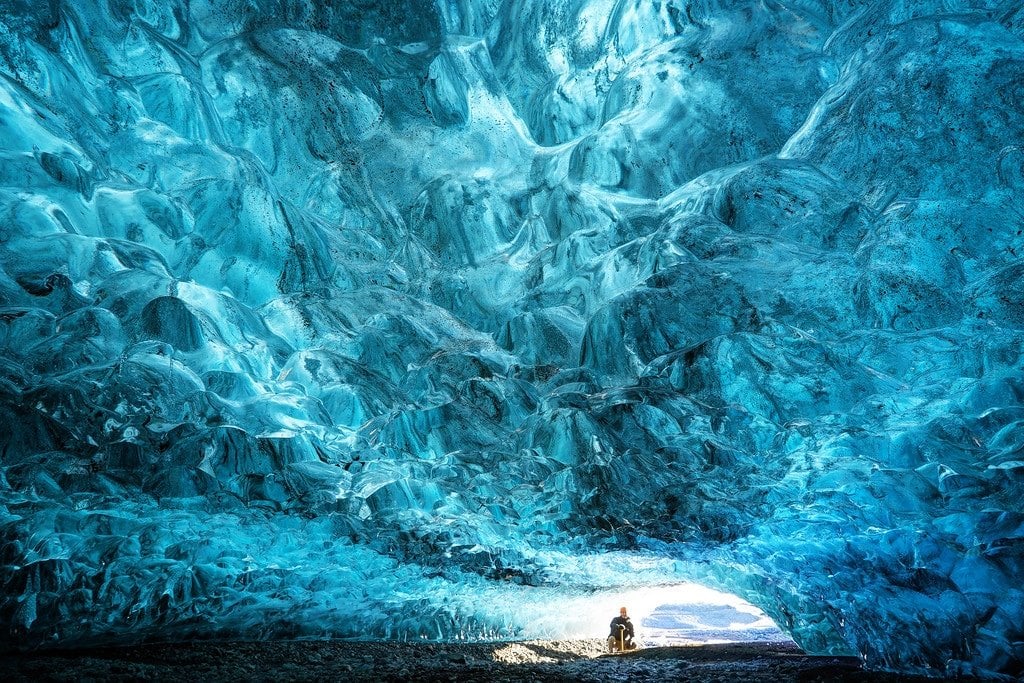 Wow. That's all I can say about Iceland's stunning blue ice caves. If you're traveling to Iceland for photography, you can't miss these. Meltwater flows under Vatnajökull glacier creating these insane natural caves, with sunlight filtering through the ice from above giving them a blue tint.
The crystal caves collapse or move every season, and can be difficult to reach, so you need an experienced guide. They are only safe to visit in the winter.
Holuhraun Volcano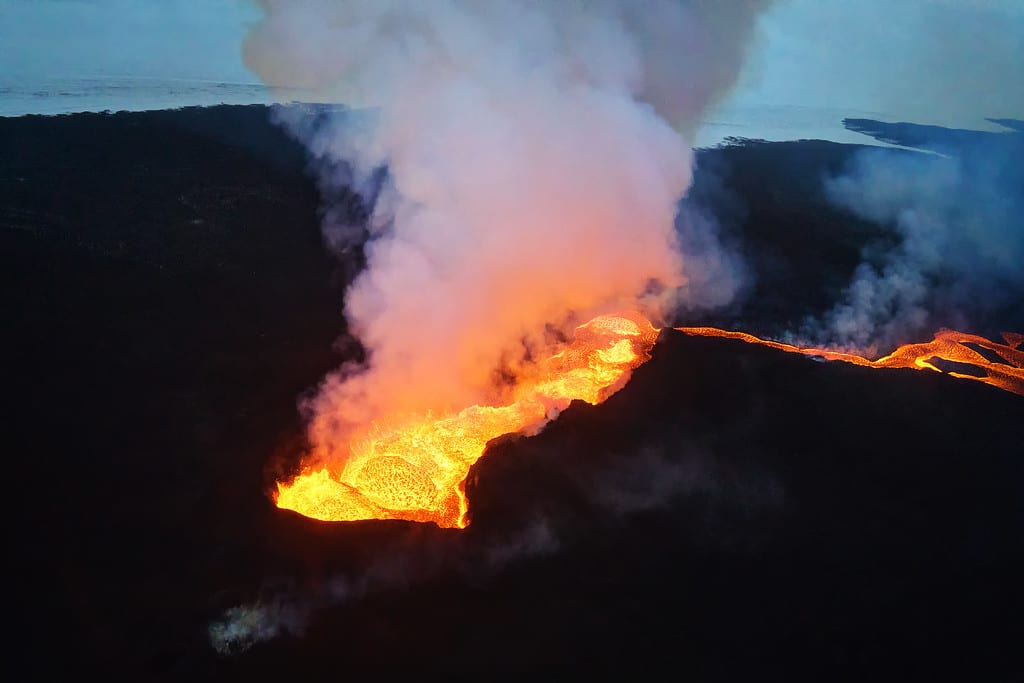 On August 29th, 2014 a volcanic eruption broke through the surface at Holuhraun lava field in the Northern Highlands of Iceland. It's been spewing rivers of hot lava ever since with no signs of stopping.
Driving to the eruption site is currently not allowed for safety reasons (possible flash floods & toxic gas), however, you can fly over it. Helicopter flights are expensive, but if you fly in a small plane like I did, it's pretty reasonable.
Strokkur Geyser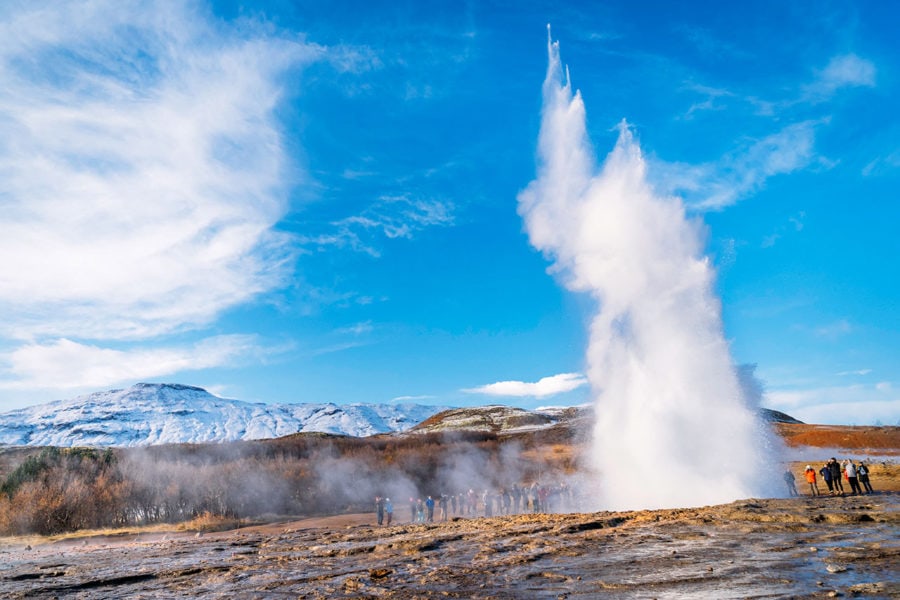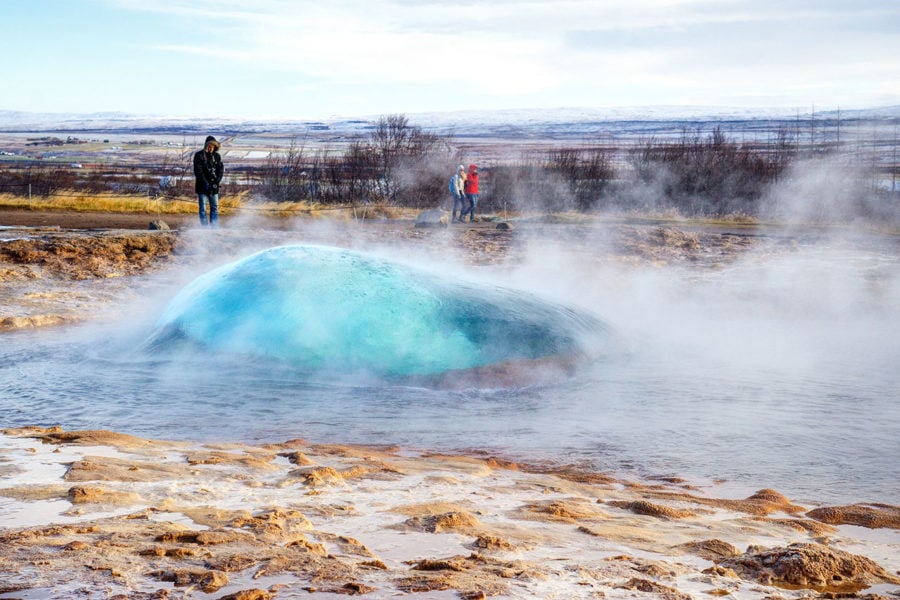 Did you know that the general term geyser is named after a particular geothermal fountain in Iceland? Strokkur Geyser erupts every 5-10 minutes near the Hvítá River, one of many stops on our day-long road trip around the Golden Circle.
We rented a cheap car and drove the Golden Circle under blue skies, rain, and a snowstorm! Iceland's weather changes quickly. There are many great Iceland photography locations along this popular route that starts in Reykjavik.
Sólheimasandur Plane Crash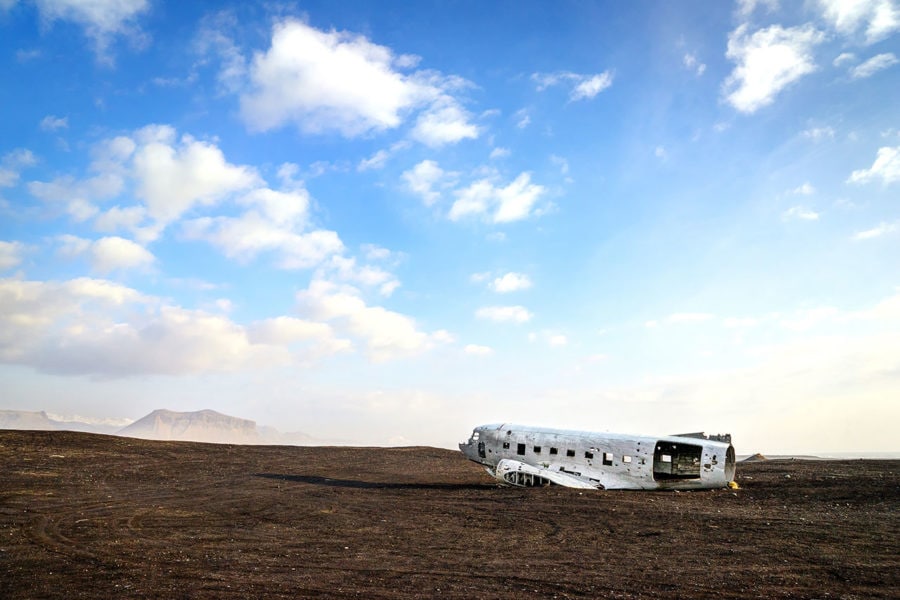 Skógafoss Waterfall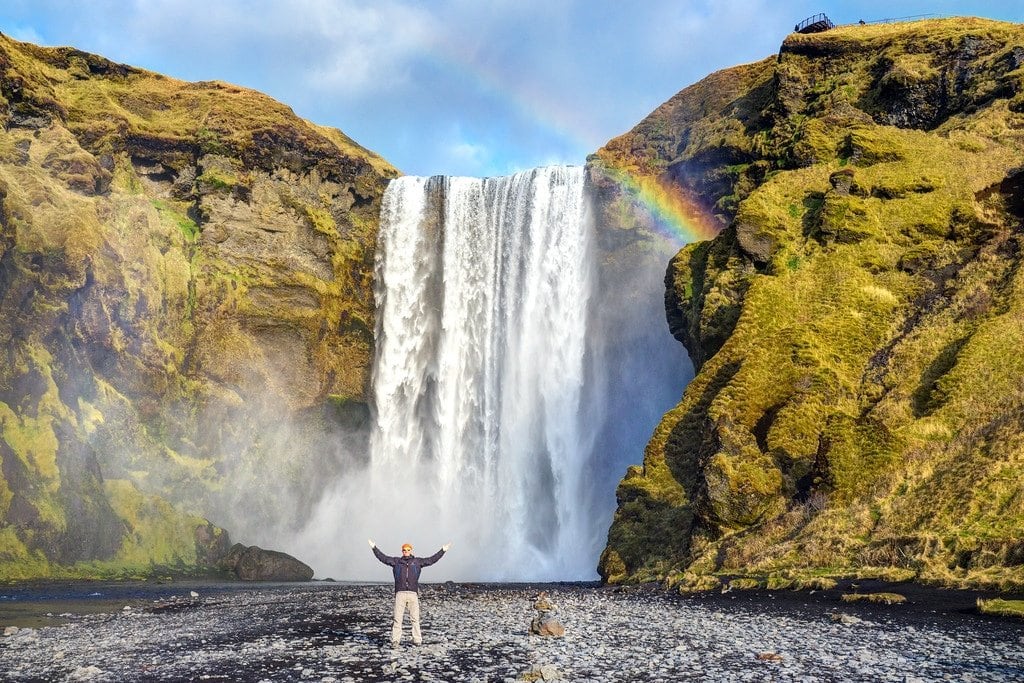 Mix ice mountains with summer days as warm as 20–25 °C (68–77 °F) – and Iceland starts to roar. Its waterfalls are world-famous, and best photographed under the light of the midnight sun. Here, Skógafoss Waterfall (one of the biggest in the country) shows off its standing rainbow, which becomes visible anytime the sun is shining.
Legend has it that there's Viking treasure behind that curtain of water – and more recently, the God of Thunder himself made an appearance here for scenes in Thor: The Dark World.
Tiny Iceland Elf Houses?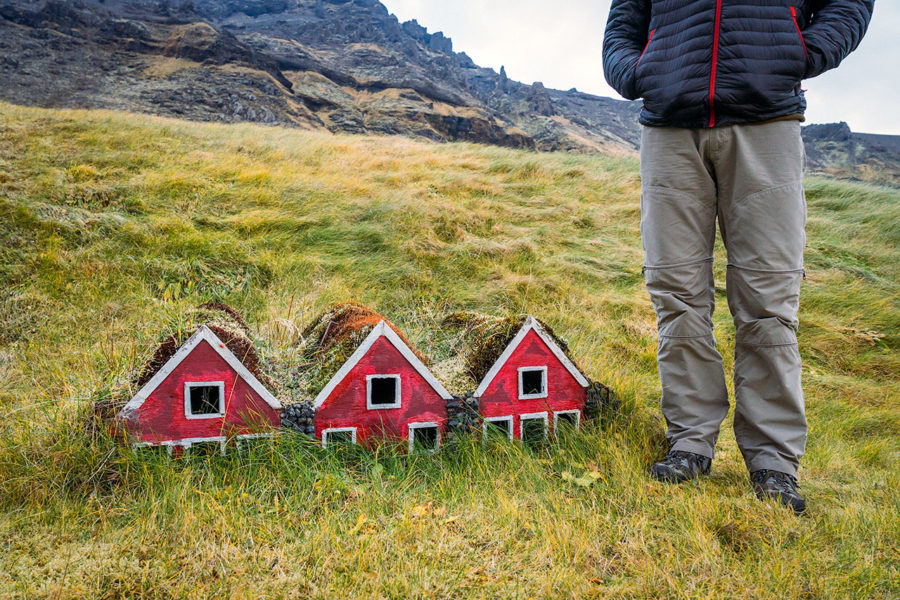 If you come to Iceland, be prepared to take the topic of huldufolk (hidden folk) as seriously as the locals do. As The Atlantic reported a few years back, it's often very serious indeed.
In 1998, over half of Iceland's residents said they believed in the existence of wee folk – and the sanctity of their alleged homes sometimes influences decisions when planning permission for construction work. In Iceland, elves are just another part of daily life. Act accordingly!
Fuzzy Icelandic Horses!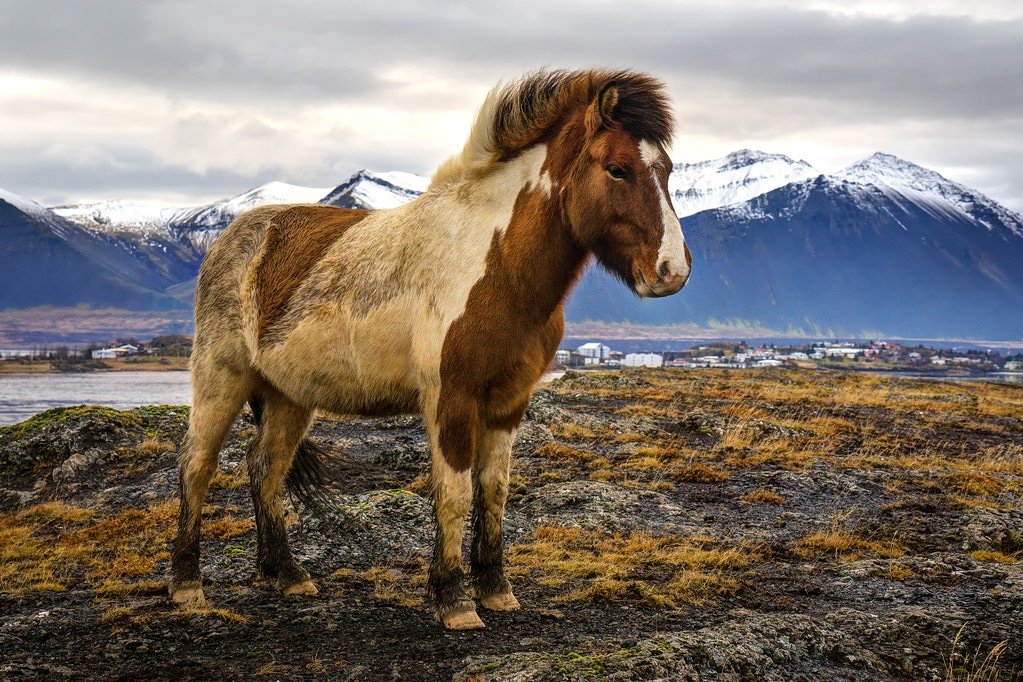 The small but sturdy horses in Iceland may look like ponies, but don't call them that in front of a local! Iceland's horses have a long and proud history dating back to the 9th century.
Breeding & natural selection has made them super tough, able to withstand long & brutal winters completely outside with the help of thick fur. You'll find the horses on many farms throughout Iceland — they are very friendly too!
Backcountry Mountain Huts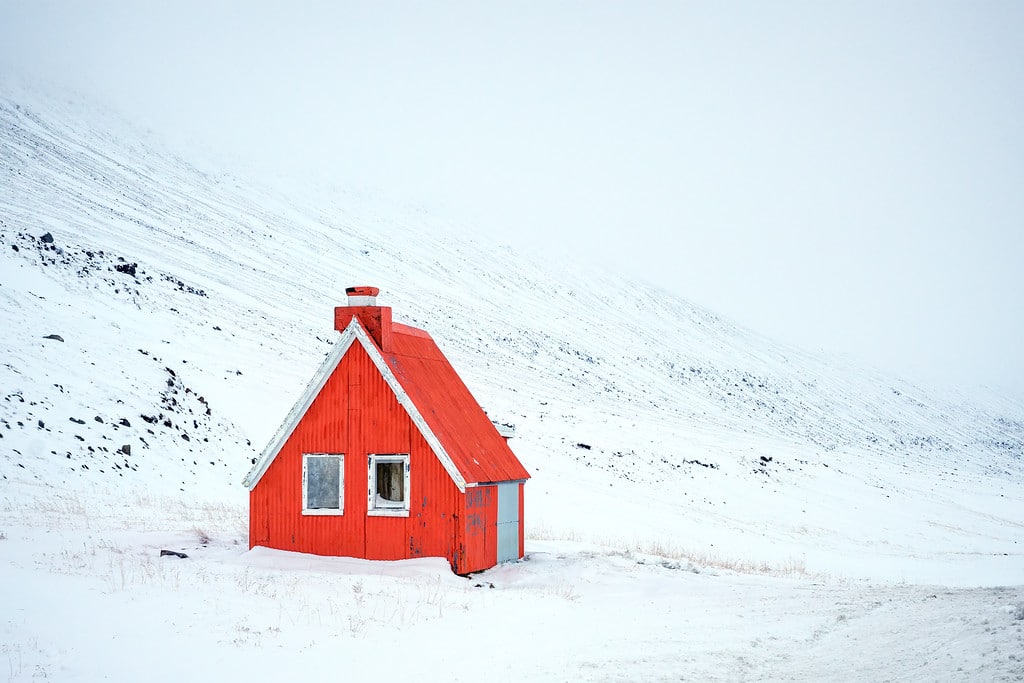 You'll find these dotted around the country, providing a startling splash of primary color on pristine hillsides. They also come stocked with blankets, dried food, and medical supplies.
Most were built by Icelandic volunteer search and rescue organizations early last century, and their usefulness has diminished – but tell that to someone stumbling upon one after trekking through a blizzard for hours. If you decide to look inside, be sure to close all the doors and windows again – it could be months before anyone else stops by, and they can save lives.
Vatnajökull Glacier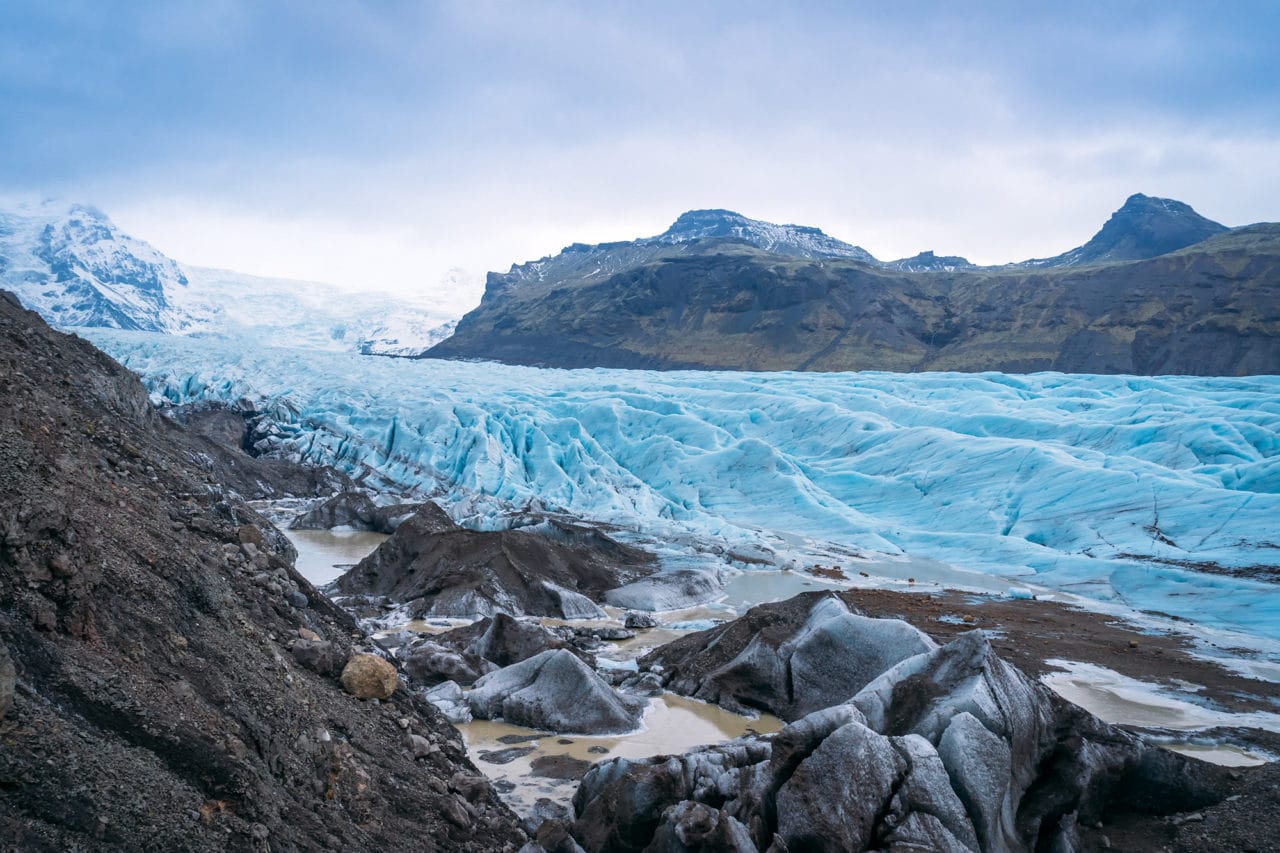 Nearly a sixth of Iceland is covered in vast, breathtaking glaciers. Unsurprisingly, you'll find most of them in the country's south and central highland regions. They're such an important feature of the landscape that even the side-rivers of these frozen rivers have their own names.
For example, Svínafellsjökull is a tongue of shattered ice extending from the mouth of the Vatnajökull ice-cap. And yes, it really is that color, especially vibrant with cloudy skies!
Remote Eastern Iceland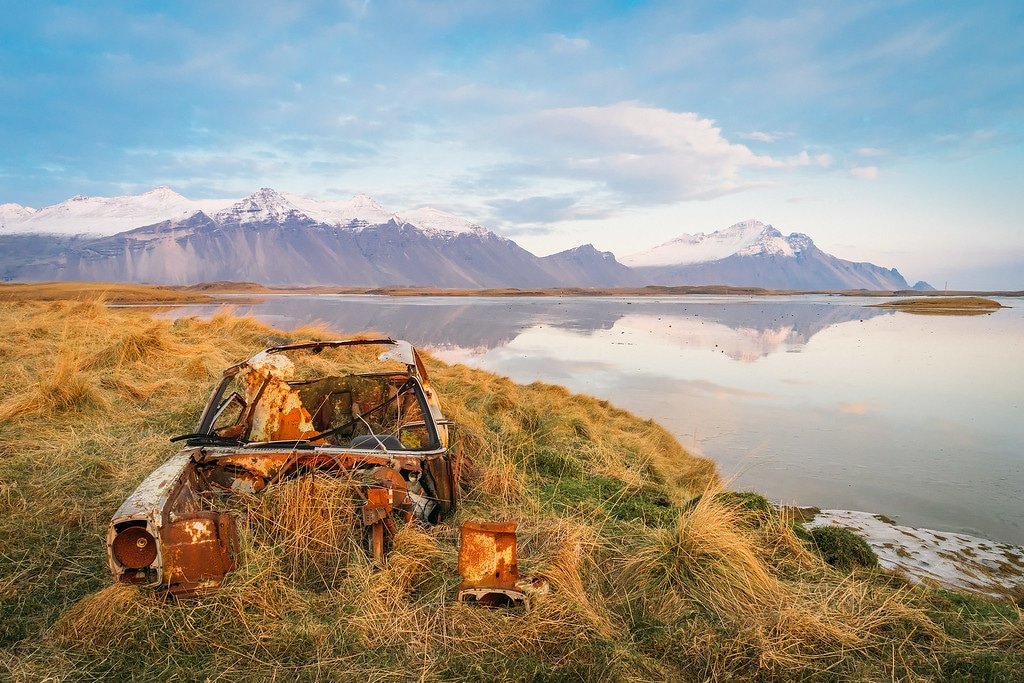 When Icelanders describe a place as "remote", you should pay attention. The eastern coastline of Iceland is an area of savage-looking mountains under vast, cold skies, and signs of habitation are confined to the occasional beautiful but tough-looking fishing village.
It's also a hiker's paradise – and if you want to get away from the approximately 1.7 million visitors hitting Iceland's shores every year, the eastern coast is the place to do it.
Jökulsárlón Iceberg Lagoon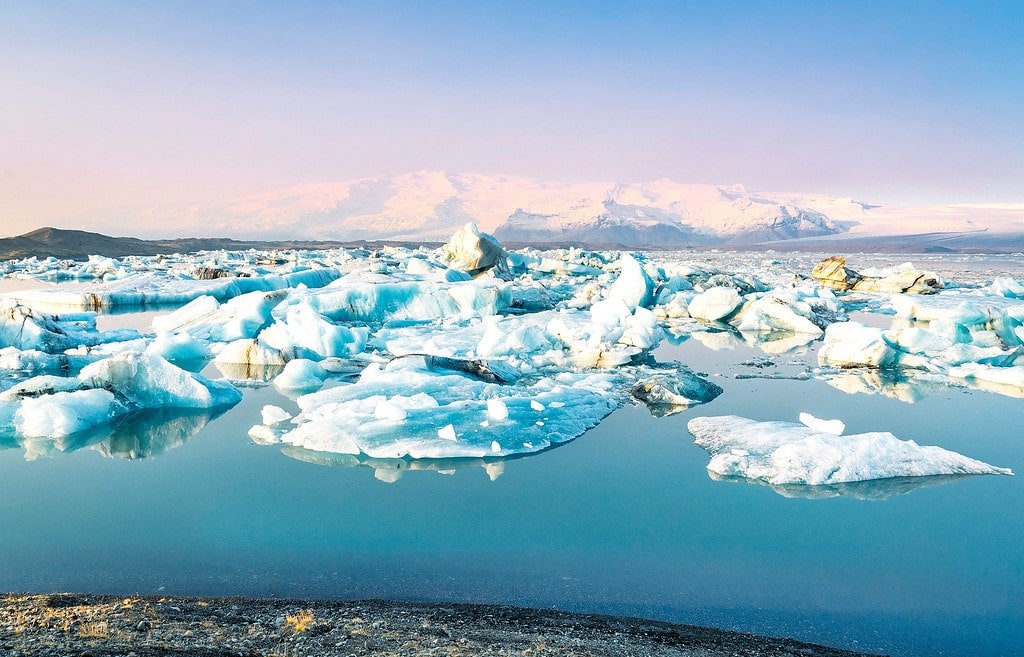 At the bottom of the Breiðamerkurjökull glacier sits a large glacier lake called Jokulsarlon lagoon, created by melting ice from above. It's full of blue-tinted icebergs that have broken off the base of the glacier.
Some of the ice collects on black sand shores the lake, other pieces float out to sea through a channel nearby. Located on Iceland's south coast, Jökulsárlón is a wonderful spot for photography.
Cool Icelandic Art Murals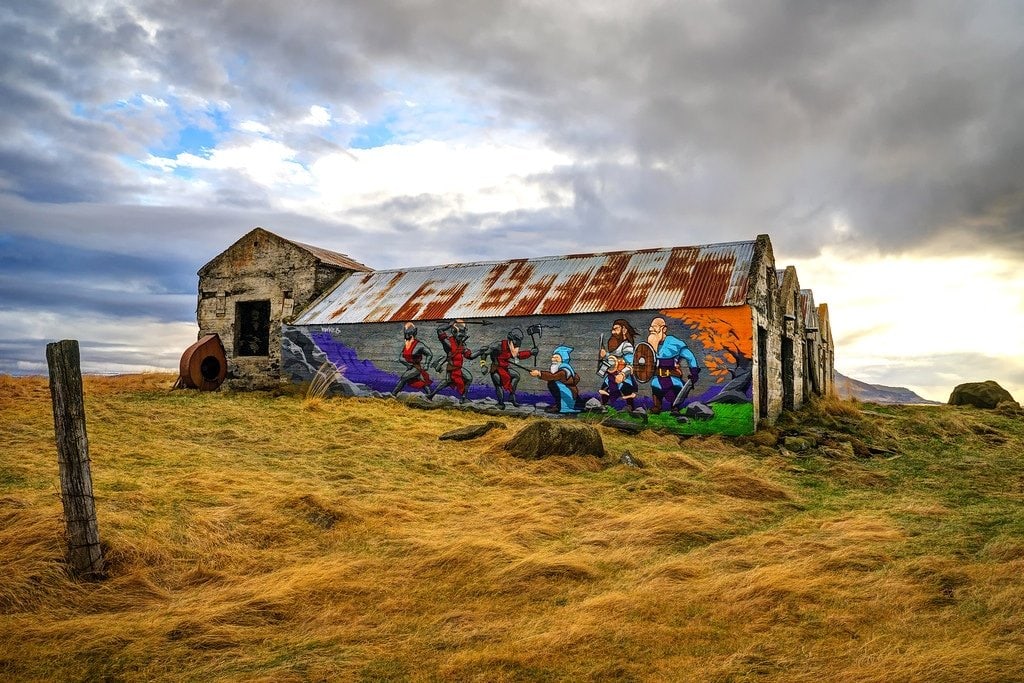 In Iceland, everyone is creative. Don't raise an eyebrow if someone describes themselves as a writer, composer, sculptor, painter, designer and actor – because it's probably true. You can see the effects of this deep-frozen Renaissance all over the landscape, particularly in depictions of the Icelandic sagas, semi-mythical stories dating back to the 13th & 14th century.
Silfra Tectonic Fissure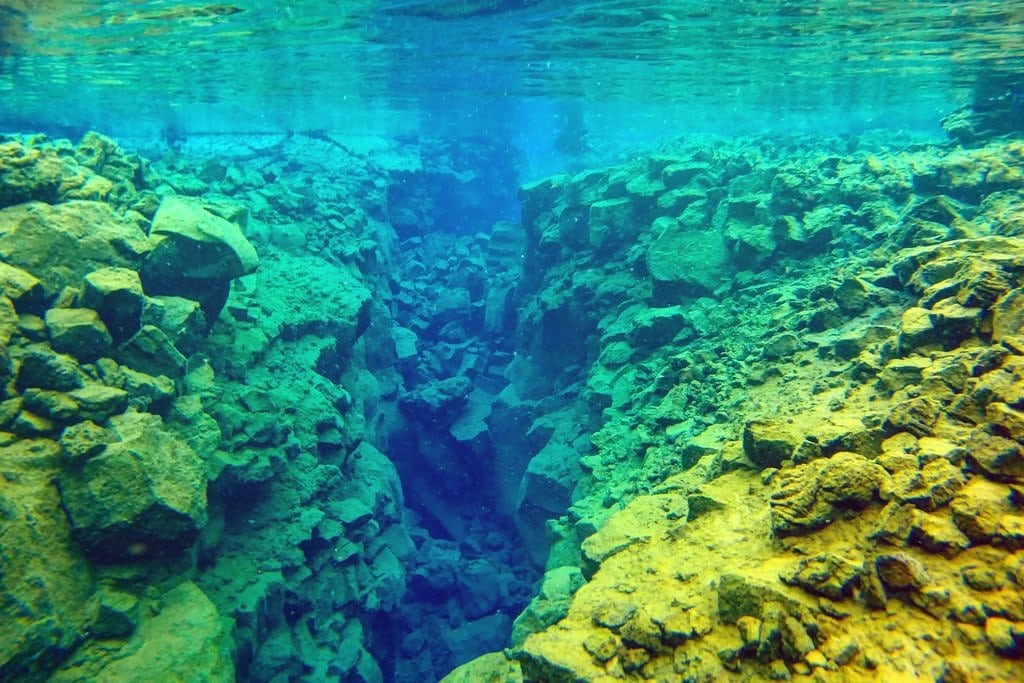 The North American and Eurasian tectonic plates are breaking Iceland apart at Silfra, creating a fissure flooded with crystal clear 35°F degree glacial water. Ice from nearby Lángjökull Glacier melts and travels into an ancient lava field, filtering underground through porous volcanic rock over 50 years before it emerges where you can go snorkeling or scuba diving in it for a very unique (but cold) experience.
Aurora Borealis (Northern Lights)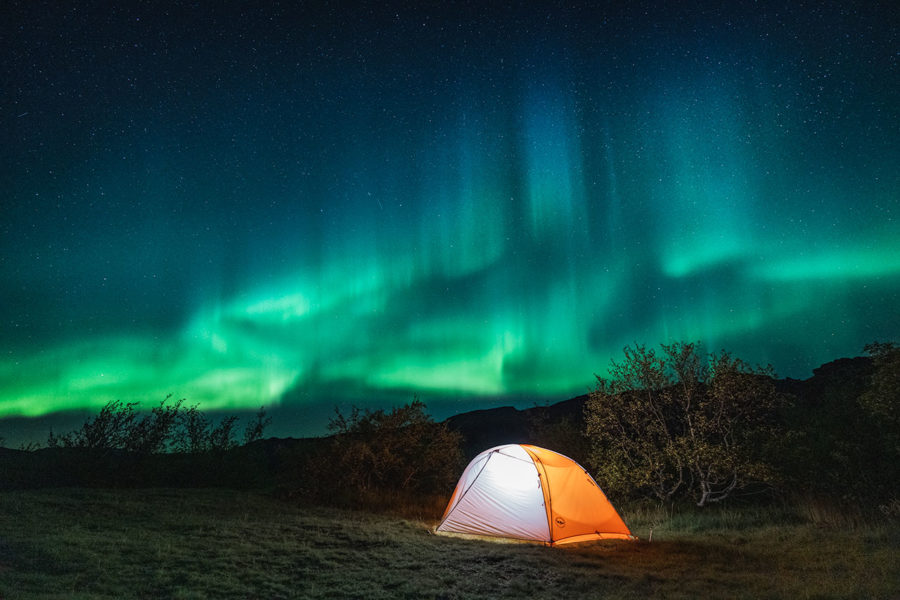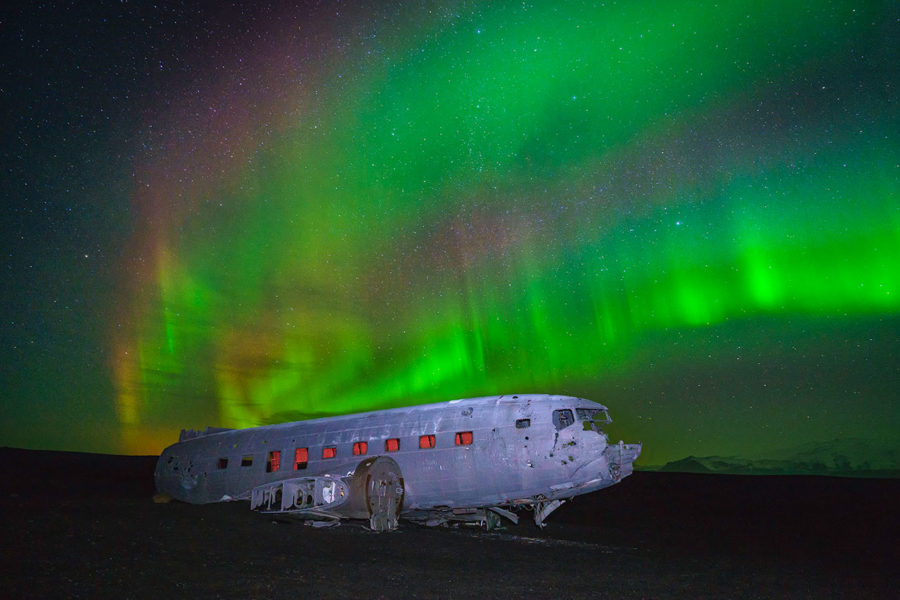 Shooting the northern lights was the highlight of my many Iceland photography trips. The best time to see the lights is in the fall & winter when it gets dark early and stays that way.
On one particularly spectacular evening at Sólheimasandur Beach I captured the aurora dancing above the famous abandoned US Navy plane. On another, I awoke from my tent in Thorsmork and witnessed them splash across the valley.
Where To Stay In Iceland
While obviously there are many towns in Iceland, most people base themselves in the city of Reykjavik at least for a few days. If you're looking for a good place to stay in Iceland, here are my recommendations:
---
WHERE TO STAY IN REYKJAVIK
WHERE TO STAY ON THE GOLDEN CIRCLE
WHERE TO STAY ON SOUTH COAST
---
---
Enjoy This Article? Pin It!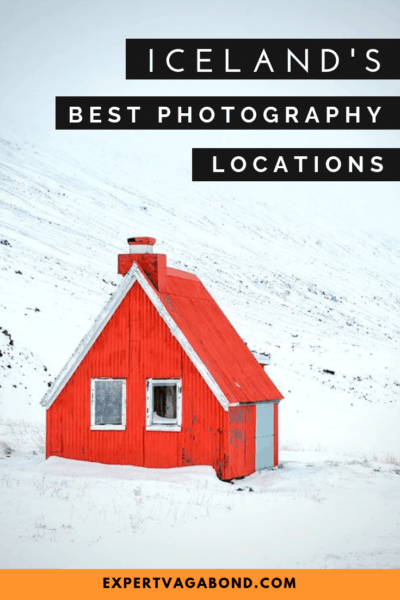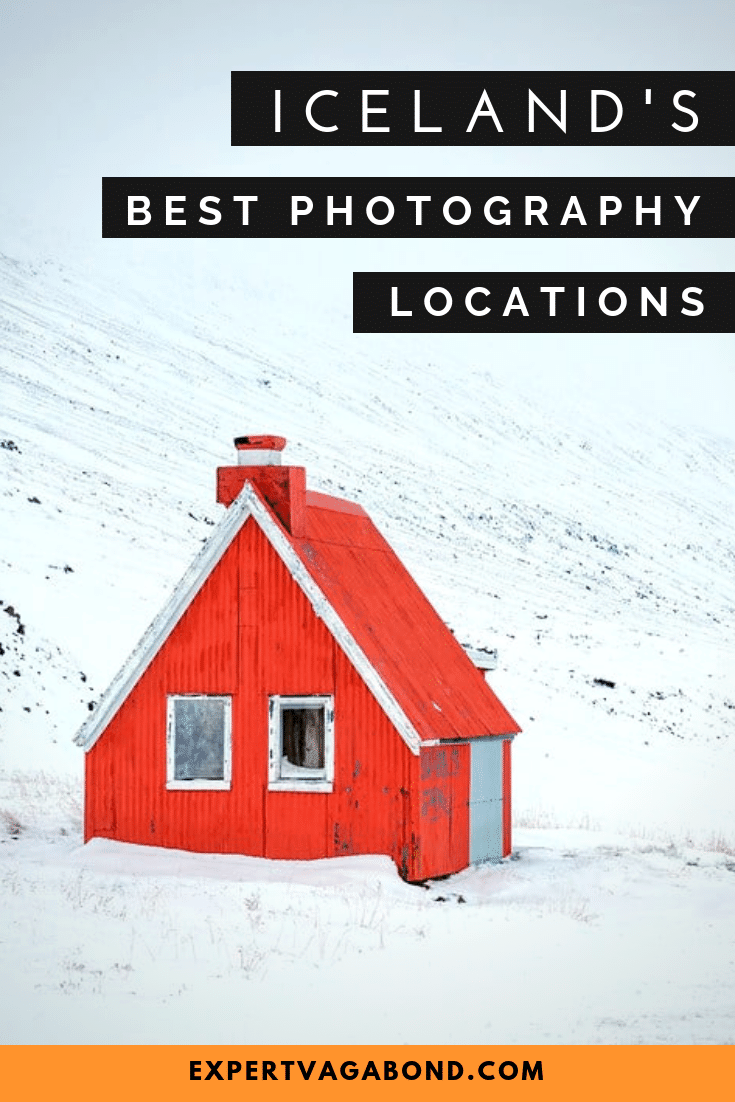 ---
READ MORE ICELAND TRAVEL TIPS
I hope you enjoyed my guide to Iceland photography locations! Hopefully you found it useful. Here are a few more wanderlust-inducing articles that I recommend you read next:
---
Have any questions about Iceland photography? Are you planning a trip soon? Join the conversation on Facebook, Instagram, or Twitter to share!