Travel Tips
The benefits of studying abroad for students in college are numerous, and traveling overseas for school doesn't have to be as expensive as you think.
I'm a big supporter of travel as an educational experience. I can tell you first-hand that I've probably learned more in 8 years of international travel than I have from 4 years of higher education.
Every student should try to incorporate some world travel into their lives. It opens up new possibilities and shows you a world impossible to understand from books alone.
Not only will you grow as a person, your new knowledge of how the world works is attractive to employers who prefer to hire employees with international experience over those without.
Unfortunately I never took a semester to study abroad in college. Like many people, I assumed it was expensive, I'd fall behind in credits, would have difficulty with the language, and was nervous of the whole idea.
The closest I came was an exchange program in Hawaii, and 3 weeks of Spanish language school in Guatemala — also great experiences.
White House Summit
Well last December I was invited to Washington DC by The White House in partnership with Hostelling International USA for the White House Summit on Study Abroad & Global Citizenship. The summit was an opportunity for senior administration officials, travel bloggers, and media professionals to discuss U.S. government initiatives and strategies for encouraging American students to study, volunteer, and work abroad.
Why is the US Government interested in getting kids to study abroad?
"Studying abroad is a critical component to deepening and broadening relationships with citizens overseas." ~ The White House
Sadly only 10% of current American college students will ever study abroad. American students aren't as global-minded as their peers from other countries. It's time to change this!
During the White House summit the State Department announced the creation of a new U.S. Study Abroad Office that will manage study abroad scholarships for American students and institutions, as well as promoting benefits of study abroad to students, parents, faculty, and education administrators.
They want to make it affordable & accessible to students of all backgrounds.
Best Reasons To Study Abroad
If you're thinking about studying abroad, but aren't sure how to convince your parents (or yourself!), here are some of the best reasons why spending a semester or year overseas is the smart (and fun!) thing to do. Also don't forget to Read Practical Advice For Students if you Dream Of Traveling.
#1 Improve Employment Opportunities
Want to impress potential employers? Companies around the world continue to invest in the global market, and prefer to hire employees who have international experience. Not to mention knowledge of a 2nd language. Your resume will stand out from everyone else applying for the same position.
#2 It Can Be Cheap
Living in a foreign country often costs the same (or less) than living in the United States. Especially if you go somewhere other than Europe. Depending on your school, tuition fees may remain the same. Additionally, there's funding available (grants & scholarships). In fact some countries allow you to study abroad for much less than school in the United States.
#3 Personal Development
Break out of your comfort zone and challenge yourself with uncommon experiences that make you reconsider (or strengthen) your values. Get a better sense of who you are and what's important. Discover what you want out of life. Become a more independent person. International travel shows you what you're really made of.
#4 Learn Foreign Languages
Language teachers say being totally immersed in a culture that speaks the language you want to learn is the quickest and most effective way to learn it. Mastering a foreign language opens up all kinds of new opportunities. As globalization brings the world together, it's important to be competent in more than one language.
#5 Aquire New Skills
When you study overseas, you can take courses you don't have the opportunity to take at home. In addition to university classes, you can explore new hobbies or sports that aren't as popular (or even possible) to practice. Traveling outside your home country is an education in itself, learning to interact with & navigate through a culture different from your own.
#6 Forge Lasting Memories
Most students who've studied abroad claim their time overseas was the best year of college. You'll meet new friends who will want to share their culture, ideas, and learn about yours. Create lasting memories and develop life-long friendships. You may even find your future wife or husband!
#7 Experience Different Cultures
Immersing yourself in a totally different culture is powerful. You'll experience things like trying different foods, celebrating traditional customs, and learning the history of another country. A person's culture reflects deep perceptions, beliefs, and values that influence their way of life. You'll gain an understanding of this that can't be taught with books.
#8 Expand Your Worldview
Previously held beliefs about foreign countries will change once you've been abroad. However you'll gain a completely new perspective on your own country too. It can be surprising just how much you know is slightly biased, based on where you're from. It's also a unique opportunity to educate others on your country, dispelling their stereotypes about you!
#9 Earn Money!
You can actually earn income while you study abroad overseas. We are pretty damn lucky that English is the international language of business. It's an important language that many foreigners want to learn. You can get paid for teaching, interpreting, or translating English while you're studying abroad.
Quotes From Others
Still not convinced? Here are some quotes from friends and readers about their own study abroad experiences around the world.
"Studied abroad on a ship via Semester At Sea. Best 4 months of my life, to visit 11 different countries around the world was just awe inspiring – I still reap the benefits to this day." ~ Chérie
"I applied directly to Wollongong (Australia), got credit transfers pre-approved, then deferred from MSU (United States). It made studying abroad much cheaper than going through the American system." ~ Micah
"Studied for a year in Germany in college and a semester in Japan in high school. Became fluent in German and learned from a young age that I was capable of surviving and thriving on my own in the world. Those are invaluable lessons." ~ Reannon
"I'm actually studying abroad now. I'm from France, and I study in Scotland. I've been given the opportunity to work for the university as the international officer, and with a ski station 15 minutes away, skiing before class is just amazing!" ~ Edith
"If you are apprehensive about traveling on your own, study abroad is a great first step because you're surrounded by like minded people. Just like at your home university, you are part of a community. You'll live, study, and work on projects with other students." ~ Amanda
"Studied abroad in Luxembourg for 5 months! Absolutely loved it. Completely eye-opening experience. Had a chance to travel throughout Europe and learn about languages, cultures, and people. Amazing to see what the world has to offer." ~ Tim
What About High School?
Not in college yet? No problem! You still may be able to travel overseas for classes or volunteer projects as a high school student. Not everyone goes to college either, so this might be your best chance to explore some of the world before getting a job. Many high schools have summer study abroad or volunteering opportunities, you just have to ask about them. Check out some of the resources below too.
Study Abroad Resources
One of the big issues with encouraging more students to study abroad is access to useful and relevant information about the topic. While there are many different programs available, you need to know where to look. I've put together this list of study abroad resources to help you make it happen.
Bureau Of Education & Cultural Affairs – The ECA mission is to increase mutual understanding between people of the United States and people of other countries by means of educational and cultural exchange that assist in the development of peaceful relations.
Institute of International Education – IIE's mission is to advance international education worldwide by managing thousands of scholarships, exchange and leadership programs for students around the world. Search for programs on their study abroad search engine.
Fulbright Scholarship Programs – The Fulbright Program provides grants for international student exchange. It's the largest U.S. exchange program offering opportunities for students and young professionals to undertake international study in 140 countries worldwide.
Gilman International Scholarship – The Gilman Scholarship aims to diversify the kinds of students who study abroad and the countries and regions where they go by offering awards to U.S. undergraduates who might otherwise not participate due to financial constraints.
National Security Language Initiative – The National Security Language Initiative for Youth program provides merit-based scholarships for eligible high school students and recent graduates to learn less commonly taught languages in summer and academic-year overseas immersion programs.
Centers For Interamerican Studies – The CEDEI was created to promote mutual understanding between the peoples and countries of the Americas by promoting academic and cultural exchange. They offer college credit programs, language immersion, and volunteer opportunities in Ecuador.
Broadreach – Broadreach offers summer adventure, community service, and study abroad programs for middle school, high school and college students in 40 different countries around the world.
Chris Stevens Initiative – The Stevens Initiative is a multilateral public-private endeavor designed to achieve the largest-ever increase in people-to-people educational exchanges between the U.S. and the broader Middle East.
SPI Study Abroad – The SPI program helps high school students build cultural awareness, self-confidence and independence through an authentic and meaningful experience abroad with language immersion and local homestays.
Greenheart Cultural Exchange – CCI Greenheart offers cultural exchange programs in the U.S. that connect Americans with international students. A nonprofit cultural exchange sponsor that blends service learning and volunteerism to create compassionate and conscious global citizens.
The Peace Corps – The Peace Corps sends Americans abroad to tackle the most pressing needs of people around the world. Peace Corps Volunteers work at the grassroots level for sustainable change that lives on after their service.
Spread The Word
Convincing my fellow citizens to travel overseas is a big passion of mine. If you're passionate about travel, please help me spread the word about the many different opportunities available for students to study abroad!
Together we can show students & parents that study abroad programs don't have to be expensive, are not as scary as they sound, and will improve future employment opportunities. Not to mention all the wonderful memories. ★
Enjoy This Post? Pin It!
[su_row class=""]
[su_column size="1/2″ center="no" class=""]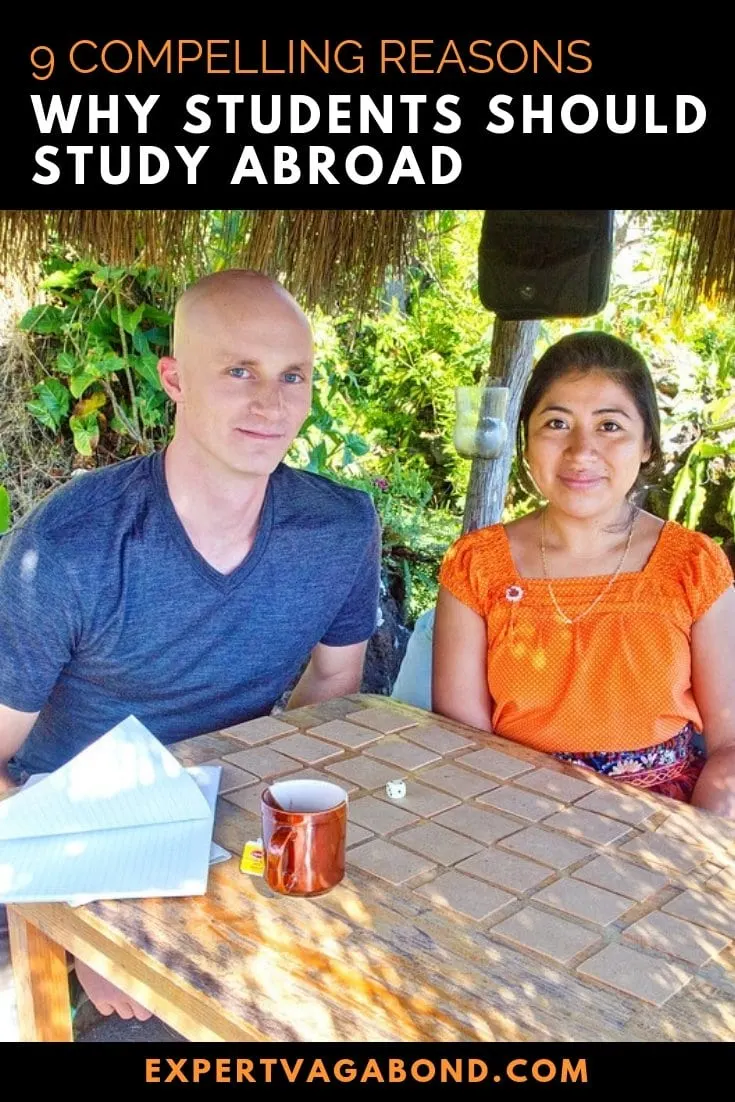 [/su_column]
[su_column size="1/2″ center="no" class=""]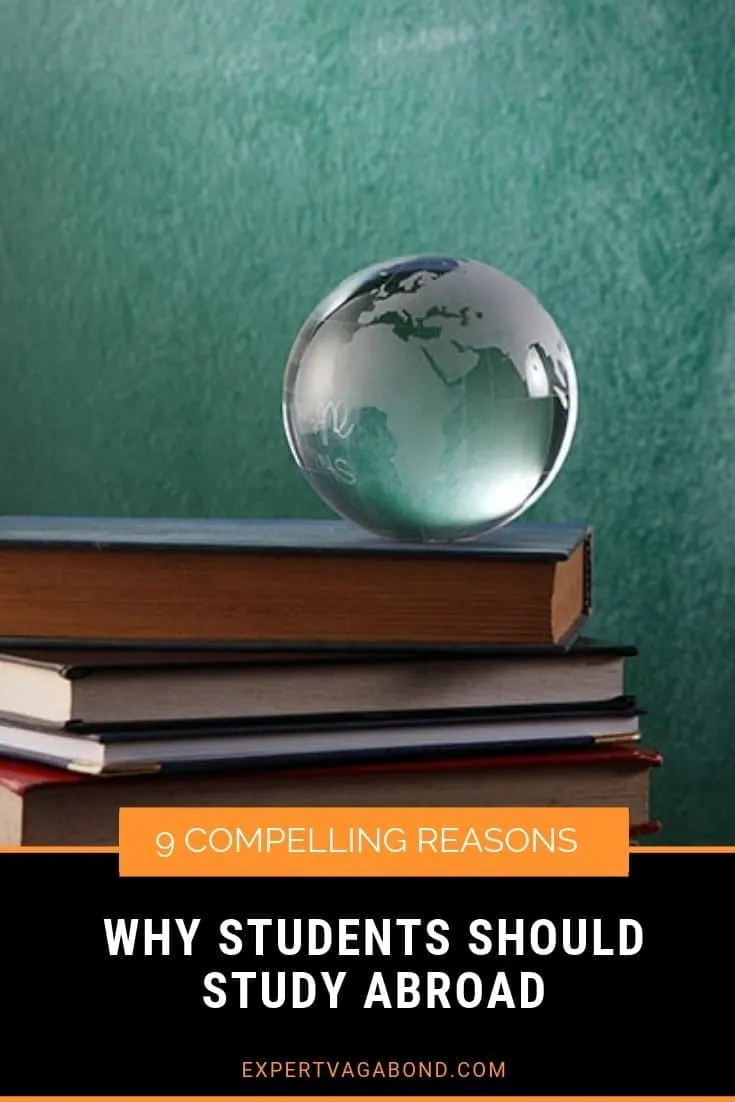 [/su_column]
[/su_row]
READ MORE TRAVEL TIPS
I hope you enjoyed my guide on studying abroad! Hopefully you found it useful. Here are a few more wanderlust-inducing articles that I recommend you read next:
Did you study abroad? What was your experience?