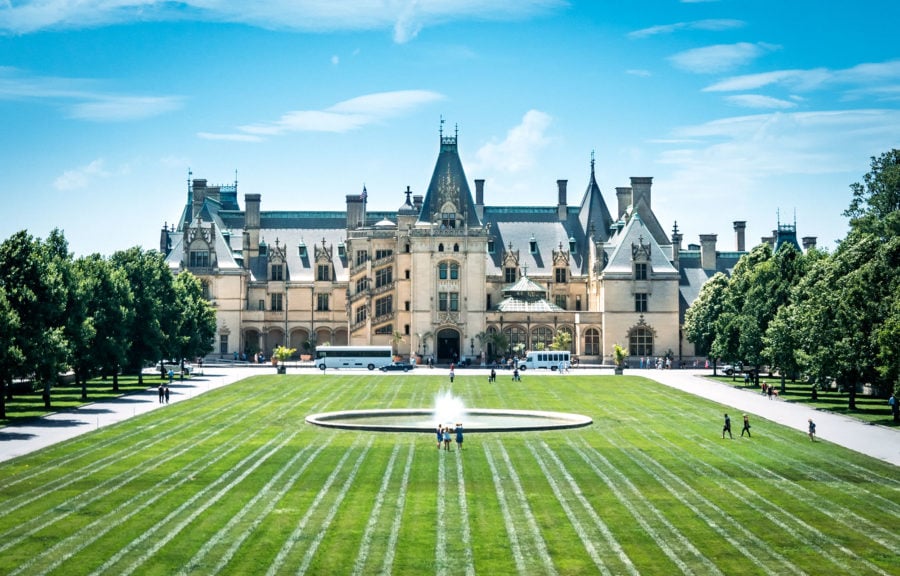 Asheville, North Carolina
America's largest private home is located in Asheville, North Carolina. Welcome to George Vanderbilt's incredible Biltmore Estate! Here are some tips for visiting.
When you think of Asheville — good craft beer, bohemian vibes, and rolling green mountains generally come to mind. It's one of my favorite small cities in the United States.
If you're looking for fun things to do in Asheville, visiting the historic Biltmore Estate should be at the top of your list.
It's claim to fame is America's largest privately owned mansion.
George Vanderbilt, an heir to the Vanderbilt railroad fortune, decided to build his dream home in the Blue Ridge mountains of Asheville, and his Biltmore Estate has everything you would expect from a Gilded Age mansion.
Sitting on 8,000 acres, this massive complex includes the 250-room Biltmore House, 75-acres of manicured gardens, the country's most visited winery, hiking trails, restaurants, and 5-star accommodations too.
The Biltmore is a popular tourist attraction in Asheville, but it's easy to see why it stays busy all year long.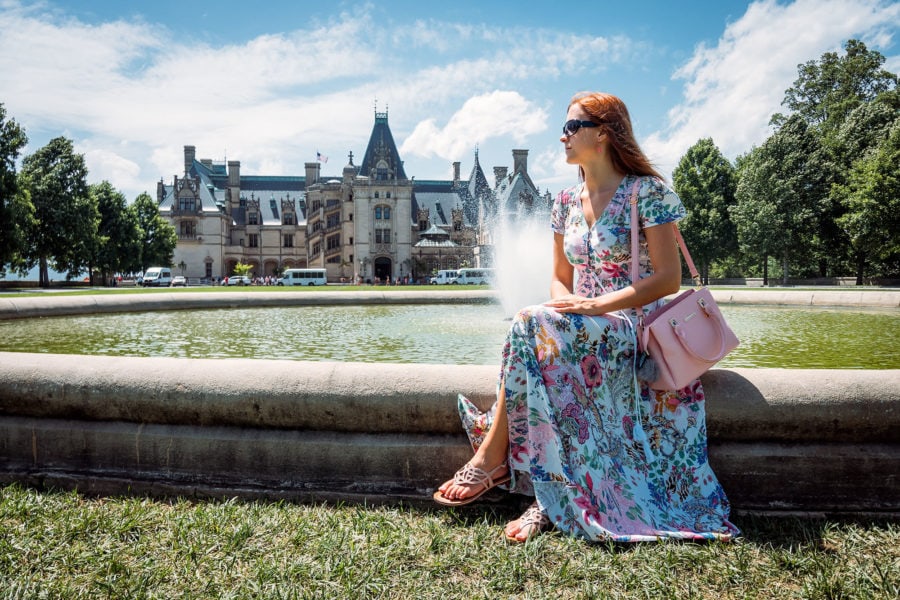 The Vanderbilt Family
Cornelius Vanderbilt was among the railroad tycoons that rose from rags to riches during the Gilded Age, along with the likes of John D. Rockefeller, Henry Flagler, Andrew Carnegie.
Born in 1794, Vanderbilt joined his father's business operating the New York ferry as a young man.
He eventually worked his way up the ranks to become the owner of the New York Central Railroad. He would later become the wealthiest person in the United States, and the second-wealthiest person ever in US history to date.
Building Biltmore Estate In Asheville
Mr. Vanderbilt's youngest grandson, George Washington Vanderbilt II, fell in love with the scenery and climate of Asheville, where he began building a summer home in 1889.
He created a mountain paradise surrounded by natural forests and productive farms.
Today, the Vanderbilt family still owns the estate. It first opened to the public during the Great Depression at the request of the City of Asheville as a way to attract tourism.
It eventually became a National Historic Landmark in 1963 and now welcomes 1.4 million tourists annually.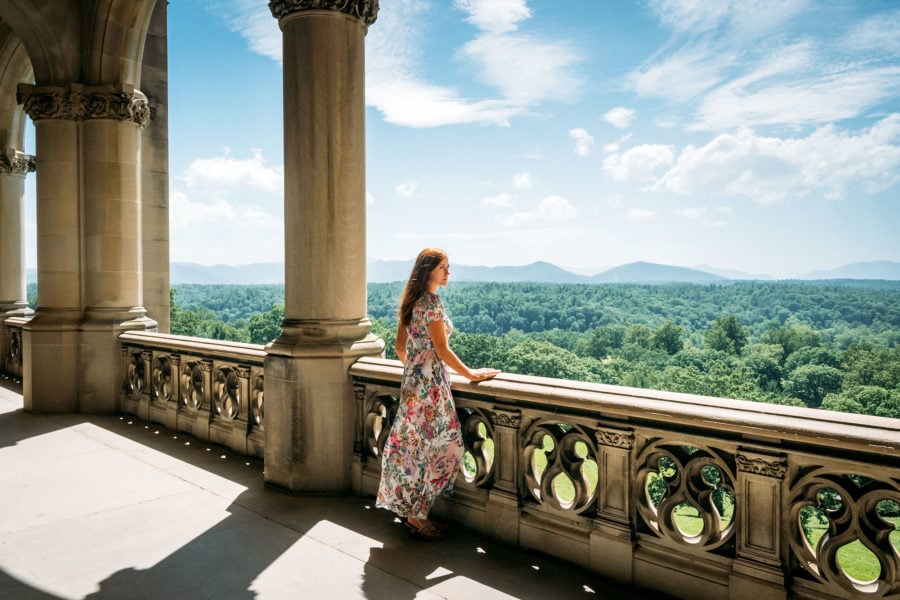 Fun Facts About Biltmore Estate
The Biltmore Estate is the largest privately owned home in the United States at 178,926 square feet (16,622.8 m) of floor space. With 135,280 square feet of living area! How big is your home?
The basement is the largest in the country and includes a heated swimming pool with underwater lighting, bowling alley, and gymnasium as well as a kitchen with living quarters for staff.
The Biltmore was a pioneer in sustainable farming in 1895 and has long operated its farm-to-table program.
Top Attractions At The Biltmore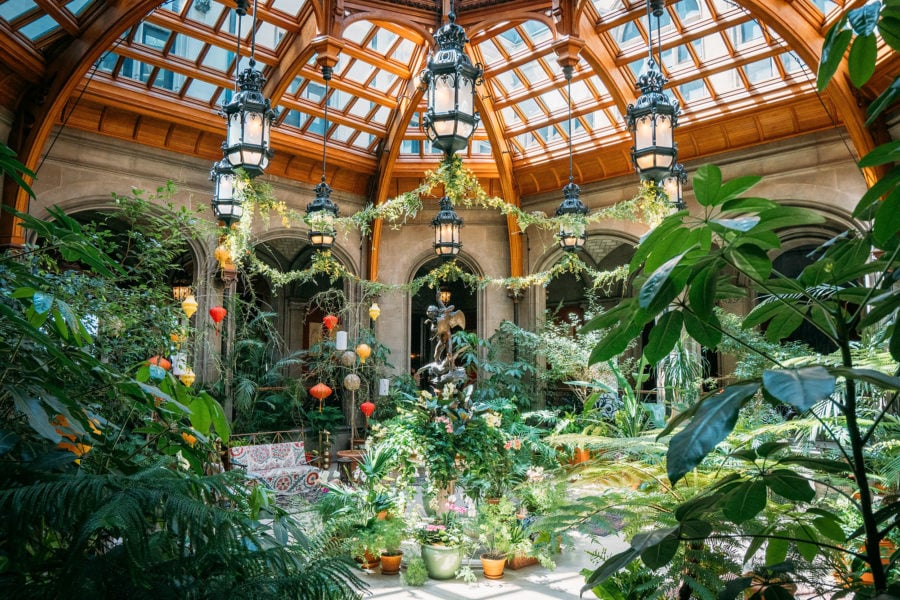 The Biltmore House
New York architect, Richard Morris Hunt, designed the home in the Châteauesque style, a revival of French Renaissance architecture known for ornaments like elaborate towers, gargoyles, spires, and steep roofs.
The home has four floors, a bachelor's wing, and a basement. On exhibit inside is the family's original collection of art and furniture.
HOURS: Open daily 10am – 4pm
Biltmore Gardens & Grounds
The Biltmore's grand gardens are truly impressive, featuring thousands of ancient trees, rose bushes, and colorful blooms. Koi Fish swim in the lily ponds at the Italian Garden.
The four-acre Shrub Garden has hundreds of ornamental ferns. The rose garden contains over 50 varieties of roses, maintained to look as it did when the Vanderbilts first built the mansion.
HOURS: Open daily 9am to dusk.
Hiking Trails
The estate contains over 22 miles of hiking trails that wind along the French Broad River through woodlands and open meadows. You can explore on your own, or join one of the guided hikes. Stop by the Bike Barn or Outdoor Adventure Center for a trail map.
Antler Hill Village
Antler Hill Village has live entertainment, shopping, 7 restaurants, and more educational opportunities. Enjoy live music and dining, perfect for after a tour of the house.
HOURS: Open daily 10am – 9pm
The Winery at Antler Hill Village
George Vanderbilt's grandson, William Cecil, founded the estate winery in the early 1970s. Located at Antler Hill Village, the historic winery offers complimentary tastings and tours. An indoor/outdoor wine bar serves charcuterie and locally-made truffles, perfectly paired with Biltmore reds, whites, and rosés.
HOURS:
Monday – Thursday: 11am – 6pm
Friday – Sunday: 11am – 8pm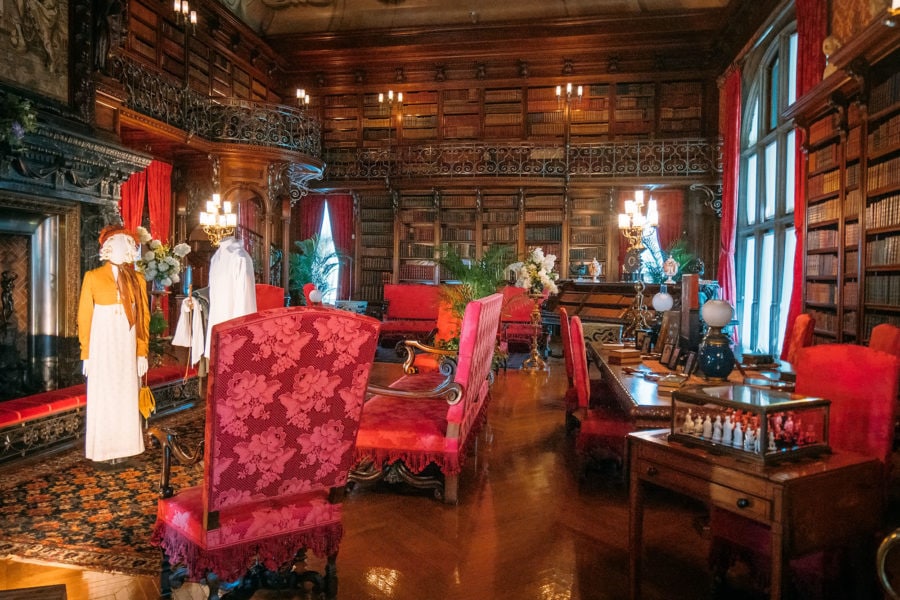 How Much Does It Cost?
Biltmore entry tickets start at $67 USD and include a self-guided tour of the Biltmore House & Gardens and parking. For $76, you also get a self-guided audio tour of the house.
$234 admission comes with a custom two-hour tour of the home conducted by an expert guide. Kids get in for $35 plus a free audio guide.
Tips For Visiting The Biltmore
Over 75,000 tulips bloom in the spring, colorful annuals in the summer, and mums in the fall. The rose garden is best to visit around late May.
You can stay overnight at one of the on-site hotels: The Inn at Biltmore Estate or the Village Hotel.
Stop by the library on your tour of the house. George Vanderbilt amassed a collection of over 22,000 books — including over 3,000 he read himself.
The Biltmore is Asheville's top tourist attraction, so it can get very busy. I recommend arriving as early as possible to try and beat the crowds.
---
Enjoy This Article? Pin It!
---
READ MORE UNITED STATES TRAVEL TIPS
I hope you enjoyed my guide to Asheville's Biltmore Estate! Hopefully you found it useful. Here are a few more wanderlust-inducing articles that I recommend you read next:
---
Any questions about visiting the Biltmore Estate? Do you have any other suggestions for the area? Join the conversation on Facebook, Instagram, or Twitter to share!