Travel Jobs
Did you know that if you're fluent in another language, you can find online translation jobs and make money from your computer while also traveling the world?
Today, my friend Alexandra shares her experience working as a nomadic translator, along with tips for how to find work while traveling. Here's Alexandra:
[su_note note_color="#DCEFF5″ text_color="#333333″ radius="3″ class=""]For more travel friendly job ideas, check out my ultimate guide:
Finding Work While Traveling[/su_note]
Hi guys! My name is Alexandra, and I work as a professional language translator. Online translation is one of the best careers for language lovers who wish to see the world.
Unlike teaching English as a foreign language, translating may give you more flexibility and financial freedom, akin to other popular digital nomad careers such as freelance writing or graphic design.
You may choose who to work with, where to work from, when to work, and even how much you earn.
However, if you want to make a living with online translation, it's not as easy as just being bilingual. In fact, many unsuspecting prospects don't realize it can take years to build up the knowledge and references to become successful (a.k.a. well-paid) in this field.
But don't fret! I'm going to share how to get started with online translation, and some of the best lessons I've learned for success after a decade in this business.
Typical Day For A Freelance Translator
8 AM: Wake up for yoga session. A clear mind always translates better.
9 AM: Breakfast and coffee while checking email (focus on client emails only)
10 AM: Check my status Excel sheet including current projects, in descending order, by deadline
10:30 AM: Open up Linguee.com, my favorite context-translation online resource for cross-referencing, and start translating away
12:30 PM: Lunch break (swim and beachside meal preferably!)
1:30 PM: Check client-only emails again for potential project updates
1:45 PM: Continue working on translation project at hand
3:45 PM: 15 minute afternoon coffee break
4 PM: Follow-up on invoices, send any new ones
5 PM: Look for new opportunities on websites like ProZ.com
6 PM: Dinner and a sunset
7-9 PM: Explore the city
Some days it's just the reverse: explore a new city in the morning while the weather is still cool, then start working from home by midday. Other days you just work half the day and take the other half off.
No pending projects and enough funds in the bank? What the heck, take it all off!
What if you land a gig with a full-time client? Then it's typically an 8-9 hour day, just focusing on translating, proofreading, and publishing content for said client, clocking out around sunset.
Every other Friday I usually take the day off to either work on passion projects or just relax.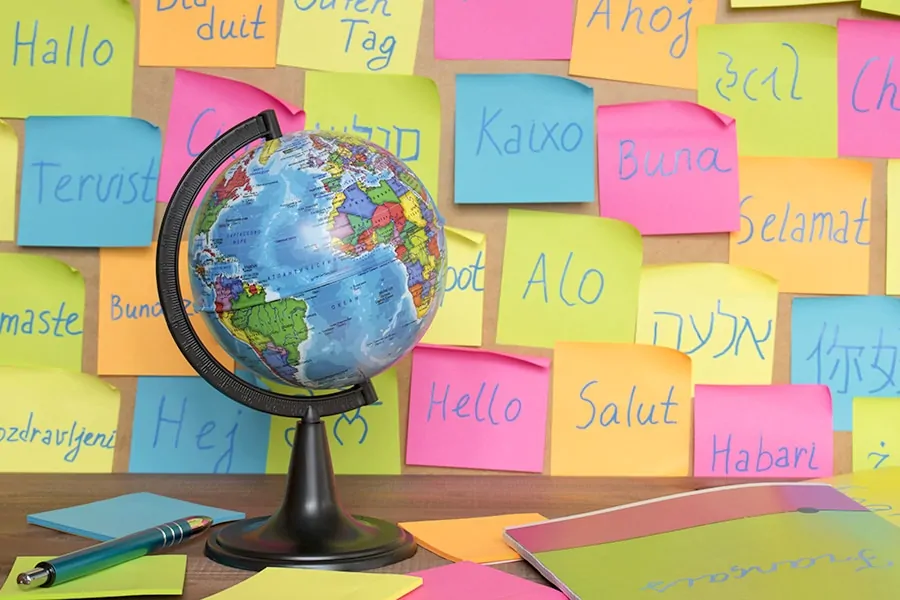 Online Translation vs. Interpretation
Many people confuse online translation with interpretation. Translators convey the meaning from one language to another in writing, while interpreters convey the meaning orally.
Each career track requires different skills sets, too.
After working in both tracks, I can confidently tell you that translation is the most digital-nomad-friendly of the two.
Many interpretation opportunities require your physical presence and/or more sophisticated equipment for over-the-phone interpretation or video conferencing.
This makes online translation the preferred career track for those who wish to have the freedom to travel the world and work from anywhere.
Selection Of A Language Pair
Translators work in language pairs, so you must pick the two languages you are most proficient in to get started.
You are expected to specify your language pair(s) on your resume or professional profile, accordingly.
Most importantly, the language pair you choose to work with will also play an important role in determining your earning potential for any translator job.
In the rare occasion that you're allowed to translate into a target language that isn't your native one, a bachelor's degree and/or significant professional experience in-country is typically required.
Highest Paying Language Pairs
English to Arabic
English to Chinese
English to Japanese
English to Danish
A 2008 report from a survey conducted by the American Translators Association (ATA) explained:
"At an average of $0.19 per word, the language combinations commanding the highest rate per word were English into Arabic and English into Danish. At an average of $0.12 per word, the language combinations commanding the lowest rate were English into Italian and English into Portuguese. The highest average hourly rates by language combination were English into Chinese ($74.92) and Chinese into English ($65.79)."
The following article by TranslationRules.com may also help you better understand competition, demand, and earnings for translators as they relate to selection of language pairs.
My primary language pair is English into Spanish, as I'm a native Spanish speaker (that being my target language here); while my secondary language pair is Spanish into English, as English is my second language and I can read and write it at a professional level.
Even though this is the language pair with the highest demand and competition for translation jobs, I still managed to earn six-figures working in the United States.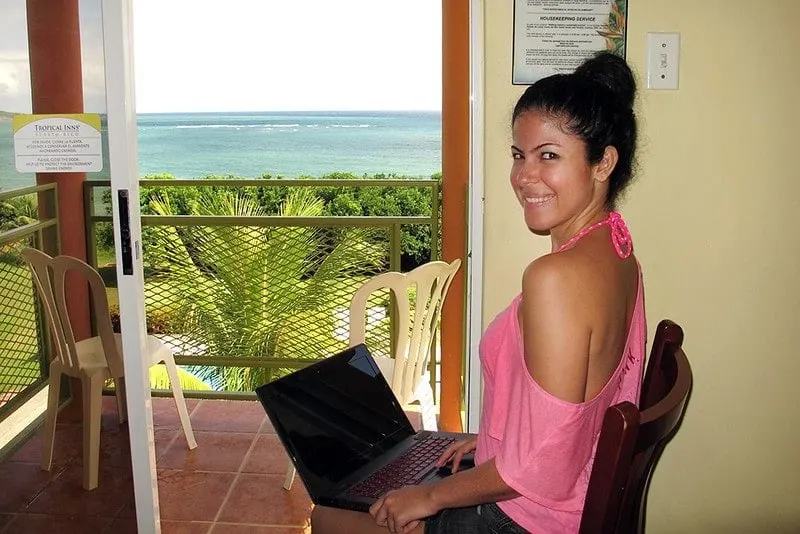 Become An Outstanding Writer
Being bilingual is not enough to become a competent freelance translator. In fact, you also must be an excellent writer in both languages and highly skilled in your industry (niche) of choice.
Moreover, there are many cultural nuances in language that you won't learn unless you experience it in a country that speaks it.
Truth be told, I was not ready to be a professional translator until I finished four years of intense writing courses in an American college and lived in the United States.
Ways to properly prepare for an online translation career and improve your language skills include taking advantage of study abroad programs, enrolling for classes in a foreign university or hire a private language tutor from your country of interest.
Picking A Niche For Translation
Picking a niche or specialty in the language industry is as important as deciding whether you want to be a translator or an interpreter, as this will dictate the other set of skills and abilities you will need to develop before your career (and pay) takes off.
Individual translation project length is typically linked to its niche, so take that into consideration when comparing the industries you're interested in.
Your obvious passions may not necessarily be the industries you want to be translating in, so I suggest you practice translating your top topics at home in order to zero in on your ideal translation niche.
Interested in translating websites about general topics such as tourism, lifestyle or celebrity news?
Becoming an expert on website localization and frequently reading about those topics in both languages of your pair should be part of your career development in order to have a competitive edge.
A bachelor's degree in creative writing and/or translation in either language may be a good idea in order to land internships during your studies and/or a good entry-level translation position.
Interested in better-paying technical translation fields such as information technology, engineering, medical or legal?
I highly recommend a bachelor's degree in your technical field of choice, with a related entry-level translation job post-graduation for a minimum of two years.
A master's degree in translation and/or the selected technical field is also recommended in lieu of an entry-level translation job.
Either track — getting a higher-education degree in translation or two years of translation experience — will typically give you the minimum skills and preparation necessary to sit for and successfully pass a translation certification examination such as the ATA's, if that's what you're interested in.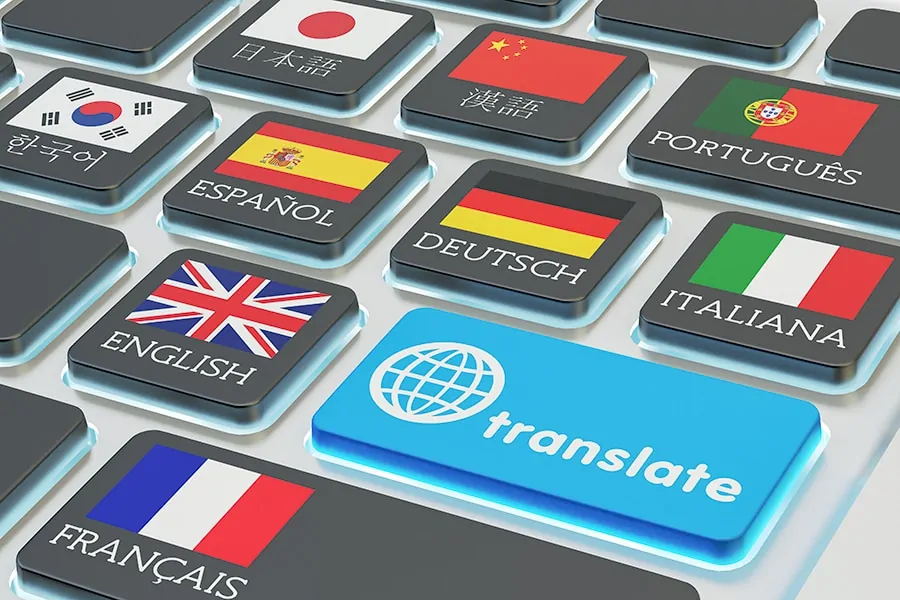 Should You Get Certified?
Getting certified as a freelance translator is as much a personal as it is a professional choice. No translation degree or certification is technically required — but it can help.
One of the nice reality checks, when I started translating, is that no translation degree or certification is required for many translator jobs unless you're interested in a specialized field such as medical or legal.
The flip side is that, if you are certified, you are more likely to land a better translation job — or any translation project for that matter.
More likely than not, whether you get certified will depend on the niche or industry you select to work in.
Interestingly, top certification bodies such as the ATA only recommend certification to experienced, mid-career translators anyway, so I suggest you experiment translating in different industries to get a feel of what you're really passionate about.
An ATA certification, along with other local and foreign equivalents, typically gives you an edge when applying for full-time technical translator positions or technical freelance projects online.
While this also applies to prospective non-technical online translators, references/a portfolio are more valued in the latter than the former (from my personal experience).
Still, I advise you to look up the eligibility criteria for freelance translator positions in your industries of choice for more insight related to your top niches and/or their certification requirements.
Be Willing To Work For Less
Well, at least at first.
I officially started my translating career by working for a startup while I was still in college. This first translation job is actually what helped me zero in on the niche I was interested in.
Since I didn't have a translation degree, didn't have a translation certification, and graduated amid the Great Recession, I was grateful and simply saw the low starting salary as a paid internship (even though it wasn't).
All they asked me to do to prove I could do the job? Translate a sample during the interview – that was it!
So my starting salary was way less than the average college graduate is "supposed" to get. But you know what? I gained so much experience on this job, got promoted to project manager within 18 months, and that bona fide translation reference helped me get my foot in the door of the world of freelance translation.
This position also led me to other projects that I was passionate about (tourism/marketing), as it built up my confidence and resume to successfully network with destination marketing professionals on travel blogging conferences.
The Small Projects Matter
Still working on your writing skills or simply trying to get some translation experience?
Small jobs or projects such as translating restaurant menus in a foreign country can not only help you improve with real-world practice but can surprisingly serve as excellent networking opportunities.
Word-of-mouth goes a long way, particularly abroad! You can also pursue these kinds of opportunities in international neighborhoods within your city, whose businesses may have a need for quality translations within your language pair.
Make your professional profile stand out. Even if you have little to no translation experience, setting up an online professional profile is one of the most important steps of your career.
If you have not built a translation portfolio yet, I recommend you post samples of translations you have done in your spare time of topics or industries you are interested in working in.
This will allow prospective employers and recruiters to see the quality of your translations early on.
I landed several interviews by doing this!
REMEMBER: Both volunteer and paid translation projects and positions count, so fill out your online profile as thoroughly as possible, updating it whenever you start or finish a relevant project or position.
Don't forget to include any awards, company goals attained, etc.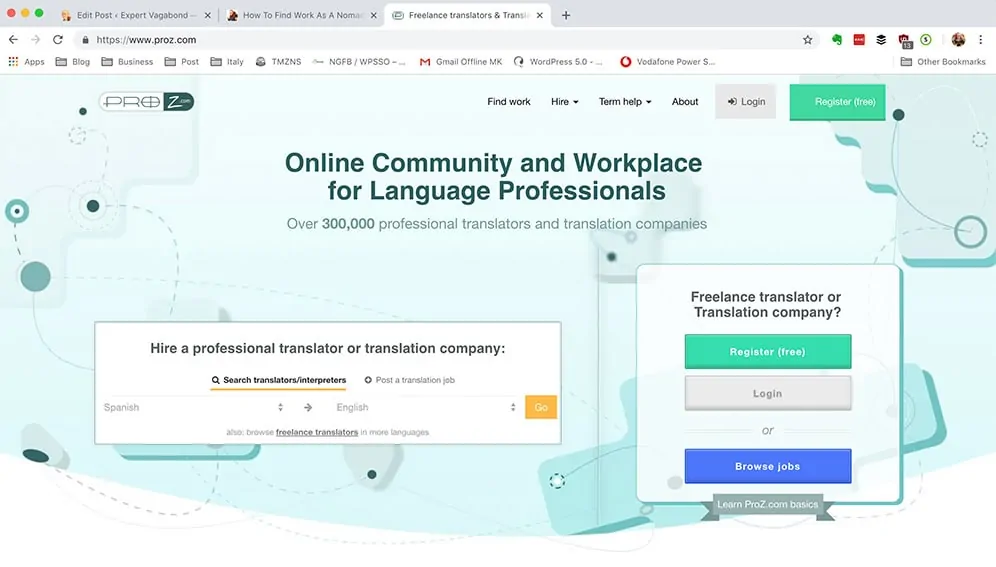 Finding Online Translation Jobs
While ProZ and Translators Cafe are some of the best websites for translators looking for paid projects or positions, it may be hard to compete with the more experienced translators who typically bid on those job boards.
Thus, if you are a beginner, I recommend you look into People Per Hour, Upwork or Fiverr for shorter, typically-lower-competition translation projects to build up your portfolio.
Most importantly, be creative! A unique way I landed some of my first freelance translation jobs involved reaching out to the marketing/public affairs contacts of multilingual online travel websites or magazines to see if they needed freelance translators for individual projects or ask if were hiring entry-level translators.
Additionally, I went to travel blogging and tourism conferences, networking with destination marketing professionals to land this type of translation projects.
Applying For Translation Projects
Making your online professional translator profile stand out is just as important as crafting a successful pitch. The best pitches are those that are brief, concise, and personalized to each translation project you are bidding for.
That being said, there are certain elements that should be included in all of your pitches: your current per-word rates in the currency of the offer, a brief byline highlighting your years of experience and how that experience or areas of specialization match with the translation project being offered.
Below is a sample pitch I successfully used early in my translation career. I included/excluded information depending on the client or project at hand:
Dear _,
My current rates are USD $0.10 per word or USD $25/hr for proofreading, meaning I can complete your web project for a total of $___ – well within your budget. I am able to deliver the completed project before your desired deadline.
About me: I studied and lived in Latin America for 18 years; have been a volunteer translator for 8 years, and have more than 3 years of full-time experience as a professional marketing, localization, and translation manager. Additionally, I'm a freelance translator and bilingual travel writer (Spanish and English).
References and endorsements can be found in my LinkedIn profile, which I have included below:
[URL here]
You may reach me at [email protected]
Looking forward to collaborating with you on this project!
Average Translation Project Length
There's no real way of telling what your average project length will be, as it highly depends on your niche and which projects you apply for.
However, I can tell you from personal experience that website articles/blog posts average between 500-1200 words; press releases hover around 1000 words; and full website localizations can be in the hundreds of thousands of words, as you also have to translate backend items such as text on menus, photo captions, alt text, and other SEO metadata.
Interested in becoming a technical translator? Unless you are translating blog posts or website articles for a tech site, you will likely be translating guides or manuals containing hundreds of thousands of words.
If you are easily bored, this is not a field for you, as you could be working on the same guide/manual translation for weeks or even months.
Charge Per Word, Not Per Project
When looking for online translation jobs or projects you will find that the most common way translators charge for work is per word, not per project.
Per-word rates vary widely depending on industry, technicality of a particular project, and popularity/demand-supply of the language pair.
For example, even experienced English-Spanish translators rarely earn over US $0.20 per word unless they work in very technical fields or hold a full-time position that includes website localization and bilingual marketing.
By contrast, English-Arabic translators can easily expect to earn up to US $0.40 per word for freelance projects or $200,000 for salaried positions when working with an American or European client, even in fields not considered as technical.
A simple Google search (i.e. "per word rate French into English translators") will help you calculate an average that is best for you, your language pair, and location of your desired clientele.
From personal experience, I have found that a good starting point for beginner online translation jobs in my language pair (English into Spanish and vice versa) is US $0.10 per word.
[su_note note_color="#F7EFE6″ text_color="#333333″ radius="3″ class=""]Per-word rates is a highly debatable topic and some translators still feel $0.10 per word is a lowball offer.[/su_note]
How To Get Paid As A Translator
Most translator or freelance marketplaces make clients pay you via PayPal, so expect to lose about 4% of the total of each translation project — in addition to any other fees each particular marketplace may or may not charge.
Some freelance marketplaces offer the option to get paid by ACH or check from the client, but be careful: these payment methods usually don't include a protection by the marketplace, which exposes you to fraud and scams.
Best way to get around this? Bid for translation projects with established companies, which you can identify by visiting the profile of each translation offer.
This way, you can reach out to the translation company separately through their official website, in the hopes that they will broker future deals directly through you and without the middleman marketplace.
You can then request they send you money via other methods with lower to no fees. I did this to establish certain business relationships, plus avoided all fees by getting paid by check (which was sent within the U.S.), then have it mobile-deposited into an account by a trusted family member.
If you plan to become a freelance translator to travel the world however, it is unlikely you will be able to avoid all fees if you wish to get paid safely (and electronically).
Telecommuting Translator Positions
Those who are not as comfortable working on an independent contractor basis (a.k.a. freelancing) and beginners should also look into telecommuting translator positions.
Benefits include a predetermined salary, payment via ACH or direct deposit (bye-bye fees), a set amount of hours worked per week, paid leave, and even health insurance coverage and 401(k) for some U.S.-based positions.
I highly recommend this type of telecommuting opportunities to translators with little to no experience, as they can be a great career launching pad.
Some companies offer apprenticeships, certifications, and/or other valuable perks in addition to the aforementioned benefits.
This is a great way to build up your resume before going solo, as you are unlikely to be awarded high-paying freelance translation projects without solid references.
Remember: you must build a strong foundation as competition can be fierce, especially for the most common language pairs such as Spanish into English, French into English, Italian into English, and vice versa.
Initiative & Networking Are Key
Whichever track you choose, I can assure you that individual preparation and networking will be the main key to success as a translator.
I have two bachelor's degrees in criminology and political science; have 8 years of professional translation experience, but only got certified in interpretation by a former company I work for; I never got certified in translation.
Yet, I still earn six figures as a chief Spanish translator in the public affairs/marketing/law enforcement/tourism industries in the U.S. I currently work full-time for one client—occasionally doing other side gigs/passion projects.
I got where I got by experimenting with translation gigs in different industries early in my career, in addition to individually honing my writing skills in both languages and networking online, or with industry conferences to obtain gigs/projects that eventually became part of my translation portfolio.
As you can see, your ability to hustle independently will be the major predictor of how successful you'll be as a freelance nomadic translator! ★
BIO
Alexandra Laborde de Bess is the author of LatinAbroad.com, where she shares her struggles living with chronic pain, travel tales, and advice after exploring over 30 countries across 5 continents. Follow her on Instagram, YouTube, and Pinterest!
---
Freelance Translator Resources
r/TranslationStudies – A Reddit community featuring articles, tips, and resources for people who work as translators.
ProZ.com – The most popular job board for finding online translation work.
Translators Cafe – The second most popular job board for translation projects.
How To Succeed As A Freelance Translator – Great book to help you get started as a professional translator.
[su_note note_color="#DCEFF5″ text_color="#333333″ radius="3″ class=""]For more ways to make money while traveling, check out my Ultimate Travel-Friendly Job Guide.[/su_note]
Enjoy This Post? Pin It!
[su_row class=""]
[su_column size="1/2″ center="no" class=""]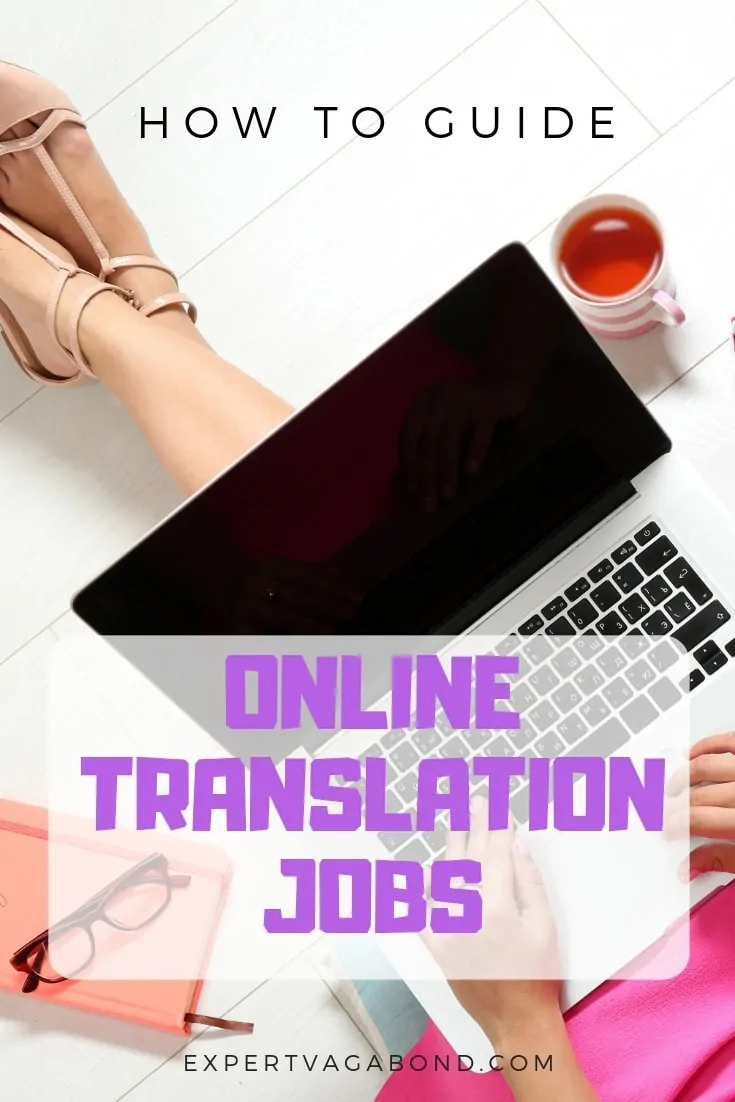 [/su_column]
[su_column size="1/2″ center="no" class=""]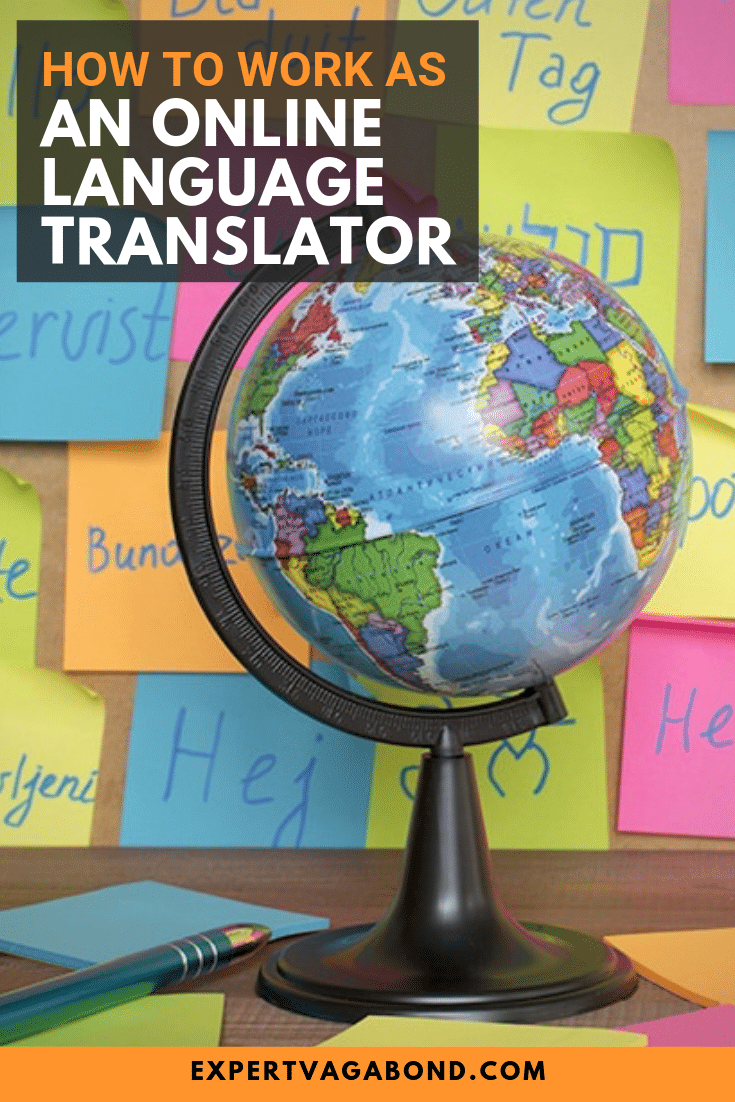 [/su_column]
[/su_row]
READ MORE TRAVEL TIPS
I hope you enjoyed my guide on how to become an Online Language Translator! Hopefully you found it useful. Here are a few more wanderlust-inducing articles that I recommend you read next:
Have any questions for Alexandra about working as a freelance translator or landing your first job? Drop her a message in the comments below!