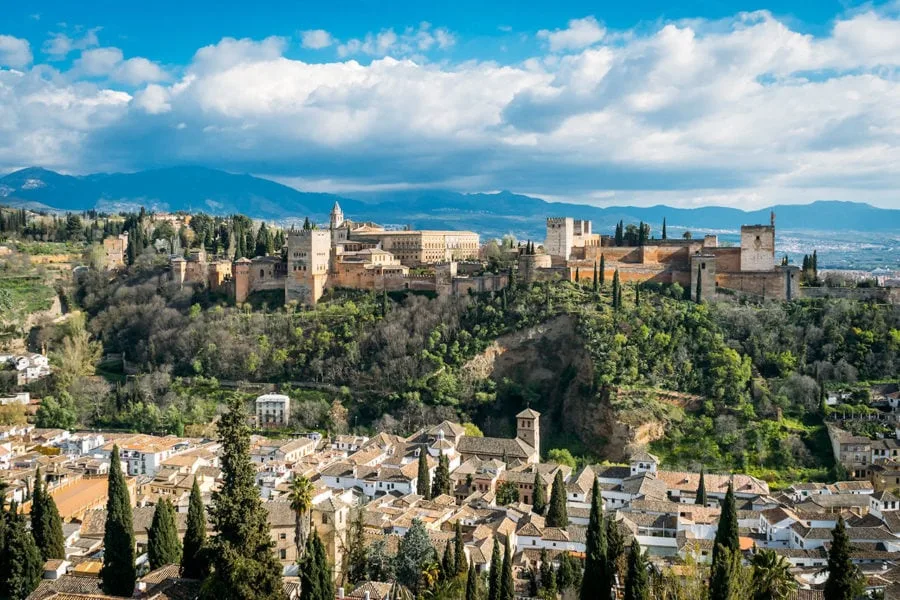 Granada, Spain
Granada is a beautiful little city in the South of Spain where I lived for a month as a digital nomad. Here are some of the best things to do in Granada if you're passing through!
Located at the base of the snowy Sierra Madre mountains in Spain's Andalucia region, the city of Granada is full of history and character.
Because it was once a Muslim kingdom, much of the city has been built in a style of Islamic architecture that remains today.
Boasting a vibrant population of university students, free appetizers with your wine, skiing in the mountains, and Mediterranean beaches only an hour away, Granada is the perfect town to spend a few days while traveling in Spain.
There are many fun things to do in Granada that most people miss…
So if you're planning to spend some time in Granada, I want to recommend some of my favorite fun and unusual things to do, no matter what time of year you visit.
Granada Spain Highlights Map
HOW TO USE THIS MAP: Above you'll find a map of highlights in Granada, Spain. Click on the top left of the map to find separate layers marking the route and points of interest. You can hide and show different layers, or click icons on the map to see the names of places I mention in this travel guide. "Star" the map to save it to your own Google Maps, or open the map in a new window for a larger version. Enjoy!
Spain Travel Restrictions 2021
Spain is open to most travelers again, including American tourists. However you do need proof of your COVID-19 vaccination(s) or a negative test result before being allowed entry.
Many hotels, attractions, and private tours are open with new health & safety protocols in place, and you still have to follow certain guidelines.
You can find the latest updates on traveling to Spain here.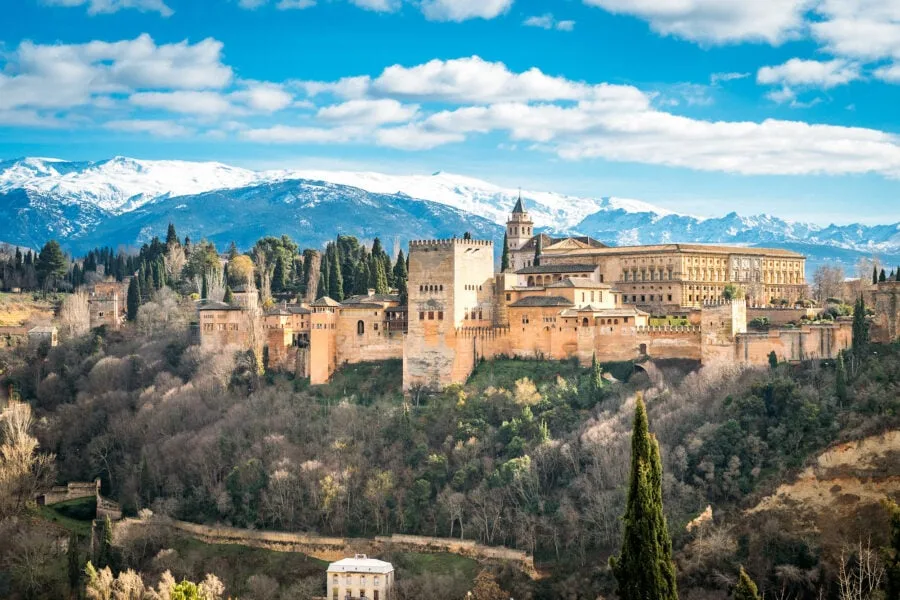 Best Things To Do In Granada Spain
1. Visit The Alhambra Palace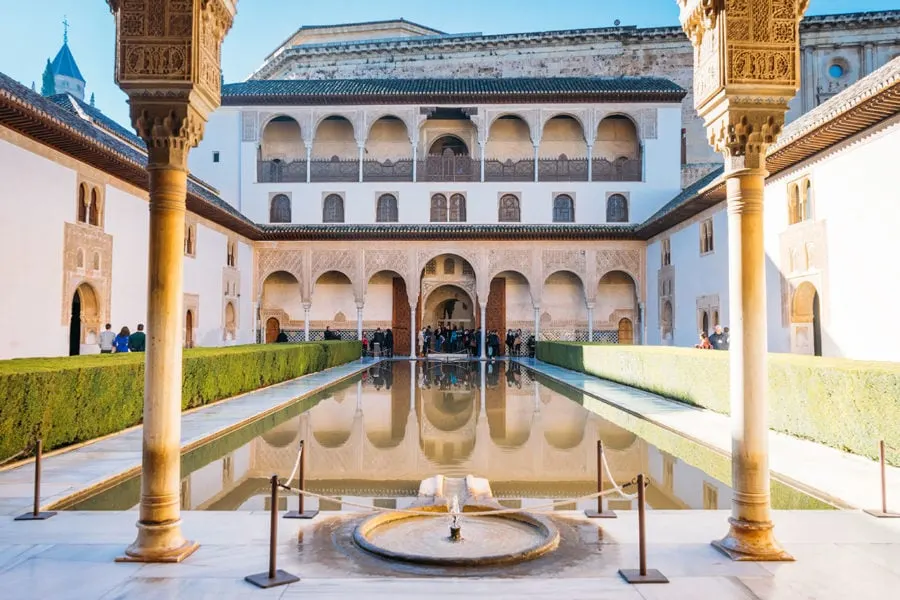 One of Spain's top tourist attractions, the stunning Alhambra Palace sits on top of a hill surrounded by forest while overlooking the city below. It was built by Moorish king Mohammed ben Al-Ahmar in the 11th century when the area was ruled by Muslims from North Africa.
You can't visit Granada without going to the palace, as it's the most popular thing to do in this city.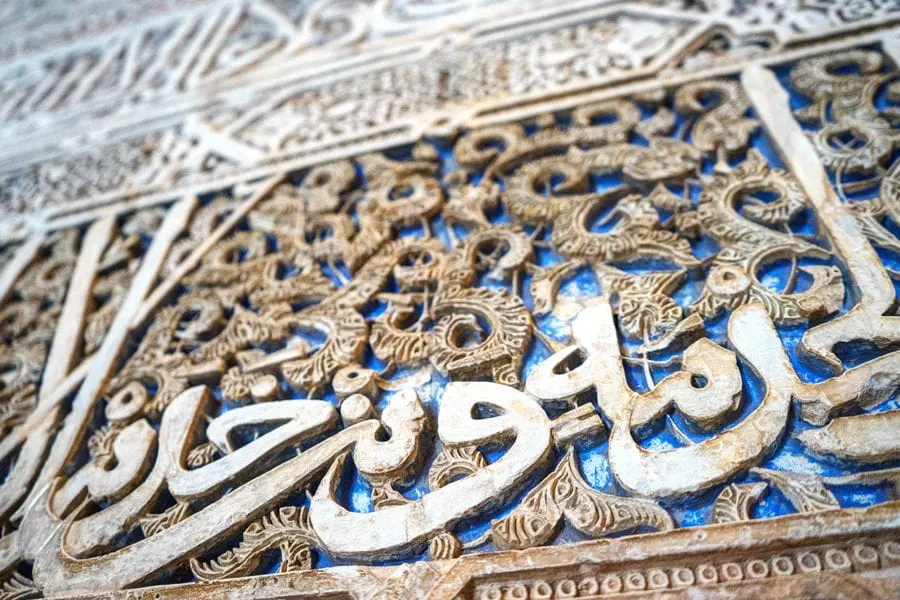 Filled with Arabic inscriptions, painted tiles, vaulted ceilings, and plentiful water fountains, the Alhambra Palace is incredibly beautiful inside and out. It was definitely a highlight of my trip to Granada, and the reason most people make the trip.
To visit Alhambra, you need to buy a ticket or guided tour in advance due to a strict limit of daily visitors.
2. The Sacromonte Neighboorhood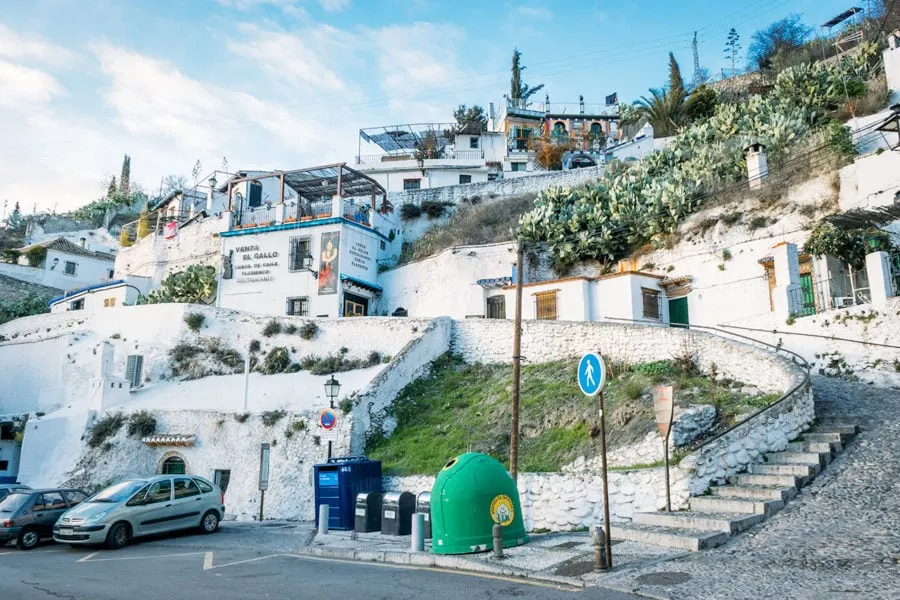 On the outskirts of Granada there's a Roma (gypsy) neighborhood called Sacromonte that is built into the side of a hill, where the inhabitants live in caves. Most of the cave-homes are pretty modern these days, but in the past, this is where the workers who built the Alhambra Palace lived.
There are two distinct areas of Sacromonte. The main neighborhood, made up of whitewashed cave homes and shops. It's perfectly safe to explore on your own.
But if you keep climbing to the very top of the hill, you'll find a unique community of hippies and immigrants squatting in more rugged caves. Just be aware that this 2nd group of people are not always happy to see tourists gawking at them or their homes, and some can become aggressive.
3. The Cave Museum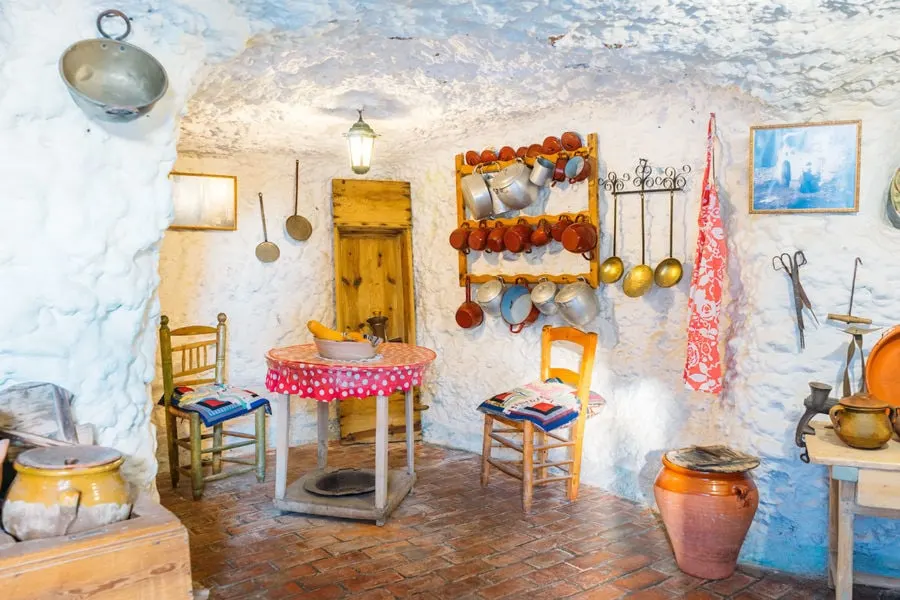 Visit the Sacromonte Cave Museum (Museo Cuevas del Sacromonte) to see what life was like in Sacromonte 100 years ago. This was one of my favorite things to do in Granada.
The museum is a short climb up from the main neighborhood of Sacromonte. I really found this place fascinating, as it features about ten cave dwellings that give you an idea of how people lived in them historically.
4. Explore The Albayzín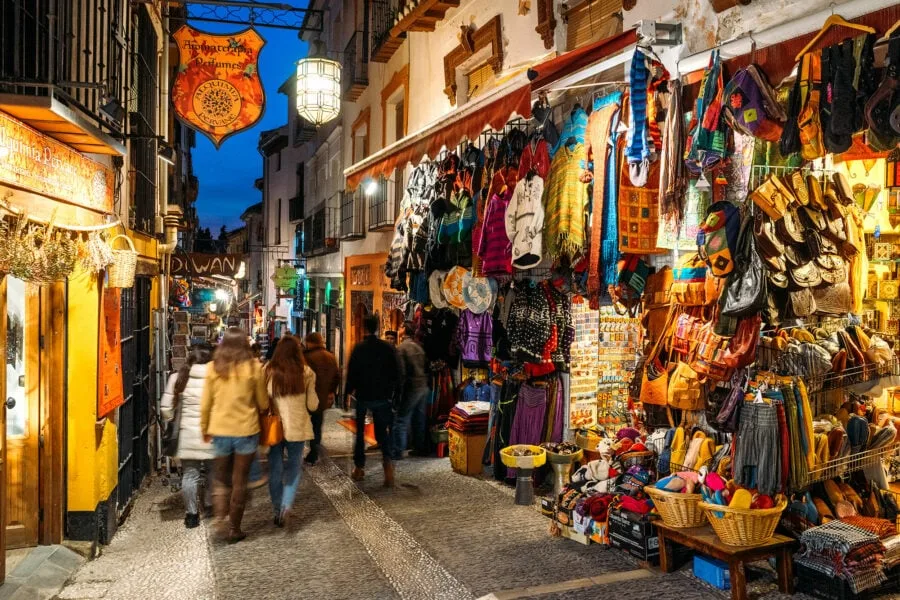 The Albayzín is one of the top attractions in Granada and the historical Arab quarter of the city. It's also a UNESCO World Heritage Site. This part of Granada has a lot of Moorish history, and this had a natural impact on the area's architecture and decor.
For example, many of the walls are covered with gorgeous tiles that were hand-painted by the Moorish population.
5. Carrera Del Darro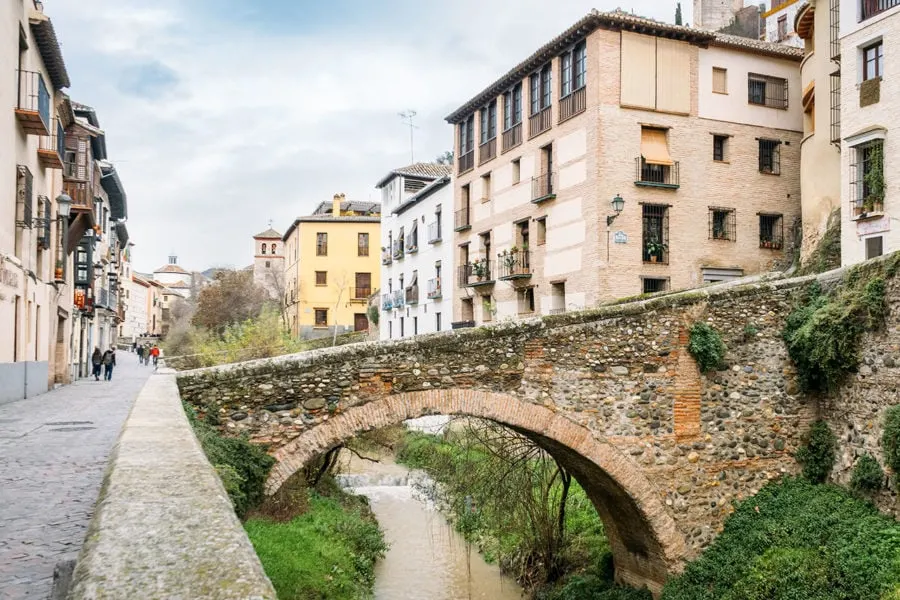 Under the Albayzín neighborhood, the River Darro flows through Granada where the old walls used to be. There's a nice walking path that follows the river's edge.
Enjoy the mix of renaissance and Moorish architecture, listen to street-buskers play their guitars, and try to imagine what it was like way back when.
6. Drink From The Fountain Of Youth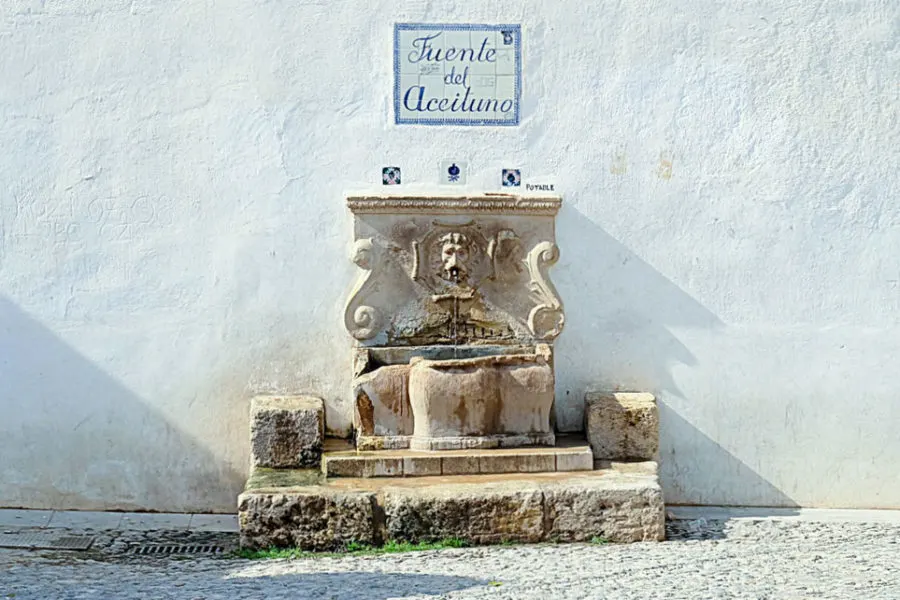 One fun little fact about Granada is that all the fuentes (fountains) in the city provide free drinking water to anyone who wants it. Probably the most famous fountain in Granada is the Fuente de Aceituno (Fountain Of Youth).
Local legends tell the story of an olive tree growing here that started producing water, which people drank and it made them younger! I took a drink, so maybe I'll live forever now… :p
7. Free Tapas With Spanish Wine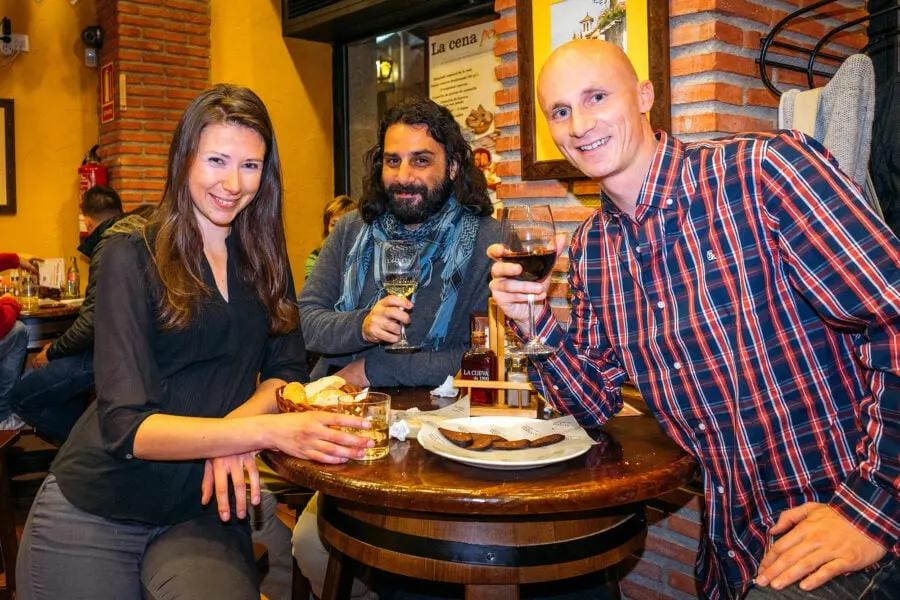 You can't visit Granada Spain without going to a restaurant or bar for free tapas! Spain's tapas culture revolves around the experience of sharing small bites with friends.
During the afternoon or evening, typically between 1pm and 4pm or between 9pm and midnight, you can order a beer or wine and get free appetizers called tapas.
The best streets in Granada to find great tapas are Calle Navas and Calle Elvira.
One popular tapas snack is Black Iberian Ham, also known as jamón ibérico, a common sight at these bars. The meat is cured with salt for up to 3 years, so it doesn't need refrigeration. The bartender will shave the meat right off a pig's leg.
8. Mirador San Nicolas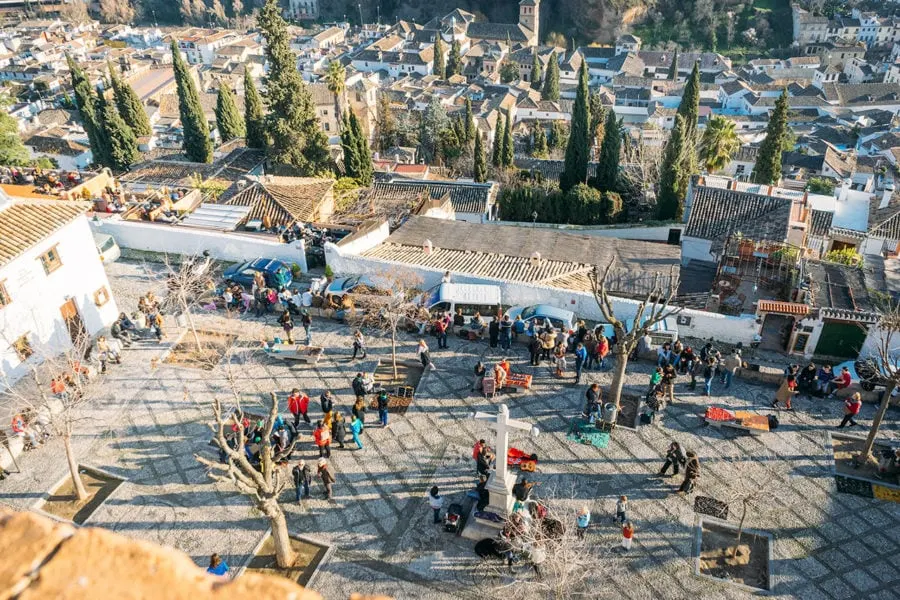 One of the top highlights in Granada is this popular viewpoint above the Albayzín neighborhood. It's quite a hike from the center of town, but views of the Alhambra with the Sierra Nevada mountains are awesome.
Sunsets up here can get very crowded during high season, and it can be full of street performers and vendors. For an even better 360 degrees view, you can climb the bell tower of the Church of San Nicolas for €2 EURO.
This is the perfect place to get your Granada Spain postcard photo — as seen in the lead image of this blog post.
9. Watch A Flamenco Show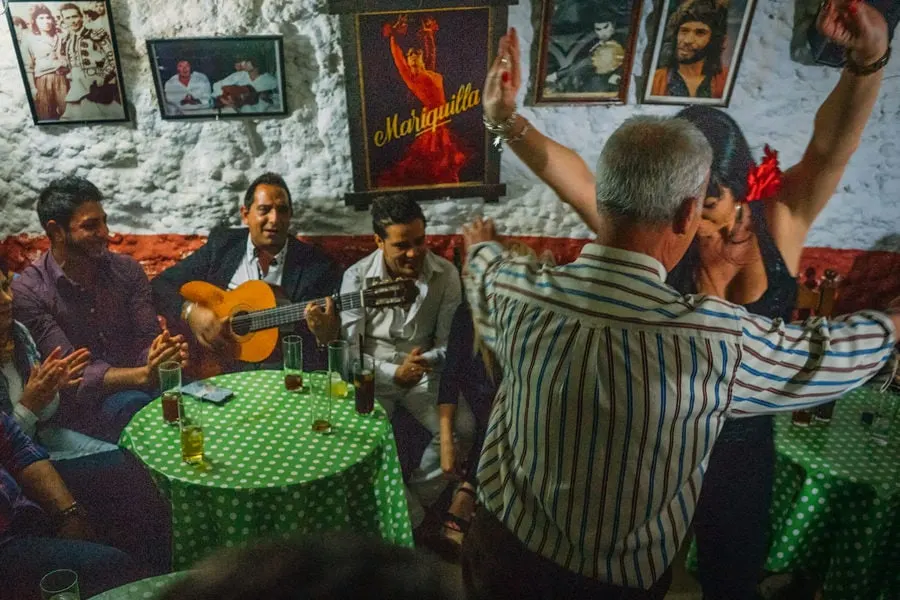 Flamenco is a form of festive gypsy (Gitano) folk music that originated in Southern Spain. It's possible to visit one of the popular cave tablaos in Sacromonte that feature full flamenco dance performances.
Cuevas los Tarantos is one of the most popular spots to watch Zambra, the regional style from Granada, and shows start at about €25 EURO.
There's also a slightly hidden/secret local cave bar which hosts incredibly authentic performances after 1am when most tourists are back sleeping in their hotels.
I'm not going to name it, you'll just have to meet some locals to learn what it's called! I can't hand you ALL the best travel secrets without doing a little work… where's the fun in that?
10. Generalife Gardens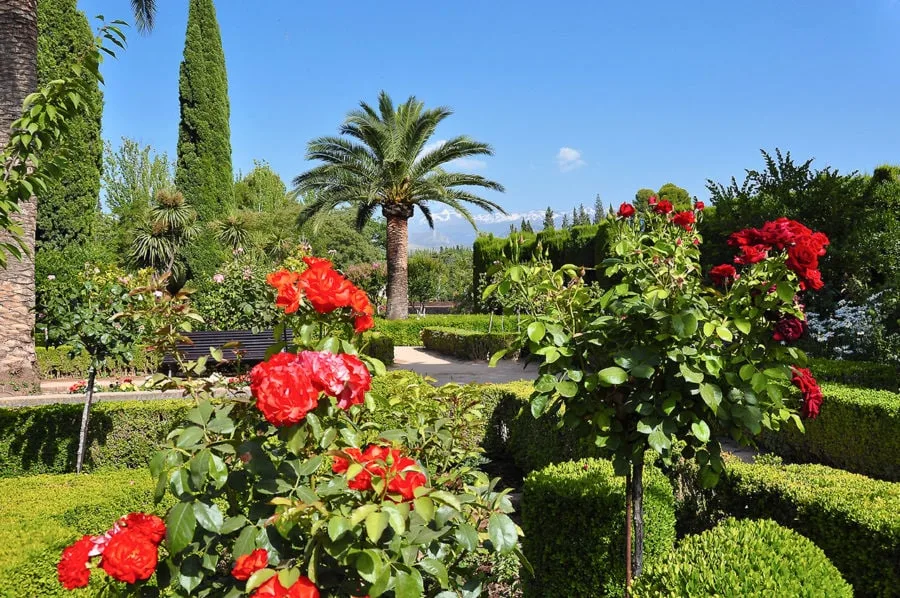 The Generalife Gardens are located on a hill next to the Alhambra, easily accessible after your visit to the Palace. You can buy a combo ticket for both Alhambra & the Gardens, or just visit the gardens on their own.
The gardens are full of flowers, trees, shrubs, reflective pools, and fountains. It can be a very peaceful place if you're there early or late in the day. You can also visit at night!
11. People Watching At Plaza Nueva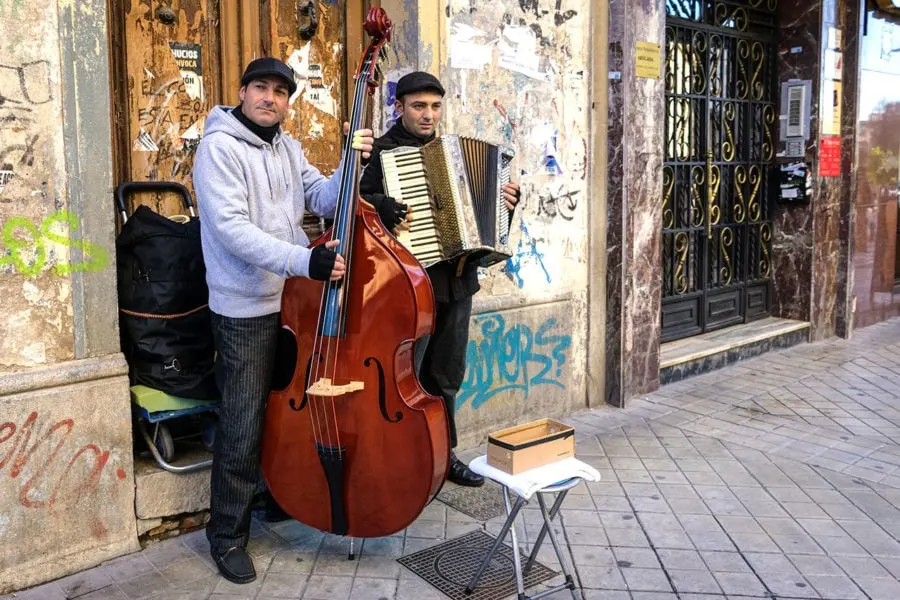 Plaza Nueva (New Square) is actually the oldest part of the city. This is where a bunch of Granada's old buildings and monuments are located.
The square used to be the site of tournaments, games and bullfights in the city. From here you can start the climb up to Alhambra Palace, or just hang out at a local cafe and watch the tourists and street performers milling about.
It's where most people begin walking up the river Darro, along the Carrera Del Darro, to reach The Albayzín and Sacromonte neighborhoods. You can also enter the Church Of Santa Ana for free.
12. Shopping At Alcaiceria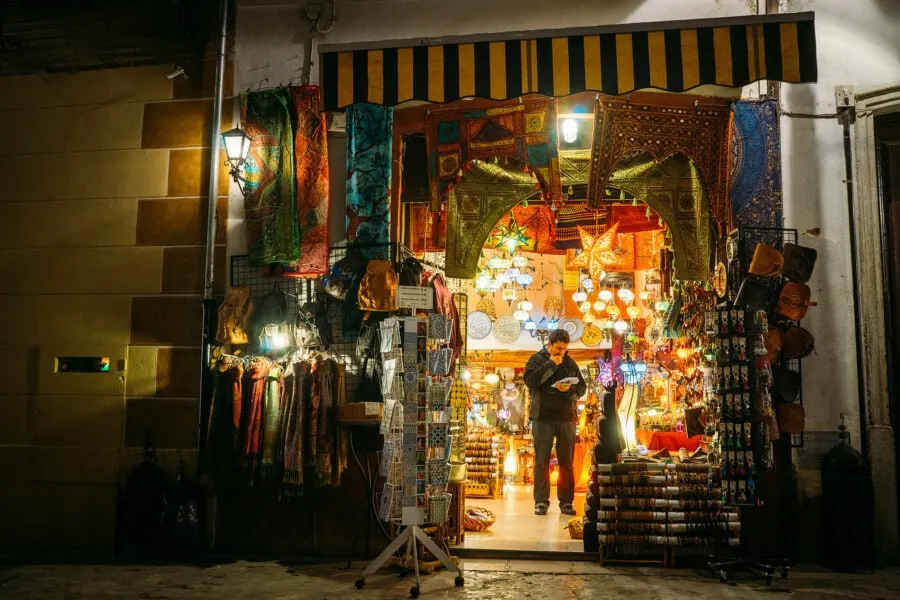 If you're looking for a unique souvenir in Granada, the best place to go is Alcaiceria. In the past, this area was a Great Bazaar. Although those days are long gone, you can still find earthenware that is reminiscent of the Moorish style of the Middle Ages.
I also enjoyed taking in the artistry of authentic Granada Taracea. Some of this furniture and the other wood touches would have made a nice addition to my place if I wasn't living out of a backpack at the time!
13. Sierra Nevada Mountains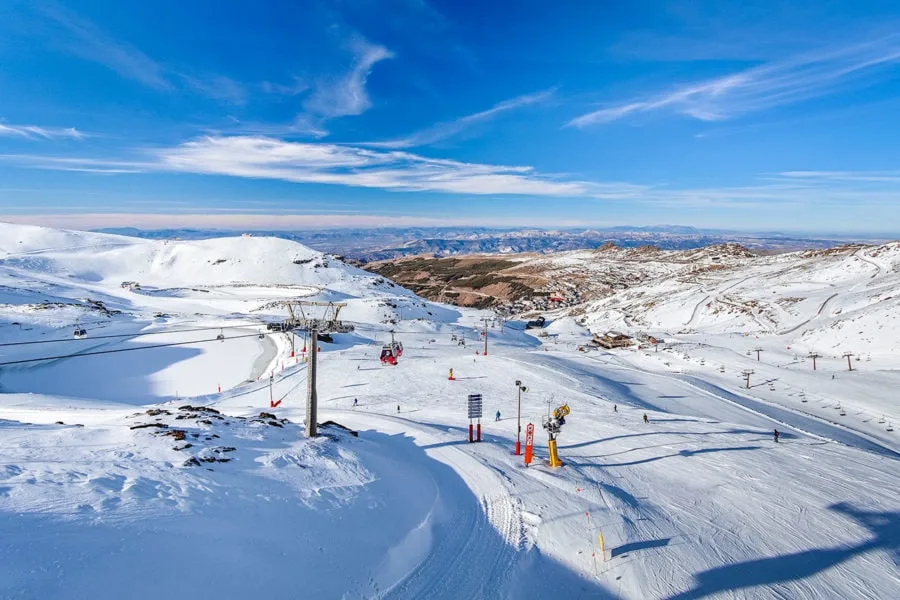 These mountains are technically 30 minutes outside of Granada, but it's a must-see for all travelers spending time nearby. The Sierra Nevada mountains can be accessed via car, bus or taxi, meaning there's no excuse not to check them out!
If you're into skiing, this is by far the best spot in Spain. If you're visiting in the summer there's also mountain biking, hiking and music festivals. Make sure to check out the hanging suspension bridges of Los Cahorros!
Don't have a car? There are also guided photo and hiking tours that leave from Granada.
14. Parque de las Ciencias (Science Park)
Granada is a wonderful place to learn about history and view ancient architecture. To take a break from Granada's charming evidence of the past, check out the very modern Science Park.
Unlike many science museums, this interactive location was truly built with people of all ages in mind. I was able to participate in many hands-on activities, which were also popular with children. My favorite part of the Science Park was the planetarium.
15. Soak In A Hammam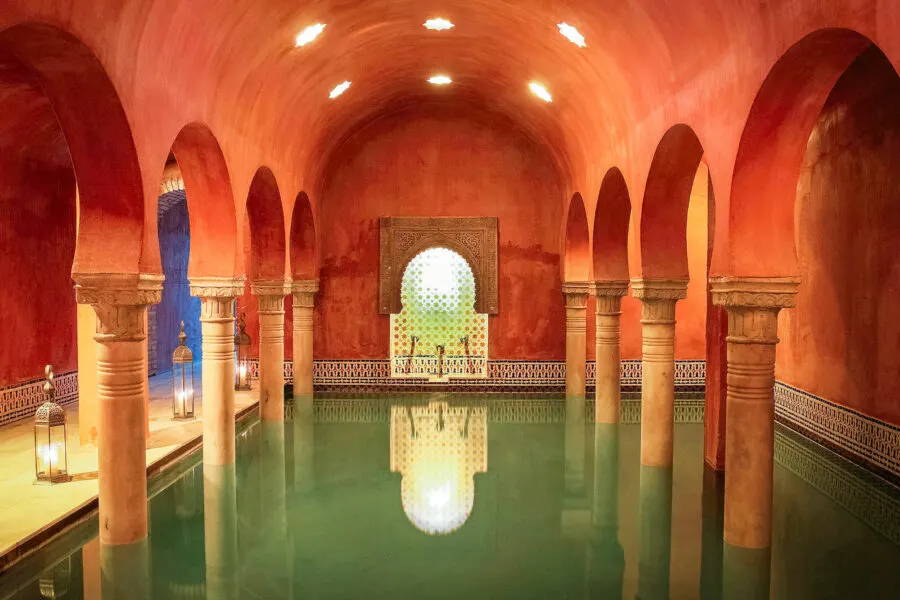 A hammam, if you are unaware, is a kind of steam room where people go to wash themselves (or be washed by others). Visiting an Arab hammam is a very typical thing to do in Granada.
Often, they involve bathing pools, washing down with black soap, and exfoliation of the skin. The most popular hammam in Granada is Hammam Al Andalus, located in the old city of Granada.
16. Corral del Carbón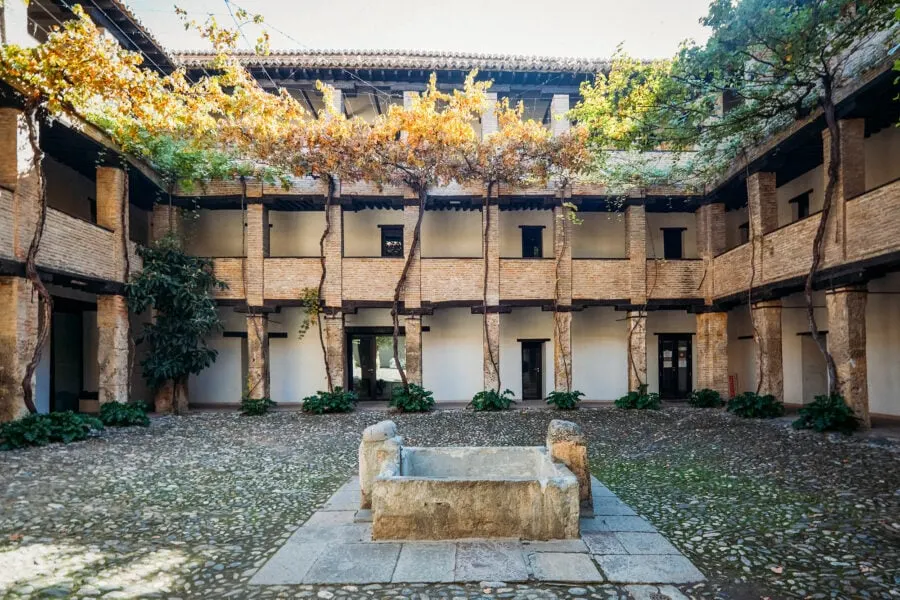 Corral del Carbón is an interesting place to visit if you're interested in the history of the Nasrid dynasty because it's the oldest remaining building in Granada from that era. Plus it's free!
Built in the fourteenth century by Yusuf the First — it was used as a warehouse for goods and a shelter for merchants. Later it was also used for stage performances.
As an added bonus, if you visit Corral del Carbón in the summer there's a chance of running into a flamenco or play performance in the courtyard. There's also a bookstore inside the building.
17. The Granada Cathedral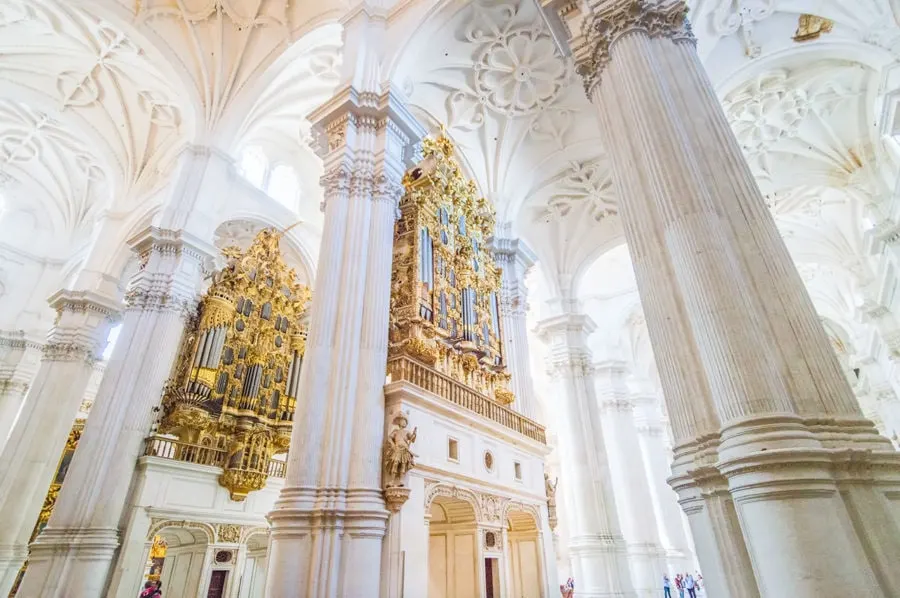 Regardless of your cultural or religious views, you simply have to make some time to visit the Granada Cathedral. This stunning example of architecture was one of my favorite parts of the city.
The combination of Gothic and Renaissance style makes it pretty cool. Make sure you have plenty of room on your memory card for photographing the stunning exterior of this 16th-century masterpiece.
For a richer experience, take a guided tour to learn details about the history.
18. Royal Chapel Tombs & Crypt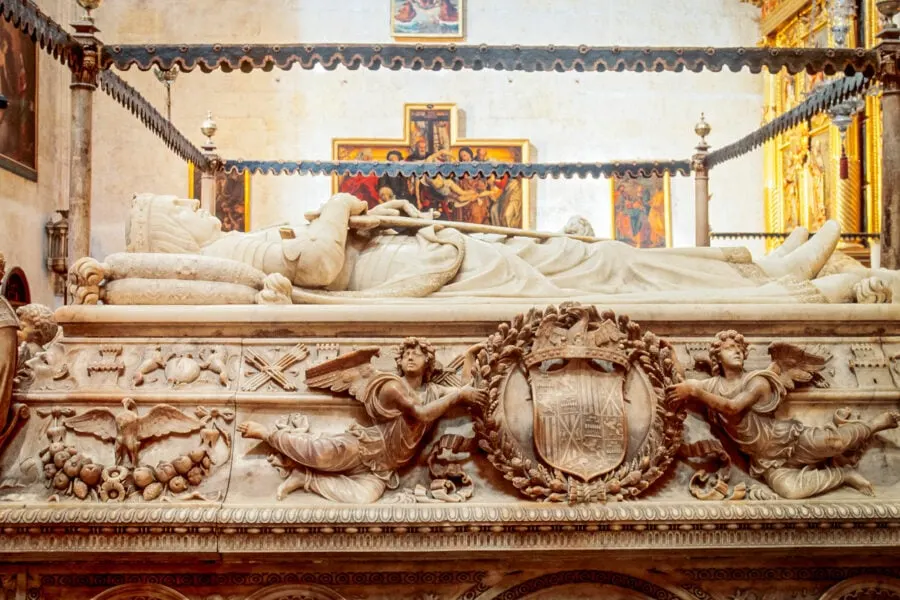 The tombs of the Royal Chapel, known locally as Los Reyes Catolicos, were fascinating. The Royal Chapel itself is more than worth a visit if you like history.
It's interesting to see the graves of royalty. The chapel once held the bodies of Queen Isabella I of Castile and Ferdinand II of Aragon, but were later moved. Now only the Catholic Monarchs and their children are buried here.
The entrance to the Royal Chapel is at La Lonja, in the Cathedral Complex, and it is open from 10:15am – 6:30pm. A ticket costs €5 EURO.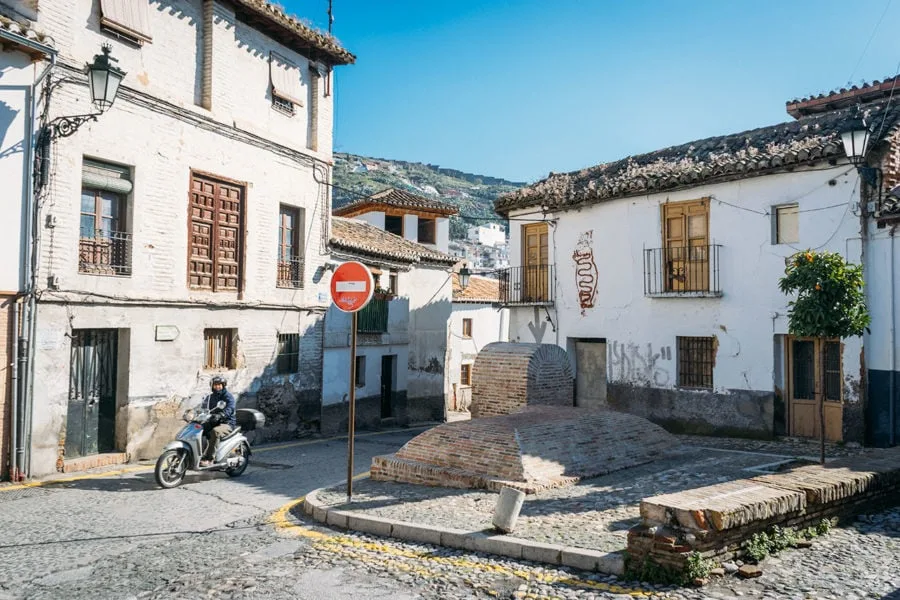 Getting To Granada
Flying Within Spain
Granada has a small airport that runs daily flights from Madrid and Barcelona. Flights are often cheaper to nearby Malaga though, and then you can take a bus from there. Check for deals on Skyscanner and read my guide to tips for finding cheap flights.
Renting A Car In Spain
The best site to book your car is Discover Cars. They search both local and international car rental companies to help you find the best possible price. This is the easiest way to rent a car in Spain.
Traveling By Bus
Most people get to Granada traveling by bus from other large Spanish cities. Just be aware the bus station is slightly out of town and requires a taxi or local bus to reach the city center.
The bus from Madrid takes about 4-5 hours depending on the class. A bus from Malaga only takes about 1.5 hours. You can book tickets with ALSA.
Traveling By Train
Granada's train station is at Avenida de Andaluces. However the trains are not high-speed, and the main routes are undergoing construction work until 2019. The train takes about 5.5 hours from Madrid, and 4 hours from Seville.
You can search for and book train tickets on Rail Europe.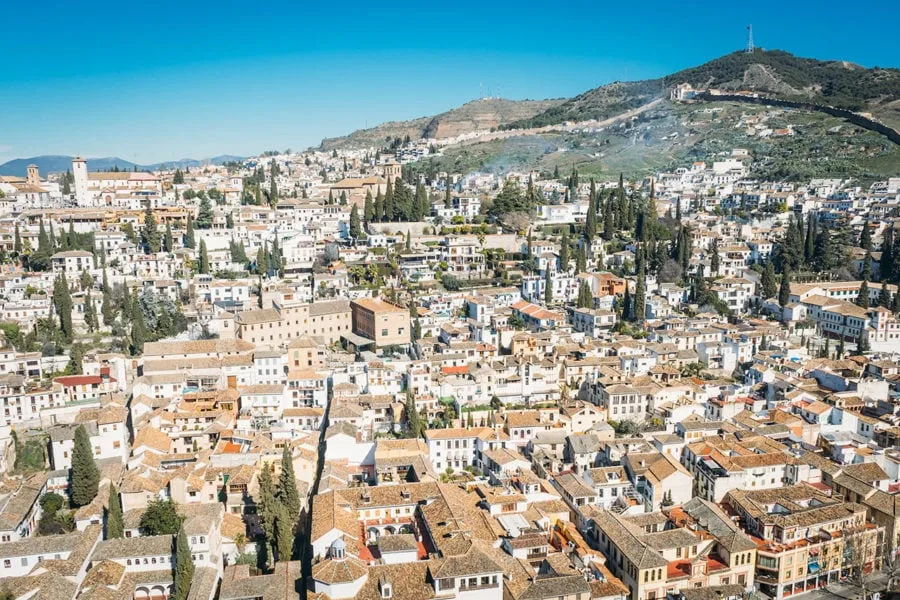 Where To Stay In Granada
There are all sorts of good accommodation options in the many neighborhoods of Granada, from right next to the Alhambra Palace itself to budget backpacker hostels. Here are suggestions for places to stay on your trip to Granada Spain…
---
BEST ACCOMMODATION IN GRANADA
---
---
Enjoy This Article? Pin It!
---
READ MORE SPAIN TRAVEL TIPS
I hope you enjoyed my guide to exploring Granada, Spain! Hopefully you found it useful. Here are a few more wanderlust-inducing articles that I recommend you read next:
---
Have any questions about things to do in Granada? What about other suggestions? Join the conversation on Facebook, Instagram, or Twitter to share!