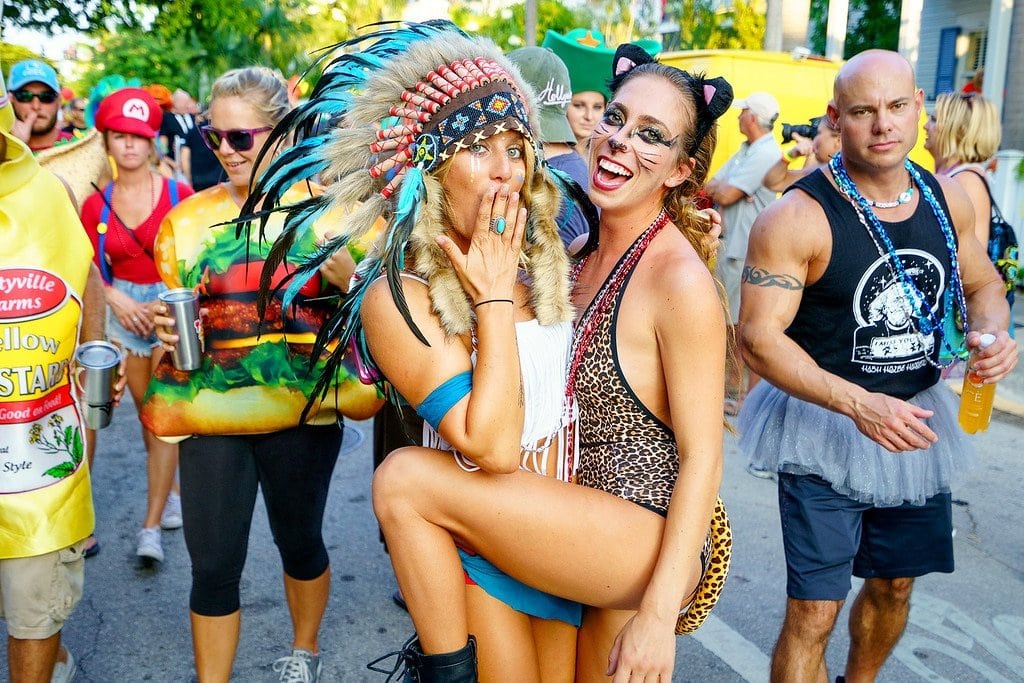 Key West, Florida
Want to learn about the best-kept secret for street celebrations in the United States? It's a wild 10 day costume party in October called Fantasy Fest in Key West, Florida.
If I had to describe Fantasy Fest in one sentence, I'd say it's Burning Man meets Mardi Gras for Halloween on a tropical island. Except in a place where you can also stay in a beautiful B&B surrounded by ancient banyan trees.
Key West is a place so diverse that gays, bikers, pirates, artists, strippers and entrepreneurs are the norm, living a motto "One Human Family." A place where you can watch the sun both rise and set over the ocean every day.
After knowing about the festival for years living in South Florida, I finally made it down to see what all the hype was about with my blogger friend Steph.
Our week was incredibly fun, absurd, and liberating all at once.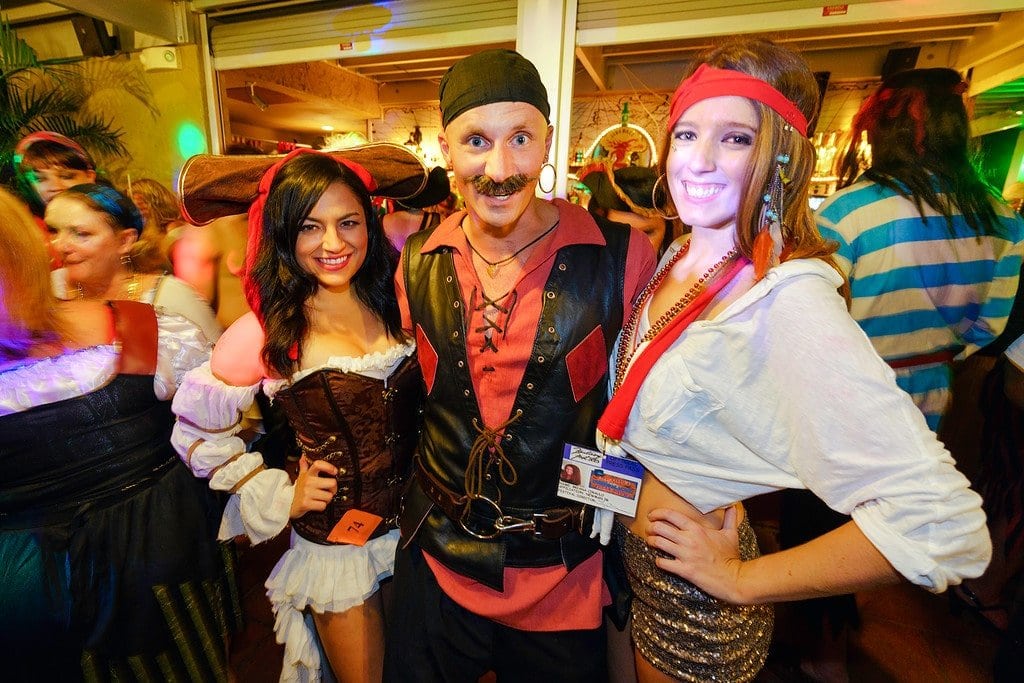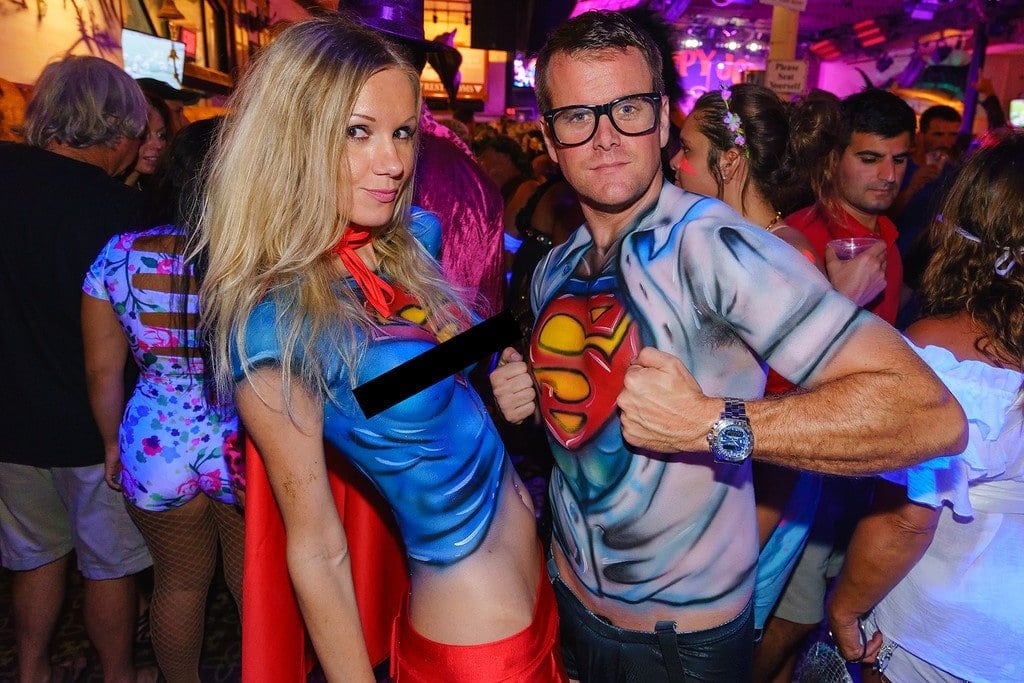 The Conch Republic
Key West is America's own little Caribbean island, known as the Conch Republic to locals who fancy themselves a separate country. The island is located at the southern tip of the beautiful Florida Keys.
With certain laws being a bit more lax (like allowing "open containers" on the street) and such a unique blend of people and styles, you actually do feel as though you're in another land.
Spend an afternoon walking past Key West's pastel colored homes or browsing some of its 50 art galleries while still never more than a dozen blocks from the sea in any direction.
The whole island's 1 x 4 miles is navigable by quaint lanes bordered by tropical flora, feeling a bit like a secret garden which you can navigate by foot, bike or moped.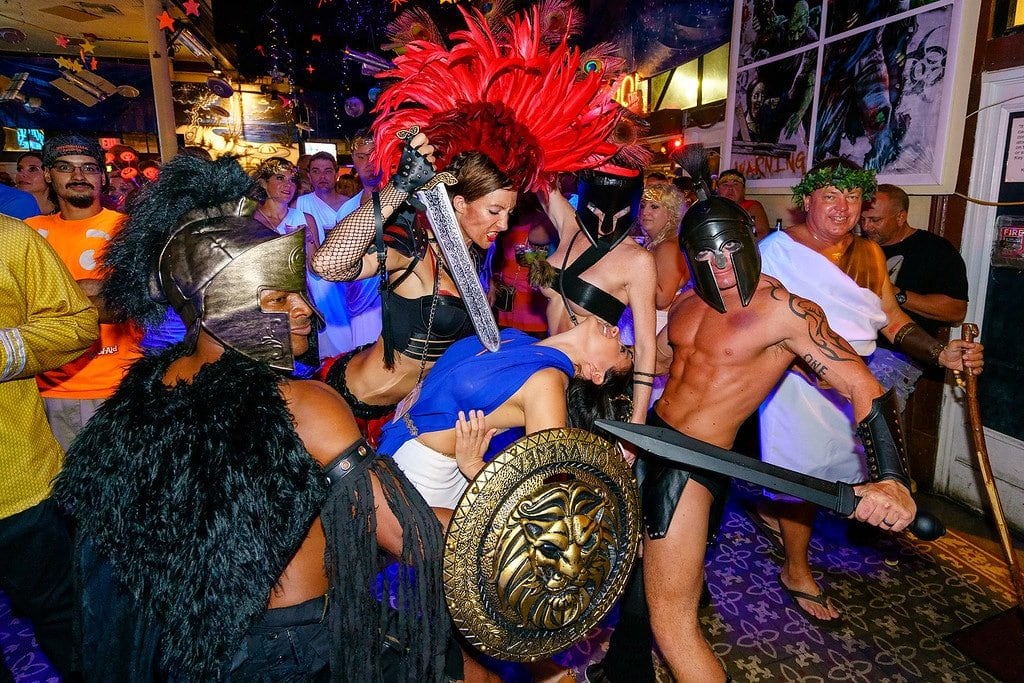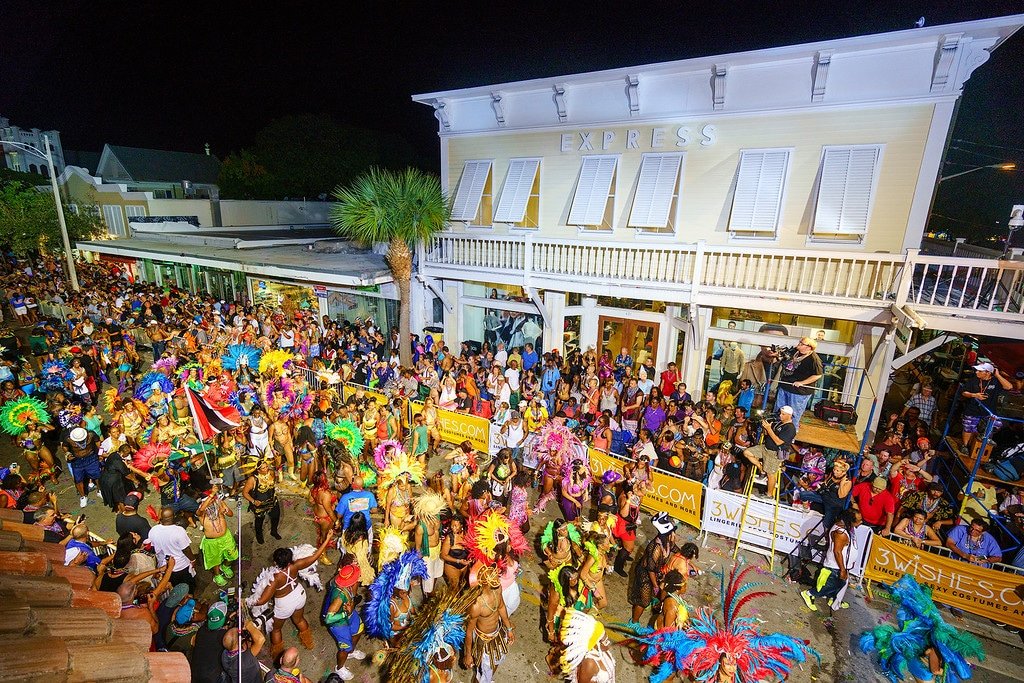 Fantasy Fest Vibe
This magical little island gets even wilder when it celebrates Halloween for 10 days at the end of October in an incredible wonderland known as Fantasy Fest… where almost anything goes.
Bring out any piece of your character (or a different one every night)!
During the festival venues host their own special events. These celebrations create an entire world within themselves, worlds that you are encouraged to join in! They pull together a combination of local cuisine, talented artists, and fundraising for various local charities.
This collaboration makes each event take on a life of its own, feeding everyone's creative inner-child that you'll leave the festival feeling closer to.
There are costume competitions, AIDS fundraisers, family-friendly parades, drag-queen contests, and more.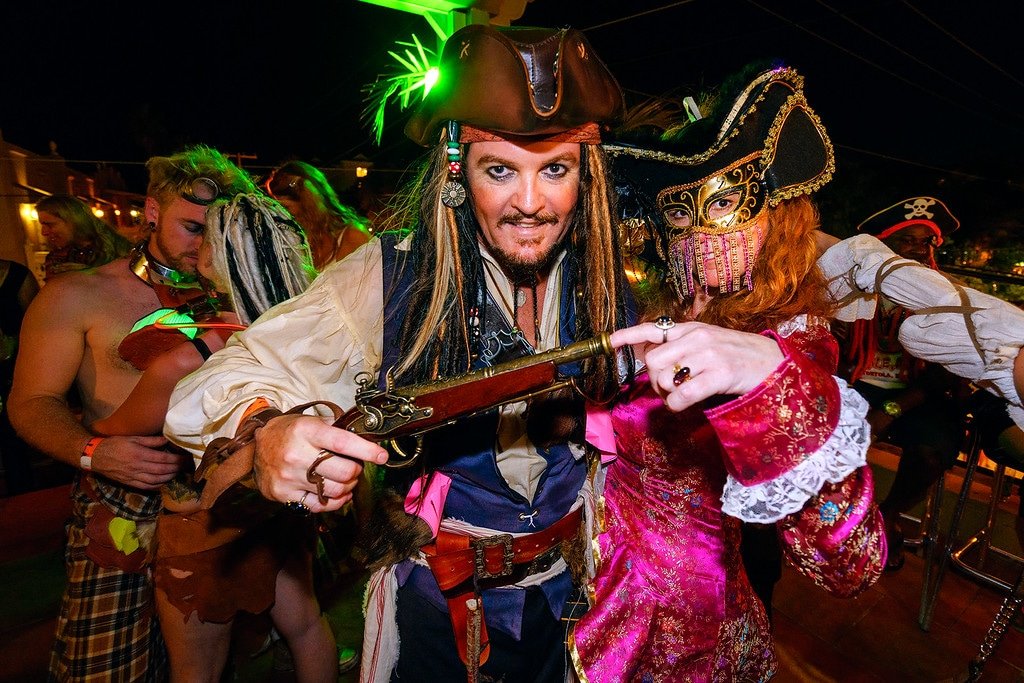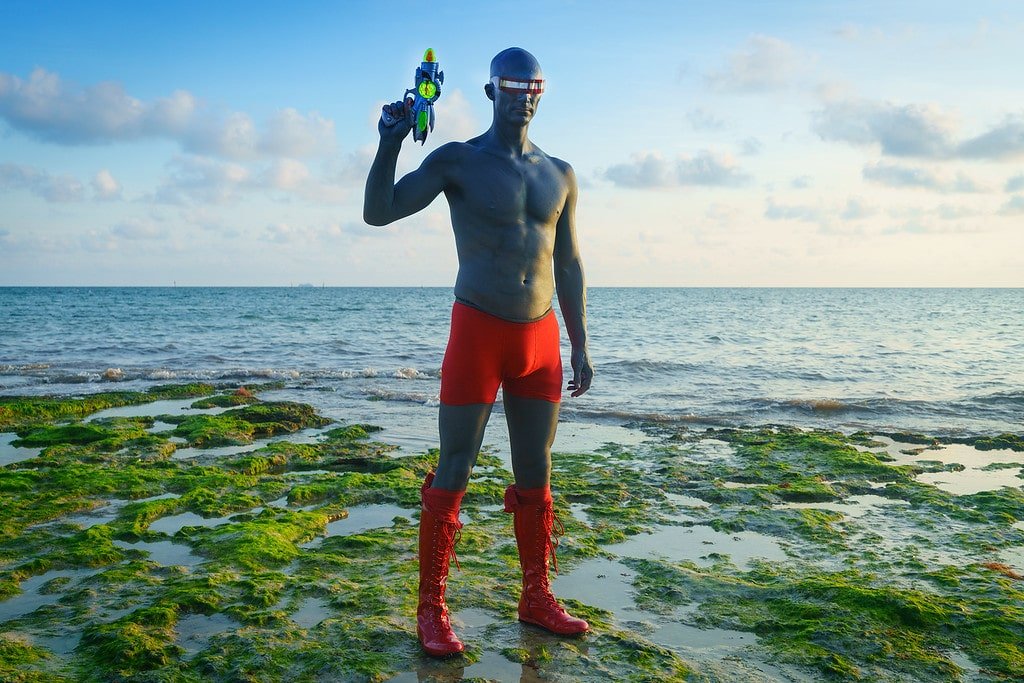 Intergalactic Freak Show
The theme for 2015 was the All Hallows InterGalactic Freak Show, and it certainly lived up to its name. This small town welcomed 60,000 freaks, free spirits, and aliens from all over the country.
People spend months planning out their costumes (or lack thereof) for the multitude of themed parties that happen throughout the week. I got into the spirit of things by packing 3 different costumes myself — Greek God, Dirty Pirate, and Intergalactic Alien complete with full-body paint job.
One night Steph and I found ourselves at Irish Kevin's annual Fantasy Fest 80's party when who should crash the stage but Mr. Margaritaville himself!
Jimmy Buffett (ok, maybe not the real one) picked up a guitar and played along with the band for a few songs as the rest of us danced like no one was watching.
Just a typical evening at Fantasy Fest in Key West.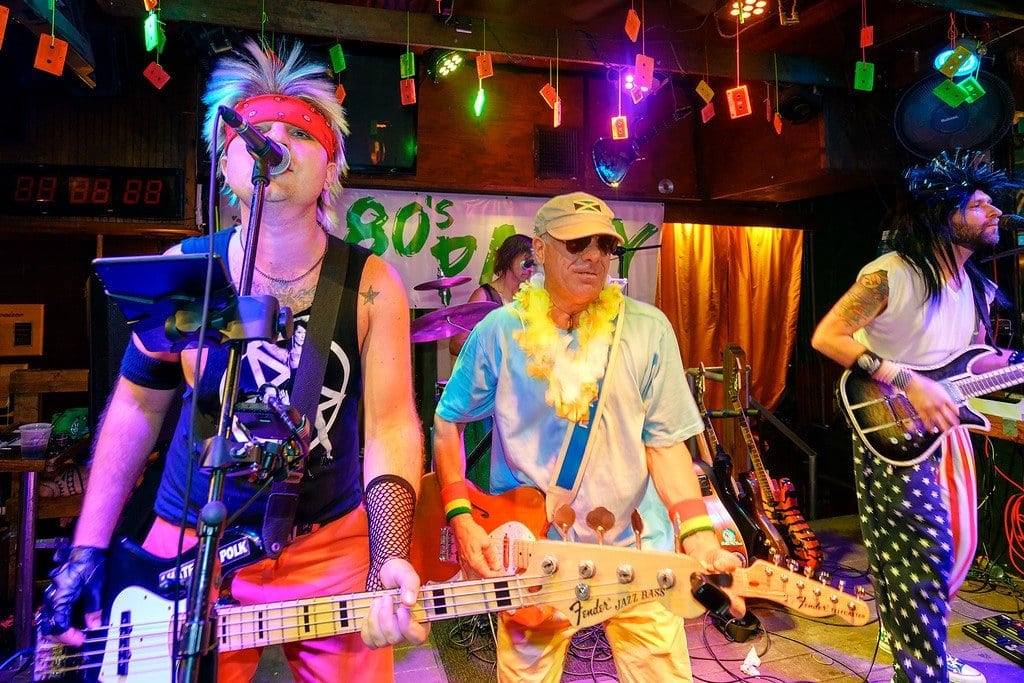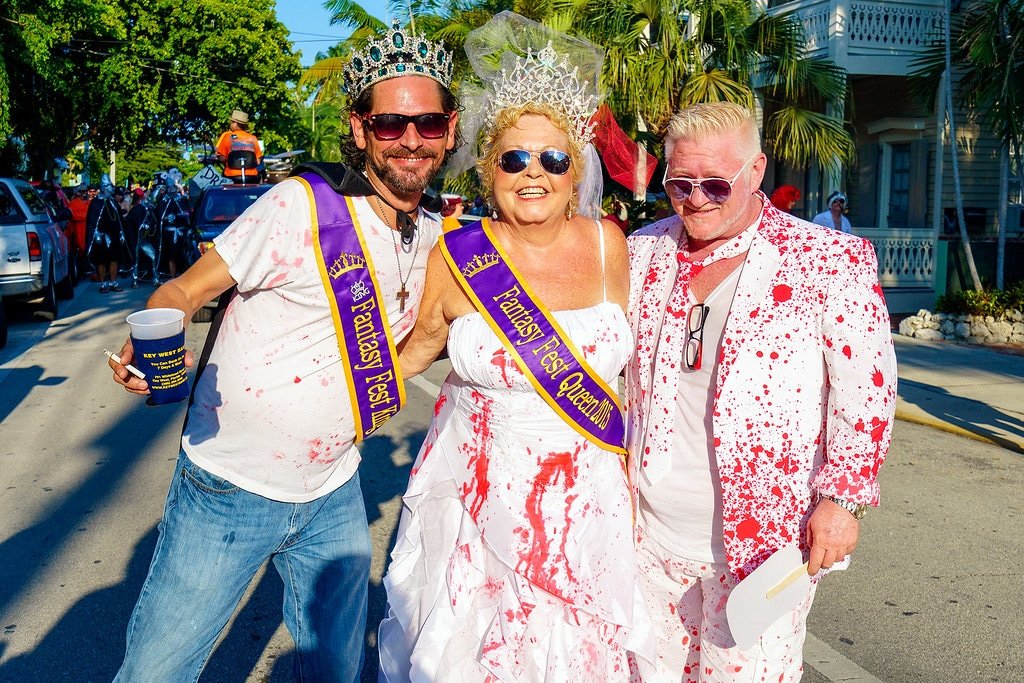 Fantasy Fest Events
Some highlights of Fantasy Fest include The Coronation Ball where the Conch King and Conch Queen make an appearance. They win this royal title by having raised the greatest amount of funds for AIDS Help.
In 2007 they raised over $200,000 and since 1989 almost $2.6 million has been donated.
Goombay is a two day street party held in Key West's Bahama Village neighborhood. It's named after the goatskin drums that generate the party's rhythms and celebrates the heritage of Key West's large Bahamian population with food, art and a lot of dancing.
Other popular events include the Zombie Bike Ride, Pet Masquerade, Anything But Clothes Party, Rum Barrel Pirate Bash, Airbrush Expo, Sloppy Joe's Toga Party, and much more.
You can find a full listing of events on the Fantasy Fest Website.
On the last day, the festival culminates with the Fantasy Fest Parade down the town's main Duval Street spanning the 1 mile cross-stretch from the Atlantic to the Gulf shore.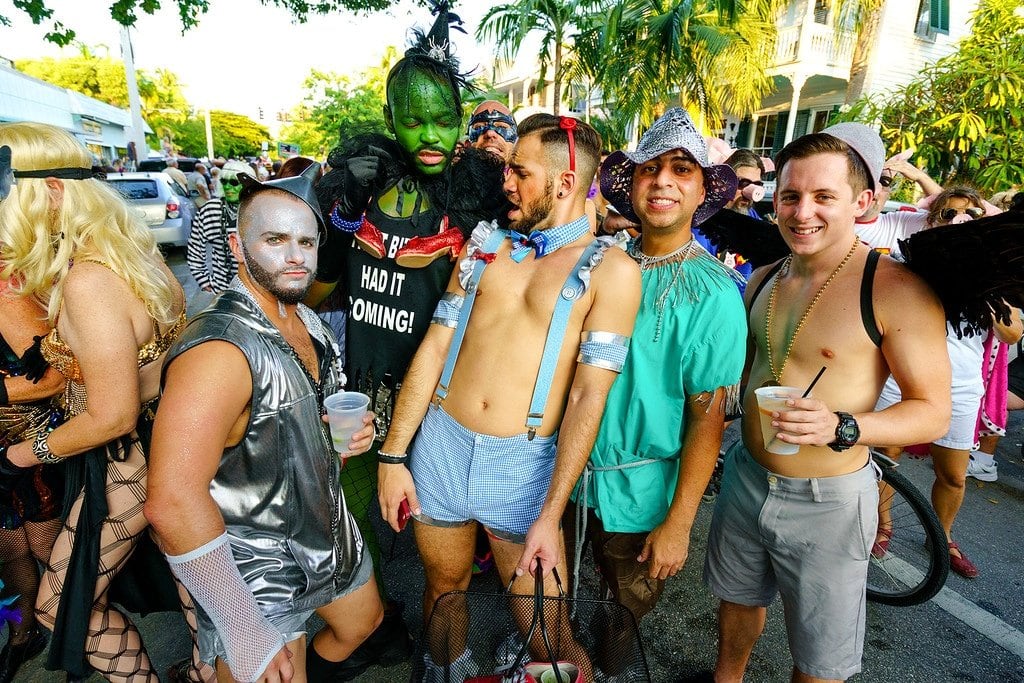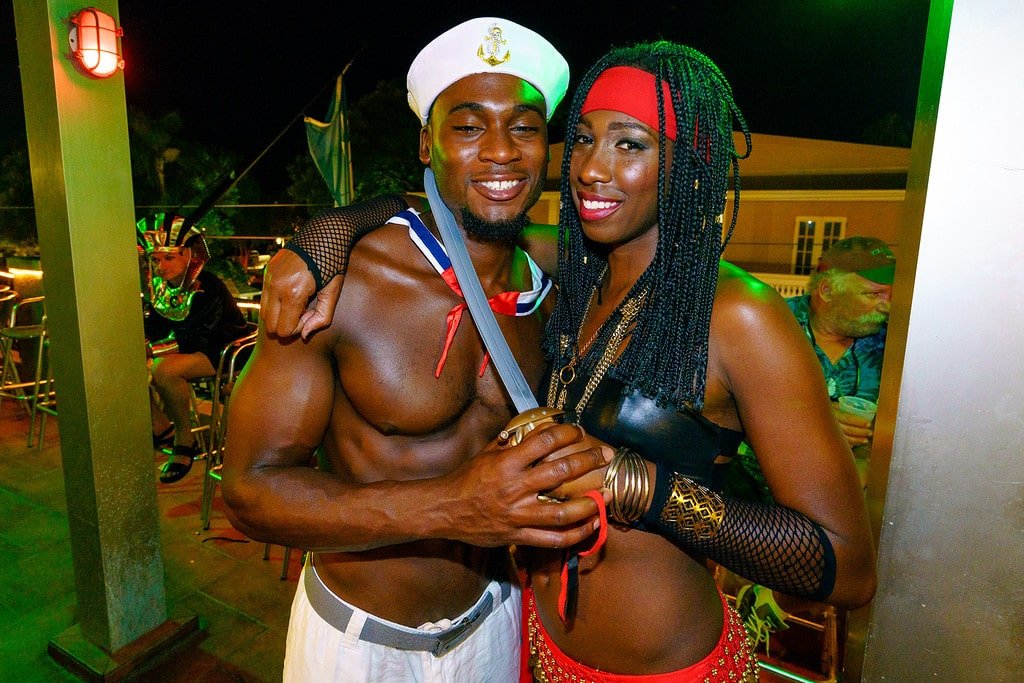 Fantasy Fest Tips & Advice
While basically an extended adult costume party at the end of October, Fantasy Fest doesn't always fall on Halloween itself. It did in 2015, but that's not always the case.
There's some nudity at Fantasy Fest, but that's not all it's about. You'll find people of every race, age, body type, sexual-preference, and career here too. A celebration for judgement-free and open-minded people.
With only 75 taxi cabs and 60,000 people during the event, finding a taxi isn't always easy. Renting a bike might be a good option for getting around, provided you don't drink too much.
No Fantasy Fest experience is complete without some body paint. Airbrush artists from around the country set up shop to make your dreams reality. Prices range from $100 to $800+ depending on how intricate the work is.
Need a cure for your killer hangover the morning after? Grab a bite to eat at Blue Heaven or some strong cuban coffee at Cuban Coffee Queen.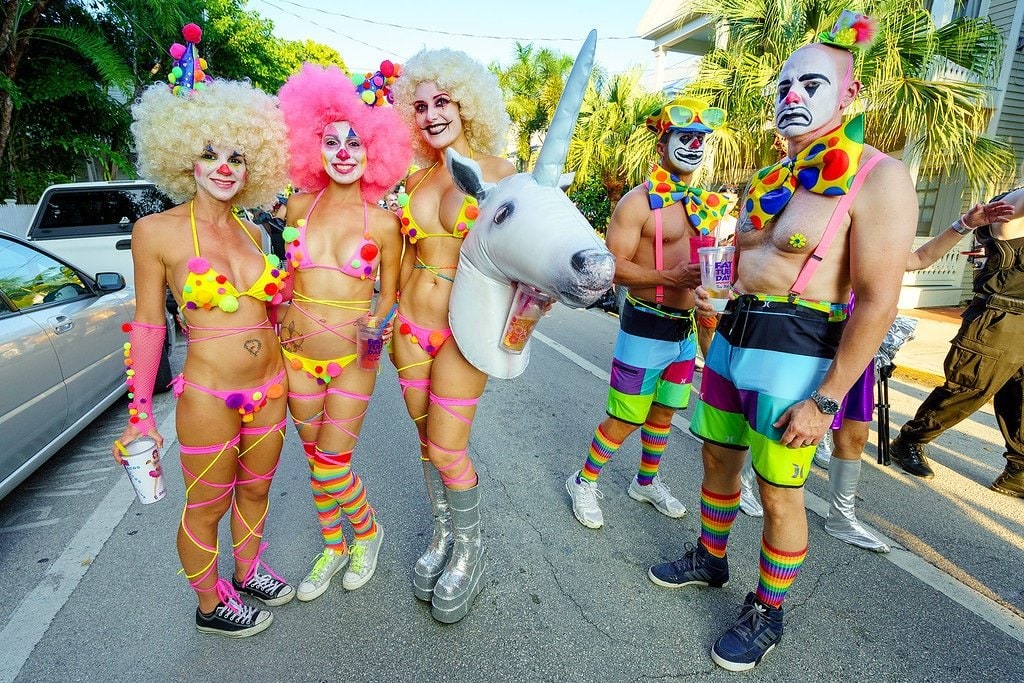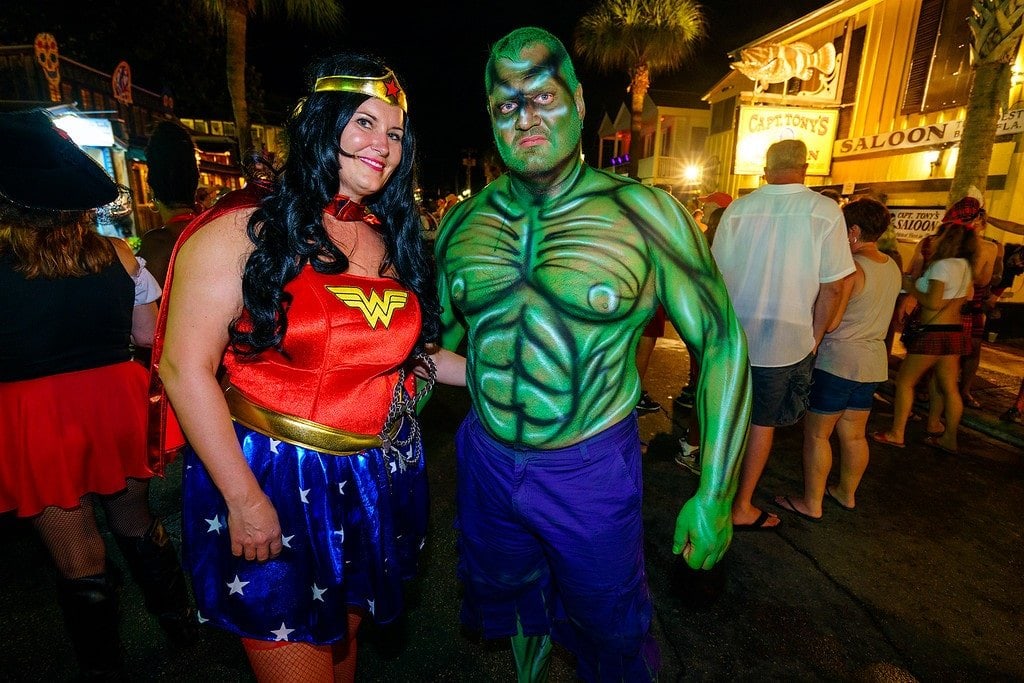 Getting There
So how do you get to this crazy party called Fantasy Fest in Key West? Fall down a rabbit hole? Hope a tornado picks up your farmhouse in Kansas? Fortunately you can just drive 160 miles South from Miami on Highway US1.
The road trip to Key West from Miami is a beautiful drive over endless bridges across the Florida Keys islands, flanked by the Atlantic Ocean on one side and the Gulf of Mexico on the other.
A quick 45 minute puddle jumper flight from Miami or Ft Lauderdale airport directly to the island is also possible.
Good Places To Stay
We stayed at the beautiful Casa Marina Resort on the edge of the water. But I'm a big fan of AirBnB too. If you haven't yet, make sure to read my article about how to find cheap hotels.
So if you're looking for a good party, and wild photos of crazy and scandalous costumes, you have to check out Fantasy Fest sometime. I hope I'll see you there next year! ★
---
Enjoy This Article? Pin It!
---
READ MORE FLORIDA TRAVEL TIPS
I hope you enjoyed my guide to Fantasy Fest in Key West! Hopefully you found it useful. Here are a few more wanderlust-inducing articles that I recommend you read next:
---
Have any questions about Fantasy Fest in Key West? What about other suggestions? Drop me a message in the comments below!