Cape Town, South Africa
Volunteering in Cape Town with Waves for Change was a highlight of my trip to South Africa. They use surfing to provide health and education support for township kids.
Life in South African townships can be rough. Many communities are plagued with high crime, drug use, and murder rates. Kids drop out of school to join gangs at a young age. Finding a successful way to reach these kids is difficult. That's where surfing comes in.
Waves For Change turns unused township beaches into a kind of free surf camp, giving high-risk kids a chance to challenge themselves by learning a new sport that happens to be very addicting.
This means they come back for more on a regular basis, allowing local community members to give them additional social, health, and educational support. It works incredibly well.
If you want to go surfing, you have to do your homework first!
Volunteering In Cape Town
Spending an afternoon surfing with kids from Khayelitsha Township was super fun. They have their very own surf break called Monwabisi. We arrived and pulled on our wetsuits in front of 50 excited kids asking non-stop questions while trying to rub (or slap) my shaved head.
Walking down to the beach, I started surfing with some of the older kids first. Their surfboards are donated from all over, but many are in pretty bad condition. Some were completely broken. Yet somehow the kids managed to ride them anyway!
One aspect that struck me was how sharing they all were with the waves. Sure you might be riding a wave with 10 kids at the same time, but no one complained. The rest of us could learn something from them…
It was organized chaos, but everyone was having a blast.
Teaching Kids To Surf
Next I paddled over to the shallows to help the younger ones stand up on a board and ride smaller waves. They were all anxious to try, but not enough surfboards to go around.
The program currently works with 270 different kids, and over 400 total since it began in 2011.
Yet those waiting their turn were helping me by pointing out good waves, strapping the surf leash on others, or cheering for whoever was up. Surfing is building friendships in a community where kids are often recruited young to fight each other in criminal gangs.
Everyone benefits when these future leaders are given the opportunity to improve their lives and those around them.
The Power Of Surfing
Waves For Change provides more than just a positive recreational atmosphere. Kids show up every day because they're addicted to surfing, however they also participate in leadership training, HIV awareness, homework tutoring, or life-skills programs before they can use surfing equipment provided by the organization.
Everyone is served a healthy lunch once they return from the water, and for some it's the only food they'll eat that day.
Many of the 13 local surf coaches are former township gang members or drug abusers themselves who have been rehabilitated with help from surfing. They mentor the younger ones and can relate to their problems.
Local coaches are in the best position to motivate & inspire these kids to lead positive lifestyles that will give them better chances to succeed in future endeavors. ★
[su_box title="Travel Planning Resources For Cape Town" style="noise" box_color="#333333″ title_color="#FFFFFF" radius="3″ class="resource-box"]
Location: Cape Town, South Africa [Map]
Project: Waves For Change (Facebook & Instagram)
Packing Guide
Check out my travel gear guide to help you start packing for your trip. Pick up a travel backpack, camera gear, and other useful travel accessories.
Book Your Flight
Find cheap flights on Skyscanner. This is my favorite search engine to find deals on airlines. Also make sure to read how I find the cheapest flights.
Rent A Car
Discover Cars is a great site for comparing car prices to find the best deal. They search both local & international rental companies.
Book Accommodation
Booking.com is my favorite hotel search engine. Or rent apartments from locals on Airbnb. Read more about how I book cheap hotels online.
Protect Your Trip
Don't forget travel insurance! I'm a big fan of World Nomads for short-term trips. Protect yourself from possible injury & theft abroad. Read more about why you should always carry travel insurance.
[/su_box]
Enjoy This Post? Pin It!
[su_row class=""]
[su_column size="1/2″ center="no" class=""]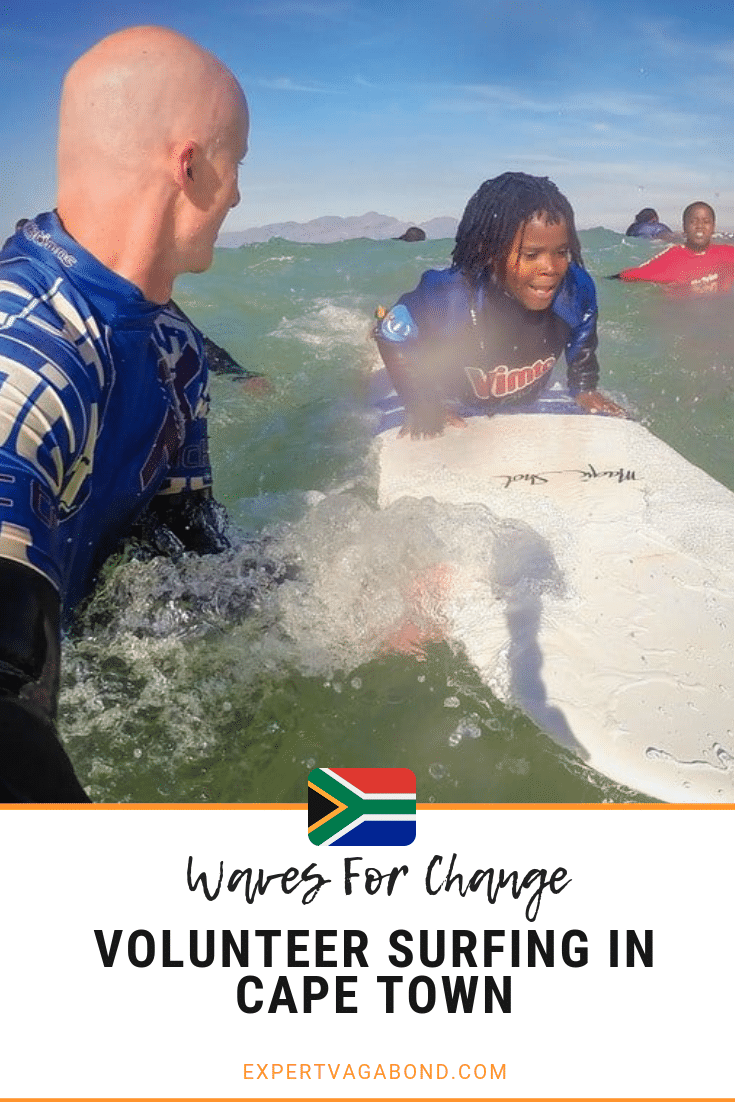 [/su_column]
[su_column size="1/2″ center="no" class=""]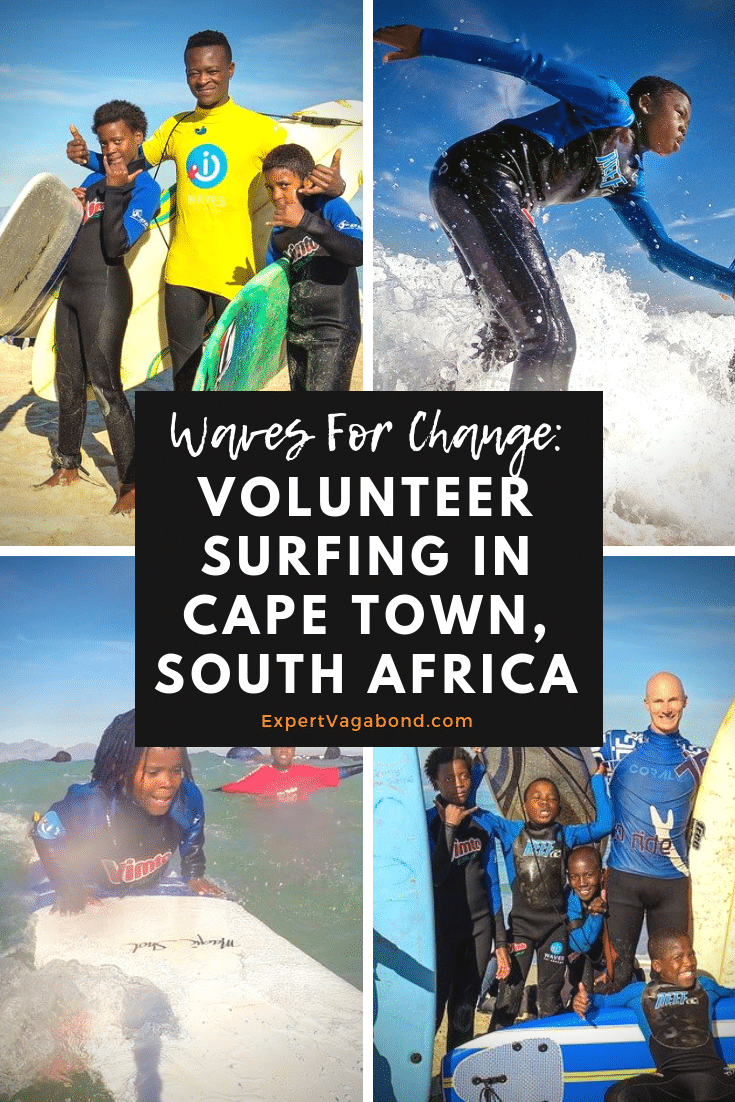 [/su_column]
[/su_row]
READ MORE SOUTH AFRICA TRAVEL TIPS
I hope you enjoyed my story about community outreach through surfing in Cape Town! Hopefully you found it useful. Here are a few more wanderlust-inducing articles that I recommend you read next:
Do you have any favorite charity projects?