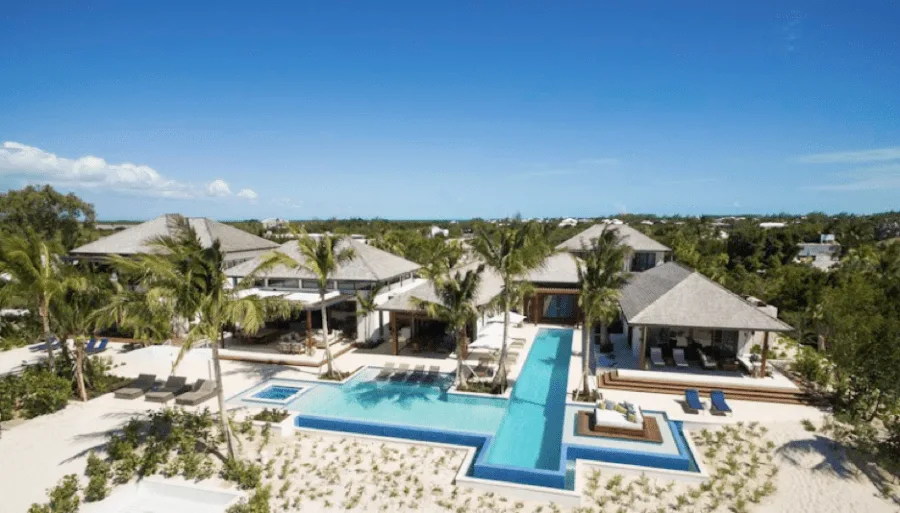 When planning for a honeymoon, keep in mind that where you live can set the mood for your entire trip. Turks and Caicos is undoubtedly the most romantic island in the Caribbean and the well-known destination for a luxurious retreat.

Whether you want to stay in an inclusive resort or book your own Turks and Caicos villas, there are plenty of luxury accommodations to choose from. Once you find a cozy home within a secluded atmosphere for you and your better half, these romantic activities will make your trip an unforgettable one for a lifetime.
Luxurious beach resort and villas
Turks and Caicos are one of the favorite destinations when it comes to a luxurious getaway, and all the credit goes to its luxury hotels and villas. The island has a large number of luxurious accommodations suitable for honeymoon couples, ensuring a high level of luxury, plenty of space, tranquility, and privacy in a beautiful and natural setting. Exceptional Villas offers you the most unique and beautiful private villas in the Turks and Caicos, where you can experience stunning modern decor, exquisite views, endless crystal clear turquoise waters, among the luxury. In short, everything you need to make your honeymoon an unforgettable memory you will cherish for a lifetime.
Sunbathing on the most beautiful beaches in the world
Turks and Caicos boast 40 intricate coral islands, of which Providenciales is a highly populated and developed island. The highlight of Providenciales, Grace Bay, has been dubbed as one of the world's most stunning white-sand beaches, and that is for good reasons. A tranquil afternoon sunbathing on the turquoise coastline is one of the best honeymoon memories you will ever make.
Enjoy relaxing spa
Vacations at Turks & Caicos are incomplete, especially as a couple, without experiencing the best spa in the world. Happiness and self-care have a whole new meaning in the spas of Turks and Caicos villas. Relax with your better half at the award-winning spa of The Palms, which offers effective treatments inspired by oriental and occidental rituals to heal the body, soothe the soul and rest the mind. Schedule your couple massage at the beginning of your honeymoon that will immediately put you in the right state of mind. In this way, you can also minimize the chance of getting sunburned before the spa treatment.
Romantic dinner on the beach of Grace Bay
A romantic evening with your precious in the Turks and Caicos Islands will be an otherworldly experience on your honeymoon. Candlelight and tiki torches at a private beach dinner are the best way to create that ambiance. Take the moment to the next level by adding local entertainment, such as a saxophone player, or indulge yourself in the soul-calming music of the waves. You will definitely enjoy an intimate and delicious meal with your beloved under the stars at beachfront restaurants, or you can arrange one on the deck of your villa.
Make sunset memories
The Caribbean sunset is an unparalleled phenomenon you must not miss, especially when you are with your love. With the perfect amalgamation of ocean breeze and tranquility, the sunsets in the Turks and Caicos really give a vibe as if you are strolling among a beautifully drawn picture. While you are on the island, you can take time to walk along Grace Bay Beach at sunset before heading to the bar to enjoy a tropical rum fruit cocktail and make sure to make some unforgettable memories by taking photos.
Charter a Private Boat
You will miss a 'Hollywood Rom-Com' moment if you don't charter a private boat on your honeymoon. Take a private boat to drop you off to a sandy beach, where you can bask among the picturesque island. A meal and a bottle of wine can be arranged for your precious moment together. If you are more into night cruises, you can enjoy the sunset in the sea. Plus, if you hit on the right time, you can enjoy the incredible glow created by underwater bio-luminescent algae.
Underwater adventures
Make some time for adventure though you are on a honeymoon. Spend a day snorkeling or diving in the warm, clear turquoise waters of the Turks and Caicos. Although spectacular corals and marine life can be found on every major island, the world's third-largest barrier reef offers an underwater world filled with colorful corals, impressive walls, and aquatic wildlife to explore together.
Water sports
Try something exceptional on your honeymoon to add extra spice to your nuptial bond. Try kite-surfing, windsurfing, kayaking, water skiing, tubing, paddle surfing, and other water sports. Stand-up paddle boarding is a fun thing to do while indulging in the turquoise beauty to the fullest. Or, take romance to the next level and arrange a full moon paddle tour trip to spend a romantic evening together.
Unique excursions by two-wheelers
Sightseeing is a must when you are on such a special vacation. Rent a bike or Vespa and explore the island together. Turks and Caicos boast exciting places to visit, including national parks, sanctuaries, preserves, and historical sites. Visit Chalk Sound National Park in Providenciales, explore the Conch Bar Caves in Middle Caicos, or go for a picnic at Grand Turk Lighthouse.
Horseback Riding
Horseback riding in the Turks and Caicos Islands is an unparalleled experience as it's perfected by the best beaches in the world. Explore the scenic beauty of white sands and turquoise waters of secluded Long Bay Beach, or enjoy a private sunset tour of Bight Beach together. Group and Private rides are both available.