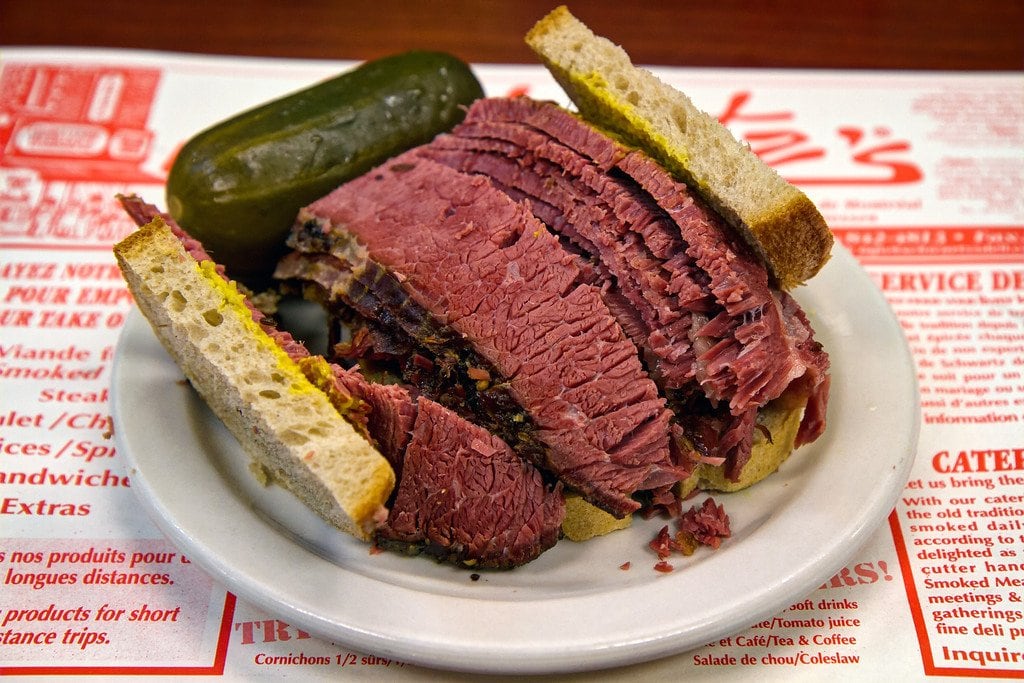 Montreal, Canada
Canadians can be very picky about their smoked meat, which is why there's always a line outside for eating at Schwartz's Deli in Montreal.
Hoping to avoid a long wait, I strolled up to the famous Montreal landmark around 9pm. No such luck. At least 15 other people had beaten me.
But it was my last night in the city, and I wasn't about to miss a chance to chow down on some tasty slabs of smoked & marinated beef. It's one of the best things to do in Montreal.
Schwartz Deli Experience
Two minutes into my wait, a large man wearing a white apron appeared outside asking for "singles". My hand shot up. "Me! Me! I'm eating out alone on a Friday night!"
Not something I'd typically be excited about. But this was Schwartz's.
The line jealously watched as he ushered my grinning face into the packed restaurant and pointed to a stool at the counter. I sat down elbow-to-elbow with two complete strangers and said hi.
The man behind the counter handed me a menu. But I already knew what I wanted.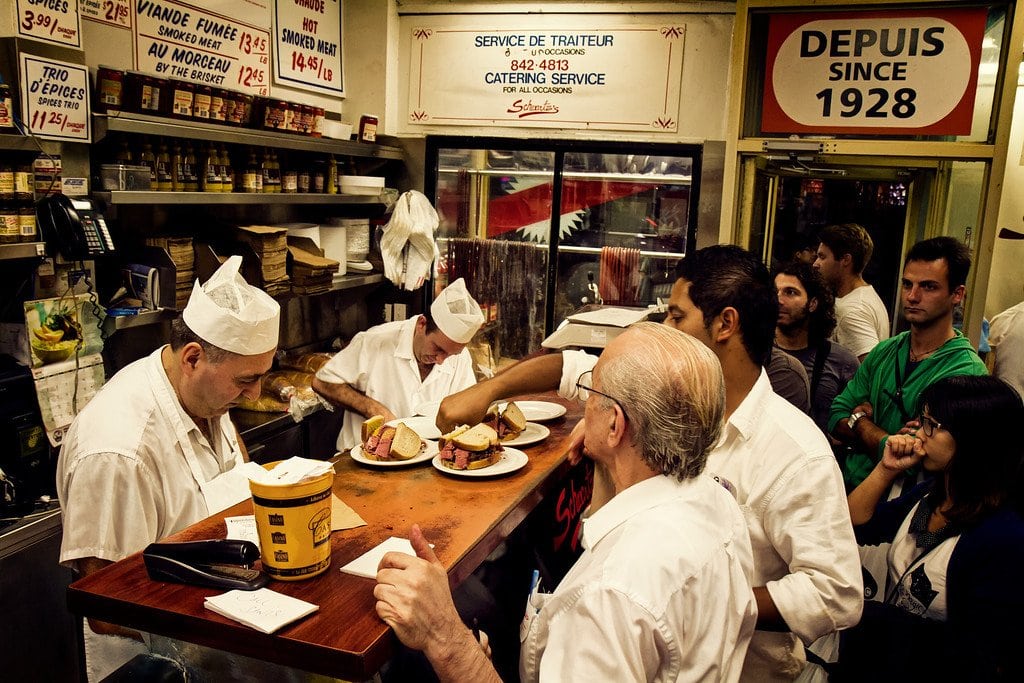 Gimme' A Classic
The "classic" Schwartz meal is a medium-fat smoked meat sandwich served with dill pickles, fries, and a cherry coke. Medium-fat refers to the fat content of the meat. You can order lean, medium, medium-fat, or fatty. It's served on slices of rye bread with mustard.
To create their famous smoked meat, beef brisket is salted & then marinated with pepper & spices for 10 days before getting smoked inside Schwartz's 80+ year old brick smoke-house.
The finished product is then steamed and hand-sliced to keep it's shape and generously piled onto a sandwich.
Eat. Pay. Go.
My order arrived in less than 5 minutes. However they forgot the fries. No worries. As busy as these guys were, I wasn't about to complain.
Slowly savoring the fatty spiced meat as it melted in my mouth, I took my time and watched as the staff prepared sandwiches for others behind the counter.
Schwartz's isn't a fancy 5 star restaurant. It's a classic old-school Jewish deli. Service and decor are not #1 priorities here. All that matters is the meat.
Once finished with your meal, there's no hanging around inside. Wait. Eat. Enjoy. Pay. Leave. Let someone else take your place. ★
Travel Planning Resources for Montreal, Canada
READ NEXT: How To Find Cheap Flights
What's your favorite place to eat in Montreal?