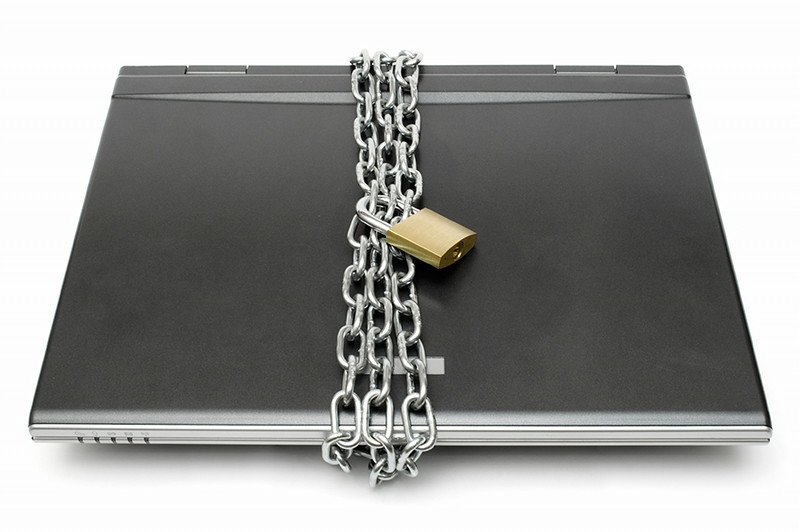 Gear Review
I recovered my stolen computer using Prey Project software. Learn how to properly install & use this powerful free tracking program on your laptop.
If you haven't done so already, you need to download Prey Project immediately. It's a free computer tracking and recovery program that works around the world.
In my opinion this software should be included on every computer out of the box. Prey runs in the background, so you won't even know it's there. However it can save your ass if your computer ever gets lost or stolen!
But it must be set up correctly to work properly.
My Personal Experience
I first heard about Prey Project after following Sean Power's stolen laptop story on Twitter. I immediately downloaded the program.
Months later, my MacBook Pro computer was stolen after I made some bad decisions while traveling in Panama.
I never thought it would happen to me.
But it did — and the theft was devastating to my life as a digital nomad.
Saved By Prey
Luckily I'd installed Prey Project on my laptop. But because I didn't configure the software correctly, it took 3 months before the program began working they way it should. In the meantime, I'd already purchased a replacement computer — when I probably didn't need to.
Eventually I recovered my stolen computer from over 2000 miles away.
But I could have done it a lot sooner, and with much less hassle, had I changed some settings immediately after downloading Prey.
This guide will show you how to properly install and configure Prey Project.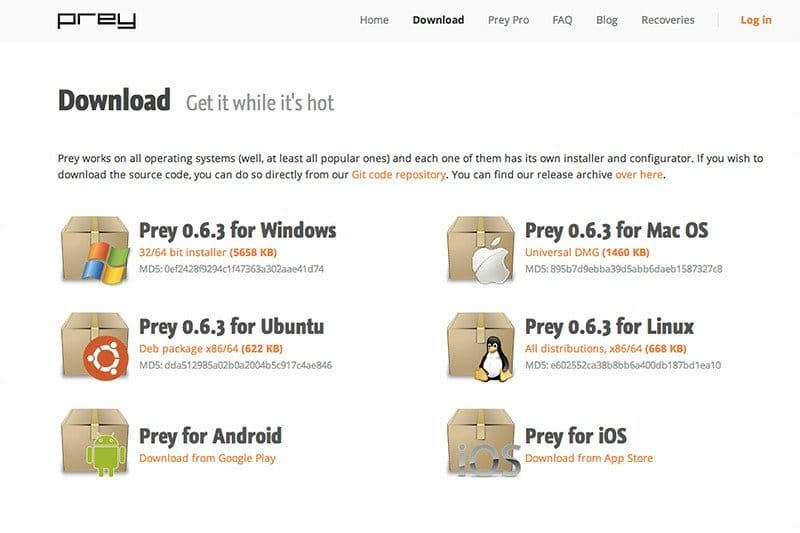 Installing Prey On Your Computer
The first step is to get this free software on your computer.
It works with Windows, Apple OSX, Android, and iPhone.
Click Here to Download Prey Project »
Once installed, you'll be able to log into the Prey Project website using the link they send via email. From there you can check the status of the software on your computer. Make sure you are online for this to work. It may take an hour or so before it's active.
Prey Project Settings
The software is equipped with many different alarms and tracking capabilities. Once you've logged in online to the Prey Project control panel, click on the name of your computer to adjust settings. You'll want to change a few of them from their default properties.
Geo: ON
Network: ON
Session: ON
Get Screenshot: YES
Get Modified Files: NO
Get Running Programs: NO

Webcam: ON
Alarm: OFF
Alert: OFF
Lock: OFF
Secure: OFF
In my opinion, you'll want to keep all the alarms off at first. You don't want to scare your "prey" into ditching the laptop before you get any good information about them.
Modified files and running programs aren't really necessary for recovery, and if you have a password protected user account (we'll go over that later), it shouldn't matter. Keep it simple.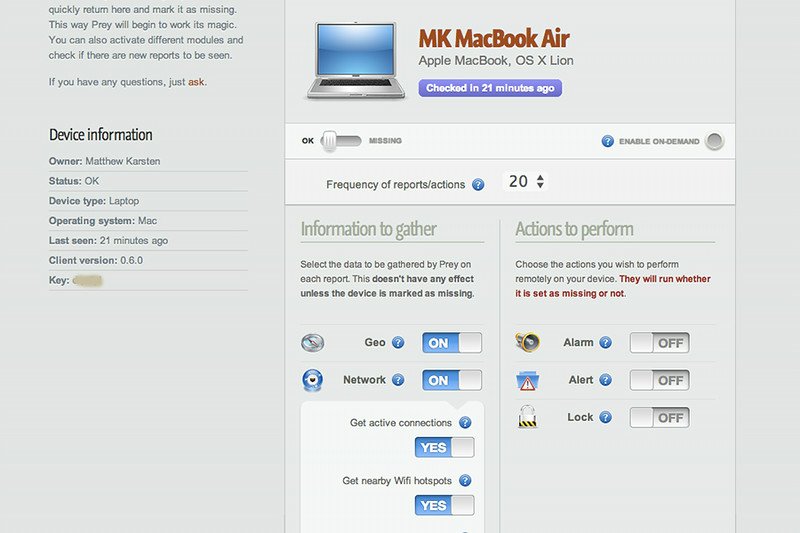 Your Laptop: Settings
You'll also need to adjust a few settings on your computer to ensure Prey Project will work correctly. First of all, if you don't use one already, create a password protected user account. This forces you to log in with a password every time you start your laptop or de-hibernate (I think I just made that word up).
Now if your computer is ever stolen, the thieves will not be able to access your personal information without your password.
Next, create a Guest account on your computer. This is where I screwed up when my laptop was recently stolen.
The guest account is a separate user account that will NOT require a password. Anyone can use this account.
It is very important to have a guest account because this ensures that a thief is able to use your computer right away.
NOTE: Do not enable parental controls on the guest account.
The thief will not have access to your personal files, but they will have access to the internet and other basic programs available through the guest account.
This is very important!
Your laptop needs to be online for Prey Project to start sending juicy information that will help you recover your computer quickly.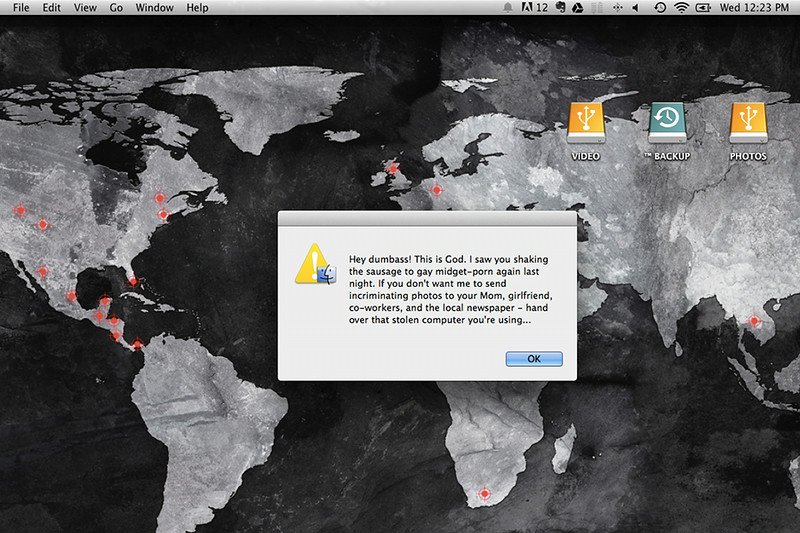 Testing The Software
Finally, make sure everything is working correctly. Log into PreyProject.com, click on the name of your computer, and mark it as "missing".
Then turn on one of the alarms, like the custom pop-up message.
Remember to save your settings. Now, wait and see what happens.
It could take up to an hour for the software to work. Be patient. Go do something else while you're waiting. When the alarm eventually goes off, log back into Prey Project to view your new reports. They should contain webcam photos, screenshots, and WiFi location information. You will also get an email anytime a new report is available.
When you know Prey is working on your personal user account, test it again, but this time log into your password-free guest account. This is the account that a thief will have access to. Make sure it also works there.
Troubleshooting
If you can't get Prey working on your laptop, search the Prey Project forum or check out their customer support. I had some issues getting the software to work on my new guest account because I use a program called Little Snitch that blocks all outgoing internet connections unless I say otherwise.
Eventually, I learned how to fix it on the forum.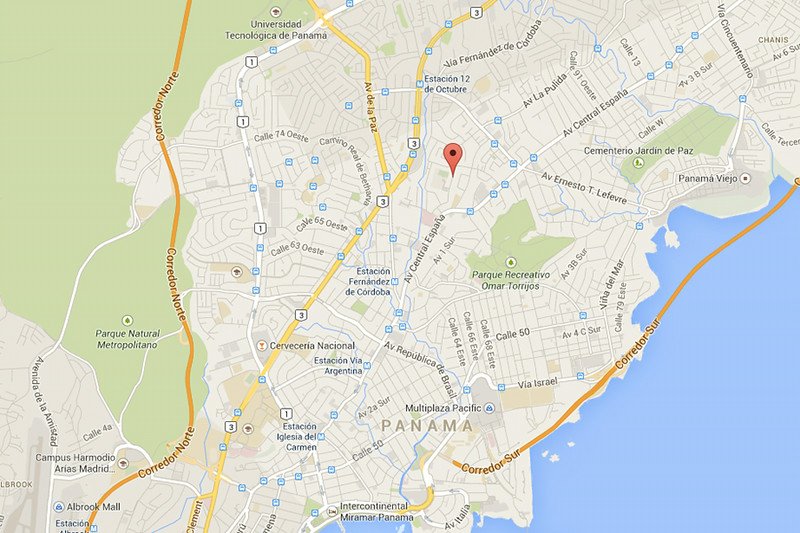 Tracking A Stolen Computer
Your computer has just been stolen. What do you do now? The very first step should be to file a police report. Do that right away. The police will not do anything without a report on file, and you can't make an insurance claim without a police report either.
Let the police know that you have tracking software on your computer, and you will call them if you start to receive tracking information. I urge you to try and work with the police to recover your laptop.
Once you begin to receive tracking reports, upgrade your free Prey Project membership to Pro for $5. This lets you save many more reports on the website.
You should also change your report frequency to every 2 minutes.
But to ensure you're not overloaded with information, change it back to 10 or 20 minutes when the thieves are not actively using the computer.
Save any photos, screenshots, map locations, and personal information on a USB drive or another computer, so you can send it to the police or use it in court.
Wait until you have plenty of strong identifying information before you attempt any recovery.
Pro membership only allows you to save up to 100 reports before it starts deleting old ones. Record the best information before it gets deleted. Delete reports that don't contain any good information to make room for new ones.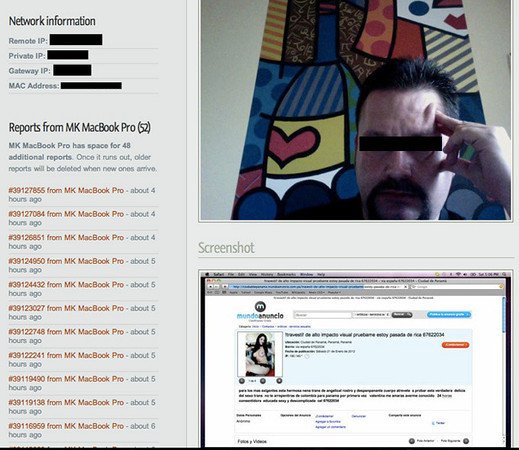 Recovering Your Computer
Now in my particular case, I recovered my computer without the police. While I initially filed a police report and notified them about the tracking software, my situation soon changed.
It took 3 months before I started receiving tracking information (because I didn't have a guest account), and I was no longer in the country where the theft took place. Panama City's police department didn't inspire much confidence while I was there either.
I also didn't want my computer to be held up as evidence in a court case 2000 miles away. The language barrier would be challenging when I couldn't speak to authorities in person.
By now I had already assumed my computer was lost, so I decided to risk it and try for recovery on my own.
Using my website and the power of social media, I embarrassed the crap out of the people who were in possession of my stolen computer while simultaneously collecting personal details like their names, employers, family members, friends, email addresses, photos, phone numbers, home addresses, and more.
Had they tried to ditch my laptop, I could have made their lives absolute hell.
I decided to threaten them with police action & further humiliation instead, and it worked like a charm. They met with a friend of mine and gave up the MacBook Pro right away.
Use your best judgment depending on your own particular case. Happy hunting! ★
Travel Planning Resources
Software:
Prey Project
Total Cost:
Free to install, $5 to upgrade
Packing Guide
Check out my travel gear guide to help you start packing for your trip. Pick up a travel backpack, camera gear, and other useful travel accessories.
Book Your Flight
Book cheap flights on Skyscanner, my favorite airline search engine to find deals. Also read my tips for how I find the cheapest flights.
Rent A Car
Discover Cars is a great site for comparing car prices to find the best deal. They search both local & international rental companies.
Book Accommodation
Booking.com is my favorite hotel search engine. Or rent local apartments on Airbnb ($35 discount!). Read my post for tips on booking cheap hotels.
Protect Your Trip
Don't forget travel insurance! I'm a big fan of World Nomads for short-term trips. Protect yourself from possible injury & theft abroad. Read more about why you should always carry travel insurance.

READ MORE TRAVEL TIPS & STORIES
I hope you enjoyed my guide on how to recover a stolen computer with Prey Project! Hopefully you found it useful. Here are a few more wanderlust-inducing articles that I recommend you read next:
Ever had something expensive stolen before?