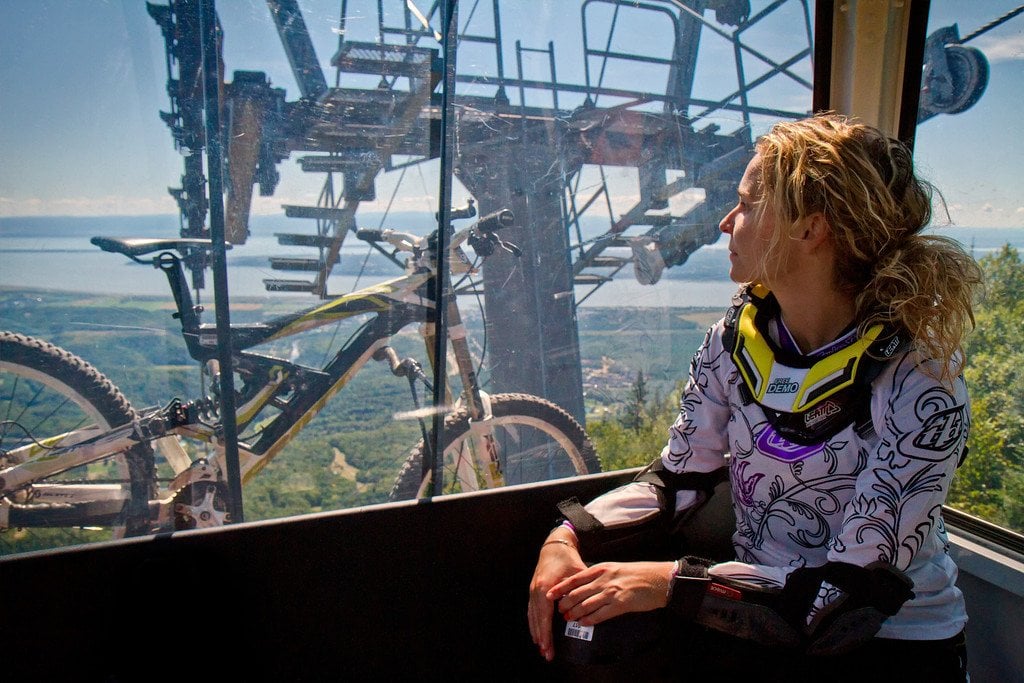 Quebec, Canada
Looking for outdoor activities around Quebec City? A day trip to the world-class downhill & cross country mountain biking trails on Mt. Sainte Anne will satisfy your craving for adventure.
Mont Sainte Anne is a popular ski area located about 45 minutes North-East of Quebec City. In the off-season they offer some of the best bike trails in the country along with golfing, canyoning, and other outdoor sports.
The mountain biking trails are so good that the UCI Mountain Bike World Cup is held here each year.
I've been a fan of cross-country mountain biking for a long time. But I'd never experienced a proper downhill course on a full-suspension downhill-specific bike. This was going to be a first!
Gearing Up for the Ride
After joining my riding partner Lisa Marie at the rental shop, we began to organize all the protection gear we'd need to race through the course without fear of severe injury.
This included:
Full-Face Helmet
Neck Brace
Upper Body Armor
Knee & Shin Guards
Elbow guards
Bike gloves
I felt a bit like a warrior heading out into battle.
Next it was time to saddle up onto our trusty $7000 Scott Gambler full-suspension "steeds" and pedal over to the gondola that would zip us up the mountain in a matter of minutes.
Hitching a ride on the gondola felt a bit like cheating, but hardcore downhill bikes like these are not designed for uphill climbing… (at least that's what I've told myself) :D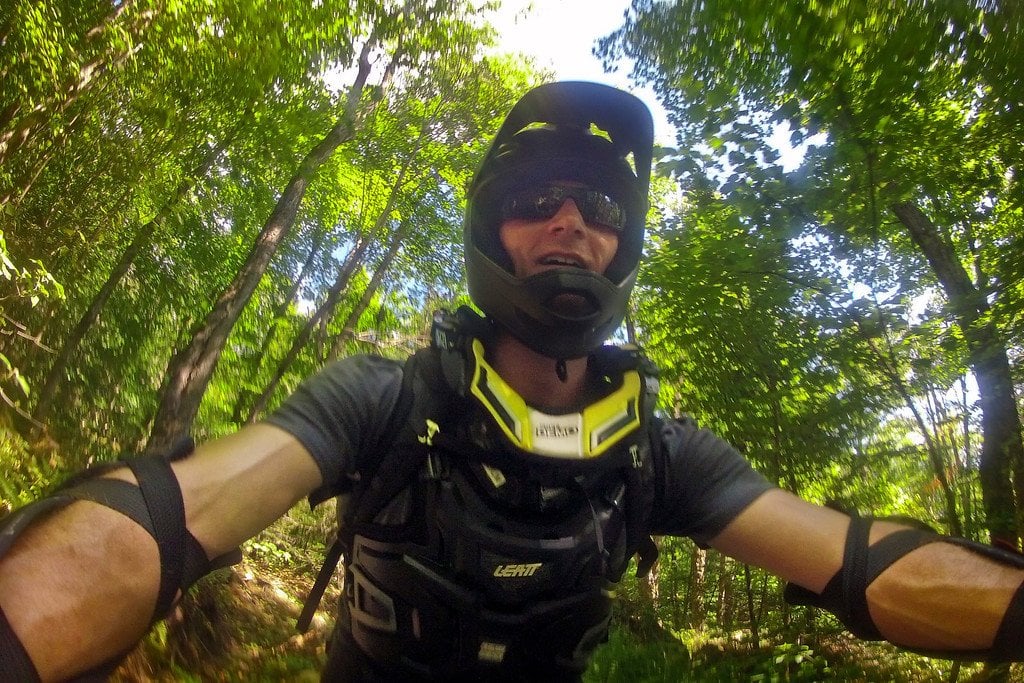 Downhill Mt. Biking in Quebec
After a scenic ride to the top in the Mont Sainte Anne gondola with a view of the St. Lawrence River in the distance, we tackled the steep trails.
They weaved back and forth from open ski runs into thick forest with plenty of dirt jumps, drop-offs, boulders, ramped turns, exposed roots, and single track.
Some of the more difficult trails also feature raised wooden platforms that cross streams and other obstacles. The heavy-duty shocks on our bikes absorbed almost any obstacle we threw at them!
I had a blast pushing myself to go faster & faster through the rough terrain.
Fortunately no crashes occurred, which is a shame because I really wanted to test out the durability of my suit of armor safety equipment…
Exhausting Day of Adventure
Downhill mountain biking will wear you out a lot quicker than I thought it would. The proper riding position is standing low with your knees bent & your butt behind the seat — absorbing all shock with your legs and arms.
This stance will help you navigate the trails at high speed — but it also takes a toll on your body.
After two adrenaline-fueled morning rides down the mountain lasting about an hour each, it was time to call it quits. What an extreme workout this turned out to be!
My first mountain biking experience in Quebec was quite fun. The outdoor scenery around Mont Sainte Anne is very beautiful, plus it's always nice to get away from the city and surround yourself with nature.
Downhill mountain biking is an adventure sport that I'd love to try again in the future.
SEE ALSO: Waterboarding for Fun in Quebec
Special thanks to my friend Lisa Marie Lacasse for some of the photos!
Watch the Video: Downhill Biking Quebec
Location:
Beaupré, Canada
Company:
Mont Sainte Anne
Cost:
$105 US (half day pass & gear rental)
Notes:
Bring a pair of gloves to avoid blisters. Also make sure to get out of the way if you stop along the trail, because other riders will come flying around corners without warning!
---
*This adventure was made possible with help from Tourisme Québec. However, as you probably know by now, all opinions & thoughts are my own. Learn More..
---