Travel Tips
Traveling around the world is a lot of fun, but if you're an adventure junkie like me, it's important to think about the possibility of major injury or illness while overseas.
Have you ever thought about what would you do in case of an emergency or major accident abroad? For example if you shatter your leg hiking, unexpectedly get very sick, or anything that wouldn't allow you to just hop on a commercial flight like everyone else.
In cases like these, an emergency medical evacuation flight can transport you back home to the United States for treatment with the support of loved ones nearby.
To learn more about these kinds of evacuation flights, I met with the AeroCare Air Ambulance team at their office in South Florida.
AeroCare Air Ambulance
AeroCare is a company that offers air ambulance flights within the United States and abroad. They currently have three offices in Arizona, Illinois, and Florida. I stopped by their facility in Fort Lauderdale for a tour of one of their jets and talk to the staff about the medical evacuation process.
There's a lot more to it than I thought!
No matter where you are in the world, an AeroCare jet can often get to you within 24 hours after receiving a call, including helping to arrange all the necessary visas, paperwork, and medical equipment.
Basically you call them and they'll take care of the whole transport process.
Captain Mario gave me a tour of the Learjet 35A they use here, able to fly 2000 miles at 40,000 feet, up to 500 mph to cover missions throughout Canada, Central America, Mexico and the Caribbean islands.
AeroCare's dedicated pilots each have over 8,000 hours of flight experience so you don't have to worry about any safety issues due to their perfect record. Each staff member is highly trained and experienced in the air ambulance industry.
The company is CAMTS accredited too, unlike many competitors. A versatile fleet of aircraft allows them to match the appropriate vehicle to their patient's specific needs or location.
A Flying ICU
AeroCare planes can be equipped in a full ICU environment including cardiac monitoring, invasive hemodynamic monitoring, IV infusion pumps, pulse oximetry, emergency medication, defibrillation with pacing capabilities, and advanced airway management.
Keri, the chief medic, talked about the variety of medical equipment they need to bring on every flight. She also pointed out that for some patients, a dramatic increase in altitude could be detrimental to their condition.
So the team must monitor a patient's health as they fly, adjusting altitude accordingly.
Every plane is equipped with a satellite phone that can be used for consulting a doctor during the flight, and flights can accommodate one family member to accompany the patient at no extra charge. Pets are sometimes ok too!
Does Insurance Cover Flights?
As you can imagine, medical evacuation flights are not cheap. However many travel insurance companies include some form of medical evacuation coverage — make sure to check if yours does.
Generally, the only time you're going to need a private medical flight is when your condition is incredibly serious, making it impossible to join a commercial flight like everyone else.
The team at AeroCare will help you and your family determine if your insurance will cover a private medical flight or not. They also offer a medical escort service, arranging for a nurse to accompany you on a commercial flight for a lower cost.
20 Years Of Experience
AeroCare's CEO Joe CeCe worked as a paramedic for the Phoenix Rural Metro Fire Department before starting a local ground ambulance company with just one vehicle. His a passion for aviation combined with and love for medicine led to him create AeroCare.
Joe's mission has been to help people in need and treat patients as if they were family members. In addition to regular charity flights, AeroCare performs hundreds of organ transport flights.
So if you ever find yourself with a sudden medical emergency in a foreign country, and need transport back to the United States for proper treatment, AeroCare is ready to help. ★
More Information
Company: AeroCare Air Ambulance
Useful Notes: AeroCare is not an insurance provider, rather a medical transport company that you'd call if you need emergency medical evacuation while traveling abroad or within the United States.
Enjoy This Post? Pin It!
[su_row class=""]
[su_column size="1/2″ center="no" class=""]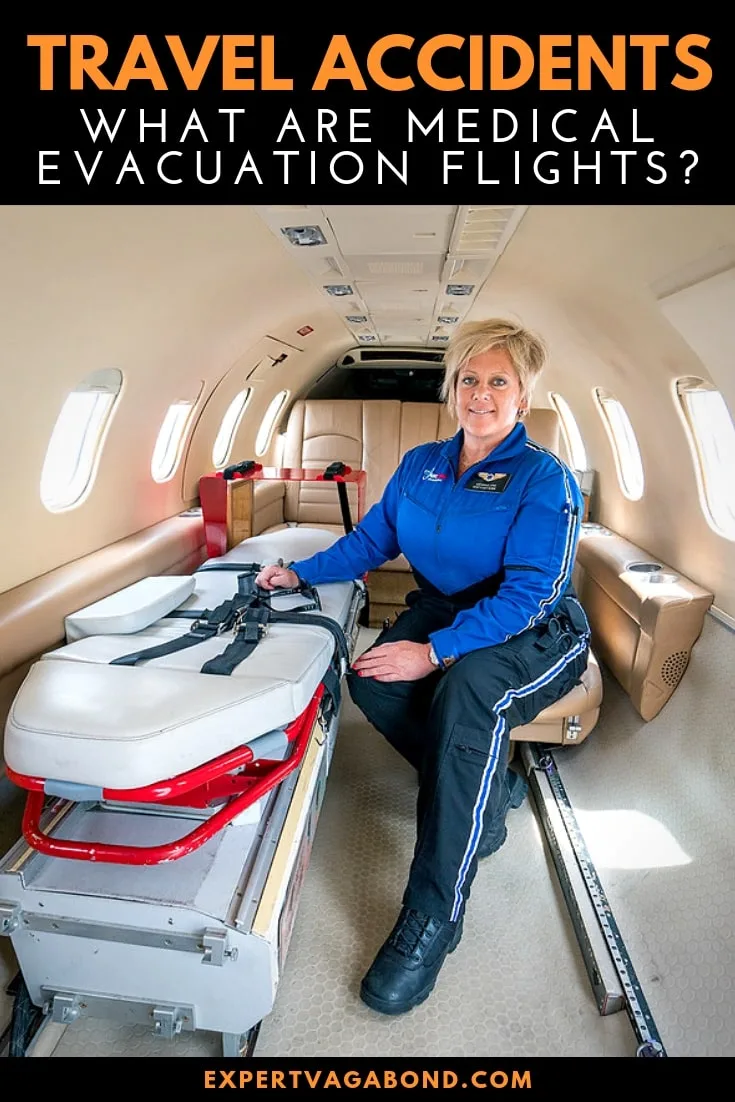 [/su_column]
[su_column size="1/2″ center="no" class=""]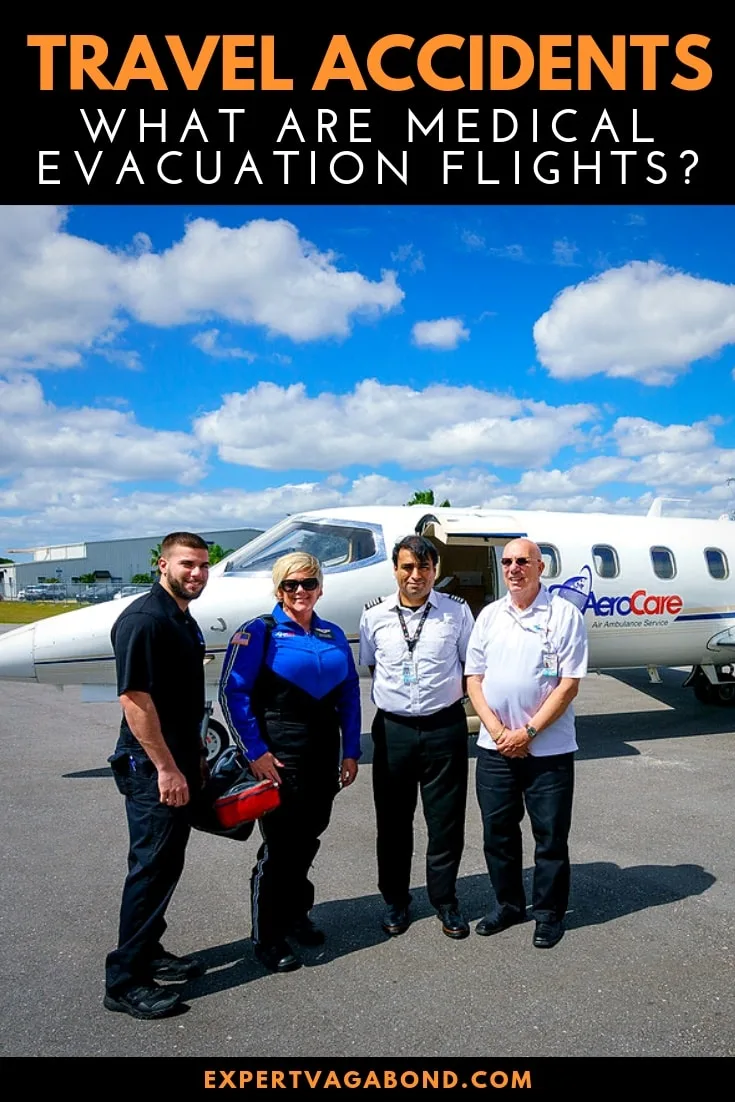 [/su_column]
[/su_row]
READ MORE TRAVEL TIPS
I hope you enjoyed my guide on accidents abroad! Hopefully you found it useful. Here are a few more wanderlust-inducing articles that I recommend you read next:
Do you have any questions about medical evacuation flights?