Granada, Spain
Granada is a beautiful little city in the South of Spain. If you're traveling Europe on a budget, and want to save some money, here's an itinerary that will help you plan your trip.
Located at the foot of the snowy Sierra Madre mountains, the city of Granada is full of history and character. Because it was once a Muslim kingdom, much of the city is built with Islamic architecture and influence that remains today.
Boasting a vibrant population of university students, free appetizers with every glass of wine, skiing in the mountains, and Mediterranean beaches only an hour away, it's the perfect town to visit for a weekend while traveling through Spain.
Sacromonte Caves
On the outskirts of Granada there's a Roma (gypsy) neighborhood build into the side of a hill, where the inhabitants live in caves. Most of the caves are pretty nice these days. But you can also visit the Sacromonte Cave Museum to see what life was like here 100 years ago. If you climb to the very top of the hill, you'll find a community of hippies squatting in caves that are slightly less-nice. But very interesting nonetheless.
Albayzín Neighborhood
A UNESCO World Heritage Site, the Albayzín district has narrow cobblestone streets that are very easy to get completely lost in. You'll find plaques in Spanish and English that describe the history of certain buildings, like the old Arab Bath complex. Higher up is the popular San Nicholas Mirador, with a breathtaking view of Alhambra Palace across the valley.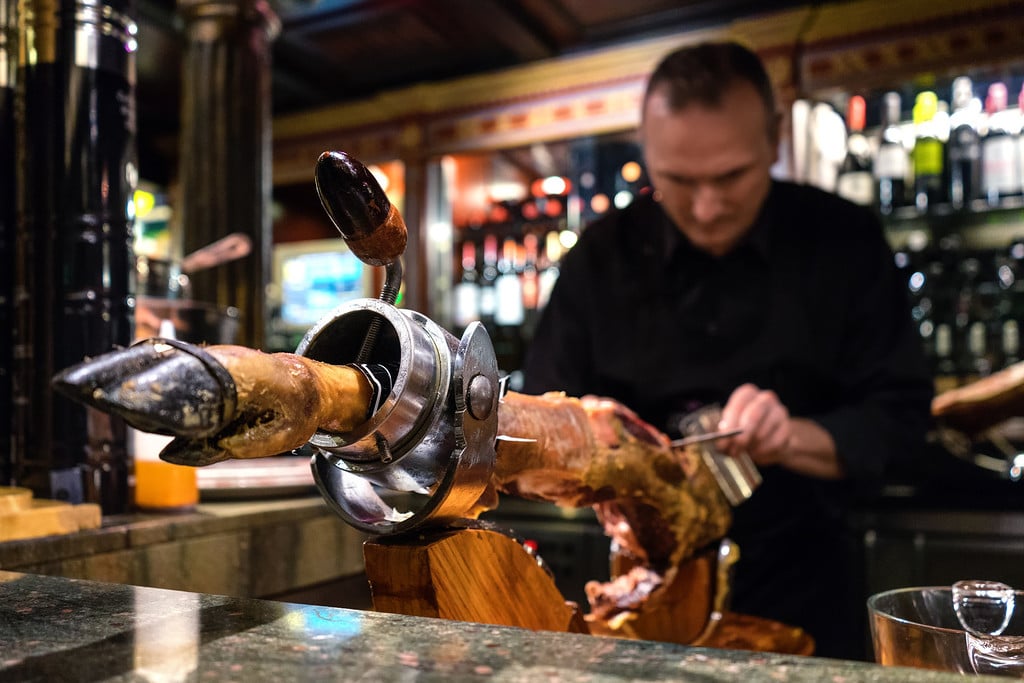 Tapas & Wine
Tapas are appetizers often served free with an order of drinks in the afternoon hours between lunch and dinner throughout Spain. Black Iberian Ham, also known as Jamón ibérico, is a common sight at these bars. The meat is cured with salt for up to 3 years, so it doesn't need refrigeration. You'll find legs of ham hanging out in the open — just waiting to be eaten!
Flamenco Show
Flamenco is a form of festive gypsy (Gitano) folk music that originated in Southern Spain. While it's possible to visit one of the popular Sacromonte caves that feature full flamenco dance performances for about €22, a less touristy and cheaper alternative is a small local bar called La Buleria which has excellent musical performances at 1am after all the tourists go home for the night. All you pay for is drinks, which run about €2-3 each.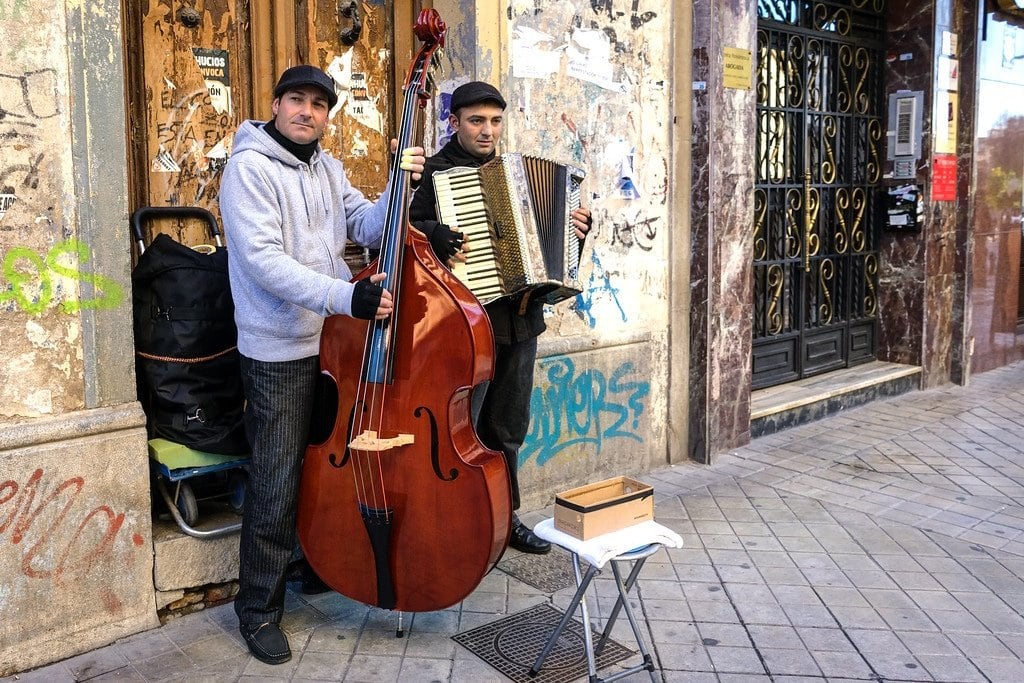 Alhambra Palace
One of Spain's most popular tourist attractions, Alhambra Palace sits on top of a hill surrounded by forest while overlooking the city below. It was built by Moorish king Mohammed ben Al-Ahmar in the 11th century when the area was ruled by Muslims from North Africa. Filled with Arabic inscriptions, painted tiles, vaulted ceilings, and plentiful water fountains, the building is incredibly beautiful inside and out. Depending on the season, you may have to book a ticket weeks in advance.
WishBeen Itinerary
Below I've attached an example 2 day WishBeen travel itinerary that should help you discover fun activities to do in Granada. Especially if you're traveling on a budget.
Use the map to follow my route, or click around to learn more about an activity, hostel, or restaurant. You can even plan your own personal itinerary based on my recommendations. What about you? Do you have any suggestions for a trip to Granada?
Travel Planning Resources for Granada
Do you have any questions? Drop me a message in the comments below!
---
This article was created in partnership with WishBeen. All opinions expressed here are entirely my own.