Milan, Italy
Move over Gordon Ramsay, there's a new Master Chef in town. Join me in Milan as I learn how to cook up some authentic Italian Risotto Ossobuco.
One of my favorite things about international travel is the chance to overcome new challenges and break out of my comfort zone.
After many crazy adventure travel experiences like hitchhiking across America or cage diving with Great White sharks, my zone is slightly larger these days.
Yet there are still activities that give me anxiety. Like cooking.
Hey, if you want to taste the best turkey sandwich on the planet, I'm your man. But for anything else, forget about it. I'd rather whip up something fast and filling then spend hours in the kitchen creating a culinary masterpiece.
Risotto Ossobuco Milanese
Ready to try something new, the plan was to take cooking lessons in Milan. I would attempt one of the most challenging Italian dishes there is too. Risotto.
Risotto is a traditional Northern Italian dish, and a common way to cook rice in Italy. It's a creamy & tender mixture made from a starchy medium-grained rice called Carnaroli.
While risotto is often served as a first course, tonight I would be preparing the more substantial Risotto Ossobuco alla Milanese, a savory main course famous in Milan that includes veal.
For a second course we would also be preparing Cappellacci di Zucca, homemade ravioli pasta filled with pumpkin.
Cooking Lessons In Milan
Luckily I wasn't alone for this scary Italian cooking adventure. Joining me in the kitchen were my friends Matt from the United States, Julia from Russia, and Simon from Italy.
We were invited into the home of local Milanese residents Aurora & Claudio.
Aurora was a long-time professional chef who now runs Cook & Dine. She absolutely loves teaching Italian cooking to hopeless tourists like us, and believes food is a way to bring people together from different countries around the world.
Ok, so maybe I was the only hopeless one in the group. Everyone else had a lot more cooking experience. But I was determined to give it a shot anyway.
Best Italian Risotto
So why is cooking risotto so difficult? Because the rice needs constant attention. You can't just throw water & rice in a pot and let it cook by itself. The rice must be lightly toasted first, then broth is slowly added every few minutes, allowing the rice to absorb it before adding more.
All this while constantly (yet lightly) stirring the mixture to loosen the starch from the outside of the rice into the surrounding liquid, creating a smooth creamy-texture. It's more science than cooking really!
After helping to chop up the ingredients, and cook the meat, it was my job to stir and watch over the rice while ensuring it was cooked to absolute perfection.
Recipe & Ingredients
Risotto Ingredients
350g Carnaroli rice
Dry white wine
Butter (lots of)
Chopped onion
Grated parmesan cheese
1g saffron
Risotto Preparation
Fill a pot with 2 liters of cold salt water, a celery stalk, onion, and peeled carrot. Add beef on the bone and leave it on high heat until boiling. Then let it soak for 3 hours on low heat. Remove meat and vegetables from the pot and strain the broth.
In a saucepan, melt butter and add chopped onion to let fry. Add the rice and toast it for a few minutes, pour in white wine and let it evaporate. Add saffron.
Moisten mixture with meat broth constantly until cooked al dente (slightly firm). When the rice is ready, turn off the heat and stir in butter and parmesan cheese.
Ossobuco Ingredients
4 veal shanks
Dry white wine
Flour
Celery
Carrot
Onion
Butter
Olive Oil
Parsley
Garlic
Lemon peel
Ossobuco Preparation
Cover the 4 veal shanks with flour on all sides. Finely chop the celery, carrot, and onion to fry lightly with butter and olive oil. When browned, add the veal shanks, let them cook on both sides for few minutes. Add white wine and let it evaporate.
Cook the meat for about 2 hours, and add some broth if it is sticking to the pan. Spice with salt & pepper. When it's ready, turn off the heat and sprinkle on a mixture of chopped parsley, garlic, and grated lemon peel.
Bon Appétit!
After slaving over the hot stove for hours (ok, maybe not that long) and rolling pasta by hand, we were rewarded for our hard work with an authentic Italian feast. Sweet Pumpkin Ravioli, creamy Risotto Ossobuco, fresh sautéed mushrooms, a giant cheese plate, and mountains of chocolaty tiramisu for dessert.
All washed down with plenty of local Lambrusco (sparkling red wine) and tangy shots of Limoncello. Good thing we were taking the metro home…
Italians really know how to eat.
Learning to cook real Italian food in Milan with Chef Aurora was a very cool experience. I believe it's healthy to attempt challenging or uncomfortable activities from time to time. You never know, you just might enjoy yourself! ★
[su_box title="Travel Planning Resources For Italy" style="noise" box_color="#333333″ title_color="#FFFFFF" radius="3″ class="resource-box"]
Location: Milan, Italy
Company: Cook & Dine
Packing Guide
Check out my travel gear guide to help you start packing for your trip. Pick up a travel backpack, camera gear, and other useful travel accessories.
Book Your Flight
Find cheap flights on Skyscanner. This is my favorite search engine to find deals on airlines. Also make sure to read how I find the cheapest flights.
Rent A Car
Discover Cars is a great site for comparing car prices to find the best deal. They search both local & international rental companies.
Book Accommodation
Booking.com is my favorite hotel search engine. Or rent apartments from locals on Airbnb. Read more about how I book cheap hotels online.
Protect Your Trip
Don't forget travel insurance! I'm a big fan of World Nomads for short-term trips. Protect yourself from possible injury & theft abroad. Read more about why you should always carry travel insurance.
[/su_box]
What's your favorite Italian food? Have you ever cooked risotto before? Share with us in the comments below!
Enjoy This Post? Pin It!
[su_row class=""]
[su_column size="1/2″ center="no" class=""]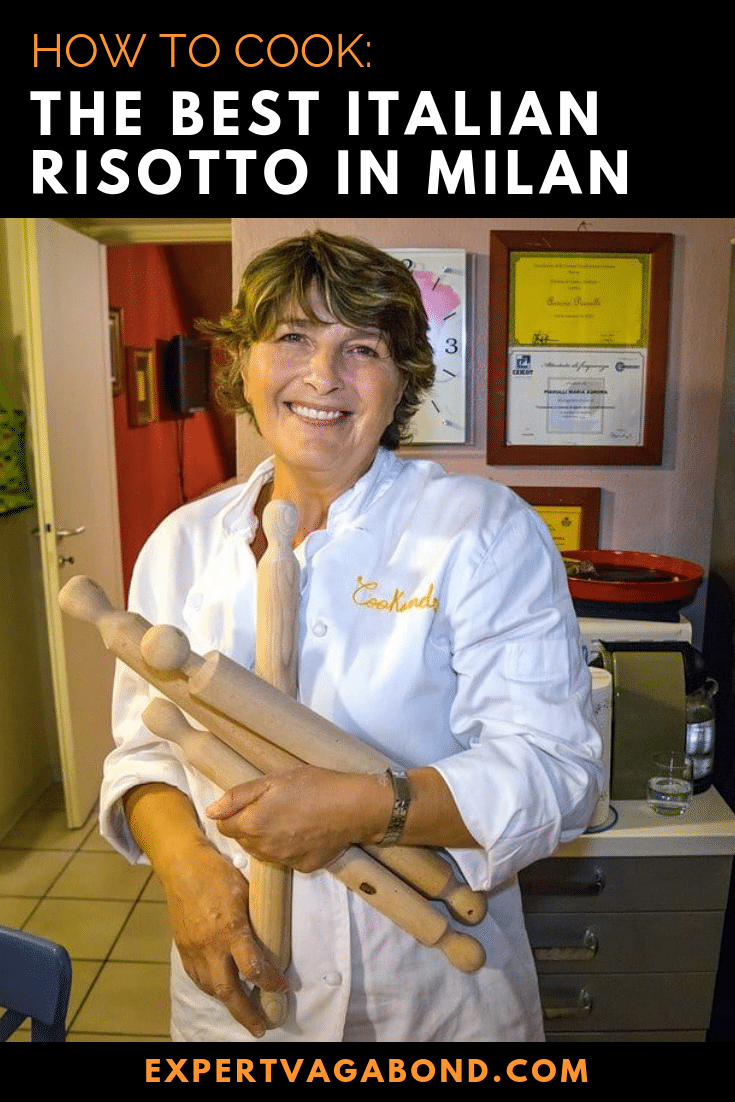 [/su_column]
[su_column size="1/2″ center="no" class=""]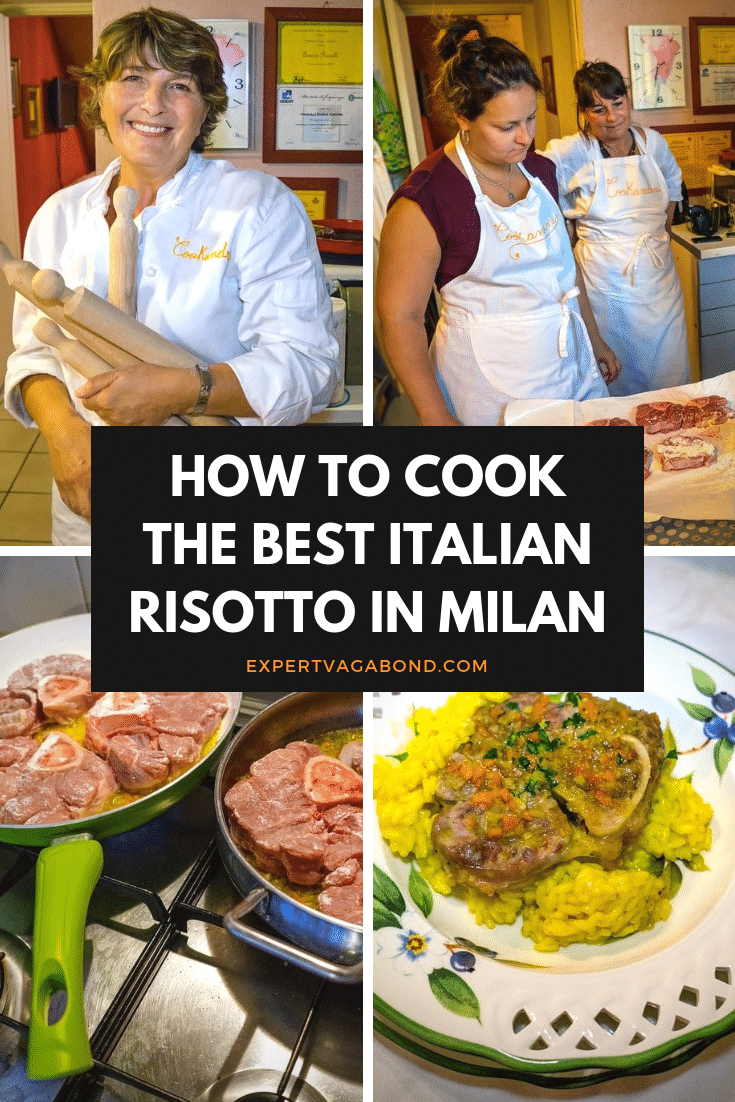 [/su_column]
[/su_row]
READ MORE ITALY TRAVEL TIPS
I hope you enjoyed my guide to the best Italian Risotto in Milan! Hopefully you found it useful. Here are a few more wanderlust-inducing articles that I recommend you read next:
#Blogville is in partnership with Lombardy Tourism, Emilia Romagna Tourism, and iAmbassador. Content & opinions are entirely my own.