Granada, Nicaragua
Granada is a very colorful city in the heart of Nicaragua. Here are some entertaining photos of the people that call its streets home.
This is what happens when I stay in one place too long. I'm forced to amuse myself by standing on street corners waiting for local citizens to walk by wearing clothes that complement the colorful buildings behind them.
Spending countless hours just watching daily life unfold in front of you can be a fascinating & enriching experience. It turns out that this little city happens to be a great place for this particular activity!
Who are these people? Where are they going? What will they do when they get there?
I decided it would be fun to make up some ridiculous answers to my own questions.
[captionwidth="900″]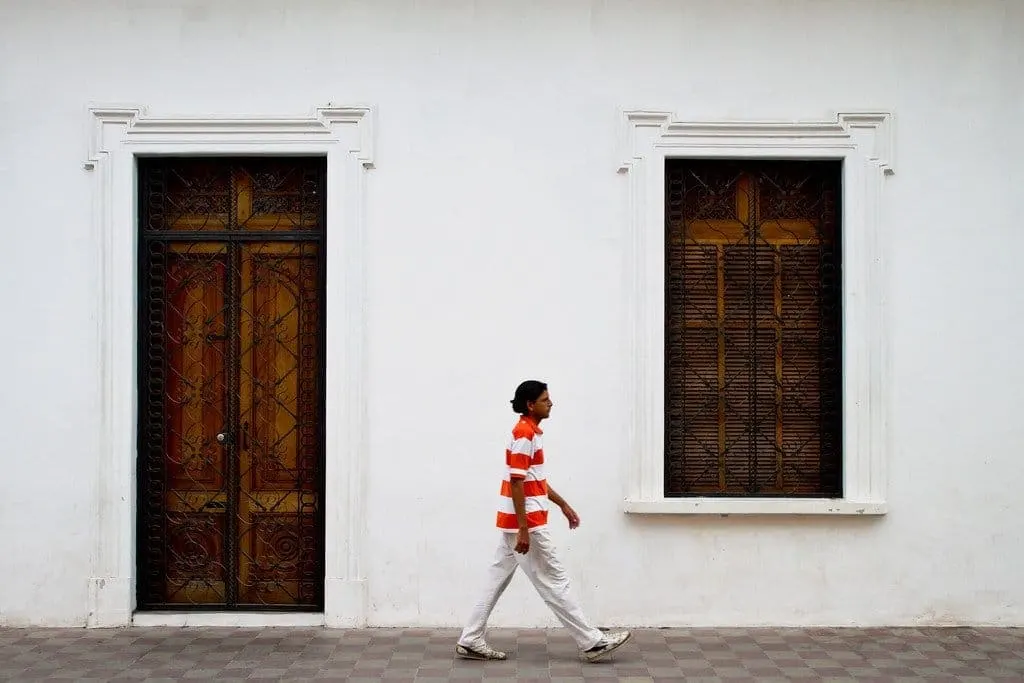 Jeffery is Off to Join the Military[/caption]
Which of the above shots is your favorite & why? Let me know in the comments!
[su_box title="Travel Planning Resources" style="noise" box_color="#333333″ title_color="#FFFFFF" radius="3″ class="resource-box"]
Packing Guide
Check out my travel gear guide to help you start packing for your trip. Pick up a travel backpack, camera gear, and other useful travel accessories.
Book Your Flight
Book cheap flights on Skyscanner, my favorite airline search engine to find deals. Also read my tips for how I find the cheapest flights.
Rent A Car
Discover Cars is a great site for comparing car prices to find the best deal. They search both local & international rental companies.
Book Accommodation
Booking.com is my favorite hotel search engine. Or rent local apartments on Airbnb ($35 discount!). Read my post for tips on booking cheap hotels.
Protect Your Trip
Don't forget travel insurance! I'm a big fan of World Nomads for short-term trips. Protect yourself from possible injury & theft abroad. Read more about why you should always carry travel insurance.
[/su_box]
READ MORE NICARAGUA TRAVEL TIPS
I hope you enjoyed my photos from Granada! Hopefully you found it useful. Here are a few more wanderlust-inducing articles that I recommend you read next: