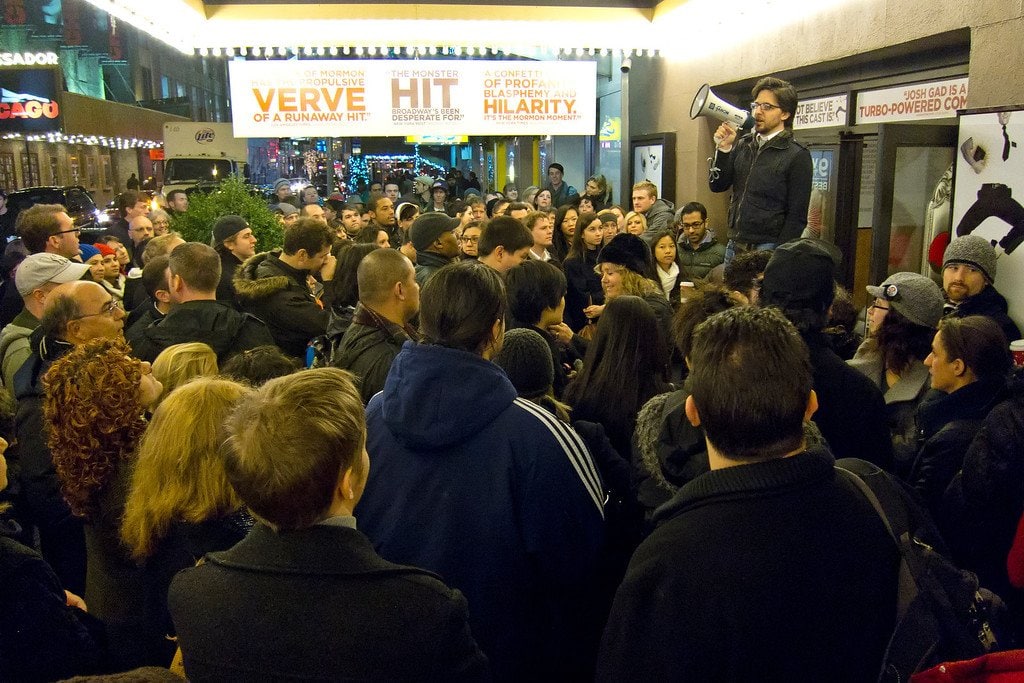 Travel Tips
Have you ever wanted to see a broadway musical in New York City? Learn how I found cheap broadway tickets to the hottest show in Manhattan for under $30.
After my recent trip to South Africa, I decided to spend a few days wandering around New York City. I'd asked a friend and former New Yorker what I shouldn't miss while I was there.
She told me to find tickets to the Broadway musical "The Book of Mormon" at all costs.
Written by Trey Parker & Matt Stone (creators of "South Park"), I knew it was going to be hilarious. These guys have a well-known reputation for offending absolutely everyone on the planet. I couldn't believe they had their own Broadway show…
Vagabonding through Central America for the past year, I didn't realize the play had won 9 Tony Awards and was called "The best musical of this century" by the New York Times.
Getting last-minute tickets to this seemed like an impossible task.
Of course when I jumped online to buy tickets, the only seats that were still available cost over $400! Yeah. That wasn't going to happen. I could live in Nicaragua for 3 weeks on that. Just a bit too expensive for my tastes…
After talking with some friends in the city, I soon discovered that many people have been waiting months to get tickets for "The Book of Mormon". Things weren't looking good…
But I wasn't about to give up so easily — and I always love a good challenge!
After a bit more research, I learned about a special technique for snagging cheap, last-minute tickets to many popular Broadway musicals. There are actually two different options available, and not many people know about them.
Option #1: The Lottery
The first option is The Lottery. It's also the more well-known of the two. A few hours before the performance, you can enter a lottery held at the box office for a chance to win 2 front-row tickets to the show.
The number of lottery tickets available varies, but it's usually around 20 or so. That means there can be many winners.
The Lottery is free to enter, but if you win, you buy the tickets at a discounted price. For "The Book of Mormon", they were $32 each. That's a whole lot better than $400!
Option #2: Standing Room Only
When a popular show is completely sold-out, the box office will sometimes offer Standing Room Only tickets as well. This means you don't get an actual seat, but you stand for the performance.
One hour before the show starts, they begin selling these special last-minute tickets. But just like the lottery option – there are only a handfull available. Usually around 20 or so. You'll need to get in line well before they start selling them if you want one. These tickets are even cheaper too. For "The Book of Mormon" they were only $27 each.
When should you get in line?
It's hard to tell. This website can give you tips about each show.
In my case, the performance started at 7pm. That means the Standing Room Only tickets would be sold at 6pm. I got in line at 4pm, and was one of the very last people to snag tickets before they were gone.
The guy at the head of the line had been waiting outside in the cold for 8 hours!
The earlier you go, the better your chances are. It's a bit of a gamble. Are you willing to wait in line for 2-3 hours with no guarantees that you'll get tickets?
I was, and it paid off. The show was totally worth it too!
Option #3: Do Them Both!
If you really want to maximize your chances for tickets, you can attempt both The Lottery and the Standing Room Only line. This will usually require help from a friend/date.
Step #1: Show up at the Box Office for the Broadway musical you want to see with a book, your iPod, snacks, and something soft to sit on. Get comfortable in the Standing Room Only line. I recommend at least 4 hours before the performance begins, just to be safe.
Step #2: Around 2 hours before the performance begins, the The Lottery will commence. Have your friend hold your place in line with your stuff, and go pick up two lottery forms. One for you, one for them. Because each winning entry can claim 2 tickets, you are increasing your chances if you both enter. If one of you wins, you can share your extra ticket with your friend.
Step #3: Hope you win The Lottery!
Step #4: If neither of you win The Lottery, you'll both still have a solid spot in line for the Standing Room Only tickets. After losing the lottery, many people will try to get in line here. Most will have absolutely no chance of picking up a ticket though, because the line will be too long by then.
Step #5: Because you got in line early, you can buy your super-cheap Standing Room Only tickets (max 2 per person) and enjoy a fantastic sold-out Broadway performance in New York City!
Travel Planning Resources for New York
READ MORE TRAVEL TIPS
I hope you enjoyed my guide to finding cheap Broadway tickets! Hopefully you found it useful. Here are a few more wanderlust-inducing articles that I recommend you read next:
Ever been to a broadway show before? Have any tips? Share with us in the comments below!