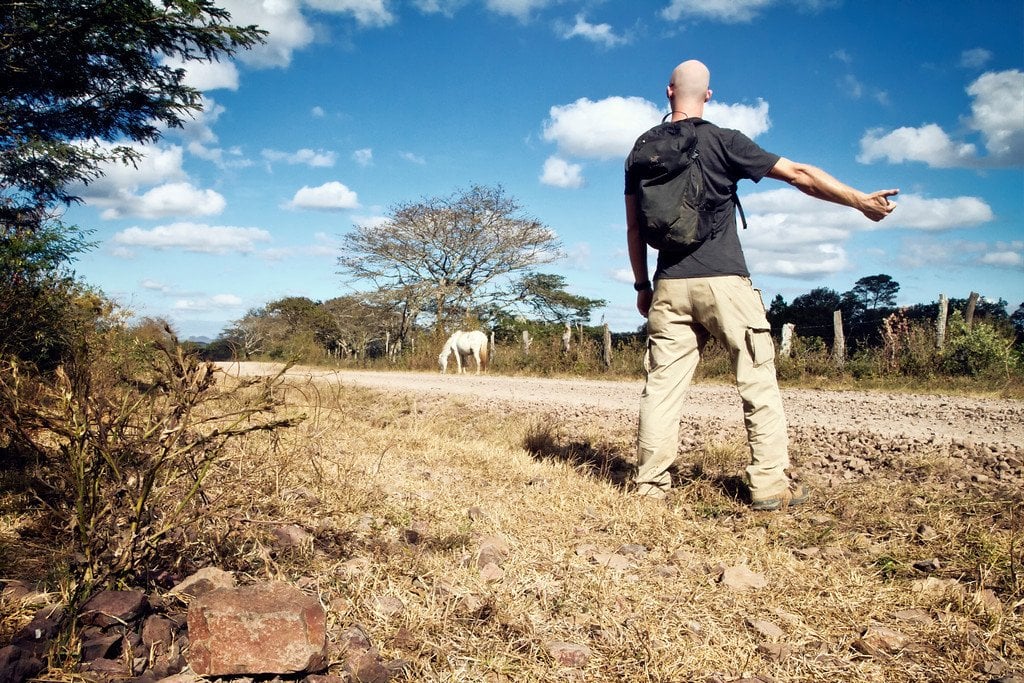 Esteli, Nicaragua
Alberto the hermit has been carving beautiful images into a cliff for over 30 years. He lives out in the Tisey Estanzuela Natural Reserve outside the town of Esteli.
Without a car, hitchhiking up there was a great way for me to visit. I jumped into a taxi to get to the outskirts of Esteli, a town known for cigar making. From there a rough dirt road winded up into the hills of the reserve.
Tisey is a 23,000 acre protected area in the North of the country.
After walking for only 15 minutes my first ride of the day pulled up. Jorge was piloting a small beat-up hatchback along the rough road. He knew Alberto, but wasn't going that far up into the wilderness. So he gave me a lift up to where his house was located about 2 miles further.
My good luck slowed down a bit after that ride though, because I didn't find another one for about 2 hours.
It's not that people weren't picking me up — it's because no one driving by at all! I was walking alone in the hills of Nicaragua, and it was actually quite pleasant.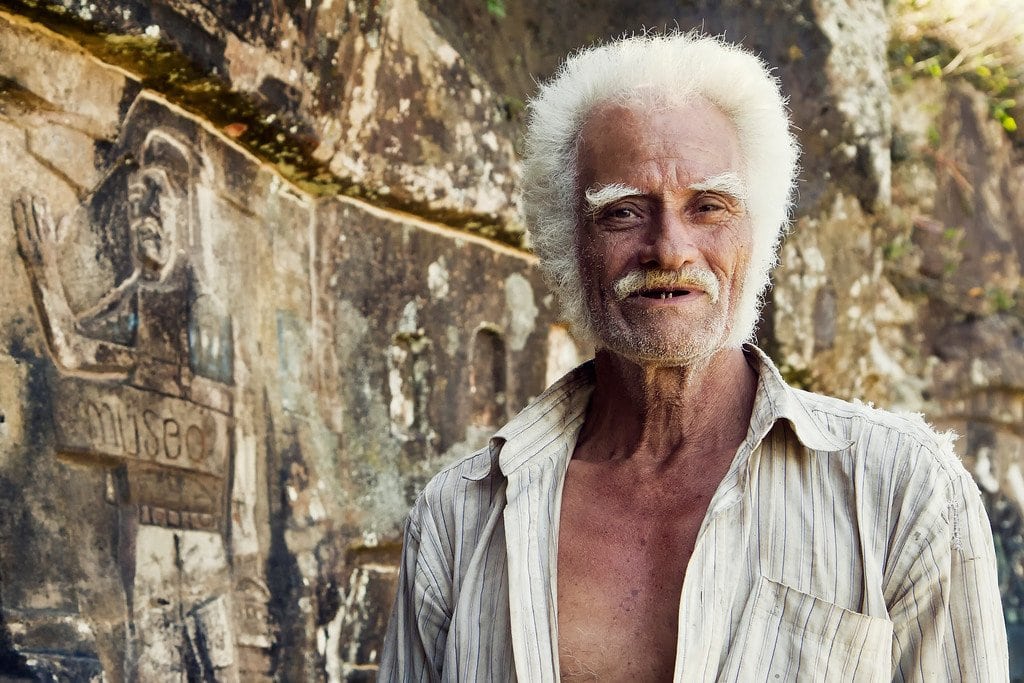 Motorcycle Rescue
I finally passed a sign that told me I was officially in the Tisey Reserve, and the landscape was beautiful. Rolling hills of green forest that go on for as far as the eye can see.
Roaming cattle and stray horses walked along the road beside me, passing small homes & farms with children playing outside.
Suddenly I heard the engine of something in the distance. Finally!
I waited for a bit, then thrust out my thumb just as a small motorcycle rounded the corner.
Philippe was a young farmer also on his way home, and he agreed to take me the rest of the way to Alberto on the back of his bike even though it was past where he lived. We flew up the rocky road occasionally crossing small streams.
When we arrived, I tried to give him some money for taking me further than he'd planned, but he refused it.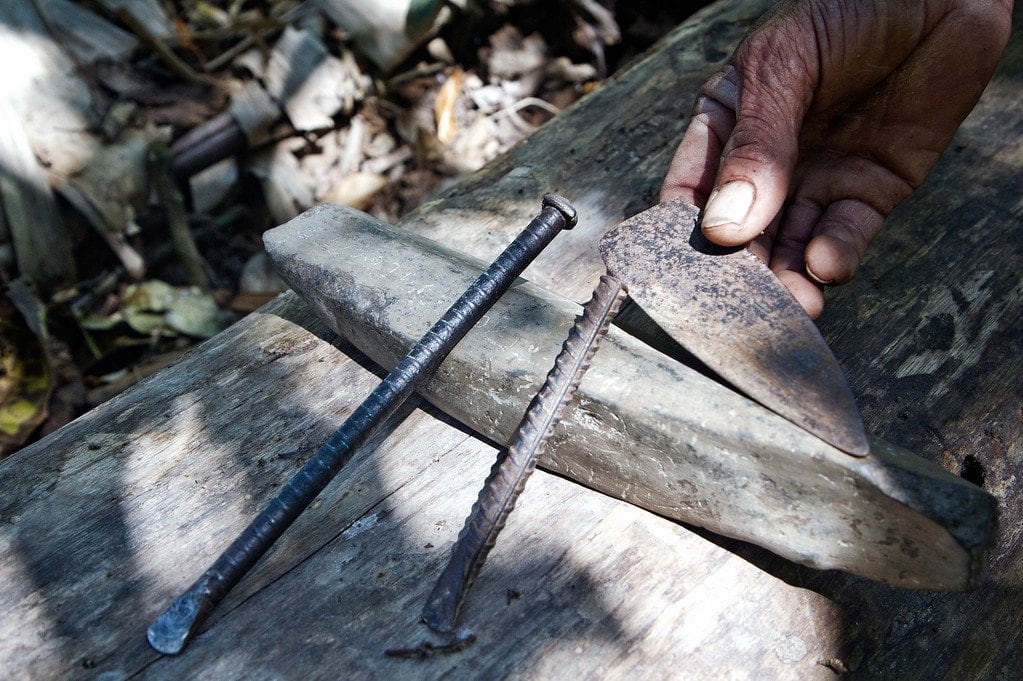 Alberto The Hermit
I was soon walking down into the valley that led to where Alberto lives. After about 20 minutes, I spied a small shack on a side path. Alberto came down to greet me as I walked towards his home in the woods.
What a character he is!
The proud owner of a magnificent snow-white afro, leathery sun-tanned skin, and weathered lines etched into his face. He looked like Father Time himself!
Alberto was clearly very excited for a visitor as he anxiously motioned for me to follow him. We wandered down clean-cut & manicured trails for a bit, passing large boulders that he'd carved into.
Most of them displayed beautiful images of churches and animals.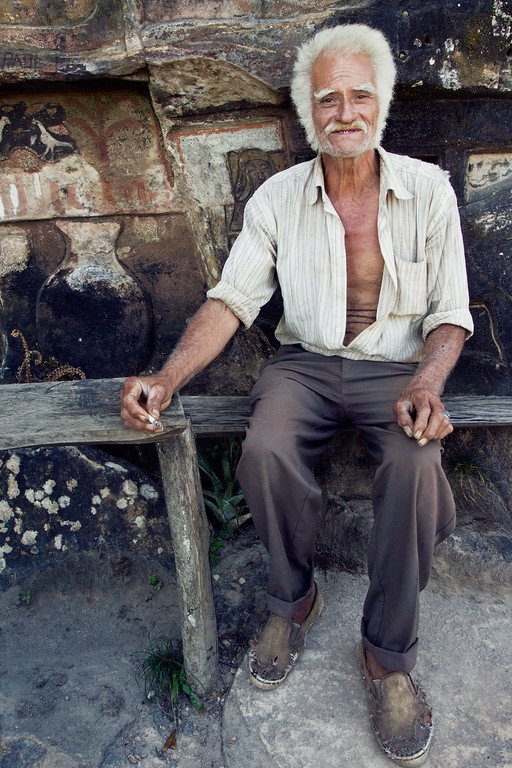 Living Off The Land
The trail started to climb uphill, and we passed trees growing bananas, oranges, mangoes, and coffee. Alberto also grows pineapple out here. He eats what the land provides for him.
Next he showed me the tools he uses to carve with.
They consist of two sharpened pieces of rebar, a metal blade, and a stone hammer.
While these simple tools were pretty intriguing, I wasn't prepared for how impressed I would be later when we finally made it to the main attraction…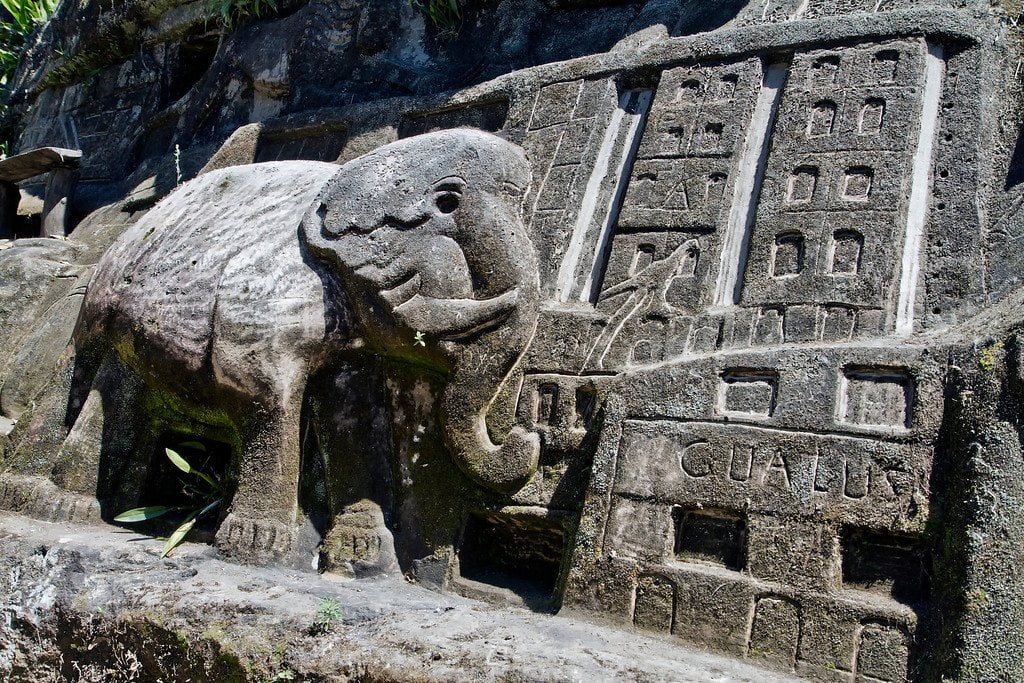 Sculptures On A Cliff
Alberto's carvings were incredible. The cliff wall stretched some 300 feet, completely covered with his work. His subjects included all kinds of animals: birds, rabbits, deer, life-size anaconda snakes, 4 foot tall elephants, and large jaguars.
But there were also maps of Nicaragua, cathedrals, Chistopher Columbus's ships, and even the Twin Towers of New York City.
He had carved out a whole shrine complete with images of Christ and surrounded with all sorts of flowers and greenery. Many of his images were in color. He uses red, blue, yellow, and white pigments.
He'd also built wooden benches along the route, so visitors can sit down to take in the expansive view overlooking the valley below.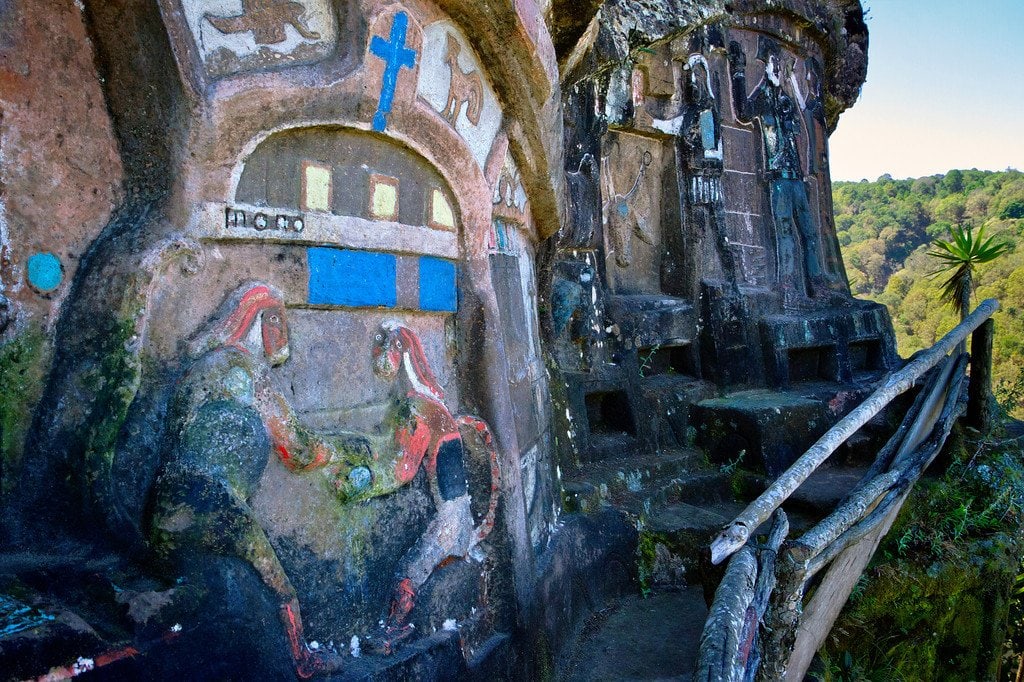 Real Work Of Art
Alberto talked non-stop the whole time. I only understood bits & pieces. But even though I had no idea what he was saying, it was fun to listen.
We stopped to rest frequently, and he offered me a cigarette. I normally don't smoke them, but how could I refuse this wildman of the woods? I pulled out my own small bottle of whiskey, and we drank & smoked while he rambled on for an hour. It was great!
I learned that Alberto is 79 years old, and has been living out here working on his cliff carvings for 33 years.
He's an interesting, colorful, and eccentric character with a wonderful artistic gift. A real piece of Nicaraguan history. Who knows how much longer he'll be around.
I feel privileged to have been able to meet him in person. ★
Travel Planning Resources for Esteli, Nicaragua
READ MORE NICARAGUA TRAVEL TIPS
Here are a few more travel articles that I recommend you read next:
What do you think about Alberto's hermit lifestyle?